The myth of Orpheus and Euridice is dramatically and symbolically tailor-made for opera, so it's no wonderthat so many composers have been inspired by Ovid's tale, with its fatal snakebite, journey to the Underworld, and musician-hero whose lyre can calm Cerberus, charm Charon and conciliate Pluto but who tragically cannot keep his promise not to look back at Euridice until they have left Hades.
Marc-Antoine Charpentier (1643–1704) set the myth not once but twice. His cantata Orphée descendant aux enfers was composed in 1683 for three male singers, two violins, flute, recorder and continuo and was followed five years later by an opera, La descente d'Orphée aux Enfers,which calls for ten singers and flutes, violins, viols and continuo. Both were written during the period of seventeen years when Charpentier was part of the court of the wealthy, cultured Marie de Lorraine de Guise – a resident in one of the guest rooms in the opulent Hôtel de Guise, composing both sacred and secular music to be performed by the small group of musicians in his patron's employ.
One decision composers must make is what to do with the ending of the myth, Ovid's original – which sees Orpheus torn to shreds by the Thracian Maenads for worshipping Apollo and spurning Dionysus – not being the most appropriate conclusion to a tale of faithful love. Some bring in a deus ex machina to restore Euridice to life. Monteverdi left two endings, his librettist Striggio's original wild chorus for the Maenads in praise of Bacchus later being replaced by the arrival of Apollo, who invites Orpheus to join him in the heavens where he will recognise Euridice's likeness. We don't know how Charpentier would have resolved his tale, though, as the third act of his opera is not extant – or perhaps wasn't composed at all: Marie's death in 1688 may have made the prospect of a performance of the work unlikely. However, the words of Pluto, when he agrees to release Euridice, "otherwise I shall take her back for a second death", and Orpheus's own final utterance, "Ah! How tender Orpheus must fear himself!", don't bode well for a happy ending.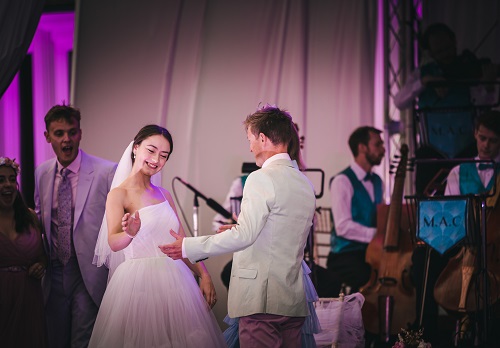 Charpentier's 'mini-opera' begins with the joy of Euridice's wedding but during some playful gambolling the viper puts its fangs into Euridice's heel, and the first Act closes with her death and the arrival of Apollo, who urges his son to seek her in the Underworld. In the second Act Orpheus descends to Stygian realms, where his music relieves the suffering of Ixion, Tantale and Tityé and persuades Pluton to release Euridice, with that fatal proviso. Charpentier's music is charming and elegant. At the Vache Baroque Festival La descente d'Orphée aux Enfers was presented with evident affection and a lovely balance of antique French elegance and modern wit by director Jeanne Pansard-Besson, designer Laura Jane Stanfield and an ensemble of very communicative singers and musicians.
In Act 1, Stanfield used stylised flowers to evoke an Arcadian air and dressed the cast of nine in Brideshead-style slacks and frocks of varied pastel shades, wisps and flounces adding a touch of fancy. While the 'nymphs' lingered on the sward to extol the delights of their pastoral paradise, the 'shepherds' nipped off for a game of croquet on the grass alongside. The soothing colour scheme was dramatically erased in Act 2, the damned sporting black-and-white Pierrot-themed attire with Pluton and Proserpine adding a touch of glamour, the latter's beautiful gown topped with a gleaming golden crown. The detailed costumes and make-up were impressively evocative, and if they did necessitate a rather lengthy interval in what is only an hour-long work, then the result was that in Act 2 the descending darkness created an apt Stygian gloom.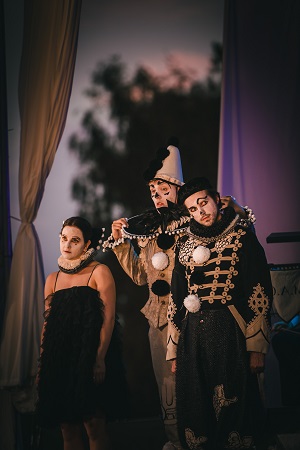 The stage platform at the Vache is quite restricted but the positioning of the ten musicians of the Vache Baroque Band to the rear stage-right created an asymmetrical space which allowed for flowing movement and dance, the latter occasionally, and appropriately, moving to the front-centre of the stage.  The dances were an important part of the action in Charpentier's day, and here they were imaginatively choreographed by Simeon Qsyea – pointing up Charpentier's rhythms, enlivening the smooth continuum of the score – and executed with grace and flair by Fi Silverthorn and Kenji Matsunaga of Birdgang Ltd Dancers, adding a dramatic vividness and energy.  Pansard-Besson took advantage of the outdoor setting in devising entrances and exits which suggested a wider terrain.  Kate Conway's solo viol interpolation, in front of the drawn curtains, was a more dulcet start to Act 2 than Cerberus's bark.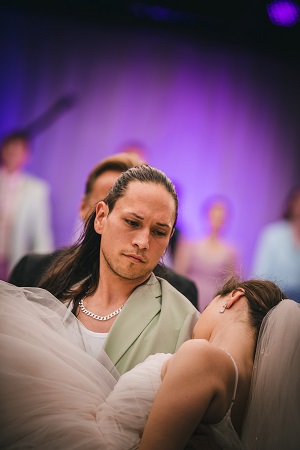 The cast projected well, singing stylistically and with idiomatic French enunciation. Euridice's contributions are inevitably restricted to the opening Act, but Lauren Lodge-Campbell made a strong impression, her fresh, clear tone in her relaxed air 'Compagnes fidèles' effectively defining her character. Her nymph companions, Daphné (Naho Koizumi), Énone (Katie-Louise Dobson) and Aréthuse (Lila Chrisp) made confident contributions in the strophic choruses. If Euridice's sudden cry of pain when the serpent strikes was rather understated, then the gentleness of her demise was dramatically fitting since her companions initially assume that it is the sting of love which has afflicted her – "Even the most fastidious/ Are bound to be pricked/ When they play with flowers" – and her subsequent death, Orphée's grief and the ensuing choral laments were made more poignant by the understatement. Jamie Woollard was a relaxed Apollo, deftly tossing three juggling balls aloft as he encouraged his son to grasp his mission.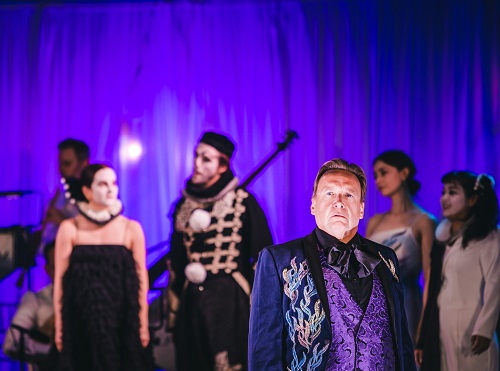 There was expressive tenderness, too, in Act 2 when Ixion (Alexander Chance), Tantale (Lars Fischer) and Tityé (Jamie Woollard) sang of their torments, their distress contrasting with the lively chorus of 'Criminels', and with Pluton's brusque disregard for the suffering of those in his demesne. Henry Waddington was a commanding, haughty God of Hades, his exchanges with Samuel Boden's Orphée well-shaped and persuasively characterised. Lila Chrisp's colourful, animated mezzo-soprano made Proserpine's tale of her own abduction vivid, and her interjections in the debate were lively and bold.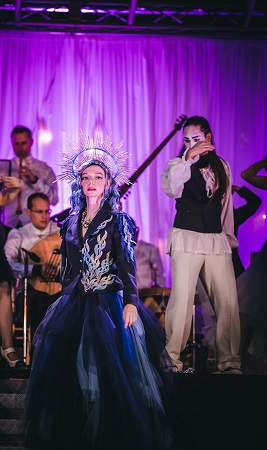 The eponymous role is taxing both musically – it lies high in the voice – and dramatically, since it is Orphée's address to Pluton on which the drama hinges. Samuel Boden sculpted both words and musical phrases most graciously, his tone beautifully tender when loving and lamenting Euridice, but varied of colour and dynamic when beseeching the Underworld patriarch. The dignity of his manner and eloquence of delivery were enhanced by the sombre grain of the three viols – sometimes sweetly double-stopped – that so frequently accompanied his appeals. This Orphée was both a true 'artist' and a man of flesh and blood grieving for his beloved. Musical director Jonathan Darbourne, leading from the small organ (not the 'clavecin' that Charpentier indicates in the score), shaped a seamless flow and Boden's contribution to the prevailing tragic affekt was impressive and assured.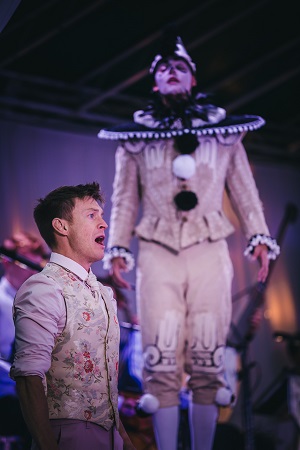 Although a short but inopportune downpour earlier in the afternoon slightly disrupted some of the pre-opera events, it was still possible to enjoy the features of the Vache estate and the sound installation at the Maze Garden. And, there was more music in the form of a 'pop-up' performance of Giacomo Carissimi's 'Historia Sacra', Jephte, on the woodland stage which nestles between some of the estate's lovely trees. It was a good choice of work, since it's been thought that Charpentier studied with Carissimi in Rome – the February 1681 Mercure galant reported that he had been Carissimi's pupil for three years – and while this is now doubted, among Charpentier's extant autographs are copies of Jephte and other works by Carissimi and other Roman composers. Tenor Lars Fischer was confident in the title role, a small chorus of 'Filia' helping him to narrate the biblical tale, with Darbourne again providing sensitive instrumental support.
At the close of Act 2 of La descente d'Orphée aux Enfers, the dwellers in the dark realms plead with Orphée to stay with them and relieve their eternal torment. And, one would indeed have wished for Charpentier's lovely music to continue spinning its musical spell. But, Vache Baroque will certainly have plans to charm us all again next year.
Claire Seymour
Charpentier: La descente d'Orphée aux Enfers
Orphée – Samuel Boden, Pluton – Henry Waddington, Euridice – Lauren Lodge-Campbell, Daphné – Naho Koizumi, Énone – Katie-Louise Dobson, Aréthuze/Proserpine – Lila Chrisp, Ixion – Alexander Chance, Tantale – Lars Fischer, Apollon/Tityé – Jamie Woollard, Dancers – Fi Silverthorn, Kenji Matsunaga; Director – Jeanne Pansard-Besson, Music Director – Jonathan Darbourne, Designer – Laura Jane Stanfield, Choreographer – Simeon Qsyea, Vache Baroque Band.
The Vache, Chalfont St Giles; Friday 2nd September 2022.