Symphonic excess in a spiritless exposition of Tchaikovsky's sacrifice of youthful love.
Greek conductor Vassilis Christopoulos came to fame at the Athens Opera with an Elektra, and then gained even more fame in Athens with a Lady Macbeth of Mtsensk, operas of great orchestral prowess. A prowess he imposed just now in San Francisco onto Tchaikovsky's spare setting of the Pushkin novel.
Let it be said that the San Francisco Opera Orchestra gave a full throated response to the maestro, showing once again that it is one of the world's fine opera orchestras. It cut loose with maximum, infectious gusto for Tchaikovsky's third act polonaises, dwarfing the intimacies that so infuse this delicate masterpiece, that had so begged to be brought to life throughout the evening.
Canadian bass baritone Gordon Bintner, a recent house singer at the Frankfurt Opera, sang Onegin. Mr. Bintner brought his youth, and his sincerity to the role, easily passing for the twenty-six years he claims in his frantic pleas to Tatiana in the final scene of the opera. His opening scenes were less persuasive, his aloof posturing unconvincing, but he gained authority as the opera progressed, finding the appropriate swagger in Tatiana's Act II name day ball, then portraying a moving sympathy for his dead friend Lensky. The final confrontation with Tatiana was a fully realized operatic ending.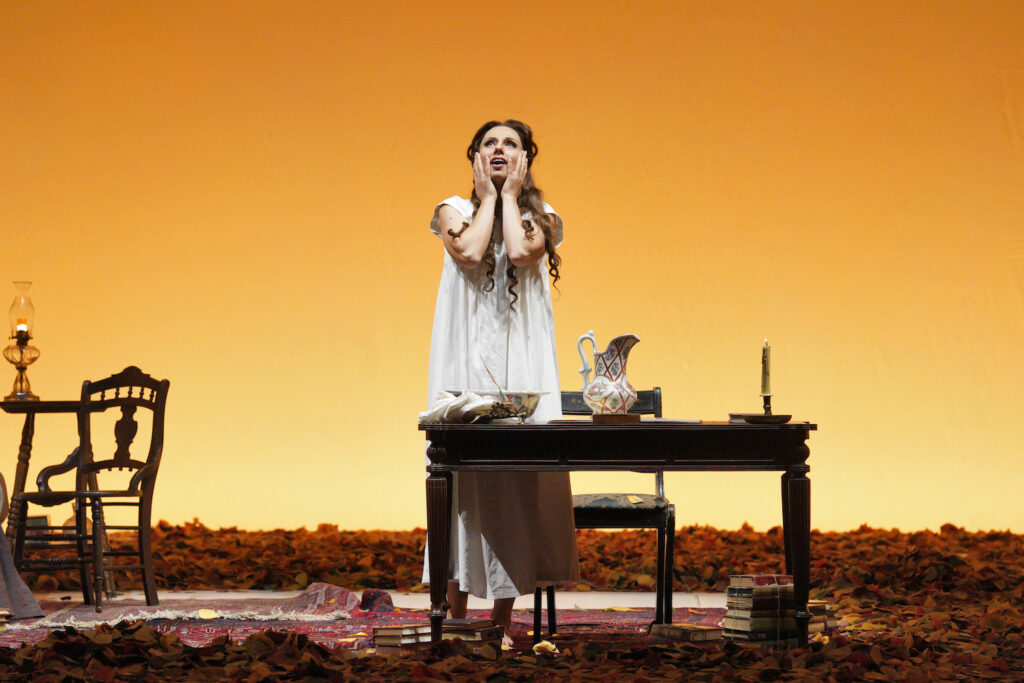 It was this scene where the Tatiana of St. Petersburg soprano Evgenia Muraveva was fully realized as well. Of beautiful lyric voice, and youthful allure, Mme. Muraveva is an emotionally distant performer, a coldness that well served her as she dismisses Onegin from her life. While beautifully sung, her first act Letter Scene missed the fervor, and the transport of infatuation that makes this scene one of opera's most brilliant showpieces. Mme. Muraveva gained fame when she stepped in for Nina Stemme in Salzburg's 2017 Lady Macbeth of Mtsensk, returning to Salzburg the next season as Lisa in Pique Dame, both performances marked by this same distant emotional involvement.
Pushkin's poet Lensky was portrayed by American tenor Evan Leroy Johnson, a house singer at the Munich Opera. There is however nothing poetic about Mr. Johnson's presence. Tall and handsome, and a fine singer indeed, he certainly embodies Otello's Cassio (one of his Munich roles) more comfortably. Towering over Onegin, he projected the confidence of a much older man, his Act II jealousies while well acted remained unconvincing. Once totally alone on the darkened stage for his famed aria "Kuda, kuda, vi udalilis" (Where, where have you [my young life] gone) he attained some poetic stature, though without the urgency of voice associated with this aria.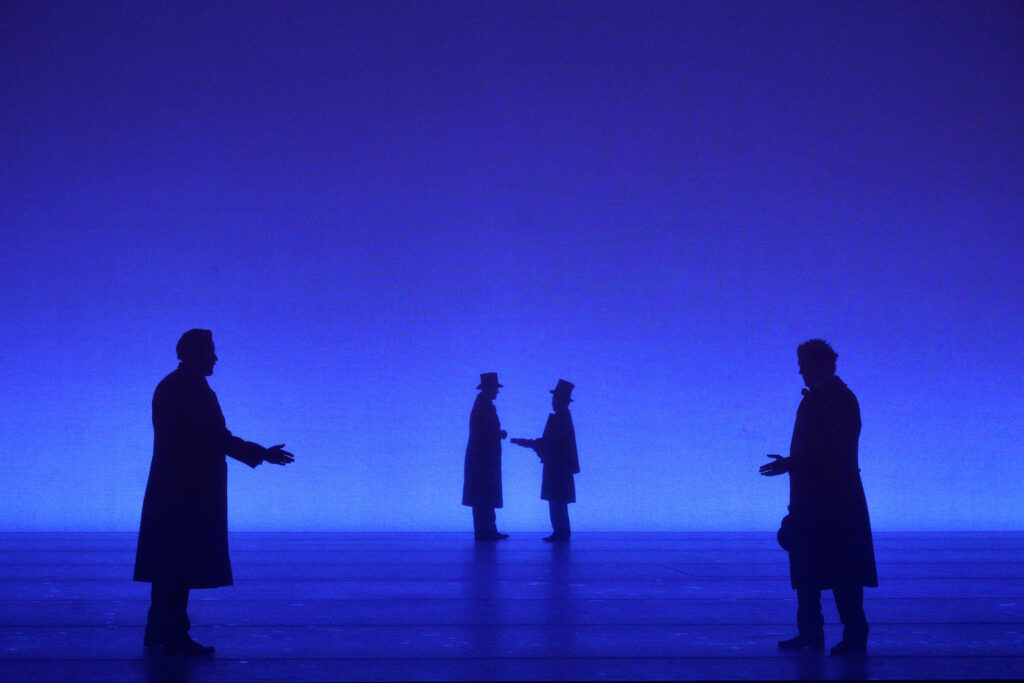 Olga, Lensky's bethroved was sung by Russian mezzo-soprano Aigul Akhmetshina whose career is unfolding entirely in Europe (she was a Covent Garden young artist). This is her San Francisco debut, inauspicious indeed in this relatively small, though principal role. Of huge personality her Act I aria "Ah, Tanya, Tanya" was delivered with the pizazz of the Carmen she sang not so long ago on the Covent Garden mainstage. She brought an exaggerated diva presence to her Act II scene with Onegin and Lensky that precipitates the later operatic disasters.
Distinguished Italian bass Ferruccio Furlanetto found the requisite maturity and presence for Tatiana's aged husband, Prince Gremin, his famed aria sung in rich, lyric voice with much nuance, if with no hint of slavic coloration. Tatiana's nurse Filiipyevna was gracefully enacted by Ronnita Miller in remarkably clear diction, her opening duet with mezzo soprano Deborah Nansteel as Madame Larina portending in its clarity an evening far more rewarding than would unfold. To wit the lackluster rendition of Monsieur Triquet's song by tenor Brenton Ryan, and the mess of the second Act III polonaise effected by solo dancers of the San Francisco Opera Ballet.
The staging was the 1997 Metropolitan Opera production by Robert Carsen and his designer Michael Levine, realized in San Francisco by the Met's Peter McClintock. It is the vintage minimalism of this gifted stage director, the set a huge white box that assumed magical, saturated colors in which Tchaikovsky's numbers bask, mixing an abstract space with the realism of a few pieces of furniture, his actors interchanging a tangible world with their emotions, much as music itself is both physical and metaphysical.
This staging conferred a huge responsibility upon the conductor to impose the spirit of Pushkin's characters onto the scene, as Tchaikovsky had imagined in his music. As it was the Christopoulos orchestra sang gloriously, independent of the protagonists, not hearing the agonies that might have been poured out by the suffering Russian souls on the stage.
The lighting designer was Christine Binder, a monumental task. Zaretsky was richly sung by bass Stefan Egerstrom, a peasant was sung by tenor Michael Jankosky.
Michael Milenski
All photos copyright Cory Weaver, courtesy of the San Francisco Opera.