Just an hour before this performance of Schoenberg's Gurrelieder I had been sitting through a recital of Philip Glass's piano Études. In one sense this was much better preparation for Schoenberg's brand of quasi-Wagnerian romanticism than the clatter and chaos of a crowded railway station. Glass, opulent in the most expressively minimal way, albeit sometimes with magnificent Brahms-like chords, provided a preface or prelude to Schoenberg's vast cantata which was as unconventional as it was unusual.
Gurrelieder is not a work that generally lends itself to understatement. I struggle to think of any performance of it on disc – even the ones from the more restrained and austere batons of Michael Gielen and Eliahu Inbal – which doesn't draw at least some of the work's startling full-blooded romanticism out of it. Some, like Kazuyoshi Akiyama in Tokyo, set this score in granite; the tonal weight would be oppressive were it not for the astonishing beauty of the playing. The scale of this London Philharmonic performance could have been one that leaned towards the Gielen angle but Edward Gardner took us on a journey through this Schoenbergian masterpiece which – orchestrally at least – was utterly ravishing.
The scale of Gurrelieder, and the work's complicated composition, make it similar in some ways to Wagner's Siegfried. In between the second and third acts of Siegfried Wagner would end up writing Tristan und Isolde; when Schoenberg returned to Gurrelieder in 1910 he had written his String Quartet Nr.2, the Five Orchestral Pieces and, most significantly, Erwartung. For both Wagner and Schoenberg the remaining parts of Siegfried and Gurrelieder would sound progressively different and it's been one reason why both works have sometimes struggled to be convincing. Schoenberg took the view that his style had simply got better – and when you listen to the Wild Hunt in Part III, with the stupendous brass imitations of jangling armour, the leaner but crunchier sounds and more graphic notation go farther than anything one hears in the earlier parts of the work. On the other hand, the radiance of the scoring for the sunrise and the affirmative writing for the final chorus both look back to Strauss and Mahler in a way that Schoenberg would never come close to again.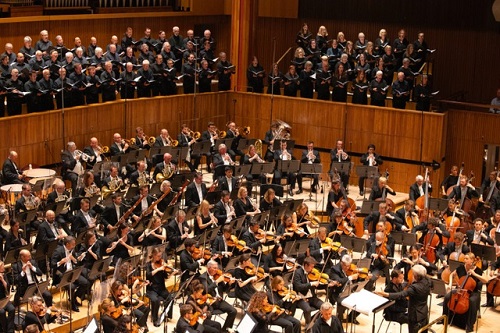 Edward Gardner's striking vision of Gurrelieder was not an especially original one, despite many fine things in it. (This wasn't a performance which skewed towards Impressionism as Akiyama's often does, and where the scent of Debussy hangs over the opening orchestral prelude.) He did not always take a very fluid approach to its pacing either. Spaciousness works perfectly well in this music, but not if one is getting the impression the music is steering the conductor rather than vice versa. Schoenberg unleashes elemental power in this work and conductors are rarely tempted to put any leash on their orchestras. As magnificent as the LPO cellos were before Nun sag ich dir zum ersten Mal, they sounded as if they were rising through the floor – and cracking it open along the way – so powerfully unbending was the playing. Just as striking were the twelve repeated tones on the double basses – unflinching and black. They swelled magnificently and surfed over the rest of the orchestra but a loss of bloom brought with it a loss of focus. There was almost a contradiction to this approach because Gardner's spotlighting of the cellos and basses came close to overwhelming the saturated romanticism that he got elsewhere. I've rarely heard a live performance of Gurrelieder where the brass were so gorgeously toned and yet so extraordinarily in balance with one another (Salonen in 2014 had pushed the Philharmonia harder with more astringency). Horns, in particular, especially when doubling as Wagner tubas, lacked nothing when it came to warmth or a golden sheen that hung like a halo around them. Gardner might have taken some risks with his players' stentorian breath control at such broad tempos, but those long lines were woven with both precision and detail.
Unlike Salonen, Akiyama, Ferencsik, or even Leibowitz Gardner was a safer pair of hands. This performance felt less exposed to the more gruesome elements of Schoenberg's work. Although the choirs did not look – or even – sound small they projected a less terrifying picture than one might have liked. As Waldemar's vassals, they were marginally less compelling than the orchestra, although it is true to say that Schoenberg escalates the drama of his scoring to compensate for the choruses in Part III. If Schoenberg had unleashed his orchestra for the Wild Hunt, Gardner had the LPO graphically conjuring up the clanking and collision of armour and horses but he tended to hold the choirs more tightly reined in.
Gurrelieder, of course, shares with Tristan und Isolde the union of two ill-fated lovers who will find a reconciliation through death that they never achieved in life. Waldemar and Tove are destined to be denied the ecstasy of love forged as it is through separation. Schoenberg is every bit as demanding on his two singers as Wagner was, although much of Gurrelieder's power and weight is placed on the tenor rather than the soprano. Tove only appears in Part I – her death being narrated at the end of the part in the 'Song of the Wood-Dove'.
The narrative is extremely tight for Part I and requires a soprano with both a vocal and dramatic scale to bring it to life. Lise Lindstrom had both – but only to an extent. Dramatically, she was compelling, a huge visible presence as well as one with a clear attachment to her Waldemar. Vocally, however, she was a problem for me. The voice is enormous and it is also supple when she needed it to be. Tove, however, lies high in the soprano range – especially in Du sendest mir einen Liebesblick – and even though she hit the notes the degree of raspiness and grain in the voice was more uneven than one would have liked. Radiance, one thing one expects from Tove, was never really on this one's horizon. Lindstrom never quite sounded as if the orchestra would surge over her but one sometimes wished it had slightly just to wash away a bit of the gravel at the top of the voice.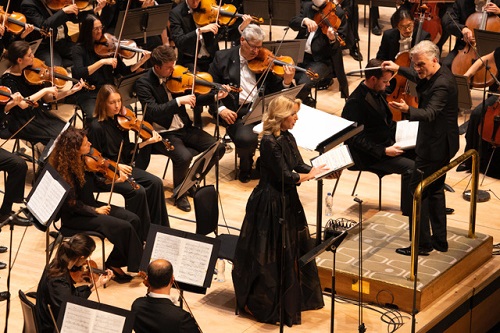 David Butt Philip's Waldemar was for the most part superb. Tenors tend to come in two types for this role – and rarely are they ideal. On the one hand we have the tenors who sound beautiful but lack drama; on the other hand, tenors who have oodles of drama but lack sheer beauty. Philip is more the latter than the former – and this may have been an even less marginal judgment to make had he not settled into singing the part more quickly than he did. That short hesitancy aside, he brought more of the deep romanticism to Waldemar than we got from Lindstrom's Tove – a steely iciness from her, that made him try to compensate for in singing that was melting around the edges in its more romantic gestures. Du wunderliche Tove! sounded just slightly hopeless, or at best wishful.
Philip was much better from Part II onwards. His cursing of God and threat to storm the heavens was thunderous and became more so in Du strenger Richter droben when he again threatens to storm heaven if he is sent to hell and Tove to heaven. Largely, Philip was a heroic Waldemar, gaining in nobility and power as the performance reached its ending.
There were no shortcomings in the Wood-Dove of Karen Cargill. A mezzo of extraordinary colour and tonal power, Cargill was probably the most thrilling Wood-Dove I have heard in concert – and few on record come close, either. The single narrative she sings is remarkable for the range of expression asked for although it's only after the Wood-Dove has described Tove's death and burial that she narrates the cause of her death. Cargill was spellbinding – not just rapturous but searing with it. Cargill's voice is unquestionably on the large side but this works well in Mahler and Schoenberg where that weight not only strides over the orchestra but moulds into it. Also well-crafted was Klaus the Fool sung by Robert Murray. A long – but significant – solo he drew upon a depth of wisdom that fleshed out a role that can sometimes sound hollow. James Cresswell's Peasant, not the most resonant of basses, was nevertheless rustic in temperament.
The role of the Speaker was the one part of this performance that came off less well than any other. Gardner opted for an English translation of it (by Jeremy Sams) and even allowing for the relative complexity of the German original the English translation was over-alliterative and sometimes muddy. The feeling that the text and the music were at times incongruously matched proved a bit of a struggle for the narrator, the actor Alex Jennings, who whilst clearly enunciating much of it swayed and drifted into other parts of it as if on a collision course.
The singing of both the London Philharmonic Choir and the London Symphony Orchestra Chorus were for the most part thrilling. Gardner got from his orchestra (presumably augmented by quite a few players from elsewhere around London) playing that was gorgeously rich, fabulously assured and often inspired. In a work which rarely aspires to a condition of transparency this performance scaled a mountain to reach that; there was much orchestral clarity and carefully prepared balances here that are not always audible in this work (or maybe I just lucky to be sat dead centre).
London has been lucky with Gurrelieder in the concert hall over the past couple of decades. This compelling and ravishing performance did nothing to change that.
Marc Bridle
Arnold Schoenberg: Gurrelieder
Tove – Lise Lindstrom, Wood-Dove – Karen Cargill, Waldemar – David Butt Philip, Klaus the Fool – Robert Murray, Peasant – James Cresswell, Speaker – Alex Jennings; Conductor – Edward Gardner, London Philharmonic Choir, London Symphony Chorus, London Philharmonic Orchestra
Royal Festival Hall, London; 24th September 2022.
ABOVE: Edward Gardner, Alex Jennings and the London Philharmonic Orchestra (c) London Philharmonic Orchestra