If one places in context where this program of Handel and Glass took place – the old and the contemporary – its historic setting seemed to have a real sense of appropriateness. Canada Water, in Rotherhithe, southeast London is – much like Canary Wharf, on the opposite side of the River Thames – a creation of the Thatcher years. But it is also an area steeped in ancient history. Once partly a shipping dock, on the artery of the Thames, much of it was eviscerated by bombing during the Second World War; in the 1980s it was ripe for urban regeneration with its crumbling warehouses and wharfs turned into apartment conversions, multi-level houses and artists' studios. For many years I lived there myself, my house on Rotherhithe Street on the south side of the Thames facing that of the film director David Lean on Narrow Street on the north side of the river. This divide, the waterway that rips this city in half, almost defines what is London. Ironically, this would be an intentional part of this production, too, once we were inside Printworks and a part of what we were seeing.
Surviving on the southside of the Thames was Harmsworth Quays printing works – then one of the largest in western Europe – which printed the Daily Mail and Evening Standard newspapers until 2012 (the northside of the Thames would be much less fortunate enduring the Wapping wars). Harmsworth Quays became Printworks in 2017, an industrial-feel club, with a vibe that very much went with this enormous space of concrete, iron and steel. It was never intended, however, to be a permanent space – unlike, for example, the Gashouder in Amsterdam, another vast industrial conversion.
These modern-day post-industrial cathedrals unquestionably place art in a more interesting and challenging perspective. The Gashouder had housed Stockhausen's Licht operas a few years ago, and it was to Printworks that the countertenor Anthony Roth Costanzo took his seventy-minute programme of Handel and Philip Glass. The original New York production had been done at the Cathedral of St. John the Divine, itself drawing its music from the then ARC recording which had sought to bridge the gap between the countertenor repertoire.
There are similarities and there are differences between the New York and the London productions. Perhaps the very venues themselves suggest that the two meet full circle. These are two very different kinds of theatres and spaces. St. Johns, incomplete, Gothic revivalist, Episcopalian and yet a place that has been used for radical advocacy – Diamanda Galas' Plague Mass, a searing work about AIDS was performed and recorded here – is on such a scale it defies its religious origins. Printworks looks and is really the opposite. It's not imposing until you're inside it, industrial steel columns run up brick walls in contrast to the striking carved ones of St. Johns, there is nothing really here that would suggest that the classical beauty of Handel would ever really work even if the more structural, modern architectural minimalism of Philip Glass might.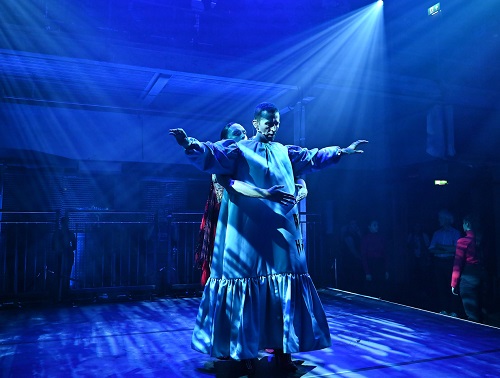 Space – or an excess of it – is not always to this production's advantage. In New York the sheer amount of it couldn't really be used to its full extent. The feeling of compression, of being boxed in, with much of the audience seated, took away from it the one thing that we had a lot of in London. Printworks gave us acres of freedom. What we saw in London seemed to be a much more interactive experience, a case of installation art where the audience becomes a part of what is happening. Unless you particularly wanted to remain in the same place (standing room only) you were really encouraged to move around. Often this was unavoidable. A strip-light bearing row of 'centurions' would provide the torch-light for the procession of Anthony Roth Costanzo through the crowd, literally dividing the audience in two. For a second it felt almost Biblical as if Costanzo was a prophet splitting the Red Sea; but his progress through the audience was slow, stately until he got to the stage in the centre of the auditorium.
The use of space is, I think, well-articulated. At either end were stages for dancers. There was an element of homoeroticism to some of the dancing, but it also seemed entirely free and improvised. This paired nicely with the drawing of a feathered cavalier on a backlit canvas, one of the most arresting images of the performance. If it felt more oriental in construction, with its fine pencilled lines sometimes more reminiscent of a Japanese Koi, it was compelling, almost hypnotic to watch, and perhaps a little too much of a distraction that one sometimes forgot entirely about the music or it became something in the background. One could even see this architecturalized drawing, with its spiralling kaleidoscopic shape, as just a little hallucinogenic in its creation. Filmed images projected on the wall were perhaps in the wrong place – or certainly so if you happened to be standing without a clear view of them. If they told a story, or if they were there to elucidate the music I entirely missed the symbolism of them – largely because I was in the wrong place. It's unavoidable to feel that too much is happening here for both the eyes and for the ears to take in at once, or even in separation from each other.
I generally think the pairing of Handel and Glass has been viewed as an odd one, although Costanzo in structuring the program has revived the concept of both composers using repetition in their music – even if it is done in very specific and unique ways. Ritual in their music is seen by Costanzo as the rich source from which emotion comes. Although the programmed music from Handel is not a huge surprise – with excerpts from Tolomeo, Rodelinda and Amadigi – the Glass works come from later in the composer's career when his music had generally become less repetitious than in, for example, the opera Akhnaten.
The stroboscopic red lighting – if it seemed to vibrate just a little between the eyeballs – was more appropriate to Philip Glass, too. An aesthetic of cardinal red was replicated in the sharp, slim cut clothing of Raf Simons for his centurions on bodies that were angular in their symmetry. Simons has hardly changed his design ethos since his label first appeared decades ago although then the colour was predominantly black. Costanzo was Simons in his Handel period – a vast blood-red gown that ballooned and billowed. It seemed neither practical nor comfortable – but was haute-couture at the height of its most impressive beauty and uselessness. The real centurions, where we had ringside standing room, were the male dancers in red tasselled tunics, greaves and black netting. This was design entirely about freedom and movement, just as Costanzo's was about constraint and a lack of either.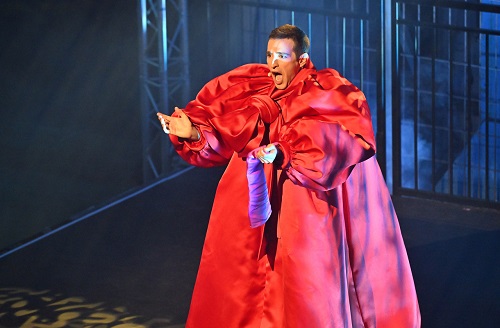 Costanzo's voice remains an instrument of beauty, but it is a peculiarly individual one that might not be to all tastes these days. He no longer has that innocence and purity – rather it's rougher around the edges, perhaps with more steel to it. One may even call it emotionally raw. He is a colossal presence – dazzling and entirely watchable. He can stand like a statue during beatboxer Jason Singh's throbbing soundscape, a high heel booted figure caught in the vortex of neon light. Never the most overtly expressive of countertenors there is more restraint to his Handel and a certain amount of richness to the way he sings Glass and here the music often sounded baroque.
Sonically, Glass's late works lack the sheer crystalline brilliance and powerful elegance of his early work. 'The Encounter', from 1000 Airplanes on the Roof is not specifically narrated by a countertenor but it works – indeed, it has worked for various voice types, notably the high range of Linda Ronstadt. Costanzo is at home with Glass's usual obligatos and harmonies which are lit from the same fire as his earlier works even if here they show less homage to them. The Glass/Byrne 'Liquid Days' was originally written for The Roches but Costanzo probably makes more of the music by bringing it back to a mystical grounding. There was certainly more mystery, a touch of Zen-magic. 'No More, You Petty Spirits' (written for this production) caught Costanzo on the cusp of aligning the octane purity of his voice with innate insight into Glass's soundscape.
Although I think the model of Handel in Italian worked inspirationally for the New York performance I wondered if some more demotic Handel in English may have suited the acoustic of Printworks better. None of these arias could ever have been described as sumptuous in such a brutalist acoustic. The harsh steel and cold brick hardly helped to absorb any warmth in Costanzo's voice (and nor did the closeness of his microphone). Having said that, the familiarity of the music and its opulent orchestration could have hardly failed to impress. 'Lascia Ch'lo Piango' from Rinaldo was delivered with a languid expressiveness, convincingly pleading for liberty, 'Penna Tiranna lo sento Al core' from Amadigi Di Gaula rippled with colour even if sometimes he eschewed sweetness. Bertarido's final aria, 'Vivi, tiranno!' from Rodelinda was perhaps sung in the wrong place (just over half-way through the program) given this piece's tremendous stand-alone brilliance. Costanzo sung it magnificently, just perhaps stilting the drama of the concert a little early towards its feeling of closure.
Although this is certainly not the first time I have seen and heard opera lifted outside the opera house there is certainly an argument for doing this on a more frequent basis. It will never again happen at Printworks – ENO were rather late to get onto that idea in this industrial complex, since this particular venue is now facing demolition. Arguably settings like this provoke unconventional thinking although they need artists with visionary outlooks, such as Anthony Roth Costanzo. This production would never have worked with the luxury of seating – although being 6'2 helps, I can assure you. It helps that opera can stand beside other forms of music, in this case the heavy-laden punishing beats of Jason Singh. It helps that you can strip out standard lighting and plunge the audience into what is basically a vast X-ray arena. You take away the concept of static performance and make the experience an immersive one. In a way, it becomes living, breathing opera.
Much remains the same, of course. Karen Kamensek and the English National Opera Orchestra were no less inspired in this setting than they would have been in the orchestra pit. Justin Peck's choreography would have had all its same characteristics in the opera house – but it was more raw, more hard-edged, and even more erotic in the wasteland of a disused printworks.
This was haute-couture opera, in an industrial setting. Rather than making George Frideric Handel and Philip Glass seem like an odd pairing it ended up making perfect sense.
Marc Bridle
Proms and the ENO at Printworks London – Glass, Handel
Handel, Tolomeo, Re D'Egitto; Glass, Liquid Days; Handel, Flavio, Re Di Longobardi, Rompo I Lacci; Glass, No More, You Petty Spirits; Handel, Rinaldo, Lascia Ch'lo Pianga; Glass, Monsters of Grace, In the Arc of Your Mind; Handel, Rodelinda, Regina De' Longobardi, Vivi tiranno; Glass, Fall of the House of Usher, How All Living Things Breathe; Handel, Amadigi Di Gaula, Penna Tiranna lo sento Al core; Glass 1000 Airplanes on The Roof, The Encounter; Júlio Medaglio, Belle Epoque in Sud-America, Heitor Villa-Lobos, Impressoes seresteiras (ciclo brasileiro)
Created and co-produced with Anthony Roth Costanzo, Cath Brittan, Visionaire and the English National Opera, in collaboration with Printworks London
Anthony Roth Costanzo, countertenor; Jason Singh, composer; Glenn Brown, artist; Justin Peck, choreographer; Raf Simons, fashion designer; Karen Kamensek, conductor; English National Opera Orchestra
Music videos by James Ivory & Pix Talarico, Daniel Askill, Mark Romanek, Rupert Sanders; Maurizio Cattelan & Pierpaolo Ferrari; Tilda Swinton & Sandro Kopp; AES+F; James Kaliardos, Marisa Tomei; Jacolby Satterwhite
Printworks, London; Saturday 3rd September 2022.
All images (c) BBC / Mark Allan