Harmonia mundi's recent disc of Mahler's 4th Symphony provides a remarkably flowing and vivid account, fashioning a new perspective on a much-recorded work. Inner detail is heard afresh with instruments spot lit to create wonderfully transparent textures, the whole possessing an ink-still-wet quality, with players responding to Mahler's score with an infectious enthusiasm much owing to the invigorating approach from François-Xavier Roth. He formed Les Siècles – a Paris based period instrument orchestra – in 2003 initially to perform French repertoire and to focus on matching instruments to the music it plays. Subsequently, the group has widened its horizons and has already recorded Mahler's 'Titan' Symphony (2019/ HMM905299DI), exchanging their usual French-made woodwind and brass instruments for turn-of-the-20th-century German and Viennese equivalents to make its first recorded venture into the Austro-German repertoire. Indeed, details of the instruments played for Mahler's 4th Symphony (mostly dating from between 1900 and 1910) are all listed in the booklet which includes an informative interview with the conductor.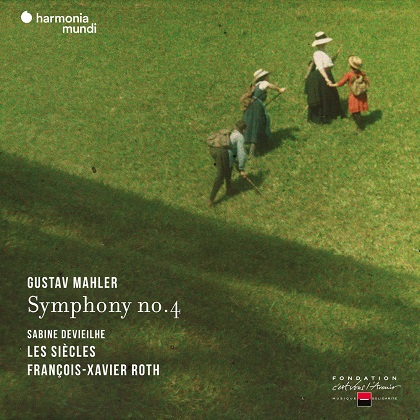 Clarity of ensemble and distinctive timbres are startlingly apparent in just the first few pages of the symphony's opening movement. Woody sounding flutes, tangy clarinets and prominent horns create a pungent, almost earthy tone quality. Strings, silvery in timbre, are allowed plentiful portamenti, double basses brought forward in the mix and harp too, overall providing a soundscape unlikely to be heard via live performance in most concert halls. Cellos are not without warmth when heard as protagonists, but the less fulsome tone lacks an opulence we're used to hearing. Tempi are on the no-nonsense side, (not as fast as Norrington with the SWR Symphonieorchester), yet not exactly following Mahler's own marking 'Bedactig nicht eilen' (deliberately, not hurried). Rubatos are understated so any hints of relaxation Mahler might have intended are blunted. From the close miking a garish effect results, most notably at climatic moments, yet in some ways this is in keeping with the child-like naivety of the music.
The Scherzo is more impish than sardonic, its sense of unease much less sinister than in some recordings (thinking of that by Semyon Bychkov and the Czech Philharmonic), and the solo violinist a little too urbane. There's excellent wind and horn colouring, although the transitions from and into the Trio sections are not ideally judged; the first verging on impetuous, the second carried by an unsubtle trumpet entry. Real pianissimos rarely occur, creating a more restricted dynamic than one might expect.
Roth delivers an unclouded traversal of the third movement, admirably fulfilling Mahler's observation of the symphony's mood as 'the uniform blue of the sky, which is more difficult to render than all its changing and contrasting hues'.  That said, there could be more magic from the string section at the start which neither glows nor consoles, nothing to create mystery or transport us to the Elysian Fields. Moments of expressive poise are, however, played with beguiling effect by the oboe soloist, and if the emotional trajectory of the movement as a whole fails to convince (its brief blaze of glory doesn't quite get the pulse racing), there's nothing to complain about in the nicely projected dance-like passages for strings alone.
What does convince more is the contribution by French operatic coloratura soprano Sabine Devieilhe. Her wonderfully youthful sound, at times almost breathless with excitement, seems an ideal fit for a voice needing to conjure a child-like vision of paradise. Perfect for Mahler who wished the soprano to be 'capable of singing with a naive, childlike expression, and with particularly good diction!'. Devieilhe achieves this with ease, clearly relishing the Wunderhorn text with its 'delights of heaven', its 'angelic life' and where 'wine costs not a penny in the heavenly cellar'. Hers is an agile, crystal-clear voice, mercifully without any heavy-duty vibrato, that in the final verse brings heart-warming tenderness, a deeper emotional level that crowns a movement which Roth believes 'leaves us with more questions than certainties'.
Overall, it's a fascinating exercise that sharpens our perspectives on historically informed performance (hearing the music has Mahler might have heart it), and one that brings illuminating, if sometimes, mixed outcomes. Of course, it's difficult not to her this performance without the accumulated weight of modern versions, but with such characterful playing, exquisite singing and sweeping direction this distinctive account is well worth exploring.
David Truslove
Mahler: Symphony No. 4 in G major
Sabine Devieilhe (soprano), François-Xavier Roth (conductor), Les Siècles
harmonia mundi HMM 905357 [53.47]
ABOVE: Sabine Devieilhe (c) Erato / Jean-Baptiste Millot