She stood up one Sunday in St George's church, the parish church of Doncaster, and interrupted the sermon, accusing the preacher of being "a whited sepulchre, a thief, a villain, a liar and a hypocrite". The Reverend John Sharpe had failed to pay for the twice-weekly music lessons that she had given his daughter. Mary Frances Heaton's words saw her arrested for disturbing the peace, tried and declared by the judge to be "a lunatic insane and dangerous idiot". She was committed to the West Riding Pauper Lunatic Asylum in Wakefield where she spent the next 41 years. She died in 1878, aged 77, in another asylum in South Yorkshire to which she'd been transferred. She was buried in a pauper's grave.
In The Unravelling Fantasia of Miss H by Red Gray and Sarah Nicolls of Stitched-up Theatre, Mary's story is told through her own words and the defiant protests which she stitched into embroidered samplers, and which were discovered in the asylum years later and are now on display in the Wakefield Mental Health Museum. First seen at Tête-à-Tête's 2021 Opera Festival, it's perhaps less an opera than a play with music, although the music – and the movement and dance – is much more than incidental and certainly woven intimately into the dramatic fabric of the work. In Studio 1 at the Arcola Theatre, Gray and Nicholls played respectively Heaton and a fellow inmate, a second Mary, Matthewson, while Katie Webster, who also choreographed the work, was the authoritative Overseer and abusive Asylum Attendant.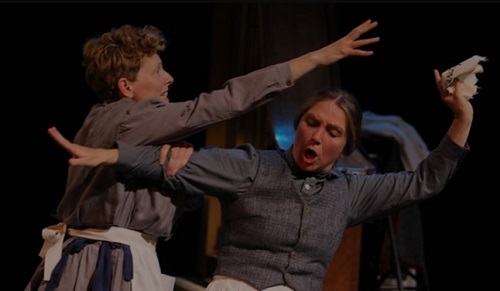 The Unravelling Fantasia of Miss H charts Heaton's years in the asylum: the 'treatments' she was subjected to, including electric shocks to the pelvis and purging concoctions; a failed attempt to escape; the breakdown of her mental and physical health; her collapse and retreat into embroidery – a form of therapy and a way to preserve her memories and her experiences. (On one sampler she stitched her injustice into history: "I wish the vicar would submit to arbitration my claim against him for music lessons given to his daughter, regularly, twice a week, during the years 1834 and 1835.")
Gray captured Heaton's anger and excitability, and her at times wild behaviour was raw and poignant. But, there were moments of lightness too, as when the two Marys, kneeling with steel buckets and wire brushes to scrub the floor, struck up a percussive duet, as if in collective and creative defiance of the oppression which they endured. Visually and kinetically, the movement of white sheets was powerfully symbolic, and poetic. Director Zoe Bouras judged the tempo well, conveying the gradual breakdown of Heaton's spirit in a way which was alarming and distressing. Kristina Hjelm's lighting often captured Heaton in her extremities, freezing the suffering which is expressed through her songs.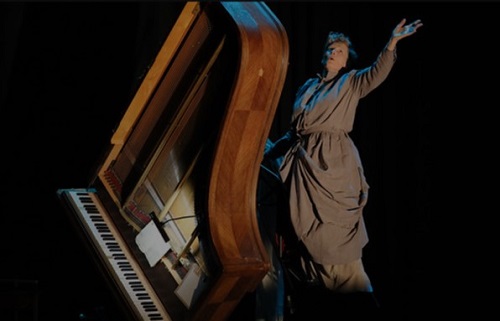 The vocal styles fuse various idioms, and straddle popular song, art-song and something more operatic. Some are ballad-like, some more contemporary, and the transitions between styles are persuasive, linking past and present, reality and art.  Gray's soprano is not a big voice, but she uses it expressively and Heaton's songs focused her physical and mental experiences in touching melodies and fragments which gave life to her stitchings and allowed her voice to be heard, her identity to be asserted, across the years.  A listener surely could not fail to respond with anything but sympathy, horror and outrage.
The songs are accompanied by an extraordinary 'Inside-out Piano', devised and played by Nicholls. The instrument forms a terrific visual and aural presence – both strangely beautiful and defiant. Heaton had been born into an affluent family, in 1801, but her father's death when she was eleven forced her to earn a living as a music teacher. And, it is through music that we hear the words which were a form of creative therapy in those asylum years.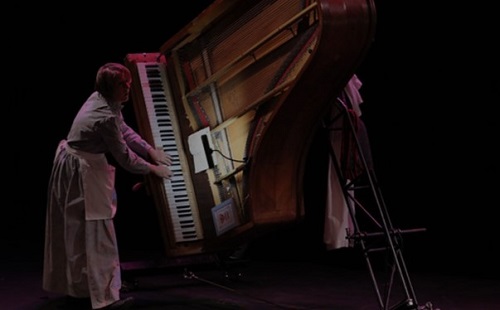 At times Nicholls played in vernacular idioms, at others she employed a minimalist aesthetic, and elsewhere 'prepared piano' timbres and textures provided an eerie tapestry of flickers, slides, ringing and tapping, at once evocative and disturbing. At one point, she even played a parlour-style piece as the piano swung back and forth, like a pendulum. It made for a powerful image of creative boldness and rebellion.
Heaton was a victim of Victorian society's fear of female self-determination, and of that society's intent on controlling those who spoke out and challenged, who defied ordained standard of 'femininity', who strove for intellectual and creative fulfilment.  At the start of The Unravelling Fantasia of Miss H, Gray – dressed in a striking scarlet dress and black boots – heckled the actors from her seat amid the Studio audience.  Invited by Webster's contemptuous Overseer to show that she could do better, Gray descended and donned Heaton's attire.  It was a gesture that I found rather self-conscious initially, but as the opera progressed it came to seem a fitting reminder that society still seeks to silence those who speak out and refuse to accept injustice.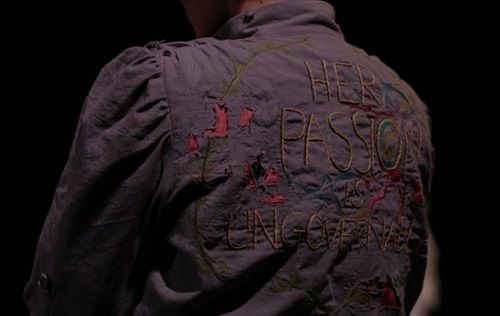 In 2020, Heaton was commemorated with a blue plaque, on the site of the old asylum in Wakefield. The Unravelling Fantasia of Miss H is a tribute, both thought-provoking and endearing, to Mary Heaton. As it rebukes the society that destroyed her spirit, so it also shows that that spirit endures.
Claire Seymour
Mary Frances Heaton – Red Gray, Mary Matthewson – Sarah Nicolls, Overseer/Asylum Attendant – Katie Webster; Director – Zoe Bouras, Choreography – Katie Webster, Lighting – Kristina Hjelm, Costumes – Rosie Whiting
Studio 1, Arcola Theatre (Grimeborn Festival), Dalston, London; Saturday 10th September 2022.