There were moments during the first night of Christof Loy's production of Tosca at the Coliseum, which opened English National Opera's 2022-23 season, when I thought that I might be watching a Peter Greenaway film.
First, Loy's production – first seen at Finnish National Opera and Ballet in 2018 – is visually lavish and combines theatrical grandeur with metatheatrical playfulness.  Christian Schmidt's period sets and costumes are handsome.  In Act 1, rather than the minor basicalla of Sant'Andrea della Valle, we seem to be inside a towering Roman cathedral, and it transforms neatly into Act 2's Palazzo Farnese.  The bright spaciousness of these Acts highlights the horror of Cavaradossi's confinement in a small grey prison cell at the start of Act 3, before the framing black curtain lifts to reveal the battlements of the Castel Sant'Angelo where the melodrama will reach its conclusion.  Indeed, after the earlier realism, the final set has an air of artifice, the executioners posing motionless, like cardboard cut-outs in a model theatre, as Cavaradossi roams around them and Tosca, dramatically lit by Olaf Winter, seems almost deranged by her naïve belief that Scarpia will keep his promise and spare her beloved.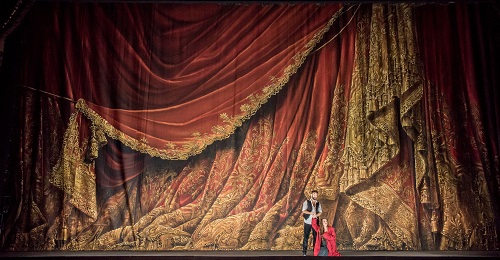 The artifice – in contrast to the opera's very real blood and brutality, rage and passion – is furthered by a recurring trope: a painted drop-curtain which appears first in an arch at the rear of Sant'Andrea della Valle, then spreads to cover the whole back wall by the end of Act 2, and finally becomes the back-drop to the lovers' Act 3 duet. Presumably, this is intended as a nod to Tosca's diva-dom, but it also seems to be a reminder that what we are watching isn't 'real' – rather odd given the verismo nature of the opera. And, the opera's realism is also tempered by dreams and delusions, not least in the final Act when the shepherd boy's pre-dawn pastoral song is transmuted into a song (sung sweetly by Matilda McDonald) delivered by a girl dressed to resemble Tosca – an embodiment of the memories which stir within the troubled sleep of the condemned Cavaradossi, perhaps?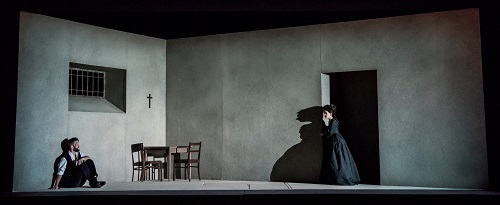 Then, there's the postmodern melange of period, dress and character. Tosca is set in the aftermath of the French Revolution – Sardou's 1887 drama, La Tosca, places the action in Rome in June 1800, when Italy had been invaded by Napoleon – and Loy sees Cavaradossi and Scarpia as embodying revolutionary idealism and aristocratic conservatism, respectively. So, while Tosca is set at a precise historic moment, the director argues that 'Cavaradossi and Scarpia represent two completely different worlds' – or, perhaps one might say, two different ways of looking at the world. Loy extends this principle, and aims to achieve a 'timelessness', by reaching back further into the past and looking ahead to the future. So, when Scarpia and his flunkies search the church for evidence of Cavaradossi's seditiousness at the close of Act 1, the latter wear pristine-white 18th-century dress, contrasting with the 1950s modernity of the congregation gathering for the Te Deum and with Cavaradossi's contemporary attire.
Loy describes Tosca as 'a woman stuck between two opposing worlds and philosophies … unpoliticised, innocent, and frail'. I'm not sure I agree: after all, 'Vissi d'arte' tells us what she has lived for; and the passion that drives her, as a diva, also drives her as a woman – she's prepared to sacrifice her soul to save her lover, after all. Fortunately, Sinéad Campbell-Wallace's forthright, focused Tosca was anything but artless and innocent. During Act 2, I never felt that this Tosca was truly afraid of Scarpia, rather utterly appalled and biding her time to enact her murderous vengeance. Campbell-Wallace sang with magnificent conviction. What a pity, though, that Loy chooses to mess around with 'Vissi d'arte' – the one moment in the opera when time stands still, isolating and illuminating Tosca as she reflects on her fate, her suffering made incarnate in glorious song – the very art to which she has dedicated her life. Here, during her prayer of despair, Scarpia paws at her, desperately, seemingly unhinged by lust.
As Cavaradossi, Adam Smith has a handsome stage and vocal presence. His tenor soared strongly to the heights, and he enjoyed staying there, his sustained peaks even and true. Perhaps a little more contrast of colour might have been welcome – sensuousness of tone in 'Recondita armonia', or greater introspection in 'E lucevan le stelle', perhaps. And, one might have wished for a little more chemistry between this Tosca and her painter-lover. But, Smith's Cavaradossi is confident and driven – a hero of integrity and unwavering courage.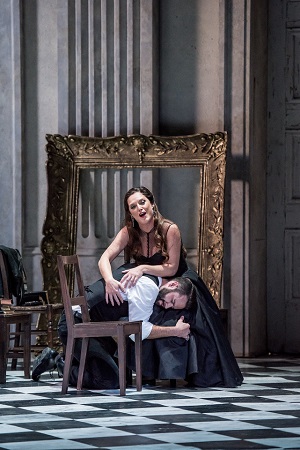 The American baritone Noel Bouley was unable to sing on this opening night, but he acted with physical vigour and ardour as baritone Roland Wood sang Scarpia from stage right. When Wood sang the role for ENO last summer, in an outdoor performance in Crystal Palace Park, I remarked the way he balanced the Chief of Police's vicious thuggery with a vocal sophistication, noting 'a devious smoothness in his subsequent callous tormenting of Tosca, the violence barely suppressed, imbuing the scene with a calculating mercilessness'. Some of that suaveness was again evident in Wood's performance, but he would have benefited at times from more sympathetic dynamics from conductor Leo Hussain (though it was good to hear the ENO Orchestra sounding radiant). Wood's vocal characterisation sometimes stood in contrast, however, to the visceral lack of self-restraint of Loy's Scarpia. Would this 'conservative aristocrat' really submit to his desires in public, writhing frenziedly during the Act 1 Te Deum, risking his authority and power?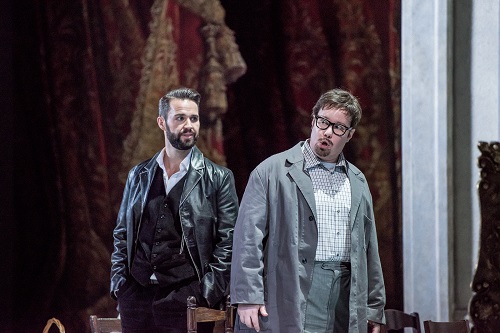 The minor roles were well-sung but did not make as much of a mark as they might have done. Bass Msimelelo Mbali and bass-baritone Ossian Huskinson were vocally convincing as Angelotti and the police agent Sciarrone, respectively, but the interpretations felt under-characterised. Lucia Lucas was strong as the Sacristan, and the humour was lightly done (though some details were neglected: no self-respecting sexton, when tidying up the Marian votive offerings, would pick up two blooms and leave several bouquets-worth strewn on the floor). Jon Findon was a fine Spoletta, too, his stillness much more terrifying than his boss's sexual flailing.
This is a very well-sung and an interesting Tosca. Loy seems to reach both for tradition and invention. Not everything comes off. There is a tension between naturalism and artifice, and the final Act is not always persuasive. I wonder, though, if at the close, as Tosca throws herself from the battlements, Loy intends to suggest that in comprehending the bitter reality of Scarpia's deception, Tosca – a 'real' woman within an operatic fiction – becomes one of the roles she plays upon that fictional operatic stage, with no choice but to fulfil the role that is written for her? A sophisticated merging of 'life' and art, with us, the audience, firmly on one side of that red-drop curtain?
Tosca continues at ENO until 4th November.
Claire Seymour
Floria Tosca – Sinéad Campbell Wallace, Mario Cavaradossi – Adam Smith, Barone Scarpia – Noel Bouley (sung by Roland Wood), Angelotti – Msimelelo Mbali, Sacristan – Lucia Lucas, Spoletta – John Findon, Sciarrone – Ossian Huskinson, Gaoler – Ronald Nairne, Girl – Matilda McDonald; Director – Christof Loy, Conductor – Leo Hussain, Designer – Christian Schmidt, Lighting Designer – Olaf Winter, Orchestra of English National Opera.
English National Opera, Coliseum, London; Friday 30th September 2022.
ABOVE: Tosca, Act 3 (c) Genevieve Girling