Mid Wales Opera has virtually created an instruction manual for the performance of community-based opera in rural areas, shrink-wrapping works into spaces that rarely enjoy professional presentation. Its month-long SmallStages tour opened at Gregynog Hall, just a few miles north of Newtown in central Wales. Once home to the philanthropic Davies Sisters in the early part of last century, Gregynog is a magical, almost fairy-tale historic building set within a glorious 750-acre estate.
For the company's autumn show Artistic Director Richard Studer and Musical Director Jonathan Lyness have chosen to stage El gato con botas otherwise known as Puss in Boots by Catalan composer Xavier Montsalvatge (1912-2002). One of Spain's foremost 20th-century composers, the bulk of his work is instrumental, but there are three operas: Puss In Boots, (1947), Una Voce In Off (1961) and Babel 46 (1967). The first, with a libretto by the journalist, novelist and food critic Néstor Luján, was premiered at Barcelona's Teatre del Liceu in January 1948.
Puss in Boots is an eclectic family-friendly opera closely based on Charles Perrault's version of the traditional fairy-tale. Its single, fifty-minute act follows the progress of an impoverished miller who inherits a wily cat, who in return for a hat, a bone sword and a pair of boots, secures for its otherwise hapless master a marriage to a Princess and untold riches. Along the way the cunning moggy tricks a dim-witted Ogre out of his castle. This new chamber version (five singers and five instrumentalists) is the first performance in Wales and follows a UK premiere in 2013 at London's Linbury Theatre, Covent Garden.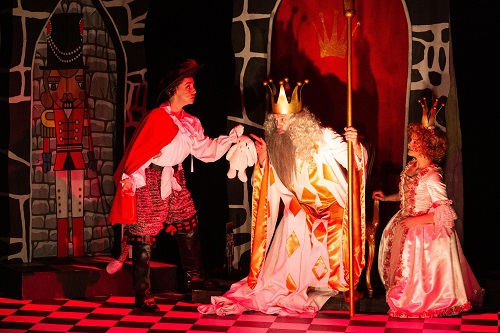 If you're not familiar with Montsalvatge, there's no need to worry, for his wonderfully communicative and comic score (not unlike a panto) is packed with engaging tunes that straddle classical and salon styles. There's nothing to offend the ear in its primary colours, or its neo-classical dances and recitatives. Added to that, you can expect a fast and furious Rossini-esque duet and an oriental-sounding rabbit song. Tangy harmonies are redolent of Poulenc and Prokofiev, and there's a waltz that might be by Erik Satie.  In short, Mid Wales Opera has come up with a scintillating gem.
Three uprights conjure an ancient castle in Richard Studer's simple yet typically economical set, one capable of being flat-packed into the back of a van ready to be whisked off to the next far-off village or Welsh border town. There's plenty of momentum and slick delivery in comic scenes, including an exaggerated 'drowning' and rescue of the Miller and the transformation of the Ogre to a 'story book' lion, an exotic parrot and a camp mouse – effects and timing both superbly achieved, the whole closing with a rousing vocal quartet.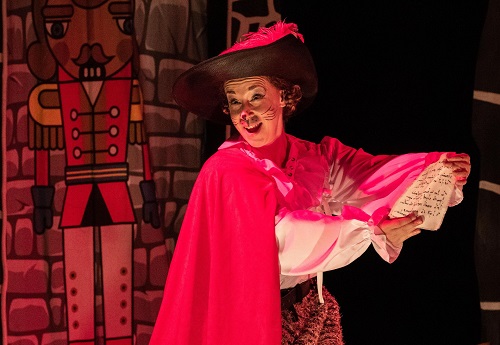 Welsh tenor Huw Ynyr brought a bewildered naivety to the Miller, and his ringing tones amply filled the stage. His sidekick Martha Jones was a delight as the infectious and titular cat. She consistently held the ear and eye with a magnetism that easily charmed Trevor Eliot Bowes' Ogre out of his castle, though not before his resounding bass captivated with his own generously endowed song to gluttony. Philip Smith easily persuaded as the deaf and doddery King, while Alys Mererid Roberts was to the manor born as the coquettish and pouting Princess – closely resembling in her movements Miranda Richardson as the Queen in the Black Adder television series. Clarity of diction will no doubt improve as the show progresses.
All in all, Studer and Lyness have done a terrific job, and the reduced chamber score works well, with Lyness supported by Alanna Pennar-Macfarlane, bassoon; James Harrison, percussion; Jac Thomas, trumpet; and Elenid Owen, violin.
The evening was completed by a pot-pourri of popular numbers drawn from the world of film, opera and stage musical. Amongst the unlisted cabaret-style items was a fine rendition from Jones and Lyness of 'Somewhere over the Rainbow', but the standout performance was Adelaide's showstopping aria 'Tiara…tiara' from Jonathan Dove's chamber opera The Enchanted Pig, sung with theatrical aplomb by Alys Mererid Roberts.
David Truslove
Cat – Martha Jones, Miller – Huw Ynyr, King – Philip Smith, Princess – Alys Mererid Roberts, Ogre – Trevor Eliot Bowes; Director/Designer/English translation – Richard Studer, Music Director/piano/chamber arrangement – Jonathan Lyness.
Gregynog Hall, Tregynon, Newtown; Friday 14th October 2022.
All images (c) John Reading