Identifying the influences which inform her new production of Jacques Offenbach's Orpheus in the Underworld at the Royal College of Music, director Louise Bakker cites 'everything from Brideshead, Blackadder and Busby Berkeley to Mills & Boon, Father Ted, Not the Nine O'Clock News, the entire Disney back catalogue, every musical every, and anything in between'.  And, that pretty much sums it up: Bakker's production is a colourful, chaotic, cultural rag-bag – but one which is fast and funny, boisterous and bawdy, and witty without too sharp an edge.  Bakker doesn't include panto in her list of cultural references, but if modern miseries are making it difficult to get into a Christmassy spirit, then this zany production just might put you in a festive mood.
Offenbach's 1858 spoof on the Orphic myth satirises the hypocrisies and high-society scandals of Second Empire Paris.  Orpheus and Eurydice are trapped in a failing marriage.  He is wedded to his music; driven to despair by his violin playing, she just wants to party with her lover, Aristaeus (Pluto in disguise).  Bitten by a snake and whisked by Pluto to the Underworld, she finds the hedonism she's been longing for.  Public Opinion forces the reluctant Orpheus to descend to Hades to rescue his wife, who, despite being guarded by John Styx, is enjoying the seductions on offer.  Orpheus arrives to find a debauched party in full swing, resists the treats and temptations, but – alarmed by a lightning bolt flung by the calculating Jupiter – can't resist taking a peek behind as he is leading his wife from Hell, thus losing her forever.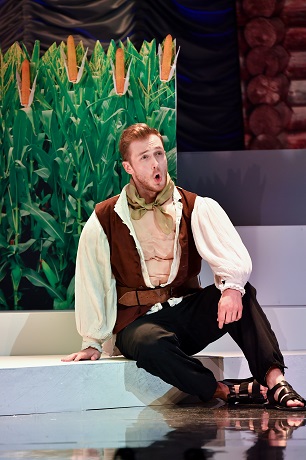 Anna Yates's designs and costumes colourfully convey the cartoonish theatricality of the operatta.  The opening set, with its shepherds' huts and verdant meadows, gently mocks the pastoral idyll of classical antiquity.  Mount Olympus is a tiered terrace of white duvets under which the gods sprawl, bored with their diet of ambrosia and nectar.  Reclining on the chaise longue in her Underworld boudoir, Eurydice has a drinks-trolley to hand and relishes the vodka-on-tap and the ministrations of Jupiter (disguised as fly) in equal measure.  A gleaming ruched curtain – beautifully lit by Andrew Ellis – is a suitably sumptuous frame for the pleasures of Hell, which are enjoyed by a motley crew of rebellious gods whose spectacular costumes are a glorious riot of glitter and invention.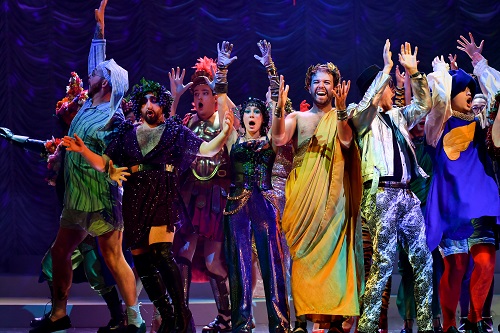 If this RCM production is more silly than satirical, then Yates sensibly doesn't clutter the stage of the Britten Theatre, which leaves plenty of room for the incredibly well-drilled horseplay and a charming Grand Galop which is playfully choreographedby Merry Holden.  The opening-night cast acted up without over-acting, and made the carefully rehearsed mayhem seem spontaneous.  They also made the characters their own and enjoy the drolleries of Jeremy Sams' translation.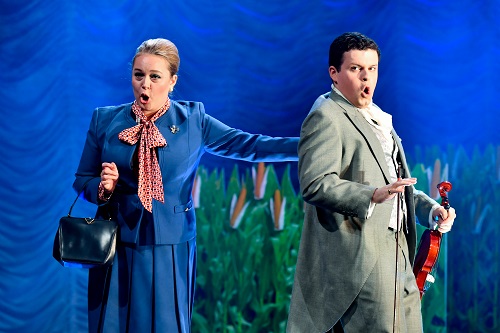 Nattily attired in grey tails, tenor Dafydd Jones was amusing in the title role, saucily disappearing into his hut with his violin pupil, seemingly delighted by the death of his wife, and sulkily descending to the deep realms when reminded by the nagging Public Opinion of the need to live up to his reputation. Jones' tenor is sweet and it charmed as much as Orpheus' violin. As party-girl Eurydice, Sofia Kirwan-Baez sparkled. A superb singer-actress, the Anglo-Venezuelan soprano flounced feistily and raced through the coloratura flights with polish and panache. Her Act II duet with baritone Jamie Woollard's Jupiter – less 'golden fly' than ghastly bluebottle – was a tour de force of musical comedy.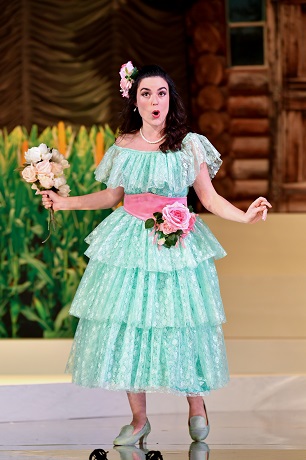 The cast is large and there were too many fine performances to mention. Scottish tenor Marcus Swietlicki wickedly transformed himself from the six-pack flaunting Aristaeus to the silver-suited Pluto, and indulged the latter's licentiousness with glee. As the long-suffering Juno, Amber Reeves made a strong impression, as did Anastasia Koorn, Charlotte Kennedy and Lylis O'Hara as the three goddesses, Cupid, Venus and Diana – Koorn's return to Olympus after an amorous assignation on Earth was sweetly saucy. Baritone Redmond Saunders was a boorish John Styx, but sang 'When I was King of Boeotia' with winning warmth. A cross between a bossy air-hostess and a bullish member of the Women's Institute, Annabel Kennedy's Public Opinion swung her Thatcher-handbag with aplomb. Simon Brown made Mercury's big number a highlight.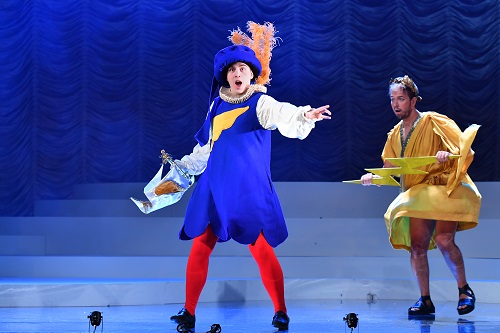 Of course, the real charm of Offenbach's zany capers is that the beauty of the score belies the absurdities on stage.  Conductor Michael Rosewell kept things spinning along with bounce and brightness, though sometimes a bit less haste and more grace would have been welcome – most especially when Orpheus serenades his wife with a violin solo so sweet that it heals their rift.  It was beautifully played by leader Jessica Meakin, but the melody needs room to breathe to confirm Orpheus' reputation as the musician-poet of ancient myth whose ravishing song can entrance enemies and beasts.
Despite the view of one stuffy 19th-century critic that the operetta was a 'profanation of holy and glorious antiquity', Offenbach was less interested in mocking the gods than in lampooning the pompous Bouffes Parisiens patrons. There's nothing profound in his Orpheus but much that is both barmy and beautiful. Bakker and the terrific ensemble cast surely play it just as Offenbach intended.
Claire Seymour
Orpheus – Dafydd Jones, Eurydice – Sofia Kirwan-Baez, Public Opinion – Annabel Kennedy, Pluto – Marcus Swietlicki, Cupid – Anastasia Koorn, Venus – Charlotte Kennedy, Jupiter – Jamie Woollard, Diana – Lylis O'Hara, Juno – Amber Reeves, Mercury – Simon Brown, Minerva – Georgia Melville, John Styx – Redmond Sanders, Bacchus – David Fraser, Cybele – Jessica Lawley, Hebe – Amelia Langley, Morpheus – Connor Dalton, Mars – Michael Roche, Cynthia – Zixin Tang, Cerberus/Sheep – Heny Wright, Sheep/Friends – Jiyu Chen & Ning Su, Children/Friends – Simon Brown, Laura Mekhail & Ceferina Perry, Olympus Attendants/Bacchante – Lily Mo Browne, Lucy Gibbs & Zixin Tang; Director – Louise Bakker, Conductor – Michael Rosewell, Designer – Anna Yates, Lighting Designer – Andrew Ellis, Choreographer – Merry Holden, Royal College of Music Opera Orchestra
Britten Theatre, Royal College of Music, London; Monday 21st November 2022.
ABOVE: Jamie Woollard (Jupiter) and Sofia Kirwan-Baez (Eurydice)