David McVicar's production of Mozart's The Magic Flute is well on its way to its 20th anniversary (the production debuted in 2003). The current revival (seen 19 December 2022) is in the hands of revival director Angelo Smimmo and features a strong double cast. Maxim Emelyanychev conducts (with Richard Heatherington taking over for two performances). We saw Filipe Manu as Tamino, Anna Prohaska as Pamina, Aigul Khismatullina as the Queen of the Night, Brindley Sherratt as Sarastro, Gyula Orendt as Papageno, plus Alexandra Lowe, Gabriele Kupsyte and Kseniia Nikolaieva as the three ladies. Designs were by John MacFarlane, and lighting by Paule Constable.
We have come a long way from the 1980s when the distinguished Swedish conductor Arnold Östman conducted Don Giovanni at Covent Garden and evidently failed in his attempt at constructive dialogue with the orchestra about period style. Since the present production of The Magic Flute debuted, generations of orchestral players have trained at conservatoires where period performance is an accepted part of the system. For the recent performances of Handel's Alcina at the Royal Opera, under conductor Christian Curnyn the orchestra used Baroque bows for the first time. The conductor of the present revival, Maxim Emelyanychev, is known for his work both with period and modern ensembles and previously conducted Handel's Agrippina here.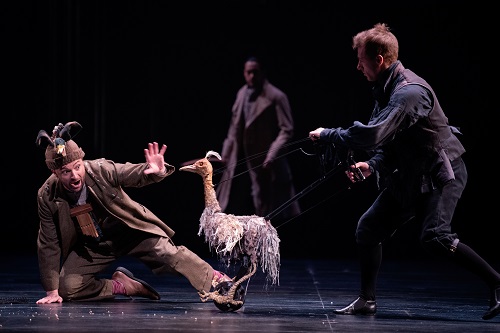 His way with The Magic Flute was a nice mix of ancient and modern, tempi were generally swift without being mad, there was a crispness to the articulation and a certain way with the bows on the strings that gave a sense of period style without being mannered. This was not a performance for those wanting a Mozart in the manner of Otto Klemperer or Sir Colin Davis (who conducted the production's debut), but it was a genuine attempt to bring a sense of the music-making of Mozart's time into the orchestral pit. I enjoyed the orchestral contribution immensely, and throughout the evening found details in the instrumental playing to enjoy.
Maxim Emelyanychev's approach was all of a piece with the whole production. Anna Prohaska is known for her work with period instrument ensembles and neither she nor Filipe Manu have exceptionally large voices. This was a lyric account of the work and one that was intimate as it is possible to get in the vast expanses of Covent Garden's auditorium.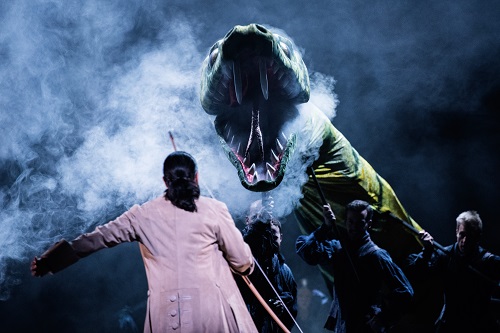 As Pamina and Tamino, Prohaska and Manu showed an interesting difference in approach to the music; a not unwelcome division and it perhaps reflects the two characters' profoundly different world views. Prohaska sang with a highly detailed, very word-based approach. She has a lovely, affecting timbre and brought a range of colour, articulation and phrasing to bear on the music, inflecting every word and phrase. I did wonder whether this was perhaps too detailed a performance for the large scale of the auditorium. Her Pamina was very definite and quietly insistent. By contrast, Filipe Manu brought a more Italianate approach to the music, considering the line as a whole with less attention paid to the words. He made an appealing Tamino, with plenty of ingratiating tone and quite a distinctive timbre.
As Papageno, Gyula Orendt was a complete delight. A highly musical artist, this performance sounded superb but was based around a highly physical approach to the character; Papageno's physical hi-jinks in the production clearly phased Orendt not one wit. He also had a lovely way of including the audience in his asides, making the character into just the right sort of sad clown.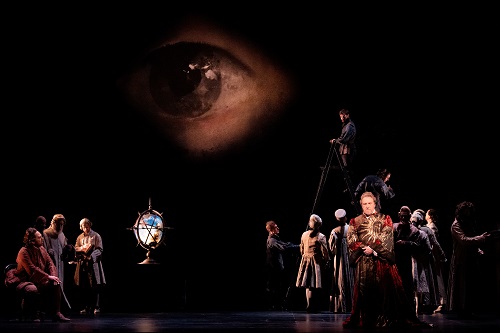 Aigul Khismatullina made a fiery, incisive Queen of the Night, creating a strong presence despite being relatively slight. Her voice had something of an edge to it and perhaps the very top was somewhat steely, but in context, this worked well and her explosions onto the stage were all wonderfully memorable. With Brindley Sherratt's Sarastro it was lovely to be able to relax and not have to excuse either the top or the bottom of his range in this tricky role. Sherratt sang with ease and directness, conveying a natural authority as well as a sense of something more complex.
The smaller roles were all well taken. The three ladies, Alexandra Lowe, Gabriele Kupsyte and Kseniia Nikolaieva, were nicely differentiated yet formed a most enjoyable ensemble and their first scene seemed to get rather more laughs than is sometimes the case. Donald Maxwell and Harry Nicoll as the First and Second Priests are a long-running double act in this production and all the more enjoyable for it and Oliver Zwarg made for a very distinguished Speaker. Brenton Ryan was clearly having a ball as the evil Monostatos. Sarah Dufresne was a delightful Papagena, gloriously over the top in her first appearances.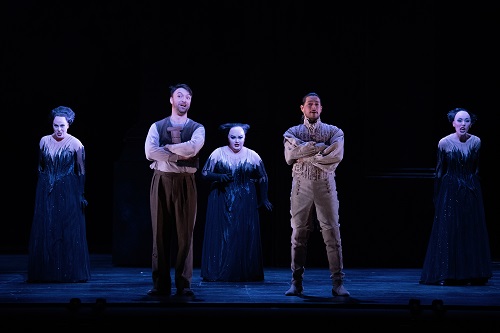 The Royal Opera seems to be on something of a roll at the moment when it comes to its child performers. The three boys in this production were the admirable Tharuni Khalvannan, Patrick Devlin and Frederick Mushrafi, all three a pleasure to listen to and formed a neat ensemble. The two armed men were Egor Zhuravskii and Thomas D Hopkinson, both giving strong and stylish performances.
There is a lot of magic and comedy in this production, but it never becomes pantomime and McVicar's approach to Sarastro and his temple remains a thoughtful one. The elements of misogyny which survive in the text mostly received a laugh, which is perhaps the best response. Creating a Magic Flute that completely reflects modern ideas would mean changing so much, the fabric of the opera would be different.
Robert Hugill
Mozart: The Magic Flute
Tamino – Filipe Manu, First Lady – Alexandra Lowe, Second Lady – Gabriela Kupsyte, Third Lady –Kseniia Nikolaieva, Papageno – Gyula Orendt, Queen of the Night – Aigul Khismatullina, Monostatos – Brenton Ryan, Pamina – Anna Prohaska, First Child – Tharuni Klavannan, Second Child – Patrick Devlin, Third Child – Frederick Mushrafi, Speaker – Oliver Zwarg, Sarastro – Brindley Sherratt, First Priest – Harry Nicoll, Second Priest – Donald Maxwell, Papagena – Sarah Dufresne: First Armed Man – Egor Zhuravskii, Second Armed Man – Thomas D Hopkinson; Director – David McVicar/Angelo Smimmo, Conductor – Maxim Emelyanychev, Designer – John Macfarlane, Lighting – Paule Constable, Movement – Leah Haussman, Chorus and Orchestra of the Royal Opera House.
Royal Opera House, Covent Garden, London; Monday 19th December 2022.
ABOVE: Aigul Khismatullina (Queen of the Night), Anna Prohaska (Pamina), The Magic Flute © ROH 2022