Criticism of Simon Rattle as a conductor might be justified in several ways; as a creator and innovator of concert programs, however, such criticism would be very wide of the mark. The second half of this concert, devoted to some fifteen short works by Stravinsky, was surely one of the most imaginative he has constructed for many years.
Rattle's Stravinsky Journey was certainly not without its problems. Fascinating it could be, but covering a period of sixty years, from The Faun and the Shepherdess in 1906 through to The Canticles in 1966 it juxtaposed so many styles, techniques and inventions and re-inventions that one was left with an impression that Stravinsky wasn't just a very uneven composer he could be a strikingly derivative and unimaginative one too. For Rattle Stravinsky shares the Haydn problem – the output we know, against the output the composer wrote. In the case of Stravinsky it is a small body of great works (in this case his major ballets) that form our major appreciation of Stravinsky – although even Karajan, seen by many as a relatively conservative Stravinskian, saw beyond the Rite of Spring, conducting Apollon, Symphony of Psalms and Circus Polka for example.
Some of the music here was unquestionably interesting, although for quite unexpected reasons. The 1908 work Fue d'artifice (Fireworks) is something of an orchestral showpiece, ostensibly influenced by Stravinsky's teacher Rimsky-Korsakov. Listen to it, however, and the year 1897 comes to mind and another composer and work – Dukas and L'Apprenti sorcier. The first song, The faun and the Shepherdess, is based on the Pushkin poem and was composed by Stravinsky during his honeymoon with his first wife, Katherina Nosenko. Stravinsky later admitted that this work didn't sound like Stravinsky at all, or did so only through the thick spectacles of hindsight and its plush eroticism certainly implies that is the case. I don't think that Rattle's treatment – I supposed manhandling might be too strong a word – of the LSO's strings helped. But nor, I think, did the mezzo-soprano, Anna Lapkovskaja who produced magnificently beautiful sounds to match the languid and radiant language of the text. Born in Minsk her Russian is clearly native; however, I struggled to follow the texts all evening so dense and gloopy did it sound.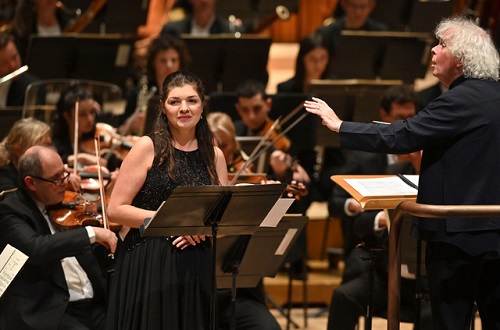 The 1915-1916 Berceuses du chat (or, Cat Lullabies) were mischievous little songs, thematically a part of this journey's celebration of animals (Circus Polka: For a Young Elephant, for example). Written for three clarinets (E flat, B flat and A) there are striking imitations and reflections of the Rite of Spring in places. If the English translation of the text is a true reflection of the Russian then the alliterative nature of these songs requires extraordinary vocal finesse. In a sense Lapkovskaja's diction had a beautifully 'purring' rhythm to it. Her agility and expressiveness, the way she moved between each word and comma, was like the deftest of cat paws leaving a perfectly symmetrical pattern in snow. Line endings, which could have sounded harsh, didn't. These songs moved with such speed one was really left reeling by the perfection of their precision.
And how does one make sense out of nonsense – or Pribaoutki (Nonsense Rhymes)? The lines here are almost like ridiculous little epigrams. Written by Alexander Afanaseyev – who wrote hundreds of folk and fairy tales – the language can seem strikingly surrealist. Orchestrated for woodwind and single strings, Lapkovskaja brought a biting, incisive intelligence and cleverness to these songs. One could hear the satirical fun she brought to 'The Colonel' – the translation was so clear what was being sung, but she made much of the humour that was in the original Russian – every single word (and there were twenty-three of them) beginning with the letter 'p'.
I think, musically, Rattle's Stravinskian Journey probably showed a development into quirkier music the older Stravinsky became. The excerpts from the Suites Nr.1 and Nr.2 such as 'Balalaika' and 'Gallop' both dismantle the very idea of Russian fairy tales into a radically different construct. Towards the end of his career, in 1966, when he was composing Requiem Canticles, his partial setting of the requiem mass, we get the Stravinsky of serialism but also the Stravinsky who borrows from all of his compositional periods. The 'Postlude', which we heard here, with its tolling bells, is almost Stravinsky anticipating his own funeral – as well as embracing it.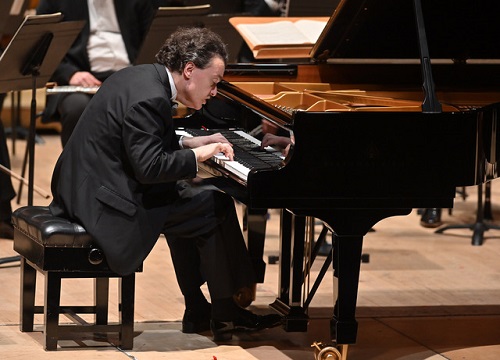 The first half of the concert had been devoted to Evgeny Kissin in Mozart's K488, his Piano Concerto Nr.23. Originally Kissin had been scheduled to play Rachmaninoff's Piano Concerto Nr.3, a work he has not, to my recollection, played for many years. Injury prevented him from doing so, so we got the Mozart instead – and a performance which, ironically, had all the weight of a Rachmaninoff concerto. Kissin remains a great artist, although not having seen him play for quite a few years, and sat keyboard side, I was reminded why I am sometimes conflicted by this artist and his pianism.
Despite his clear Russian roots Kissin does not to me have a particularly Russian style of playing – unlike, for example, Daniil Trifonov who so obviously does. Trifonov plays Mozart with such delicacy and beauty of tone you know precisely where it's coming from when you watch his hands against the keyboard; with Kissin, you're never quite so sure. This was largely a rather dry, even quite harsh, account of this most lyrical of Mozart's piano concertos. Dotted notes in Mozart, for example, are often overlooked; here Kissin was adamant they were played, and over-played, to the extent I thought we were in the wrong concerto – the one he was scheduled to have played. Not until the second movement did any real sense of dynamic contrast come to settle on the concerto, although this, too, was often in conflict. It felt slower than a real adagio, however, with Kissin magnifying the broadness into epic prose rather than poetic lines or stanzas. It could have been a valid interpretation – indeed almost was – had he not managed to be outmanoeuvred by Rattle who got glowing phrasing from the LSO throughout this movement. Where Kissin could have brought a pathos to the keyboard it really came from the glorious woodwind instead. The final movement was kinetic, a transformation, with Kissin engaged with both himself and Rattle. It felt light, buoyant and almost improvised. It was as if scores had finally been settled.
Encores were relatively generous, beginning with a quite superb A minor Rondo by Mozart. Almost everything absent from the concerto was here in spades. There was a lightness of touch, a care for detail – and there was a connection between the music and pianist that made some of Mozart's repetition seem less problematic than it sometimes is. Chopin's Waltz in D-flat major, Op.64, Nr.1 was dashed off with all the charm, romanticism and crystalline brilliance of a Rubenstein and one can't say better than that.
With Kissin there is, I think, a certain redundancy to any review. Since he is giving up his fees to help those in Ukraine hearing this great artist is enough. Humanity and a willingness to be humanitarian strike me as more important today. Rattle's Stravinsky Journey was not without its imperfections either. But put together, I think both Kissin and Rattle did make for a memorable evening.
Marc Bridle
Mozart – Piano Concerto No.23 K488, Igor Stravinsky arr. Sir Simon Rattle – Stravinsky Journey
Evgeny Kissin (piano), Anna Lapkovskaja (mezzo-soprano), London Symphony Orchestra, Sir Simon Rattle (conductor)
Barbican Centre, London; Wednesday 14th December 2022.
ABOVE: Anna Lapkovskaja (c) Mark Allan