Guillaume de Machaut's Remede de Fortune (c.1340) is at once a coming-of-age tale; a didactic work on the arts of poetry, music, rhetoric and memory; a microcosm of, and manual for, fourteenth-century courtly life and manners; and an encyclopaedia of lyric and musical forms.
Within its 4,300 lines there is a series of seven interpolated lyric poems, set to music, which are performed by the characters in the narrative, and which represent both the monody of the trouvère style (the chanson royale, complainte, and lay), written in Ars antiqua notation, and Ars nova polyphonic songs (the baladelle, ballade, virelai and rondelet) using the new tempus mensuration which was being introduced at this time. The songs, some sung alone, some which accompany courtly entertainments, both add to the narrative and draw additional meaning from their performance context with it.
In the Prologue, Machaut explains that the creation of songs requires six elements: 'Dous penser, Plaisance, & Esperance, and Scens, Rhetorique, & Musique.' And, in some ways, Remede de Fortune can be seen as an allegory for the creative process. But, this dit amoureux is also a charming microcosm of courtly life, its tale enduring in its appeal. And, with Machaut: Songs from Remede de Fortune, the latest disc in their eleven-volume Machaut Project on the Hyperion label, the Orlando Consort enable us to enjoy its emotional and expressive range.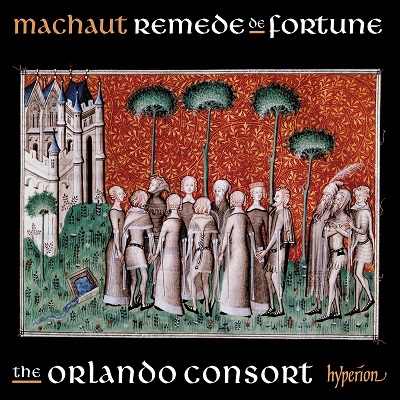 A young, nervous, and somewhat callow youth (the Amant) is in love but unable to declare himself to his Lady. He writes a poem, the lay, which expresses his devotion, but when she asks him who the author is, he is unable to respond and flees from the court – a considerable social faux pas. He languishes in the garden of Hesdin (a real garden in Artois, well known to Machaut's courtly audience), composing a complainte against Fortune, but just when he seems ready to renounce life, a beautiful lady, the allegorical figure of Hope, appears, to give him a counselling session: Love brings only joy, and what he is suffering from is Desire. Her songs teach him the importance of self-reliance and he returns to court to declare his love, winning his Lady's heart.
The fruits of his new understanding are evident in the songs he sings as he participates in the social activities of the court, and he ends the poem by bidding farewell to his lady, and entering the public sphere of courtly life: 'an open field, where everyone was finding great pleasure in arms, love, merriment, jousting, and tourneying, and in every other pleasant pastime.' (Une marche/ Ou toute joie maint et marche,/ D'armes, d'amours, de festoier,/ De jouster, et de tornoier,/ Et de toute autre bonne vie.')
Despite his initial social clumsiness, the extended lay which is the expression of his love presents the Amant as already a master of the medieval lyric tradition, and its considerable challenges are divided here between three singers who collectively span the lay's wide vocal range. Baritone Donald Greig begins the lover's exaltations on the comfort, satisfaction and inspiration that Love brings, the repeating musical gestures flowingly integrated within the flexible but well-directed line. The vocal sound is very present, the judicious resonance of the church of St John the Baptist in Loughton, Essex, helpfully adding to the listener's sense of the young man's burning vigour. And, the rise in tessitura as he rejoices in the passion that his Lady's beauty and goodness inspire serves to heighten this intensity, as tenor Mark Dobell draws meaning from the false relations and melodic twists which convey the bitter suffering that Desire brings, but which is cured by the sweetness of her eyes and smile.
Dobell climbs easily to the top when the lover explains that she who is the 'treasurer' of his heart does not know of his love, the yearningly rising phrases conveying both his hope and his tender doubts that he is worthy of her love. And, after the fluency of the stepwise motion, the falling fifths that are introduced when the lover shares his fear that to declare his love will bring about rebuff are expressively coloured by Dobell. Tenor Angus Smith is pushed even higher, the gestures more elaborate now, as the lover indulges in increasingly impassioned avowals to keep his love hidden, even as his trembling heart is assailed and pierced by the dart of Desire. The lay is the pinnacle of artistic skill and it's sung with worthy accomplishment, the lover's fluctuating, often extreme, emotions vividly communicated.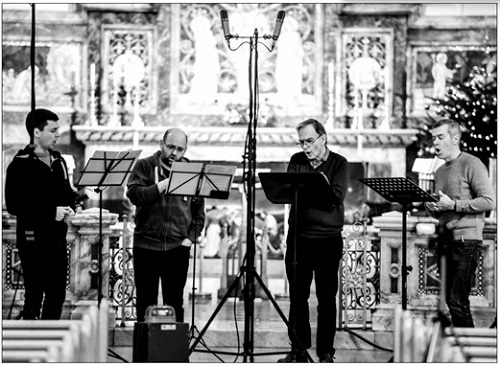 After such exuberance, the complainte is static, presenting 36 stanzas of the same metrical and musical form. To sing it complete would take almost an hour, so Mark Dobell sings just 15 stanzas – a pragmatic decision but one which does disturb the form of the complainte which is divided into two sections, one berating Fortune who has 'more than a thousand tricks to entrap and deceive', the other lamenting the shortcomings of Love, Hope and Desire, and ending in despair: 'I'll render up my soul, my hands joined, my head bowed.' Dobell employs subtle variations of dynamic and colour which communicate the lover's desolation as he excoriates Fortune, 'Harsh, fickle, terrifying, traitorous, unpleasant, deceptive', the feminine endings of the lyric beautifully shaped as the lover languishes in his misery.
Hope's jaunty chanson royale, 'Joye plaisance', is the musical embodiment of persuasive rhetoric. The lover explains that, 'sweet' and 'consoling', Hope sang her pretty, joyful song to him 'with a voice clear and soothing'. Countertenor Matthew Venner shares these qualities and sings with a real sense of purpose, holding the listener's attention with added emphasis and colour at points of intensity, as when Hope almost fiercely insists that he who possesses 'Hope, Sweet Thought, Joy and Pleasure' should ask for nothing more, for if he does, 'I say, Love will throw him over'. At the close of the song, Hope asks if she has 'bien debatu', argued well, and there can be no doubting the answer here.
At this point, the long monodies give way to shorter lyrics, set in a more intricate fashion. Hope's second song, a baladelle, 'En amer en douce vie', falls halfway through Remede and introduces polyphony into the narrative – it also, as Anne Stone remarks in her eloquent liner note, requires some suspension of disbelief as Hope's voice is now embodied by four singers. The richness of the blended voices is invigorating, though, capturing Hope's earnestness as she counsels that Love humbles the lover's heart through suffering – here enhanced by some telling motivic elaboration and dissonance. There's a lovely energy as the vocal lines become increasingly dynamic and sophisticated. Venner dances lightly at the top and Greig provides a steadying bass as the two tenor voices enter and recede with expressive gestures. The triplet rhythms create a real sense of freedom, matching the lyric's avowal that Love liberates 'the hearts of lover and beloved'.
No wonder the lover is revived and rejuvenated. Mulling over Hope's words and harmonies – the sweetest he has ever heard – and committing her song to memory, he is inspired to compose his own ballade, 'Dame de qui toute ma joie vient'. The Orlando Consort present it twice, first for two voices, Greig and Dobell entwining richly as the lover exults in his regained joy, nourished by his amorous desires, and then again at the end of the series in a version for four voices. Back at court, he declares his love in a simple virelai which accompanies the social dancing. The rhythmic jauntiness and elasticity of 'Dame, a vous sans retollir' is skilfully conveyed by Greig, whose pleasing baritone has a real spring in its step, matching the dancers' graceful exertions.
After the Amant and his Lady have exchanged rings to seal their union, the lover, ecstatic that 'Hope had fulfilled her promise about everything she'd pledged', expresses his gratitude in a rondelet, 'Dame, mon cuer en vous remaint, Comment que de vous me departe' (My lady, my heart remains with you, though I am leaving you behind), and goes on his way. Smith, Dobell and Venner wind through the melismatic, polyphonic complexity with impressive precision and smoothness. It's a lovely valediction.
Machaut's Prologue sets poetry and music almost in opposition to each other. We are told that, 'Music will give you songs as many as you like, seductive and diverse' and that 'Music is an art which likes people to laugh and sing and dance.' And, this disc invites one to do just that, as it schools the listener in the Arts of Music, Poetry and Love.
Machaut: Songs from Remede de Fortune is released on 3rd February 2023.
Claire Seymour
Machaut: Remede de Fortune
The Orlando Consort: Matthew Venner (countertenor), Mark Dobell (tenor), Angus Smith (tenor), Donald Greig (baritone)
Hyperion CDA68399 [71:23]