If one thinks of a classical 'Passion' one might not expect the Chinese-American composer Tan Dun to feature in any list of compositions. The liturgical, protestant, Passions of Bach (unfashionable in his own lifetime) but back in vogue have inspired different western composers, such as Penderecki and Arvo Pärt. But he is not entirely unfamiliar with it. Tan Dun did, in fact, compose for Helmuth Rilling one of the four gospels – St Matthew – in what became known as his Water Passion after St Matthew.
Tan's 2018 Buddha Passion, however, would be unrecognisable by the definition in the strictest terms – indeed, watching this performance, the UK premiere of it, one wonders whether it is something else entirely. One clue to this is in just how much of the narrative the writer is going to have to explain to the reader – this is much more a case of Gurrelieder territory than St Matthew's Passion territory.
Tan Dun wrote his own libretto for Buddha Passion, something which, like Michael Tippett in his oratorio A Child of Our Time or his opera A Midsummer's Marriage, he probably should have avoided; composers are rarely their own best librettists. A quartet of singers take on quite a large number of characters – although these are split across six acts so it is less confusing than it might sound. Those six acts are themselves split into a number of 'themes' or moral stories as scenes – so we get, for example, in Act I: Under the Bodhi Tree, Chant, Little Prince, Mantra and Equality; Act IV is the Zen Garden, Act VI Nirvana. The division of labour for the quartet of singers is not that unusual: the baritone sings most of the heavy weight roles (The Emperor, The King, Daman Hongren (5th Patriarch) and Buddha), the soprano (The Deer of Nine Colours, Princess Miasoshan), the tenor (The Drowning Man, Court Guard, Dajian Huineng 6th Patriarch)) and the mezzo (Little Prince and Princess Miaoyan). There are three additional characters – two indigenous singers and a pipa/dancer.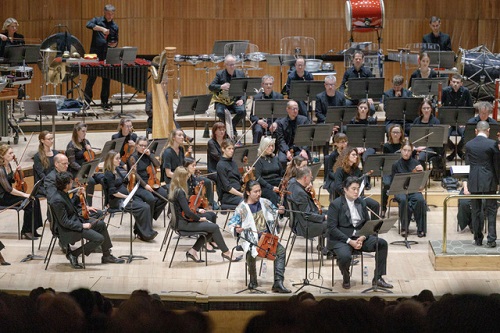 These acts, as they unfold, are all steps on the path to spiritual enlightenment. Tan clearly wants to drive this message home – at the end of each of the little stories we're being told is an "Ode to Compassion" which highlights the moral code of what has come before it. Perhaps the hook is really attached to the medievalism of the morality play, too, which a western audience would more clearly understand?
Although the Buddha Passion is an epic work – although clearly not on the scale of something like Schoenberg's Gurrelieder – the way in how we can interpret it and see it goes back to its origins and how Tan has used that to compose something which spans a number of styles ­– western as well as oriental. It was in the desert of Dunhuang, and the Mogao Caves, that Tan visited the musical murals, all of which had been created and inspired by the themes of compassion, love and nature.
The paintings themselves depict a huge number of instruments (over 4000 of them), orchestras and musicians. Tan's idea was to transcribe what he saw on the murals into sound – and the Buddha Passion became a bridge between the caves of the Dunhuang Desert and modern western culture. This does partly explain the tonality of the work which is often lushly romantic, almost along the lines of Puccinian opera; it also explains the highly evocative scoring which no western composer would ever dare to incorporate into a score like this one.
Tan does not aim for huge surging passages of music within the score – although some acts end this way, such as 'The Deer of Nine Colours' and 'A Thousand Arms and a Thousand Eyes' – and 'Nirvana' which comes to a crushing end on a Chinese drum (played with a hard stick). But Schirma's instrumentation for the four percussion players listed on the score of Buddha Passion reveals more restrained, evocative orchestration: Finger Bells, Sleigh Bells, Stones, Wood Blocks. Perhaps one of the most unforgettable effects in this LPO performance – and it was a remarkably audible one, revealing how carefully Tan has orchestrated this work – was of two percussion players using a water basin with stands to create a splashing effect; each player then immersed water strainers into the bowls and created a waterfall of raindrops. Not only were they timed with symmetrical perfection but for some odd reason they seemed to go on forever. Some sections of the LPO were perhaps asked to play in a way they do not usually: cellists running their fingers up all four strings of the fingerboard; brass players tapping their mouthpieces.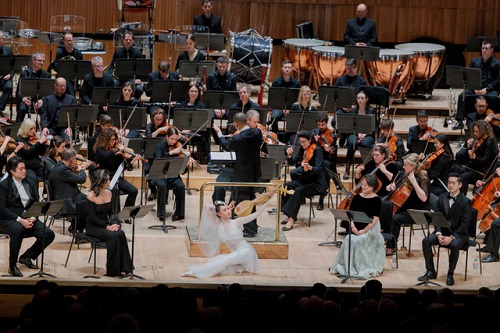 You came close to microtonality in this work in the Mongolian singing of Batubagen, who took on the role of the indigenous male singer as well as playing the Dunhuang xiqin, a virtually extinct Chinese bowed string instrument. His low, groaning voice, the Minstrel Monk chanting his mantras, were a striking contrast to that of the soprano's Nina, a woman returned by him from the brink of death.
The quartet of singers itself, the same one assembled for the work's premiere in Dresden in 2018, were outstanding. There is much to be said for having native singers taking on librettos in their own languages (although here the languages were both Chinese and Sanskrit); there is also much to be said for hearing singers who have lived with the roles they are singing. There was not one weak link here, not one moment where I thought anything could, or should, be different. Apart from the baritone Shenyang, the three other singers were new to me, however.
The tenor Kang Wang could almost be said to have been cruelly cast in a role like The Drowning Man, who proves murderous when he stabs The Deer of Nine Colours – only to find that he, too, as his own karma, will die and rot beside the deer he has killed. His voice was intensely beautiful, and its scope was breathtakingly powerful in how far he could use it. In no sense is this voice a small one; there's no strain to it and he can hold a note – and tail it off – magnificently. There was nothing linear about this singing, rather it was taken in a broad long arc; the care for detail was ear-catching. Singers don't often become distractions for me in concert performances but Kang Wang did – and only in a very positive way.
Almost at the same, inspired level was the mezzo, Huiling Zhu. Her singing was impeccable; rich, golden tones, and an ability to throw the voice as far as she wished or, as she did in 'Heart Sutra', turn it into a whisper. Sen Guo's soprano displayed no weakness and solid high notes. The baritone Shenyang, as authoritative as he usually is, could have found himself in a rather more difficult place given the larger number of characters he has to sing and the different tonality he ought to apply to each. Perhaps it wasn't always strikingly obvious – although this was the fault of Tan Dun's libretto not Shenyang's singing – but sometimes the voice didn't have enough tonal range. On the other hand, there was something mountainous and that like a huge force of nature swept in when he intoned "I am… awake…". Choral forces – the London Philharmonic Choir and London Chinese Philharmonic Choir were superlative. The London Phil used their superb string tone to great effect; percussion and brass were notably great on the night. I can't imagine Tan being anything other than pleased with the outcome.
I mentioned earlier whether this is a Passion at all, or something else. Tan Dun's New York publisher do, in fact, describe Buddha Passion as an opera. It doesn't fit into that category in a conventional way, either – although it's clearly a work that would benefit from being imaginatively staged (I believe the US premiere, given in Los Angeles by Dudamel, partly was). Yining Chen's acrobatic pipa, for example, felt an uncomfortable feature in concert. Its length felt challenging for an oratorio or Passion; this might not be so if there was something gripping to watch.
So, this was a long evening. Buddha Passion is a flawed work – in my view a work that doesn't quite know what it is. I may well be in a minority of one, however. It was after all quite wonderfully sung and played – and as I left the Royal Festival Hall pretty much everyone was on their feet cheering the performance.
Marc Bridle
Tan Dun, Buddha Passion (2018)
Sen Guo (soprano/indigenous female singer), Huiling Zhu (mezzo-soprano), Kang Wang (tenor), Shenyang (bass-baritone), Batubagen (indigenous male singer/Dunhuang xiqin), Yining Chen (pipa/dancer); Tan Dun cLondon Chinese Philharmonic Choir, London Philharmonic Choir. London Philharmonic Orchestra
Royal Festival Hall, London; Sunday 22nd January 2023.
ABOVE: Shenyang, Huiling Zhu, Sen Guo, Kang Wang and conductor Tan Dun with the London Philharmonic Orchestra (c) London Philharmonic Orchestra