The programme originally planned for this Wigmore Hall recital by the ensemble, Counterpoise, might have been titled 'Fathers and Daughters'.
A new monodrama integrating speech, sprechstimme and singing, The Shackled King, commissioned by Counterpoise for Sir John Tomlinson, places King Lear and his youngest daughter, Cordelia, in prison and presents flashbacks – the dividing of the kingdom, the storm scene – before returning to the prison and closing with the deaths of Cordelia and Lear. Alongside this was to be placed Brünnhilde's Dream, a sequence of post-Wagnerian songs and instrumental items evoking the states of mind of Wotan's favoured but abandoned daughter as she lies on the rock, surrounded by fire, after the end of Die Walküre. Curated (and translated into English) by Counterpoise's co-director, Barry Millington, Brünnhilde's Dream would be sung by mezzo-soprano Rozanna Madylus – who would also play all three of Lear's daughters, and the Fool, in The Shackled King – thereby highlighting parallels between Lear and Wotan, and themes such as the violent disruption of honest love, and the desire for reconciliation and transcendence which follows the rejection and annihilation of the daughter by great men and gods whose wisdom becomes perverted and who abuse their power.
It's a characteristically inventive and insightful project by Counterpoise, but one which sadly did not come to fruition on this occasion owing to the indisposition of Tomlinson. Brünnhilde's Dream did prove thought-provoking and deeply moving, however. At the end of Die Walküre, having defied her father by defending his mortal son Siegmund in his battle with Hunding, Brünnhilde is sentenced by Wotan to become a mortal woman, condemned to lie in sleep on a mountain rock, a prize for any man who finds her. Unable to convince him that she was in fact carrying out his innermost wishes, Brünnhilde persuades her father to surround her with a ring of fire so that only a true 'Wagnerian' hero can wake and claim her. In Millington's words, the sequence aims 'to realise the vortex of emotions to which such a woman might be subject' – bewilderment, anger, fear and suchlike.
Arguing that he has always been struck by 'the degree of insight demonstrated by Wagner into the mind of his female characters and his ability to see that the world could be so much better if its affairs were conducted with a more feminine sensibility,' Millington explains that he and director Cecilia Stinton have aimed to 'go beyond the confines of Die Walküre to contemplate the injustices done to women through the ages'. Thus, alongside songs by Szymanowski, Berg, Schubert and Zemlinsky we hear the voices of nineteenth- and twentieth-century female composers, the expressive sentiments of the latter's songs 'merg[ing] with Brünnhilde's subjectivity'.
It's Wotan's voice that that is heard first in Brünnhilde's Dream, however – his moving 'Farewell' to his abandoned daughter and his 'Magic Sleep' music. Tomlinson's recorded voice was a slightly unnerving presence, otherworldly but omnipresent and omnipotent as Madylus entered the Wigmore Hall platform, dressed in an institutional white gown. Staging was minimal: just a small desk atop which were placed a glass of matter, a hand-mirror, a daffodil. Madylus took some pills and slipped into drugged dreaming.
The landscape and mood of Brünnhilde's fire-begirt rock was evocatively conjured by two songs by Fanny Mendelssohn. 'Fichtenbaum und Palme' depicts a fir tree alone on a northern mountain, "Lonely and silent, grieving,/ On a rock of burning fire", which dreams of a palm tree in the east. Madylus revealed the full range of colours available to her: there was sombre darkness in the lower register, but her rich mezzo glowed when it rose. She later showed that the fullness of her sound could raise the rafters, holding all in the Hall in a vocal embrace, but also that she could float a lovely high line too – if one had any quibbles, it might be that there were occasional slight intonation wobbles and that her enunciation of the English texts might have been more distinct.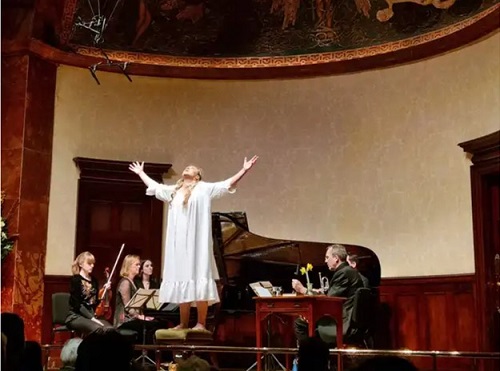 Pianist Anna Tillbrook conveyed the restlessness of the song, heightening the unsettling harmonic direction at the close. And, there was a similar restlessness in 'Über allen Gipfeln ist Ruh' which for all its restraint had undercurrents of strife, again communicated by unexpected harmonic turns. Goethe's eight lines from Wandrers Nachtlied II express the protagonist's desire to share in the serenity of the natural world, and the underlying tension was skilful conjured by details such as chromatic twists in the piano bass line, and subtle quickenings of the vocal line.
Peace came in the form of Szymanowski'sLullaby Op.52.  It was originally composed for violin and piano, but here violinist Fenella Humphreys was joined by Sam Ewens (trumpet) and Kyle Horch (saxophone), the instruments merging softly with the piano, creating an impressionistic languor and mystery which lulled Madylus to lie down and rest.  We moved from impressionism to expressionism with Berg's 'Nichts ist gekommen' from the early orchestral songs, Altenberg Lieder.  Berg was experimenting with 'Klangfarbenmelodie' at this time and, despite the small forces, after the unaccompanied opening there was much colour and nuance within the song's 90 seconds.  Again, there were contrasting tensions: the stasis of longing, as Madylus gazed into the mirror, set against the forward movement of time: "I've waited, oh waited!/ The days creep by unnoticed."
Death was introduced in Schubert's 'So lasst mich scheinen' from Gesänge aus Wilhelm Meister. In this late setting of text from the final chapter of Goethe's novel, in which Mignon dies, Wilhelm discovers Mignon ill and still wearing a white angel's costume for a children's party – a dress which gives her comfort in her final days and serves as a symbol of her soon to be transfigured body when she ascends to heaven. This was a lovely, mellifluous rendition, plaintive in tone at times but also offering solace as, in dreaming, Mignon imagined the eternal promise and consolation of the afterlife. Madylus swapped her gown for canvas trousers and jacket, during Schoeck's 'Verbogen und zerkniffen' from Gaselen (presented by the ensemble alone), holding out a mirror and pulling the flower from the vase.
Zemlinsky's 'Als ihr Geliebter schied' brought Death into the foreground, as Madylus imbued the conversational phrases of the vocal line considerable power and direction, the sheen of her mezzo set against low dark instruments. The vision of Death ("its breath brushed my cheek") was matched by rising musical tension, enhanced by Tilbrook's thoughtful echoing of the vocal line and the piano's bass pedal point which held back time before the climactic arrival of Death, marked by a loud rising vocal leap. Rebecca Clarke's Midsummer Moon assuaged. Humphreys' soft G-string lyricism gave way to lusher colours and harmonies, richly evocative in a Debussy-like manner.
As the sequence reached its end, female voices took over the narrative. Vilma von Webenau was Arnold Schönberg's first private student, taking harmony and composition lessons with him at the end of the 1890s and following him to Berlin in 1900. The rich textual imagery of Nikolaus Lenau's poem 'Der Nachtwind hat in den Baumen' was matched here by sensitive musical communication of the stillness of the night, troubled only by the 'distant gurgling spring', as the protagonist on their memories and grief. Robert Schumann's 'Du Ring an meinem Finger' from Frauenliebe und -leben revived, through its symbolism, the Wagnerian link. It's one of my favourite Schumann songs, but I felt here that the spoken words – which Millington has written and which are interpolated between some of the songs – followed too hastily after the final chord, the song not being allowed to settle.
Like Webenau who was a prominent member of the Club of Viennese Women Musicians, Johanna Müller-Hermann was also a pioneering figure in the largely male-dominated musical society early in the twentieth century. 'Willst du mit mir wandern', the first of the Fünf Lieder Op.2 was harmonically rich and a consoling close, offering visions of transfiguration.
The first half of the recital presented a programme of musical works by Mahler, Wagner, Alma Mahler, Clara Schumann, and Lili Boulanger. Though it must have been a fairly hastily assembled, it was performed with accomplishment and sensitivity. The vocal items were heard in arrangements by David Matthews. Madylus conjured the ecstasy of Alma Mahler's 'Laue Sommernacht', while 'Licht in der Nacht' brought darker timbres from the instruments against which the voice could exult in the vision the 'little yellow star' which seems like the start that shone in Bethlehem two thousand years ago. 'Erntelied' has an almost symphonic weight and presence, and Madylus was impressively 'off-score', soaring glossily.
From Gustav Mahler were heard 'Liebst du um Schönheit' from Rückert Lieder and 'Wo die schönen Trompeten blasen' from Des Knaben Wunderhorn, the latter in particular confirming Madylus's control and perception as the crystalline quality of the opening stanzas gradually opened up into more diverse colours and nuances. Humphreys again impressed in the interpolated instrumental items: a plump, fervent and beguiling fluent account of Clara Schumann's Romance Op.2 No.3 and an intensely lyrical rendition of Lili Boulanger's Nocturne of 1911.
I'm not entirely persuaded that Brünnhilde's Dream transforms the Valkyrie from 'icon to everywoman', but it presents a stirring sequence which convinces on its own musical and expressive terms.
Claire Seymour
Rozanna Madylus (mezzo soprano), Counterpoise (Fenella Humpheys, violin; Sam Ewens, trumpet; Kyle Horch, saxophone; Anna Tilbrook, piano)
A Mahler – 'Laue Sommernacht' arranged by David Matthews, 'Licht in der Nacht' arranged by David Matthews, 'Erntelied' arranged by David Matthews, 'Einsamer Gang'; C Schumann – Romance in B flat Op.22 No.3; G Mahler – 'Liebst du um Schönheit' from Rückert Lieder arranged by David Matthews, 'Wo die schönen Trompeten blasen' from Des Knaben Wunderhorn arranged by David Matthews; L Boulanger – Nocturne; Wagner–'Träume' from Wesendonck Lieder arranged by David Matthews.
Brünnhilde's Dream: Wagner – Wotan's Farewell and Magic Sleep music from Die Walküre; Fanny Mendelssohn – 'Fichtenbaum und Palme', 'Über allen Gipfeln ist Ruh'; Szymanowski–Lullaby Op.52; Berg – 'Nichts ist gekommen' from Altenberg Lieder Op.4; Schubert – 'So lasst mich scheinen' from Gesänge aus Wilhelm Meister D877;Schoeck – 'Verbogen und zerkniffen' from Gaselen Op.38; Zemlinsky – 'Als ihr Geliebter schied' Op.13 No.4; Clarke –'Midsummer Moon'; Webenau –'Erinnerungen'; R Schumann – 'Du Ring an meinem Finger' from Frauenliebe und -leben Op.42; Müller-Hermann – 'Willst du mit mir wandern' Op.2 No.1
Wigmore Hall, London; Thursday 26th January 2023.