This recent issue from Alpha brings together two sides of Poulenc's strikingly individual musical personality. Both works, some ten years apart, inhabit a similar bittersweet quality, yet while his operatic 'confession' has in recent years achieved cult status, his Sinfonietta remains a rarely performed curiosity, admired by some but largely ignored in the concert hall.
Not so, his tragédie-lyrique that is La Voix humaine, an operatic one-off, that has had much exposure during Covid 19 as the go-to socially distanced opera, during which period Barbara Hannigan, Danielle de Niese and Claire Booth have created their own distinct enactments. In 2022 French mezzo-soprano Stéphanie d'Oustrac, drew attention for a memorable performance at Glyndebourne. The work is also moderately well served on disc, yet there's little to match the range of expression in this vividly realised account by Véronique Gens in collaboration with the Orchestre National De Lille and its Musical Director Alexandre Bloch.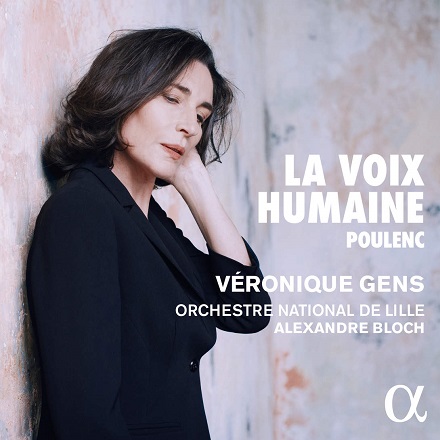 Based on a 1930 monologue by Jean Cocteau, Poulenc originally conceived the work for the French soprano Denise Duval, and it was first performed by her and the orchestra of the Opéra-Comique at the Salle Favart in Paris in 1959. This one-act tragedy is the final adieu of a heartbroken woman known only as Elle ('named by Cocteau as 'She') who has been deserted by her lover. Charted through a string of broken telephone conversations over some forty minutes, her pain, pleas, self-delusion and final parting is one of Poulenc's most personal creations in which one feels every momentary shift in mood. It's no exaggeration to suggest Gens' performance is a perfect fit; it's a seemingly tailor-made work that she has always wanted to perform. So well-matched is her feeling for language and dramatic intensity, the work might have been written for her. Her account refutes any need to see the work sung on the stage, for one can readily imagine every tortured expression of unseen nervous hair-tugging or false smiles betraying her hopelessness.
When Cocteau complimented Poulenc exclaiming "you have fixed, once and for all, the way to speak my text", much the same might be claimed of Gens whose power of communication is so compelling that non-French speakers will hardly mind the absence of an English translation in the CD booklet. Her range of vocal colouring and expression are naturally suited to the work's emotional turmoil and heartbreak in which she masters every abrupt change of tone and vocal gesture. Her sense of frustration when wrongly connected to Dr Schmit near the beginning is superbly articulated in "c'est ridicule", and when she finally hears the voice of her lover, her joy is unmistakable. Then there's the bright quality of her tone – even throughout the range – and a thrilling top C when she declares how frantic she has become waiting for a return phone call. So convincing is her interpretation that one can't imagine a library without this recent addition.
Bloch and the Orchestre National De Lille navigate their way through the work's fractured score with complete assurance, the work's multiple silences never impeding the narrative flow. Furthermore, Poulenc's kaleidoscopic changes of colour, rhythm and sonority (not least the myriad tempo directions) are all superbly judged.
No less assured is the four-movement Sinfonietta from 1947 which completes this disc. It's a zesty work originating from an abandoned string quartet, apparently flung into the Paris sewers at Place Pereire, that Poulenc disparagingly observed "had no more than three pretty themes". Those melodies found their way into the Sinfonietta, its progress given stimulus by a timely BBC commission to mark the first anniversary of Radio 3. The contract required a fifteen-minute work for small orchestra which Poulenc thought might be modelled on Prokofiev's Classical Symphony. A fee of £100 was offered. If the absence of any gravitas or deep feeling has limited its performances, the Sinfonietta is a delight, brimming with verve and typical of its composer for its craftmanship, deft orchestration and insouciance. Those already familiar with the latter part of Poulenc's oeuvre will hear self-quotations from several works including the Organ Concerto, the Violin Sonata, the Sextet for piano and wind, even Figure humaine.
In conclusion, this disc is essential listening, with Gens undoubtedly one of the most persuasive and passionate advocates for Poulenc's operatic masterpiece, its emotional demands brilliantly met.
David Truslove
Poulenc: La Voix humaine, Sinfonietta
Véronique Gens (soprano), Orchestre National de Lille, Alexandre Bloch (conductor).
Alpha ALPHA899 [70:47]