Calixto Bieito's grimly visualised Carmen has now reached its third revival. First presented by ENO at the Coliseum in 2012 (and much travelled around Europe since its launch in Barcelona two years earlier), this testosterone-fuelled production is set in an unspecified Spanish border town in the post Franco era. There's nothing cosy here or anything to suggest sun-drenched, castanet-playing exotica. Instead, Alfons Flores's minimal staging is populated by libidinous soldiers, a criminal underworld and feisty women, many of whom might be victims of abuse. At times, this forceful reading feels overcooked, its violence skirting round the seductive mystery of the eponymous anti-heroine and jarring, or at least providing a striking contrast, with the bright vitality of the score.
Bieito's uninviting world, aided and abetted by Marc Rosette's atmospheric lighting, pursues a relentless fascination with brutality, beginning with its opening parade-ground scene where a sadistic Moralès (Benson Wilson) orders a near-naked soldier to run round the stage carrying his rifle until he collapses – a portent of Carmen's own vicious end. Act 1's few props are provided by an implicitly phallic flagpole and a telephone kiosk which riotous squaddies attempt to trash. Empty spaces leave room for a battered Mercedes with a beer-filled boot evoking Lillas Pastia's bar in Act 2, and a small fleet of cars resembling a car boot sale does for the smuggler's den in Act 3. So preoccupied is Bieito with visual stimuli that Bizet's brilliant quintet sequence, arguably the high point of Act 2, feels musically lost.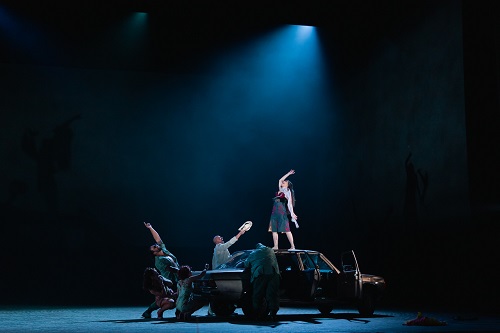 When I caught up with this staging on its fourth night there was strong cast, and while the quality of certain voices generally impressed and were well-suited to Bieito's unsettling interpretation, not all the singing was to my taste.  However, most impressive amongst the principals and making her ENO debut in the central role was the Sicilian-born Italian American mezzo Ginger Costa-Jackson.  Hers was a sassy, dangerously alluring and no-nonsense portrayal with a well-projected voice to match, albeit one with a powerfully rich chest register and a well-upholstered upper range.  If her 'Habanera' (sung whilst dumping a lover on the telephone) was a little unyielding, she delivered a finely spun 'Seguidilla', now more varied in timbre and suggestive of a wonderfully insolent temptress.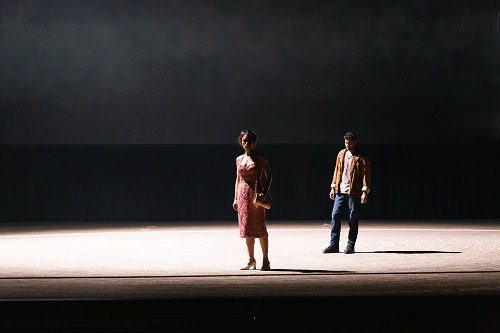 As the besotted Don José, American tenor Sean Panikkar (reprising his 2020 role), gave a mostly well-defined performance traversing his descent from mild mannered corporal to rejected and volatile lover, though this was not engaging enough to draw my sympathy.  His bright, rapier-like tone occasionally scorched the air, though there was no doubting the stature of his voice in an impassioned 'Flower Song', his desperate pleas gaining intensity, if not revealing any great depth of feeling for either Carmen or Micaëla.  The latter, taken by Carrie-Ann Williams (and replacing Gemma Summerfield) was no shy peasant girl, but someone unafraid to spit on Carmen at the end of Act 3 when persuading José to visit his mother.  Just a pity her prayerful 'Je dis que rien m'epouvante' never quite found its emotional core, her voice more confrontational than confiding. A less-is-more approach would have brought dividends.
Elsewhere, Nmon Ford's sharp suited Escamillo initially exhibited more strength of personality than vocal heft. His 'Toreador' song was a valiant effort, and only later did he get into his stride with his combative duet with José when his voice found more carrying power. A loutish Freddie Tong (replacing Keel Watson) brought plenty of steel to Zuniga, and the fortune-telling scene enjoyed impressive movement and singing from Ellie Laugharne and Niamh O'Sullivan as Frasquita and Mercédès. Both the chorus and the twenty or so full-throated children were excellent, and the ENO orchestra under Kerem Hasan's briskly efficient direction gave a solid account, periodically illuminating Bizet's lavish score. Overall, this reboot is physically and emotionally confining – some charm or wonderment wouldn't go amiss to give some relief to its crepuscular ambience.
David Truslove
Carmen – Ginger Costa-Jackson, Don José – Sean Panikkar, Micaëla – Carrie-Ann Williams, Escamillo – Nmon Ford, Zuniga – Freddie Tong, Frasquita – Ellie Laugharne, Mercédès – Niamh O'Sullivan, Dancaïro – Matthew Durkan, Remendado – Innocent Masuku, Moralès –Benson Wilson; Director – Calixto Bieito, Revival Director – Jamie Manton, Conductor – Kerem Hasan, Set designs – Alfons Flores, Kieron Docherty, Lighting designer – Bruno Poet, Revival lighting designer – Marc Rosette, Costume Designer – Mercè Paloma, English National Opera Chorus, Children's chorus from St Joseph's Catholic Primary School and Wendell Park Primary School, Orchestra of English National Opera.
English National Opera, London Coliseum; Saturday 11th February 2023.
ABOVE: ENO Carmen 2023, ENO Chorus © Adiam Yemane