Rodula Gaitanou's production of Richard Strauss' Ariadne auf Naxos debuted at Gothenburg Opera in 2018. A co-production with Opera North, the production finally made its way to Leeds, opening at the Grand Theatre on Saturday 18 February 2023 with an entirely new cast.
Directed by Rodula Gaitanou, designed by George Souglides with lighting by Simon Corder and choreography by Victoria Newlyn, Ariadne auf Naxos was conducted by Anthony Hermus (the company's Principal Guest Conductor), with Elizabeth Llewellyn as Ariadne, Ric Furman as Bacchus, Hanna Hipp as the Composer and Jennifer France as Zerbinetta.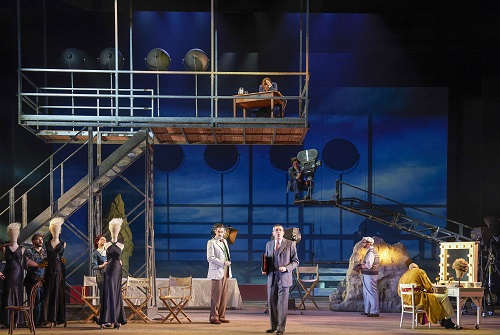 Ariadne auf Naxos in its later (and now standard) form remains something of a challenge for directors. How to make the raison d'être of the opera convincing with its bringing together of commedia dell'arte and opera seria. How to unify the opera's three settings – backstage during the prologue, the opera itself, the transfiguration at the end. Some directors don't try, accepting discontinuity, others translate the work to the time of its writing (1916), but Graham Vick memorably demonstrated that faithfulness to the libretto works with his period production at English National Opera (with Donald Sinden as a magnificent major domo).
Gaitanou rather imaginatively turned to Fellini and Cinecittà in Rome, leveraging the maestros mix of comedy and tragedy in his films. We were watching the making of a film, subject to directorial whims. No violence was done to the libretto, we accepted the disconnect, and the setting provided a real sense of unity between the two halves as well as giving us a convincing raison d'être. Reflecting the Italian studios of the period, the Prologue was polyglot, variously in English, Italian and German. This was an innovation for Leeds, the Swedish production had been given in German. And it had to be admitted that the mix of languages was confusing at times.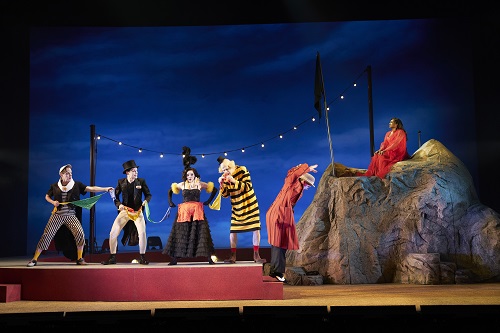 For the Prologue, Gaitanou kept the stage full, enabling her to tell multiple stories. Hanna Hipp's composer had a room above the stage, making the character almost a constant presence throughout the first half. For the Opera itself, a film crew and Hipp's Composer were present, though certainly not intrusive, and this enabled Gaitanou to develop the relationship of Zerbinetta (France) and the Composer (Hipp) on from the Prologue, so that at the end of the Opera there were two couples. And the Opera remained firmly a film. Gaitanou seems to reject the notion that at the end the characters of Ariadne and Bacchus are transformed into reality. The final scene was, indeed, magical yet simple, just fairy lights and fireworks, but when the Opera was over the Diva (Llewellyn) was warmly congratulated by her male admirer whom we had seen her with during the Prologue.
Llewellyn's performance leaned into this idea, she was a very human Ariadne, warm and communicative with a lovely opulence of voice rather than the ice maiden. During the commedia dell'arte scenes in the Opera, rather than withdrawing to her cave (there wasn't one!) or imperiously ignoring the troupe, Llewellyn was wonderfully diva-ish in her furious attempts to shoo them away. In the Prologue, Llewellyn's Diva was stylish and demanding to perfection, and looking stunning in both her outfits, an elegant 1950s New Look style yellow ensemble for the Prologue and a flame red gown for the Opera. The colour palate of Souglides' designs was rich and varied, but Llewellyn's flame-red gown against a grey rock and blue sky was particularly striking.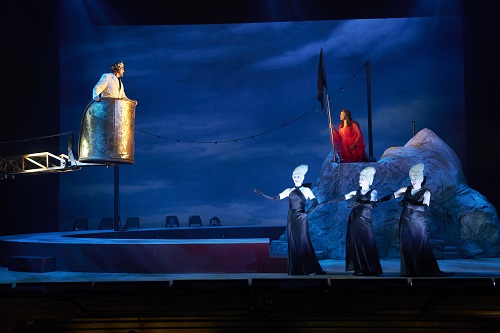 I don't think that I have ever heard a Bacchus who felt entirely comfortable with the vocal writing. Ric Furman (David Butt Philip at two later performances) was a replacement. He was suitably striking looking and sang with superb consistency. The fearsome tessitura seemed to hold no terrors for him, but his tone was not always ideally relaxed. He and Llewellyn created a believable sense of this strange interaction, as the move from two very different points of view to mutual rapture.
Hanna Hipp was simply a wonderful Composer. Passionate, intense and self-absorbed, her glorious monologues in the Prologue (sung in German) were a highlight. She has the physique du rôle too, and made an intriguing romantic hero in her liaison of France's Zerbinetta. There interactions during the Prologue were superbly done, and it was clearly during the Opera that this Zerbinetta was paralleling Ariadne, moveing from one man (Dominic Sedgwick's Harlequin) to another (Hanna Hipp's Composer). Jennifer France was equally compelling as Zerbinetta, and her great solo, 'Grossmächtige Prinzessin', was dazzling for the way the pyrotechnics simply became part of the expressive nature of the piece. And France made Zerbinetta very much a character involved in the whole drama.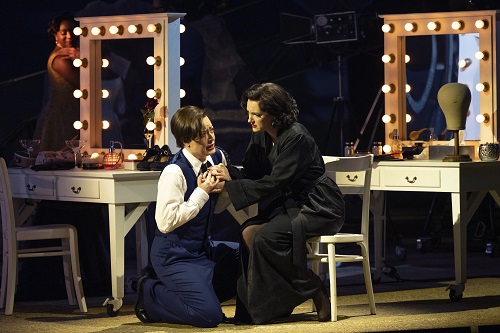 Surrounding these were an array of smaller characters, each vividly conjured. Dean Robinson's Music Master was perhaps less world-weary than usual, whilst Daniel Norman's Dancing Master was a wonderfully vivid portrayal, and he looked right too. The comedy troupe were delightful in the prologue, constantly falling into routines with Zerbinetta, whilst in the Opera they held their own admirably, with Dominic Sedgwick touching as the funny/sad Harlequin. John Savournin made a delightful Major Domo, relishing the words in the right way, and then he popped up in the Opera as a clownish Truffaldino, completely with Little Tich shoes.
The Naiad, Dryad and Echo, played by Daisy Brown, Laura Kelly-McInroy and Amy Freston, were visually indistinguishable and complemented their fine Andrews Sisters impression with some choreography which seemed overly fussy. There were plenty of supers too, with some performers doubling roles, creating a sense of the busy-ness of the film studio during the Prologue. This was very much an ensemble production with the star turns folded into the drama in just the right way, supported by the large company with many smaller roles and supers being chorus members.
In the pit, Anthony Hermus drew vividly lithe playing from the orchestra. This kept the opera on the smaller scale that was intended, rather than inflating it to opera house grandeur.
This was an absorbing and vivid evening, Gaitanou had a way of telling multiple stories on stage without a sense of clutter or confusion, and this was complemented by some fine performances indeed, with a real feeling that any diva/divo-ish behaviour was firmly within character.
There are three more performances in Leeds, and the production then tours to The Lowry, Salford, the Theatre Royal, Nottingham and the Theatre Royal, Stratford on Avon.
Robert Hugill
Richard Strauss: Ariadne auf Naxos
Music Master: Dean Robinson, Major-Domo: John Savournin, Lackey: Frazer Scott, Officer: Tom Smith, Composer: Hanna Hipp, Tenor/Bacchus: Ric Furman, Wigmaker: Jeremy Peaker, Prima Donna/Ariadne – Elizabeth Llewellyn, Dancing Master: Daniel Norman, Zerbinetta: Jennifer France, Harlequin: Dominic Sedgwick, Truffaldino: John Savournin, Scaramuccio: Alex Banfield, Brighella: Adrian Dwyer, Naiad: Daisy Brown, Dryad: Laura Kelly-McInroy, Echo Amy Freston; Director: Rodula Gaitanou, Conductor: Anthony Hermus, Designer: George Souglides, :ighting: Simon Corder, Choreographer: Victoria Newlyn, Orchestra of Opera North
Opera North at the Grand Theatre, Leeds; Saturday 18th February 2023.
ABOVE: Elizabeth Llewellyn as Ariadne, Photo credit: Richard H Smith