A proven production of real interest, beautifully conducted with an excellent cast just now at the Opéra de Marseille.
This Jean-Louis Grinda production originated at the Opera de Toulouse in 2018, the Carmen was Clémentine Margaine, Jose was the American Charles Castronovo. The production was to move to Marseille in spring 2020 with Georgian mezzo Ketevan Kemoklidze and Jean-François Borras but plague intervened. Brazenly, it did however find its way to Monaco later that same, dark year with Aude Extrémo and Mr. Borras performing. Maskless.
Now, winter 2023, it has arrived finally, maskless, at Marseille's grand old opera house (the peristyle [the columned classical porch] is from 1787 though the rest is early 20th century). The theater boasts a magnificent acoustic — voices sail across the pit from where pianos and fortes arise in pristine clarity. I mention this because this current Marseille Carmen edition actually boasts an all francophone cast, thus the words of the famed libretto were so very clearly formed and heard that the opera became — almost — a play!
And this was certainly the intent of the Grinda production, every detail of the libretto was articulated by an action on the stage. An unexpected depth to the Bizet score was thereby revealed in its myriad details, the composer's use of rhythm and color — so famously exploited in Carmen's arias — judiciously articulated by conductor Victorien Vanoosten at every single moment towards the opera's brutal, fatal denouement.
Grinda staged the overture. It was a flashback of the murder, the fate theme blared, Jose was then arrested by a soldier who seemed to offer a moment comfort and condolence (it is heard in the music!) before throwing him to the floor.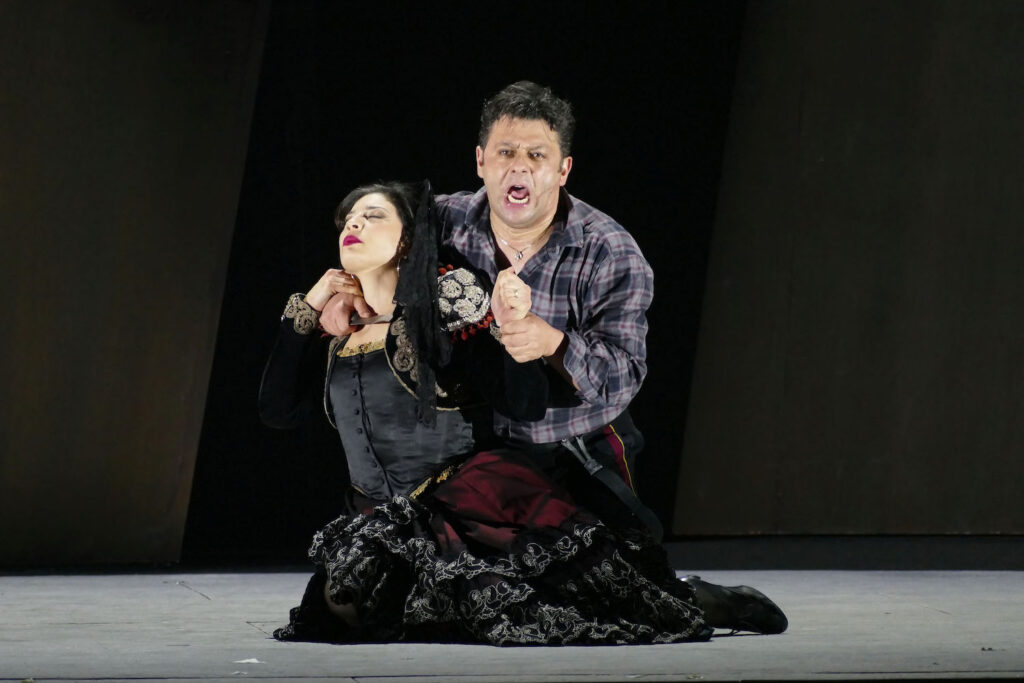 The stage box was brick walls with huge warehouse doors at the back and on the sides, there were two small curved rolling walls on the stage floor (maybe abstracted bull horns) that a vista stage hands moved to isolate staging moments (the murder as example) or to reveal the opera's huge public spaces. These walls did an extended solo dance (no sound from the pit) to open the final act, bullfight crowd noise blaring forth from within the walls, director Grinda's revenge surely for Bizet's lovely flute pastorale that opens the preceding act, though staged with huge crates gracefully descending from the fly loft into the warehouse.
Significantly Grinda adds a solo female flamenco dancer to his staging who finds her way into each of the four acts. She is brazen and dangerous, her arms and head moving sharply, her snapping castanets and stamping heels threaten loudly. She is Carmen, the misogynistic femme fatale. Grinda's intention is surely to free his real Carmen from this burden, allowing her to be very young and very human, to be capricious with her love, to fear death, and to reluctantly challenge her death to her very last breath (it is in the music!).
This was the Carmen of the Marseille edition, Héloise Mas. Mlle. Mas has appeared previously at the Opéra de Marseille as Boulotte in Offenbach's Barbe-Bleue, and as Pericole in Offenbach's La Pericole, roles that are a far cry from opera's most notoriously difficult heroine Carmen. Mlle. Mas brought all the charm of these delightful operetta ingenues to her Carmen, finding as well a sexuality that is more innocent than overtly provocative. Director Grinda staged the third act card trio as a lively Frasquita/Mercedes duet on one side of the stage, Carmen alone, upstage on the other side, isolated as she unveiled her tragic fate. Mlle. Mas found a darkness of spirit and of voice for this that contrasted startlingly with her brightly, amply intoned first two acts when we actually came to feel that her love for Jose was sincere and serious.
Jose was sung by Franco-Tunisian tenor Amadi Lagha who possesses a voice of true Mediterranean character. It is cleanly lyrical though thoroughly capable of the passionate outbursts that portray and define this simple, young peasant soldier. Director Grinda motivated Jose's beautiful second act Flower Song with Jose, in a moment of rage, throttling Carmen. He then offers her this contrite and moving confession, softly and simply sung. He again throttled her in the third act, before accomplishing her death by strangulation in his brutal, final outburst, and then gave his last, anguished cries.
Micaëla was sung by Alexandra Marcellier, of petite stature but endowed with a rich voice that has made her a Butterfly at other times. Bringing the vocal traits of what is soon to become verismo in Italy, she portrayed a simple, young peasant girl in highly emotional terms — her "Je dis" was an anguished prayer that tore at our hearts. Escamillo was sung by French-Canadian baritone Jean-François Lapointe. He was a strong, lyrically voiced toreador, a symbol of male strength and stature rather than an attempt at creating the flash and theatrical bravado of a bull fighter.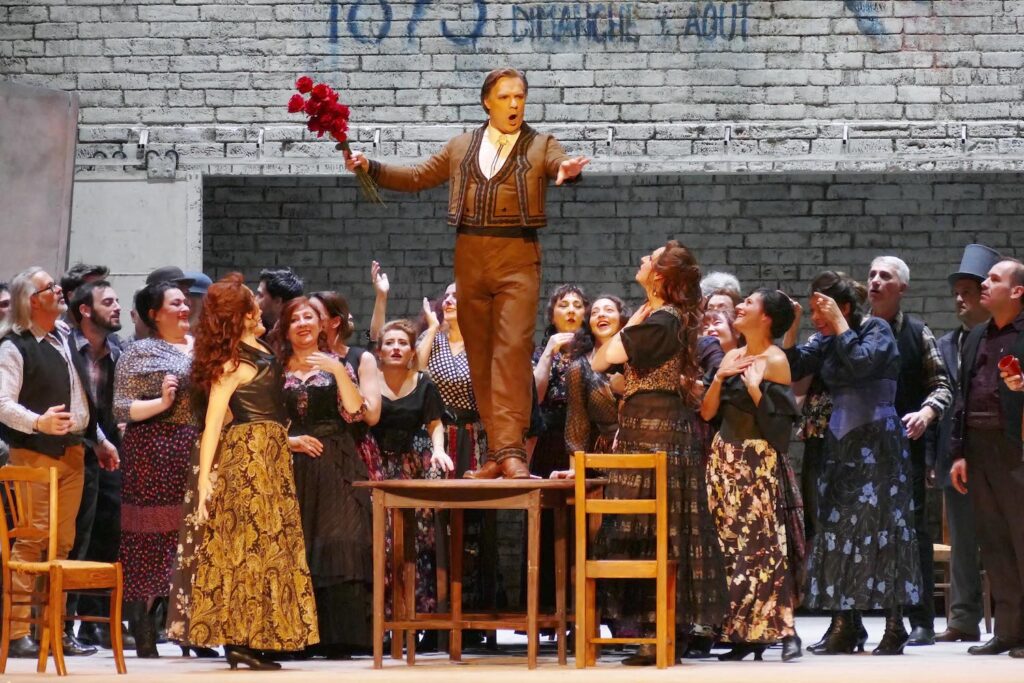 The supporting roles were cast with accomplished artists, notably the gypsies Frasquita (Charlotte Despaux), Mercedes (Marie Kalinine), Remendado (Marc Larcher) and Dancaīro (Olivier Grand), each projecting a mature, individual and very real personage, underscoring yet again the importance of these characters to impose the exotic atmospheres needed to color the second and third acts. Director Grinda staged the infamously difficult second act quintet (with Carmen) with far more than usual choreography, carefully defining the piece musically and dramatically. [See lead photo, left to right Mercedes, Frasquita, Carmen, Dancaīro, Remendato, hovering behind is Lilas Pastia.]
The Morales (Jean-Gabriel Saint-Martin) established himself in the first act as an imposing figure vocally thus establishing the high vocal standard that prevailed throughout the evening. The Zuniga (Gilen Goicoechea) was carefully delineated as a figure who expected but did not command deference. He was then summarily defied, not wounded or killed, by Jose. The non singing role Lilas Pastia (Frank Thézan) was much present, but spoke only in the brief dialogue scene at the beginning of the second act — the sole reference to Carmen's origin as an opéra comique
Conductor Vanoosten respected the director Grinda's careful, detailed staging with tempos that allowed the words to be clearly articulated while musically stated. His pacing of the extended chorus scenes was masterful, the musical structures of these scenes left absolutely apparent, the tension held by the larger rhythm of the entire act.
There was uncanny synergy between pit and stage.
Jean-Louis Grinda and his long time collaborator, designer Rudy Sabounghi have created a staging overflowing with excellent ideas and successful solutions to the opera's many challenges. Cherry atop the cake was the excited reaction of the crowd milling about on the stage for the quadrille des toreros (the procession into the bull ring of the matadors). This was a real paseillo into a real bull ring somewhere that was projected, hugely, onto the back wall of the stage box.
All said and done this excellent staging was an undisciplined sum of its parts. It did not find the refinement and the elegance of a finished production.
Michael Milenski
Opéra de Marseille, France, February 21, 2023