Glyndebourne has unveiled new plans for autumn 2023 that will invite people to experience the transformative power of opera, at Glyndebourne, in schools and in the community, while also providing talent development opportunities for singers, conductors and musicians through main stage opera and concert performances.
In January, Glyndebourne announced that it would not be able to tour as planned in 2023 following a cut to its funding by Arts Council England. Responding to the setback with characteristic creativity, the opera house has devised a new autumn programme for 2023 to ensure it keeps delivering on its mission to enrich the lives of as many people as possible through opera.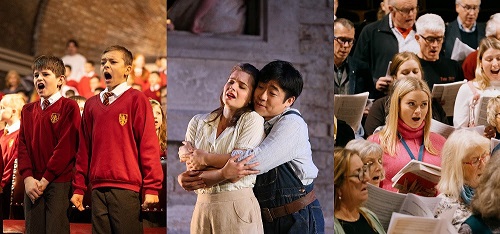 Stephen Langridge, Artistic Director of Glyndebourne, said: 'After the disappointment of having to cancel our tour this year, we turned our attention to devising a new plan for the autumn that would ensure we continue to deliver on our commitments to nurturing new talent and encouraging new audiences.
Full-scale opera and concert performance are vital for talent development on stage and in the orchestra pit so there was no question that those would continue. This is good news for audiences, with nearly 30,000 tickets available to see world-class opera and music at affordable prices. Our other priority was to keep offering opportunities for close encounters with Glyndebourne artists and ensembles, both inside and outside the opera house. Our connection with communities will be stronger than ever this autumn with singing workshops in schools, music recitals in local care homes, family-friendly open days and an invitation for audiences to sing with the Glyndebourne Chorus in a participatory Messiah masterclass.'
Glyndebourne's autumn programme begins on the first weekend of September with two family-friendly open days. Designed to open the world-renowned opera house up to new audiences, these affordable events will offer visitors the chance to take part in family activities and enjoy tours and demonstrations in and around the opera house.
A week-long series of events in November will celebrate the range and impact of Glyndebourne's longstanding talent development work which supports people at all stages of their career and across a wide range of disciplines. It begins with a special showcase featuring some of the rising stars to benefit from such initiatives, which include Glyndebourne Youth Opera, the Jerwood Young Artist scheme for aspiring soloists from the Glyndebourne Chorus, and Glyndebourne Academy, a development programme for gifted singers who have faced challenges accessing traditional training paths.
The autumn programme includes six weeks of main stage performances in November and December of Mozart's Don Giovanni and Donizetti's L'elisir d'amore (each of which will have a special matinee performance for schools), plus concert performances of Haydn's The Creation and Handel's Messiah, and the return of the annual Glyndebourne Christmas Concert, including one family-friendly chilled performance.
The One Voice Festival of Singing also returns at Christmas. Run in partnership with Glyndebourne's local music hub, Create Music, it gives local schoolchildren the thrilling experience of singing on stage with the Glyndebourne Chorus and members of the orchestra in front of family and friends.
Public booking for the autumn programme at Glyndebourne opens on 28 May. A full performance and activity schedule will be available in March.
ABOVE: L'elisir d'amore, Glyndebourne Tour 2019 (c) Donald Cooper