That the Four Sea Interludes and the Passacaglia from Peter Grimes have become orchestral showpieces attests to the opera's musical might, manifest just now at the Palais Garnier by British conductor Alexander Soddy.
Benjamin Britten's orchestral score sang out with ferocity, revealing the opera's musical details in utmost clarity. And its details are myriad, as we learned, the many sea motifs most clearly articulated, the polytonalities astringently apparent, the structures meticulously defined. It was awesome music, in fact technically astounding.
What this maestro's reading of the score did not fathom was the poetry of the score — the mesmerizing seascapes, the solitudes, the loneliness and the hopelessness. He did find the crowd scenes exciting, the storms memorable, he caricatured the local personages delightfully and made the little songs sprightly, all this at a very brisk pace.
This production of Peter Grimes is new to Paris, premiering in Madrid in 2021 then continuing to London in 2022, and always with British tenor Allan Clayton as Grimes and Swedish-born, German-formed soprano Maria Bengtsson as Ellen Oxford. Mr. Clayton (also the recent Grimes at the Metropolitan Opera) is not a heroically voiced Grimes, as was Jon Vickers in Peter Grimes' previous (1981) incarnation at the Paris Opera. Nor is he a light lyric voice as Peter Pears, the original Peter Grimes. Not at all unsuitably for Grimes Mr. Clayton possesses a character voice, and a character physique that render him, seemingly, a very realistic, outcast fisherman. Miss Bengtsson is a lyric soprano of righteous voice that serves her well for the Mozart heroines. Not at all the often matronly Ellen, she reads as a liberal activist of pure voiced, earnest intention.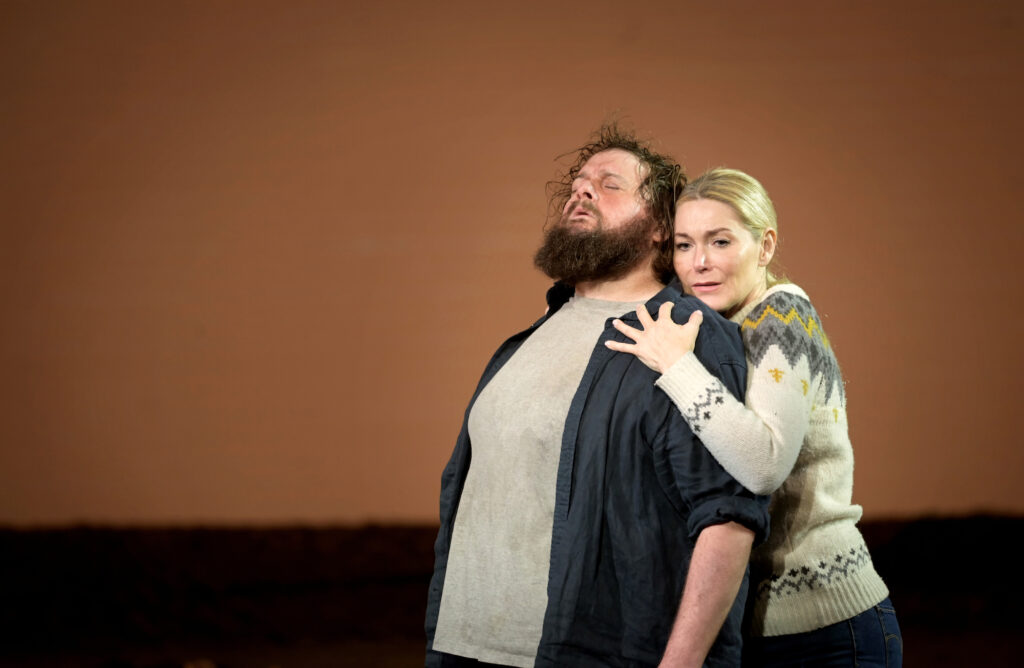 Surely these were the attributes sought by the production's stage director, Deborah Warner. She updates the story from the time of its premiere (1945, when it was a contemporary setting — forget its 18th source), to a more recent time, undefined, when there were brightly colored plastic crates and brightly colored baseball caps, and cool sneakers (though there were no cell phones apparent). She evidently wished to strip the opera of reference to and perspective of another, or any time period, rendering Britten's first operatic masterpiece simply as the personal story of a downtrodden, troubled man who recognized that there was perhaps salvation, but understood, finally, that salvation was not his fate.
Grimes was haunted by the recent death of his apprentice (unnamed) who appears in Grimes' dream (the prologue — see lead photo) in a feat of spectacular flymanship — the suspended apprentice enacts a slow-motion drowning in an imaginary sea that is the void above the stage floor. It is this loss that haunts Grimes and enflames suspicion among the villagers.
With Ellen's help, he takes on a new apprentice. This apprentice, who we know is doomed as well, was cast not as an adolescent of sufficient strength to actually be of help on a fishing boat, or as a youth whose violent death we might mourn, but as a seven or eight-year-old child who, we would come to understand, was, or rather had been Grimes himself. It was the child's innocence, and Grimes' innocence that was sacrificed in the child's fall from the cliff. 
The one man among the opera's villagers who felt and understood the primal meaning of oceans was the sea captain Balstrode. It was he who tells Grimes to disappear into the sea. This role, played in Paris by English baritone Simon Keenlyside (perfectly embodying the well-intentioned liberal activist — from my American perspective), triggered the very powerful moment of catharsis that Britten — and director Warner — created. It was classical tragedy in its purest form.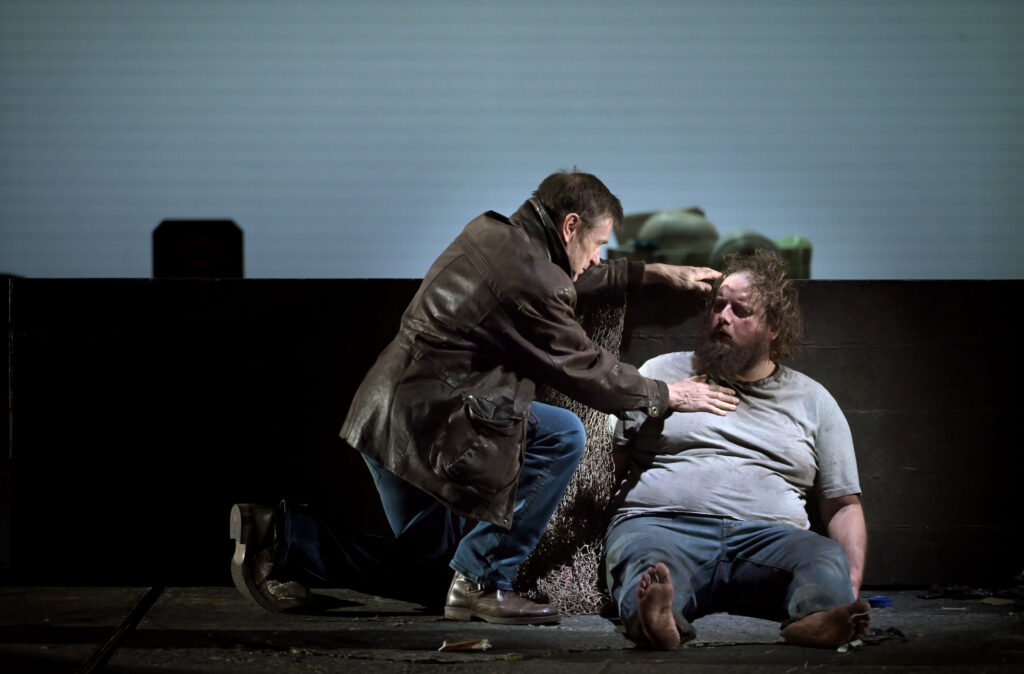 The setting for the Warner production was created by the distinguished Canadian-born designer Michael Levine. It was in the abstract minimalism that has come to define the works by this brilliant designer. The dream prologue was on a blank stage, the village was a black floor, low walls and a bank of askew, boarded up old, multicolored low buildings. The inn was a sunken floor allowing us to see actors from the waist up (like a bar or tables), a door and hanging lamps that flickered. Grimes' hut was a steep platform, a ladder climbing to its peak (the cliff from which the child falls). And finally there was a huge screen backdrop with tiny horizontal lines (waves) that actually wavered during the catharsis (or maybe this was my personal perception). Though minimalist in conception it was maximal in creating a poetic space, rather than a natural space for this human tragedy.
Grimes in the lost innocence of his childhood had been cast into a world in which he did not fit. This world was a village of colorful characters that challenged Benjamin Britten to create very brilliant music to define its citizens, their world and their actions, a world that greatly aroused conductor Soddy. It is against this intrusive and abusive world, made mundane and even entertaining, that the tragedy of this or any misfit occurs. In the final scene, the villagers remain proudly ignorant of the Grimes tragedy, leaving the question — who would want to be a part of that world.
It was indeed a splendid Peter Grimes in Paris.
Michael Milenski
Cast and Production
Peter Grimes: Allan Clayton; Ellen Oxford Maria Bengtsson; Captain Balstrode: Simon Keenlyside; Auntie: Catherine Wyn-Rogers; First Niece: Anna-Sophie Neher; Second Niece: Hanah Lobel-Torres; Bob Boles: John Graham-Hall; Swallow: Clive Bayley; Mrs. Sedley: Rosie Aldridge; Reverend Horace Adams: James Gilchrist; Ned Keene: Jacques Imbrailo; Hobson: Stephen Richardson. Orchestre et Choeurs de l'Opéra national de Paris. Conductor: Alexander Soddy; Mise en Scène: Deborah Warner; Decors: Michael Levine; Costumes: Luis F. Carvalho; Lumières: Peter Mumford; Video: Justin Nardella. Palais Garnier, Paris, January 29, 2023. All photos copyright Vincent Pontet, courtesy of the Opéra de Paris.