This was an odd concert – supposedly with a Polish link, in that its bookends were two symphonies from that country, and two symphonies at that which were born out of war, one real, the other what one might term a war of diametrically opposed political ideologies in a new post-nuclear ice age. Sandwiched between these symphonies was a Mozart concerto, one of which I have never sat through even close to a satisfactory performance. How ironic then, that in this of all concerts, where the concerto really had no place at all, Mozart's Sinfonia concertante proved the most beguiling thing on the program. It did, I think, have almost everything to do with youth, almost everything to do with the future, where both the symphonies occupied spaces going in quite the opposite direction, even as works from the time in which they were written.
Grażyna Bacewicz's Symphony No.4, composed in 1953, the year of Stalin's death, is described as a "socialist realist' work. The devastation of the Second World War was still very much visible in Poland in the 1950s; it scarred towns and villages, as well as cities, especially Warsaw, almost all of which had been razed by the Germans or Russians after September 1939. With a state structure imposed on the country, the pre-war liberalism that had existed was replaced by a centralised Soviet aesthetic: music either fell into line with what the state wanted to promote (such as the rebuilding of the cities from the rubble or the idealisation of the heroic Warsaw builder) or it became part of a counterculture, invariably an underground one, or an oppressed visible one. Bacewicz was part of a classical Polish-Soviet movement, a group which would become known as the Association of Young Polish Musicians that included not only her but Zygmunt Mycielski, Michał Spisak and Tadeusz Szeligowski.
Bacewicz's symphony does, I think, say a lot about what a rebuilt Poland began to look like. It's a bleak, dense, and rather raw work – a musical form of proto-concrete form, but not of the 1950s Concrete music one would begin to hear coming out of Paris and elsewhere. I didn't find the work especially imaginative. Described in the booklet as being "dissonant", that's a word I think which is a bit off the mark, too. Written in 1953, it is a symphony quite overshadowed by another work given its premiere that year – Shostakovich's Symphony No.10. There's ferocious and there's ferocious; there's violence and there's violence. Bacewicz's Symphony No.4 isn't in the same class. The BBC Symphony Orchestra and Sakari Oramo gave the work every ounce of blood and guts, however. It was superbly played, a very vivid and exciting performance of a symphony that was interesting to hear – but I wouldn't want to repeat the experience.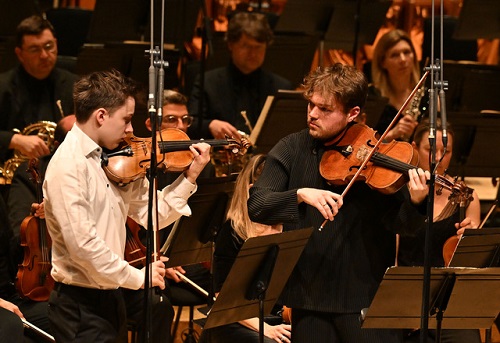 Mozart's K364 Sinfonia concertante is, rather like the Brahms Double Concerto and the Beethoven Triple Concerto, a work I have long struggled with in concert performances – I suspect because of mismatched soloists. This was the first one which got it almost right. The work can be wonderful – it's full of magnificently lyrical writing – some of the best that Mozart ever wrote – and the way he composes for the violin and viola is so beautifully done, so rich and expressive, when you listen to the work it can only come from the period of Idomeneo and Die Entführung aus dem Serail and in its treatment of its dialoguing players pre-empt Le nozze di Figaro.
Why did this performance work so well? I think largely because I was listening to such a youthful version of it. Both Johan Dalene and Timothy Ridout are in their 20s (Ridout is the oldest) and this felt like a performance that was working towards profundity rather than simply having already reached it. There was a sense in which the dialogue between the violin and viola had genuine expression. Dalene and Ridout would turn towards one another, although perhaps the younger Dalene would turn more often to the elder Ridout for the occasional lead to where their duets would be heading. Ridout's tone and colour were just gorgeous – but then he was, apparently, playing on a viola made, somewhat remarkably, in the sixteenth century. Dalene, on a much more contemporary – for Mozart – Strad, clearly came across with the brighter voice, a little dry at times, and perhaps a touch on the restrained side. But when both soloists played together, they fired sparks off each other, especially in the final rondo.
The single work after the interval was Karol Szymanowski's Symphony No.3, The Song of the Night. It was written between 1914 and 1916 (exactly the same period Carl Nielsen took composing his Symphony No.4, Inextinguishable). The First World War was a unique period of artistic creativity; it was the first political and global crisis of the twentieth century to produce works of lasting significance and influence in poetry, literature, painting – as well as music.
Szymanowski's symphony is but one work, but it is not often seen as a particularly notable wartime one, sometimes neglected from lists of great works composed during this period. He did not see the war first hand – he wrote the symphony from the relative safety of his family's estate in Central Ukraine. Contrast this with the immediate post-war works of Hindemith, entirely and undeniably influenced by his harrowing experiences in the trenches. Or, of Nikolai Myaskovsky's Symphony No.4, written in 1918, which shatters every hope of humanity – it's a work of simply astonishing and lurid terror. Alban Berg, who began his Orchesterstücke op.6 in 1914, would develop music during the war and afterwards that was thick with the horror of its slaughter; it entirely comes through in its sound. Even Elgar's Cello Concerto, written in 1919, is a response to the Great War – an elegy perhaps like none other, but it, too, is defined by its horrors.
Szymanowski's symphony doesn't really relate to any of these works, or even to the period in a direct sense. It looked for its inspiration to Persian love poetry; and it's not a nationalist work, which Szymanowski only turned to after the war as themes in his work. The symphony is, however, written on a large scale even if it is not long by symphonic standards, nor conventionally composed as a symphony.
This excellent performance by the BBC Symphony Orchestra and BBC Symphony Chorus largely gave definition to the symphony's beautiful orchestration. Almost Tristan-esque at times, Oramo had a keen ear for separating timbres – in such a huge orchestra it was welcome that harps and celesta were so divided and audible. Woodwind shimmered, brass were radiant. Climaxes weren't overdone (as is sometimes the case with this work) – the BBC Symphony Chorus notably careful to control the volume of their voices so they remained entirely in focus without the 'buzz' or frazzle of sounding over-stretched. The only disappointment for me was the reticence of the tenor, Nicky Spence, usually so reliant, but here less imposing that he might have been. Sometimes he sounded under-powered, as in the final Largo.
A bit of a mixed evening.
Marc Bridle
Johan Dalene (violin), Timothy Ridout (viola), Nicky Spence (tenor), BBC Symphony Chorus, BBC Symphony Orchestra, Sakari Oramo, (conductor)
Grażyna Bacewicz – Symphony No.4; Wolfgang Amadeus Mozart – Sinfonia concertante in E flat major K364; Karol Szymanowski – Symphony No.3 Op.27, The Song of the Night'
Barbican Centre, London; 10th February 2023.
ABOVE: Nicky Spence with Oramo and the LSO at the Barbican (c) LSO/Mark Allan