With the familial knots of the guest list for Charles III's coronation still to be unravelled and the UK still stretching itself on the Brexit-rack, Il viaggio a Reims, Rossini's celebration of the coronation of Charles X in 1825 seems a fortuitously timely inclusion in English Touring Opera's spring season.
Essentially, though, there are umpteen characters and nothing happens. A group of European dignitaries (cue opportunity for no-holds-barred stereotyping) is held up in Madame Cortese's spa hotel, the Golden Lily, en route to Charles's coronation in Reims – a journey thwarted by the lack of horses and characterised by personal peccadilloes and romantic disputes.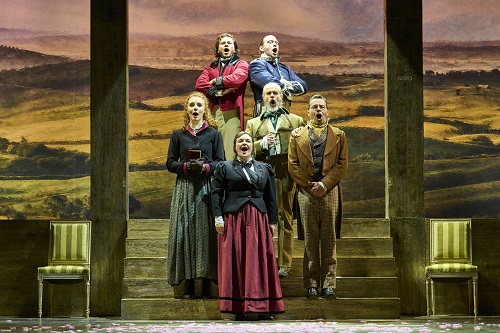 Il viaggio is not really an 'opera' at all, rather a cantata scenica which was composed as a pièce d'occasion for performance in Paris's Theatre Italie, with an unusually large corps of stellar soloists at the composer's disposal. Herbert Weinstock, in his 1968 biography of Rossini, describes Il viaggio as 'a ceremonial pseudo-opera' and a 'semi-comical gallimaufry' and that seems to hit the mark. The 'Gran Pezzo Concertato a 14 voci' which ends Act 2 attests to the extravagance of the occasion, and is here adorned with a superb assemblage of accumulating luggage, picture frames and china dogs. Valentina Ceschi's staging for ETO also includes a vertiginous coup de théâtre as the audience are invited to take off in a red and white striped hot-air balloon – hold onto your seats!
Hugely successful at its first performance, Il viaggio then (not altogether surprisingly) sank into oblivion, and was subsequently milked by Rossini for his 1828 comedy, Le Comte Ory; the various pieces were only reassembled in the 1970s. Each soloist has one major aria, and perhaps a duet, and then there are grand concerted ensembles. Of course, the whole thing is one huge piss-take on operatic folly and excess. And Ceschi's staging rises to the occasion! The set is simple: the gilded box which houses the company's Giulio Cesare is transported to the rural paradise of northern France by Adam Wiltshire's eye-pleasing backdrop and enhanced by a warm array of brightly coloured costumes, and fixtures and fittings: the lime green deckchairs and sofas are perfectly complemented by the gracious costume of the poet Corinna (Susanna Hurrell), and the florid floristry throughout is a triumph.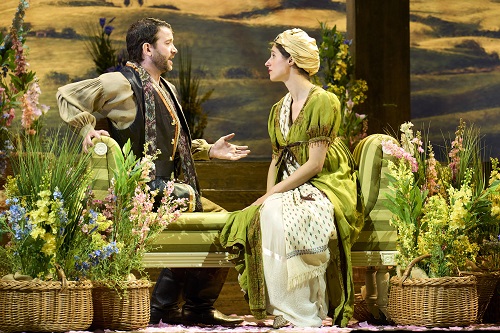 Ceschi's first two acts are terrific fun: extravagant eccentricity is indulged while just holding back from the threshold of chaos. And, the vocal performances are superb. Lucy Hall's Madame Cortese, the proprietor of the hotel where the dignitaries are delayed, is delightfully vivacious and authoritative. Hall has real sassy presence, a quality shared by Timothy Dawkins whose antique-collecting Don Profondo is a witty and wry observer of events. Dawkins relished his patter aria about the nationalistic predilections of everyone's luggage – and a huge round of applause for the stagehands who actually packed all the suitcases whose contents we ogled!
As the Marchessa Melibea, Esme Bronwen-Smith sings with a seductive smoothness. Bass Edward Hawkins hits the heights – literally (he's a head and shoulders taller than the rest of the cast) and musico-theatrically, as the lovelorn Lord Sidney, singing with focused resonance and foppish self-parody. Luci Briginshaw manages (somehow?) to induce some sympathy for the Contessa di Folleville, whose aria to her lost luggage is imbued with both musical beauty and inappropriate pathos – it feels wonderfully Mozartian.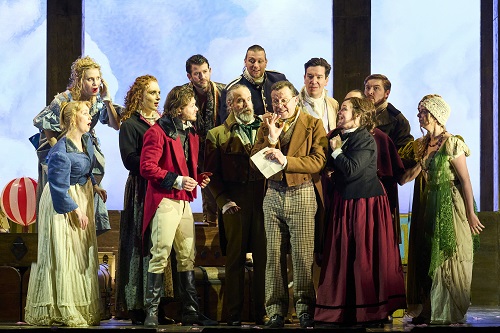 Susanna Hurrell's poetess Corinna is refined but rather withdrawn. That said, her off-stage ode, 'Arpa gentil' was beautifully sung and staged, shining through an awning in the gilded box and holding the stage ensemble and the Hackney Empire audience absolutely rapt. Edward Jowle's servant Antonio, Julian Henao Gonzalez's flamboyant Conte di Libenskof, Grant Doyle's characterful Barone di Trombonok and Matthew McKinney's Don Luigino make up the lively cast. Brenton Spiteri's Zefirino and Peter Edge's Gelsomino add sparkle to the mix.
Conductor Jonathan Peter Kenny is characteristically effervescent in the pit. One wonders if he needs to put himself through such a strenuous work out, though – the Old Street Band will strut their stuff without conductorial marathon-exploits. The recitatives have real energy and bite, accompanied by just a double bass (Carina Cosgrave) and cello (Gavin Kibble) who are edgily improvisatory.
There's a brief moment of discord, when Ceschi reminds us – as two servants stage a banner-defacing protest – that Charles X's regal rule didn't last that long. But, Act 3 is largely a nationalism-fest: we have to listen to anthem after anthem, all beautifully sung … but one longs for some G&S-style intervention here, to dilute the blowsy political propaganda. And, I wasn't sure quite what to make of the finale, when the poet Corinna locks herself in a butterfly cage?
At the close, the whole cast call for international unity. If only this seemed possible today …
The evening before, ETO dipped its toes, somewhat tentatively, into Renaissance melodrama and pre-Freudian psychodrama, with Eloise Lally's production of Donizetti's Lucrezia Borgia.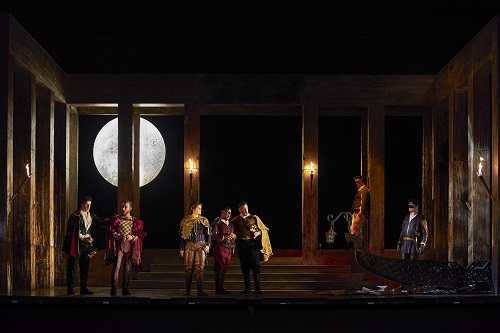 During a recent conversation about the representation of opera in literature, a friend reminded me that in Wilkie Collins's The Woman in White, the Italian Count Fosco attends a performance of Lucrezia Borgia in London. Fosco – presumably reflecting the music-loving Collins's own views of his native countrymen's aesthetic tastes (or lack of them) – isn't that impressed by his fellow audience members: 'he looked round at [them] with an expression of compassionate remonstrance'. These 'barbarous English people' fail to appreciate 'the more refined passages of the singing … the more delicate phases of the music'; but they also don't delight in the melodrama – in the danger inherent in its 'foreignness'. He's particularly annoyed when the audience applauds at the close of a number 'without the least consideration for the orchestral movement which immediately followed it'. Clearly, Fosco believes, only an Italian can recognise the aesthetic and cultural values epitomised by Donizetti's 1833 music thriller.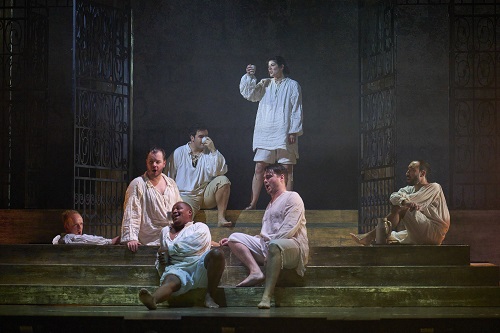 The ETO audience at the Hackney Empire applauded appreciatively, in all the 'right' places, but one wonders what the dastardly Fosco would have made of this very 'traditional' telling of Donizetti's lurid, liberty-taking dramatisation of one of history's most infamous poisoners, now married to her fourth husband, the Duke of Ferrara. Collins describes the music as 'delicious', and so it was here, though the necessary decadence and degeneracy were rather lacking. One has to make allowances for the fact that this show needs to hit the road, but we are in that pleasure-dome, Venice, capital of the Carnival, and the debauched temptress seduces her own son, Gennaro, having poisoned countless of his friends and their family – the accusations fly thick and fast, 'You killed my brother as he slept', 'I am a relative of one of your husbands whom you had drowned in the Tiber' – and sings a final love duet which is more luxuriantly incestuous than maternal.
Lucrezia Borgia really does feel like a pre-Rigoletto warm-up. We have a morally flawed parent, whose actions will result in the death of a loved child, and a decadent milieu. There's a moody prelude to the party-in-progress, but also plenty of rum-ti-tum run-of the-mill-ness. Here, what was missing was the conspiratorial air of the choruses and a general 'muscularity'. That wasn't the fault of conductor Gerry Cornelius and the period instrument Old Street Band, who did their best to bring a pithiness to proceedings but perhaps inevitably lacked the Verdian richness of colour that might have deepened the darkness of Donizetti's fervent gloom.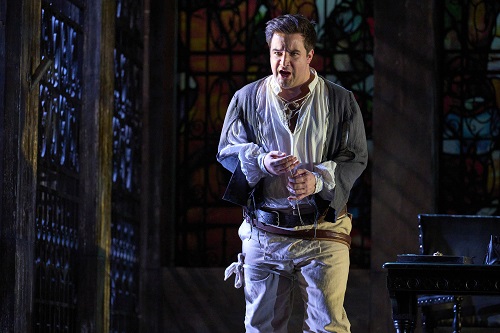 Designer Adam Wiltshire made the moon shine upon the golden box-set of ETO's Giulio Cesare, and the tapers flared, if not very feverishly – the revellers seemed to have just left a real damp squib of a party in the opening scene, when they gathered beside the Guidecca canal. A gondola run ashore, some stained-glass projections (nicely done) and some heaved-on wrought-iron gates to denote the Borgias' bacchanalian palace had to do service for Venetian voluptuousness. The blocking throughout was static; characters wandered on and off without a strong sense of direction, and there was too much stand-and-deliver inertia for an opera shot through with viciousness and vigour. A later party looked steamed rather than steamy. In terms of the drama, though not the music, this really is second-rate Donizetti, and it needs some theatrical oomph to get the dramatic juices flowing.
That said, there were plentiful musical sparks. Aidan Edwards's Alfonso brought things to life every time he stepped to the fore, his tone dark and malignant, his bearing charismatic and pressing. Gennaro, Lucrezia's unacknowledged son, is rather a wet wimp, and Thomas Elwin didn't fuel him with vigour and stature, but the tenor did sing stylishly and with a lovely warm tone – though more mastery of the bel canto idiom is probably needed for the role to make a real impact. As his friend, Orsini, Katie Coventry had a nice glint in her voice and her mezzo gleamed in the obligatory – here, somewhat banal – brindisi.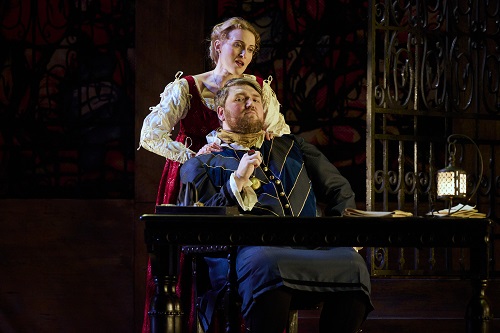 In the title role, ETO stalwart Paula Slides once more impressed. Yes, there might have been a more 'edge', perhaps – more fierceness (to echo Fosco, more Mediterranean fire) – though this Lucrezia could be pithily acerbic, as when reminding Alfosno that he's her fourth husband (cue a chortle from the audience). But, Sides, bright and sleek of tone, kept us on the right side of empathy throughout, and made the tricky passagework not just crystal clear, across all registers, but also expressive. The vocal peaks were scaled with impressive ease. In the last act, the announcement of the multiple poisonings had real dramatic stature. And, Gennaro's demise neatly tapped Henry Wallis's Chatterton.
One could imagine Fosco's 'oily murmur of approval, "Bravo! Bra-a-a-a!" humm[ing] through the silence, like the purring of a great cat'.
English Touring Opera's 2023 spring tour continues until 25 May.
Claire Seymour
Donizetti: Lucrezia Borgia
Lucrezia Borgia – Paula Sides, Gennaro – Thomas Elwin, Orsini – Katie Coventry, Alfonso – Aidan Edwards, Astolfo – Jerome Knox, Liverotto – Brenton Spiteri, Vitellozzo – Monwabasi Lindi, Petrucci – Peter Edge, Gazella – Phil Wilcox, Rustighello – Matthew McKinney, Gubetta – Edward Jowle, Brigand – Aaron O'Hare, Brigand – Masimba Ushe, Brigand – Ben Knight; Director – Eloise Lally, Conductor – Gerry Cornelius, Designer – Adam Wiltshire, Lighting Design – Ric Mountjoy, Fight Director – Kaitlin Howard, The Old Street Band.
Rossini: Il Viaggio a Reims
Madame Cortese – Lucy Hall, Contessa di Folleville – Luci Briginshaw, Corinna – Susanna Hurrell, Marchesa Melibea – Esme Bronwen-Smith, Conte di Libenskopf – Julian Henao Gonzalez, Chevalier Belfiore – Richard Dowling, Lord Sidney – Edward Hawkins, Brone di Trombonok – Grant Doyle, Don Prudenzio – Jerome Knox, Don Profondo – Timothy Dawkins, Modestina – Lilo Evans, Don Luigino – Matthew McKinney, Maddalena – Hollie-Anne Bangham, Antonio – Edward Jowle, Zefirino – Brenton Spiteri, Gelsomino – Peter Edge, Delia – Eleanor Sanderson-Nash, Ensemble/Player – Katherine McIndoe, Julia Mariko, Rachel Speirs, Sophie Dicks, Monwabasi Lindi, Aaron O'Hare, Phil Wilcox, Masimba Ushe, Ben Knight; Director – Valentina Ceschi, Conductor – Jonathan Peter Kenny, Designer – Adam Wiltshire, Lighting Designer – Ric Mountjoy, Movement Director – Ana Beatriz Meireles, The Old Street Band.
English Touring Opera, The Hackney Empire, London; Friday 3rd and Saturday 4th March 2023.
ABOVE: Il viaggio a Reims (c) Richard Hubert Smith