If you think soprano Mary Bevan is associated only with Baroque repertoire, think again. Yes, she's recently wowed audiences in Handel's Alcina at Covent Garden, and she's about to embark on Cavalli's La Calisto in Munich, yet she has accumulated a song repertoire stretching from Schubert to Schreker. Amongst her early recordings there's a disc of Hugo Wolf's lieder – Stone Records, 2012. Her latest venture, Visions illuminées, her third with Signum, largely spotlights French song belonging to La Belle Époque, which she combines with Britten's Les illuminations.
What gives this song collection its curiosity value are the seldom heard versions of French song involving piano (Joseph Middleton), string quartet (Ruisi Quartet) and chamber orchestra (12 Ensemble) which do duty for the original piano accompaniments. Robin Holloway provides instrumental arrangements for songs by Debussy, Ravel and Augusta Holmés, two of which are world premiere recordings, and the disc includes chamber orchestra versions of offerings by Chausson, Duparc and Fauré. There's also a world premiere recording of Chabrier's 'Tes yeux bleus', its string orchestra score happily discovered by French scholars.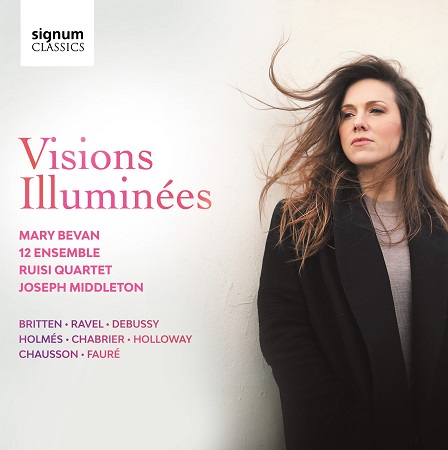 Listening to this disc at one sitting I couldn't help thinking that Britten's settings of Artur Rimbaud outclass those songs by composers across the channel. That may be unfair and perhaps it's the sheer élan belonging to Les Illuminations. In this instance, it's the compelling singing of Mary Bevan whose affinity with these songs is undeniable. She throws herself at the opening 'Fanfares' with a refreshing abandon and within a few bars convinces me how well her voice suits this 1939 song cycle, long identified with tenors. (The London premiere was given by the Swiss soprano Sophie Wyss.)
'Villes' here feels fractionally fast, but Bevan and the unconducted string players of Ensemble 12 are wonderfully athletic, its 'savage parade' building with tremendous excitement: the animated line 'Le paradis des orages s'effondre' is effortlessly delivered. 'Phrase' is a model of poise – Bevan's pianissimo will dazzle – and there's no denying her majestic tone in 'Royauté', its fantasy fully realised. Her cast iron technique is on display in the polished semiquaver runs of 'Marine', and a chaste, silvery tone permeates the erotically charged 'Being beauteous', where no sense of strain can be detected. Elsewhere, she is variously imperious and languorous, always bringing flawless intonation and diction.
That Bevan has an affinity with French mélodie is also irrefutable, where Gallic clarity and drama are well served, especially in the charming Sérénades (1883) of Augusta Holmès, given here in her arrangement for string quintet and piano. The five songs express themes of intense, passionate love, and were composed (to her own texts) at a time when her relationship with poet Catulle Mendès was ending. Bevan responds to these bon-bons with delicate, nuanced tone, adding a certain breathlessness here, yearning there, and always finding the emotional core of each song, clearly enjoying the music-box accompaniment to 'Sérénade d'hiver'.
If these confections are little known, I doubt many are familiar with the trio of individual songs by Ravel under the umbrella heading 'Un grand sommeil noir', conceived between 1895–1906. They set poems by French and Belgian symbolists and occupy an unusually dark, interior manner, some considerable distance from the witty Histoires naturelles of the same period. If the expressionistic 'Les grands vents venus d'outre-mer' (Henri de Régnier) conveys the disquiet of marauding strangers in a wintry city, 'Un grand sommeil noir' (Paul Verlaine) evokes a terrifying portrait of depression, Bevan unveiling its sepulchral gloom with a chest register that one might mistake for a tenor voice. It's a remarkable vocal transformation and no less haunting is the anguished string repetitions in the accompaniment. Only in 'Si morne!' does Ravel's familiar harmonic language return, its musical histrionics fitting the psychological drama within Émile Verhaeren's poem like a glove. It's a fascinating aspect of Ravel that makes for a striking contrast to his sensuality and hedonism.
There's also much to enjoy in Fauré's 'Clair de lune', orchestrated at the request of the salon hostess the Princesse de Polignac, where the moon's play of light is artfully evoked through the subtlety of scoring. Bevan creates just the right pearly tone, especially gratifying at the start of the third verse. Instrumentation is more obvious in Duparc's 'Chanson triste', where two flutes, four horns, harp, and strings add colour and depth to the song's melancholy. In Chabrier's 'Tes yeux bleus' (orchestrated by the composer but left untouched in the publishers' archives for over a century) she brings an exquisite tenderness to Maurice Rollinat's lovesick verses.
Intimacy and loss are the key to Chausson's 'Chanson perpétuelle' where its Wagner-inspired melodic wandering supports a text by Charles Cros concerning an abandoned lover. Of Debussy's Quatre mélodies de Verlaine (orchestrated for voice and piano quintet), the rolling seas of 'La mer est plus belle' are evoked with controlled drama, while the atmospheric 'Le son du cor s'afflige' is an impressionistic evocation on which Bevan adds her own personal stamp. 'L'échelonnement des haies' is suitably vernal, and the popular 'Mandolin' is wonderfully light on its feet.
In short, this thoughtfully curated and generously filled disc will delight Francophiles and those wishing to hear new versions of repertoire that may not all be familiar. Finally, a word for Ensemble 12, the Ruisi Quartet and pianist Joseph Middleton, all of whom are sensitive collaborators in a CD that will unquestionably bear repeated listening. Sound quality is especially impressive.
David Truslove
SIGNUM: SIGCD735 [74:58]
Mary Bevan (soprano), 12 Ensemble, Ruisi Quartet, Joseph Middleton (piano)
Fauré – Clair de lune, Op.46 No.2; Britten – Les Illuminations Op.18; Ravel (arr. Holloway) – Un grand sommeil noir; Duparc – Chanson triste; Chabrier – Tes yeux bleus; Chausson – Chanson perpétuelle Op.37; Debussy (arr. Holloway) – Quatre Mélodies de Verlaine; Augusta Holmès – Sérénades.
Above: Mary Bevan (c) Victoria Cadisch