Wagner and Bruckner often make a good coupling in concerts – if they have the right conductor. Musically they can be close – but they do need to be treated with significant differences. Esa-Pekka Salonen, who in his first concert since leaving the Philharmonia Orchestra to take over in San Francisco, found himself with covid; unable to conduct, his replacement was the young British conductor Alexander Soddy, unknown to me, but with a quite remarkable back-history already behind him.
There are conductors who just like – or want – to stand in front of symphony orchestras; it's as far as their imagination and limitations take them. And then there are conductors like Alexander Soddy who start their careers as Kapellmeisters, much as the great conductors of the past did – Furtwängler, Karajan and Tennstedt to name but three. Working his way through Hamburg State Opera, Stadttheater Klagenfurt and, since 2016, as Generalmuskdirektor of Mannheim Opera (following in the footsteps of Furtwängler, Erich Kleiber, Elmendorff, Rieger, and Horst Stein, all of whom would become great symphonic conductors) every part of this concert was indicative of a conductor who knew his way through the music with microscopic detail and knew how to take the orchestra with him. In fact, it became a relief in the second half of the concert – with Bruckner's Sixth Symphony, a problematic Brucknerian work – not to repeat the experience of Salonen's lumpen, heavy-handed, and problematic performance several years ago. There were faults, but it was largely thrilling.
Although he conducts with scores, and is considerably more attentive to them than many conductors I have seen recently, the music he creates is remarkably fluid and free. It certainly seemed to help that the Philharmonia, on cracking form, enjoyed playing for him – I have rarely seen these players smile more than they did throughout this concert; the two front-desk second violins seemed to be having particular fun. Wagner's Prelude to Die Meistersinger von Nürnberg was extraordinarily imposing, with playing of palatial beauty from the orchestra – but it also had a singular, electrifying arc to it that never once lost its curve through its span. In what would – almost – become a slight issue was the huge weight he asked for from the cellos and basses; it sometimes reminded me of Thielemann concerts with this orchestra. On the other hand, the prelude to Act III of Lohengrin, was flirtatiously light and flamboyant, dashing and exciting – but still not brilliant enough to change my opinion it's the worst piece of music Wagner ever wrote.
The original pairing of Salonen and Bryn Terfel for the Wagner emerged from them randomly meeting at a rugby match. It's difficult to know what Salonen – not really a notable Wagnerian – would have got from Terfel in either the Meistersinger or Walküre excerpts, but Alexander Soddy was beyond solicitous. Terfel was in great form, the voice powerful and rich but 'Was duftet doch der Flieder' is a bit more wide-ranging in its demands. Here Terfel was magical in shifting between moments of reflection and those seeds of anger that are to come later in the song; the voice was mellow enough when remembering the song that Walther had sung earlier but just on the sharp side when beginning to foment his anger at the Mastersingers.
'Wotan's Farewell' can be difficult in concert performances – both removed from its operatic context and sung in cold isolation it often lacks dramatic impact. It was left to the Philharmonia and Soddy to provide the surging emotion as the backdrop for Terfel's Wotan – there could be no defiant and defenceless Brünnhilde here unless Terfel's Wotan were to conjure her up into his imagination. In part, this was precisely what he did – with partial gestures, with wrought emotions, he managed to make this Farewell an emotional crescendo of considerable power and grief. The agony and torment weren't just in the inflections of his voice but in the tension of his body. His summoning of the fire god Loge felt torrential in its effect – a collision of Terfel's powerful voice and the orchestral footprint left by the Philharmonia's trenchant playing. The enormous reach of the voice when summoning the fire felt chilling; and all the more remarkable as a contrast to the sparkling, incandescent playing of the 'Magic Fire Music'.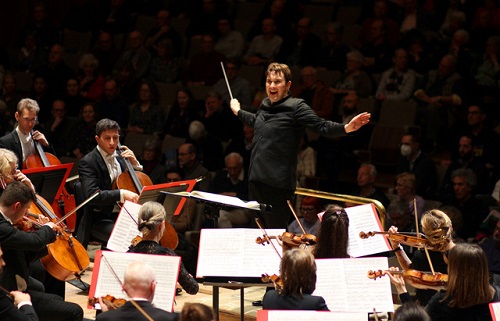 Bruckner's Sixth, one of the few of his symphonies not to exist in revised editions, was not especially subtle. Indeed, the alacrity with which Soddy conducted it made me wonder if he needed to be somewhere else by 5pm. Such was the velocity of the first movement it didn't always feel it was doing justice to the music: the symphony does contain some of Bruckner's most beautiful themes, and its opening is amongst his darkest and most brooding.
One advantage of Soddy's tempo, of course, was that this was never going to be a static performance. Nobility, however, sometimes came dangerously close to being incinerated; tonality bleached out. The intricate passage work, written in sixths and sevenths, hardly seemed manageable and the synchronicity between the orchestra and conductor barely held together here. If there were upsides, it was in the sheer radiance of the passage work – surprisingly broad crescendos that were nurtured with a nuanced feeling for Brucknerian spacing, a sudden change into the recapitulation that was breathtakingly powerful. If some of the colour had been washed out early on in the symphony, the coda, so often the point where conductors shine in Bruckner, Soddy brought an entire kaleidoscope to the close of the first movement.
Arguably the Adagio was slightly on the fast side (here Salonen had taken the risk of slowness); the magnificent oboe solo didn't quite feel spacious enough, beautifully played though it was. But this was an Adagio entirely characterised by woodwind solos of gorgeous characterisation, entirely shaped by an operatic master: the trio of oboe, clarinet and bassoon almost decadent in its colouring, an outpouring of desolation and grief in the oboe before the recapitulation that arrived after playing that had been like strands of meltingly spun silk. The coda, with its nod to Die Meistersinger, was just beautiful.
The Scherzo is one of Bruckner's slowest, though here, too, Soddy was a little faster than usual. Not quite the mystery the music should be, the pizzicato trio felt indifferently done. The Finale often blows conductors off course: the precision of not too fast is often misunderstood. I felt uncertain about Soddy's handling of it at first, but after the concert thought it was probably the most successful in terms of tempo. Some of the effects were magnificent: the timpani hammering away as if on an anvil, the rich harmonic trombones and tuba that adhered closely to the broadness Bruckner asked for in his granular writing at the beginning of the sehr stark und breit marking. That depth of tone in the cellos and basses, however, came dangerously close to blurring both the violas and the second violins when playing divided against the first. If there was ever a case for seating the strings differently this performance made the argument for it.
This was, however, an intriguing Sixth, often magnificently played, but like an old Steiff bear, unique in character, it also felt occasionally loose at the seams. Alexander Soddy gave a thought-provoking and often thrilling concert and I hope the Philharmonia invite him back.
Marc Bridle
Bryn Terfel (bass-baritone), Alexander Soddy (conductor), Philharmonia Orchestra
Wagner – Prelude and 'Was duftet doch der Flieder' (Die Meistersinger von Nürnberg); Prelude to Act 3 (Lohengrin); Wotan's Farewell and Magic Fire Music (Die Walküre); Bruckner – Symphony No.6 WAB 106
Royal Festival Hall, London; Sunday 26th March 2023.
ABOVE: Sir Bryn Terfel, Alexander Soddy and the Philharmonia (c) Robert Piwko