Composed in under a fortnight in 1915, Rachmaninov's monumental All-Night Vigil is recognised as one of the most challenging works in the a cappella repertory. Alongside his Liturgy of St John Chrysostom (1910), the Vespers, as the All-Night Vigil is erroneously known, is acknowledged for its superlative choral writing. While conceived for concert performance, its liturgical span embraces texts from Vespers, Matins and Prime which the composer forges into a single unified structure, its 15 movements mostly linked by Orthodox chants. Few commentators refer to the work as a sacred concerto, yet such is the work's varied vocal layers and shifting sonorities that Rachmaninov created a type of choral orchestration, with its bell-like figures a reminder of sounds he heard from early childhood. Today, the work is seen as the last crowning achievement of Russian Orthodox choral music, a masterpiece that transcends genre and language by a composer at the peak of his powers.
In this recent Delphian disc, the forty-strong singers of the Choir of King's College London also appear to be at the peak of their powers. Under Joseph Fort, and before that David Trendell, the choir has earned a considerable reputation for both its versatility and the consistent quality of its performances. This recording showcases an exceptional talent as well as the sound judgement of its director who has tailored an account to meet the capabilities of his young voices in a work notorious for its demands on intonation and stamina. That's not to ignore balance, blend, dynamic contrast and expressive range, all needing careful consideration which are amply supplied in this performance. Much to the choir's credit, this version stands up against strong competition from more prestigious groups in a very crowded market, and while it may not always possess the same depth of sonority or fire power in recordings from the Latvian Radio Choir (Ondine) or the Estonian Philharmonic Choir (harmonia mundi), this performance is still a magnificent achievement.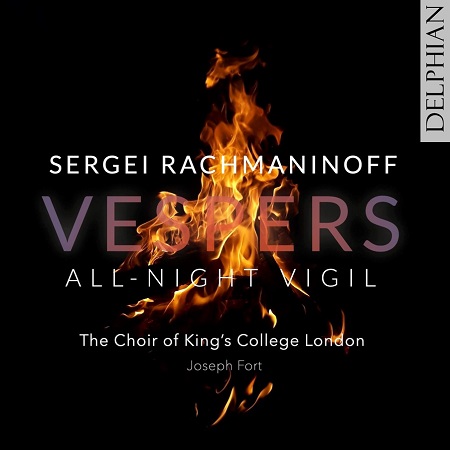 There are times when one may wish for a more relaxed tempo in at least two of the movements: the opening call to prayer feels slightly rushed and the closing chant is in danger of running away with itself. Some may wish for the 'Ave Maria' ('Bogoroditse Devo') to unfold a little more expansively, yet Fort knows just how much to ask from his singers and, as a result, he ensures secure intonation throughout – something essential for Rachmaninov's characteristic octave duplication. Shaping of the chant melodies develops naturally with some well-judged lingering at cadences and climaxes are never overblown.
The energetic 'Khvalite imya Gospodne' impresses hugely for its rhythmic impetus, its semi-staccato opening chords precisely articulated. Bright tone is to the fore for the rousing chant given to altos and basses, and its forward momentum fully captures the exultant mood. Rhythms are comfortably spring-loaded in the upper voice refrains of the 'Magnificat' and basses convincingly project their somewhat four-square chant. There's no shortage of warm tone from the contrasting vocal groups in the beautifully paced 'Blagoslovi, dushe moya, Gospoda' where basses find their bottom C at the end with ease. The rich alto of Caitlin Goreing goes some way to create a Slavic colouring in her flowing delivery of its chant. Curiously, no details for this highly accomplished soloist are provided in the CD's booklet.
Chris O'Leary, one of the tenors from the chorus, brings distinction to 'Svete tikhy' and again for the 'Nunc Dimittis', and there's no doubting the presence of the low B flat from the basses in the final bar. Elsewhere, there's some wonderfully tender singing for 'Blazhen muzh', its mounting excitement superbly integrated into a well-shaped whole, its closing bars sung with great warmth of feeling, the singers' engagement with the texts whole-hearted.
Similarly conspicuous is the affection the singers have for 'Slavosloviye maloye'. It's a demonstration of superb blend and an ideal tempo that together create a highly charged atmosphere. One can almost imagine a censer swinging along with the smooth chanting of 'Velikoye slavosloviye', an imaginatively scored movement where Fort coaxes some wonderfully buoyant singing. Both here and across the entire work he unveils its dramatic traversal, no mere sequence of self-contained events, but a framework connected by its own musical logic.
For this disc, recorded in the church of All Hallows', Gospel Oak, the Delphian engineers have fashioned a marvellously transparent sound, creating a characterful and involving account, bringing out the very best of this exciting choir. Though newcomers they may be to the Orthodox traditions, the King's Choir sing with unquestionable commitment and musical intelligence.
David Truslove
Rachmaninov: All-Night Vigil
The Choir of King's College London: Caitlin Goreing (alto), Chris O'Leary (tenor), Joseph Fort (director)
Delphian DCD34296 [53:10]