Director Cecilia Stinton sets out her stall in no uncertain terms during the overture to her new production of Verdi's Rigoletto at Opera Holland Park.  As conductor Lee Reynolds whips up the tension in the curtain-raiser – even in this reduced scoring, the City of London Sinfonia brass shine and the timpani thumps are turbulent and thunderous – on the front strip that embraces the orchestra pit we witness an aggressive, degrading initiation rite, as a young student, head bent over his books, is interrupted by a braying band of 'brothers', stripped of his clothes and has his head dunked in a bucket, in a semi-drowning.  He survives.  With a cruel, curt laugh, the mob depart.  He's in the club. 
The Bullingdon, that is.  Stinton and designer Neill Irish set the action in the 1920s in an Oxbridge college.  The broad OHP stage is furnished with stylish mahogany bookcases, arty exhibits, portraits, a stag's head; the champagne flows, and though the captain of the first XI cricket team gets his bare chest daubed with 'LBW' and one poor reveller is trussed up like a pig destined for a rotisserie, it's all jolly japes rather than dark political and sexual intrigue.  Jazz age jingles jangle ear-piercingly from a gramophone (replacing Verdi's on-stage band and disrupting the flow of Verdi's score).  The boaters and oars, blazers and evening tails, mortar boards and bicycles suggest the ease of moneyed privilege.  A telling image is struck when the chaps in their tailcoated finery pose for a photo, reproducing that infamous 'Class of '87' image of certain old Etonians – which brilliantly and appallingly sums up privilege and disconnect between society's haves and have nots.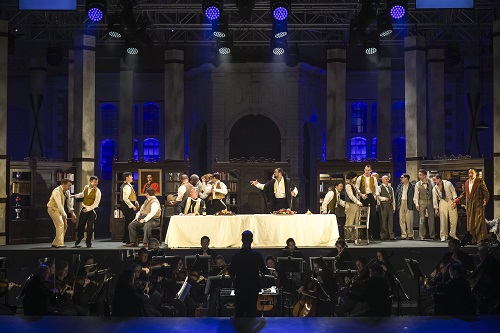 Stinton is onto something here: political power garners attendant toadies, whatever the time and place.  But, she doesn't run with it.  Academic life is certainly not without its politics, but – in contrast to the courts of sixteenth-century Italy – the rivalries and ribaldries of the Senior Common Room do not put lives at stake.  The Duke of Mantua may hide his identity when wooing Gilda – "Walter Maldè./ I am a student, and poor …" – but even as a rich student he wouldn't have the power and prerogative to hire murderers and dump the dead bodies in the Cherwell.  So, where does Sparafucile fit into this scenario?
And, what of Rigoletto?  Verdi's jester is forced to earn his living by colluding with his libertine master, the Duke, viciously mocking the latter's victims and dupes.  In Stinton's production Rigoletto is the head porter, someone who, if he abused the students and professors, would lose his job in a trice.  The result is that, in the opening scene, Rigoletto and his biting rejoinders don't make their mark.  He sports medals on his chest and is inflicted not by a humped back, but a gammy leg, which is strapped up with a leather brace – presumably a war wound, though given his age it must have been a result of service in the Boer War rather than the terrible conflict of 1914-18.  Likewise, despite Matthew Stiff's stentorian efforts, Monterone's entrance – which usually halts the revelry with terrible anticipation – falls a bit flat; later he has to deliver Verdi's darkest curses while dressed in his underpants.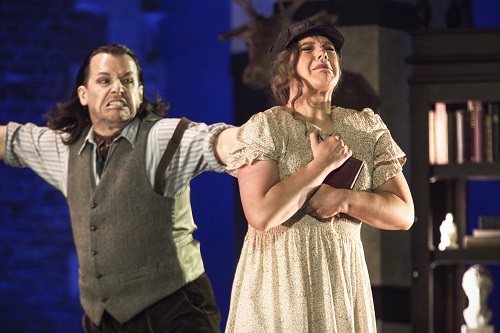 I don't think that it's the period that Stinton has misjudged, but the context. At Longborough in 2015, Caroline Clegg updated the action to the same decade, but the power structure was dominated by the boss of an American automobile corporation. As recently as January 2022, Barltett Sher's Met production, created in cooperation with Staatsoper Berlin, updated the action from Renaissance Italy to Weimar Germany in the 1920s. Both contexts show how corrupt power infects a culture and destroys those below. When Joshua Barone reviewed Sher's production for The New York Times, when it was introduced at the Berlin State Opera in 2019, he wrote that Sher's treatment of the Weimar Republic came off as 'more of a context than a concept'. One might say that the reverse is true here.
Irish's single set has do service as a substitute for the opulent courts in which Rigoletto fulfils his jester's duties, the backstreet hovel where he keeps his daughter confined, and Sparafucile's shabby inn.  It doesn't quite pull it off.  Stinton, perhaps admirably, tries to make use of the full width of the stage: so, there is much 'busyness' – a dinner party taking place stage-right, flappers flouncing under tablecloths, darts games disturbing 'La donna è mobile'.  But, such business doesn't add much and if one looks too hard it detracts from the central action.  There are some attempts to 'rationalise' that don't come off either: this Rigoletto is not blindfolded by the mob, he's just forgotten his glasses.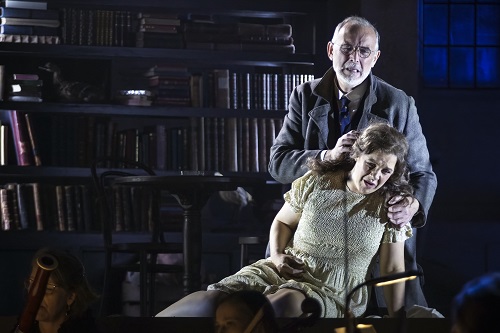 Best of the cast is Alison Langer, a former OHP Young Artist, as Gilda.  Even here, Stinton has to meddle.  This Gilda enters through the audience, wearing a sassy headscarf, sporting smart sunglasses and swigging from a bottle.  All have to be quickly hidden when her father appears, but it rather makes a nonsense of the libretto's and the score's presentation of Gilda's virginal purity, torn as she is between her love for her father and the dissembling Duke, steadfast despite the latter's cruelty, angelic in life and ascending to the heavens in death.  At the close, as Rigoletto despairs over the bloodied sack which held his daughter's corpse, this Gilda rises and leaves the auditorium by the same steps she entered.  Is she heaven-bound?  Or denying her destiny?  Whatever, Langer sings with considerable poise and beauty.  'Care nome' is absolutely secure and conveys every ounce of conflicting emotion experience by the inexperienced Gilda.
Stephen Gadd's Rigoletto is less rough and raw that is often the case, but even though he finds a certain gravity and self-worth, which – with his sincere love for his daughter – aptly garners our sympathy, on the first night Gadd was clearly ailing, frequently transposing phrases down an octave, or modifying them. There are the seeds of a strong interpretation here, though. Let's hope that he's back to his best as the run continues.
As the Duke, Alessandro Scotto di Luzio looks the part, whether in evening tails or hunting garb, and certainly has an apt cocky swagger and the requisite vocal power.  But, his projection is a bit unnuanced and lacking in charm, and his intonation is wayward.  Simon Wilding sings with accomplishment but doesn't have quite enough velvet in his bass to convey Sparafucile's menace; in any case, the production doesn't help him.  Hannah Pedley is an appropriately assertive Maddalena.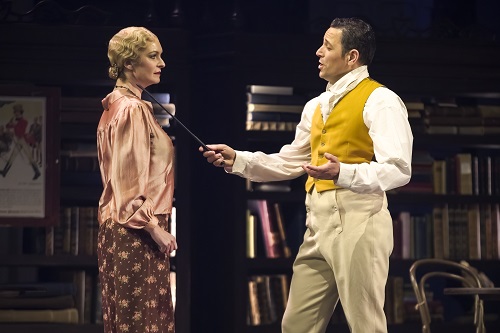 Georgia Mae Bishop is a feisty and feckless Giovanna, bribed by the Duke to facilitate his seduction. Jacob Phillips makes a strong mark as Marullo.  As the Count and Countess Ceprano, Benson Wilson and Joanna Harries don't seem to feature as large in this production as is often the case, but both sing with accomplishment.  Reynold's pacing and support are superlative, and the City of London Sinfonia obviously enjoy playing for him.
One feels that Stinton is trying too hard.  The opera is riven with sexism, violence and the unsentimental message that the poor and powerless are shafted by the rich.  Doesn't one just have to accept the opera on its own terms?  Yes, the ending is sentimental schmaltz, and Rigoletto isn't alone in that regard.  But, despite some fine singing and acting – not least from the OHP Chorus – it was the tragedy that was missing here.
Claire Seymour
Rigoletto – Stephen Gadd, Gilda – Alison Langer, Duke of Mantua – Alessandro Scotto di Luzio, Sparafucile – Simon Wilding, Maddalena – Hannah Pedley, Giovanna – Georgia Mae Bishop, Count Ceprano – Benson Wilson, Countess Ceprano – Joanna Harries, Borsa – Mike Bradley, Monterone – Matthew Stiff, Marullo – Jacob Phillips, Court Usher – Samuel Snowden, Page – Annie George;
Director – Cecilia Stinton, Conductor – Lee Reynolds, Designer – Neil Irish, Lighting Designer – Jake Wiltshire, Movement Director – Caitlin Fretwell Walsh, Opera Holland Park Chorus (Chorus Master, Dominic Ellis-Peckham), City of London Sinfonia.
Opera Holland Park, South Kensington, London; Tuesday 30th May 2023.
ABOVE: Chorus in OHP Rigoletto © Craig Fuller