With two Ring cycles completed some twenty years ago and another due next year, it's not for nothing Longborough Festival Opera is known as the Bayreuth of the Cotswolds. All thanks to the prodigious energy and enterprise of Festival founder Martin Graham and the expertise of the go-to Wagnerian Anthony Negus who has been enthralled with the composer ever since his discovery of him as a teenager. Now seventy, Negus is conducting his sixth Götterdämmerung, the endgame of a cycle begun in 2019 under the artistic direction of Amy Lane.
Aside from the dramatic pacing from Negus, what makes this new production so special are strongly defined performances that consistently hold the ear and eye – so much so that you barely notice the two hours that make up Act 1. Chief amongst this luxury casting is Lee Bisset as a compelling Brünnhilde whose vocal heft commands the stage from the off. Yet it's not just her power or the meaning conveyed behind every facial gesture that makes her so credible, it's more the sustained emotional engagement whether delivering ardour, fury or torment. Her promise of fidelity with Bradley Daley's fearless yet oafish Siegfried is the real thing, its intensity almost overwhelming, and her immolation scene one of the most moving I've seen. Both she and Daley soar over the orchestra, yet his bravura tenor, if at times unyielding, was to prove costly by Act 3 when signs of fatigue appeared.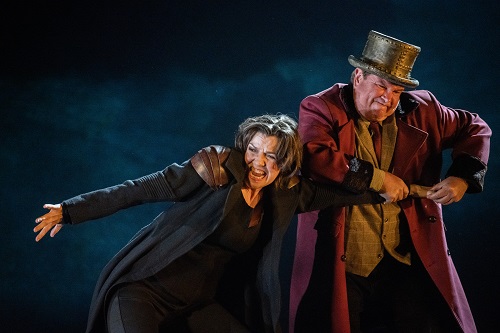 No less vocally striking is Julian Close as the cold and calculating Hagen, his rich mahogany tones adding much to a well-defined portrait enhanced by an unnerving stillness where his every movement feels loaded with menace. Benedict Nelson, as Hagen's half-brother Gunther is an effective foil, his traversal from chummy but morally bankrupt pal to remorseful idler is well judged. Singing with noble expression, he comes into his own in the Act 2 plot to kill Siegfried where Hagen makes the most of his insidious gestures. Elsewhere, there are impressive performances from Catherine Carby as an earnest Waltraute who ultimately fails to persuade Brünnhilde to return the coveted Ring to the Rhinemaidens. Laure Meloy is winsome as the naïve Gutrune and Freddie Tong brings value to the bedraggled Alberich. Each of the Norns and Rhinemaidens make distinctive contributions (Mae Heydorn a standout Norn); so, too, the Vassals with their hearty choruses.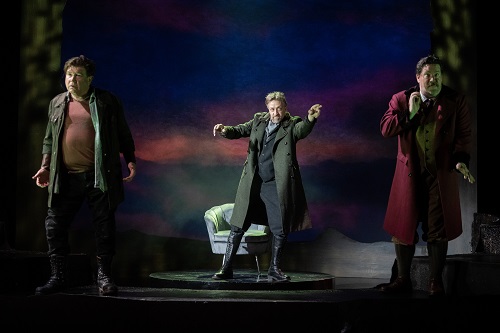 Rhiannon Newman Brown's set is a triumph of economy, a crescent-shaped riser on which the action takes place, its shadowy structures atmospherically lit by Charlie Morgan Jones. Behind is a backcloth, as if ripped from a worn folio, on which Tim Baxter's video projections variously depict natural and impressionistic images: a fortress-like Valhalla, mountain silhouettes and blood-red sunsets. It's an ever-changing sequence culminating in a raging inferno and, in the closing bars, Disneyesque blue-skies that mirror an imagined reunion between Brünnhilde, Siegfried and Wotan, itself suggestive of Hegel's transcendental idealism. Two giant rings provide illumination for the Hall of the Gibichungs, and four spears create an intermittent (and arguably redundant) reminder of Brünnhilde's solitary mountain retreat. Only Emma Ryott's era-defying costumes feel incongruous at times, the Vassal's looking distinctly unworldly in their belted trench coats.
But, it is Anthony Negus's sterling control of the score and his fifty-plus players that commands the utmost admiration. His attention to detail, acute ear for balance and an unerring feeling for tempi are brilliantly judged time and again.  One might have wished for a little more heft in Siegfried's 'Funeral March', but the playing overall, even with these reduced forces, was magnificent, with incandescent strings for Siegfried's Act 3 recollections.  Such was the spell cast on the audience by the end that an eerie silence preceded the riotous applause.  Amy Lane should be wholeheartedly congratulated for this very distinguished final chapter of the Ring cycle, for which she so successfully combines minimum design ideas with maximum emotional impact.
David Truslove
Siegfried – Bradley Daley, Alberich – Freddie Tong, Brünnhilde – Lee Bisset, Hagen – Julian Close, Gunther – Benedict Nelson, Gutrune – Laure Meloy, Waltraute – Catherine Carby, First Norn – Mae Heydorn, Second Norn – Harriet Williams, Third Norn – Katie Lowe, Woglinde – Mari Wyn Williams, Wellgunde – Rebecca Afonwy-Jones, Flosshilde – Katie Stevenson; Director – Amy Lane, Conductor – Anthony Negus, Set & Props – Rhiannon Newman Brown, Lighting – Charlie Morgan Jones, Costumes – Emma Ryott, Video designer – Tim Baxter, Associate Movement Director – Johannes Stepanek.
Longborough Festival Opera, Stow-on-the-Wold, Gloucestershire; Monday 29th May 2023.
ABOVE: Bradley Daley (c) Matthew Williams-Ellis