Simon Higlett's stylish designs handsomely set the scene for Christopher Luscombe's new production of Il barbiere di Siviglia at Garsington, transporting us to the narrow, cobbled streets of that Spanish city, its houses clustered together to keep out the sun, painted in soft Mediterranean hues – terracotta, mustard, olive (audience members had been asked to dress to complement the colour palette) – and decorated with Goya-esque wrought-iron, caged balconies. Bull-fighting posters advertise the local fervour for the corrida. It's sensual and colourful, and just right for Rossini's flamboyant romantic comedy.
Figaro's barbershop stands stage-right, at No.15, red-and-white pole signifying his trade, lantern lighting a window-display of modish wigs. Stroll past the Casa Modena, wine bottles jostling side-by-side, and you come to No.30, the home of Dr Bartolo and his ward, Rosina.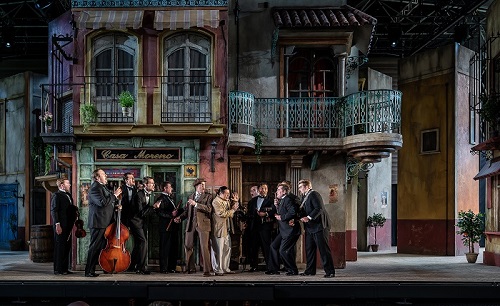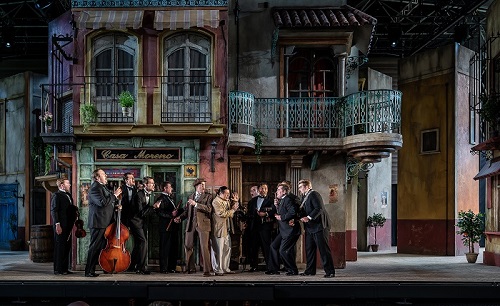 There's no real reason for the action to be set, as it is, in 1929. But, it was in that year that the Andalucian capital hosted the Exposicion Ibero-Americano, held to showcase the twinning between Spain, Latin America, the United States, Portugal and Brazil, and during which the two dozen participating countries built elaborate pavilions which showed off their technology and culture. The centrepiece was the Plaza España and the surrounding semicircle of the Spanish pavilion, the style of which combined neo-Mudejar (an early 20th-century revival of Moorish architectural design) and art deco. The latter provides Luscombe and Higlett with an excuse to deck out the interior of Bartolo's house in gilded art deco splendour – all sweeping curves, graceful arcs, a staircase arc leading to a mezzanine with a curtained, circular opening onto the balcony beyond.
It's beautifully lit by Howard Hudson, and one can almost hear the intake of a collective breath of admiration when the set swivels to take us from the sun-scorched streets to this cool, clean refuge. But, from the first bars of the Overture, what draws even more admiration is the playing of The English Concert under the inspired baton of Garsington's Artistic Director, Douglas Boyd.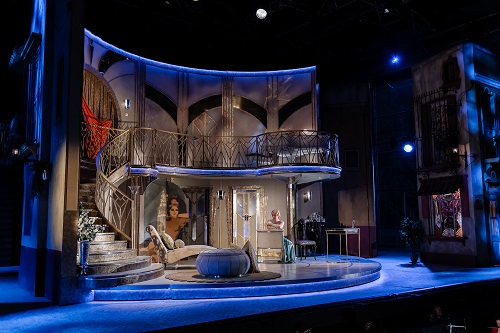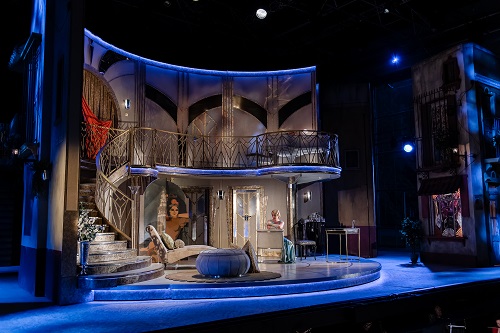 In his 'former life' as an oboist with the European Chamber Orchestra of Europe, Boyd played Il barbiere, with Claudio Abbado and a cast which included Plácido Domingo, Kathleen Battle and Ruggero Raimondi. The experience clearly made an impact because Boyd conducted this opera from the 'inside' of the score, alert to every detail but never fussy. He makes one hear the familiar tunes (and they are familiar, owing to Rossini's recycling and repetitive structures) as if with new ears. And, we were given an extra treat, too: to ease the post-supper audience back into Act 2, after the long dining interval, the orchestra played the overture from the composer's Sigismondo, which was premiered the year after Il barbiere – a neat bit of borrowing à la Rossini.
Everything was fresh and lithe, the period ensemble responding with spirit and affection to Boyd's encouraging, imaginative guidance. The woodwind solos sang sweetly, the strings' phrasing was shapely, and often unexpectedly nuanced. And, if you want to learn how to do a Rossini crescendo, then this was a masterclass. Co-ordination between stage and pit was perfect, and Boyd supported the singers with unfailing clarity: their enjoyment and confidence were tangible.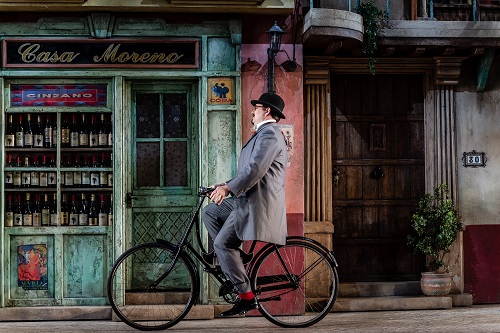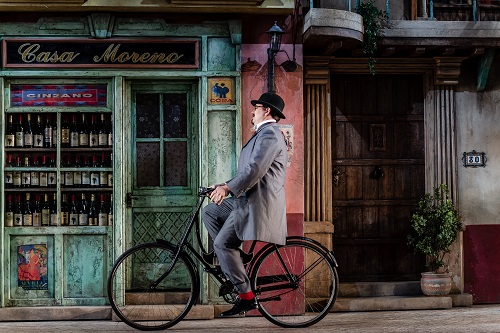 Johannes Kammler was a robust Figaro, beginning 'Largo al factotum' as he whizzed in on a bicycle, and establishing a likeable presence immediately. The German baritone sang with engaging directness and his acting was excellent. This Figaro certainly knows his own worth: his cunning scheme to get Count Almaviva inside Bartolo's house so that he can woo Rosina, is topped with a cheeky rejoinder, 'The parmesan has met the pasta!' But, Kammler's factotum isn't overly extrovert or hyper-active; indeed, at times one felt that his characterisation might have benefited from a bit more direction. But, this was an accomplished, confident performance.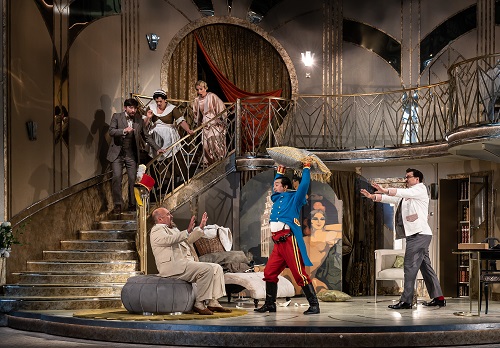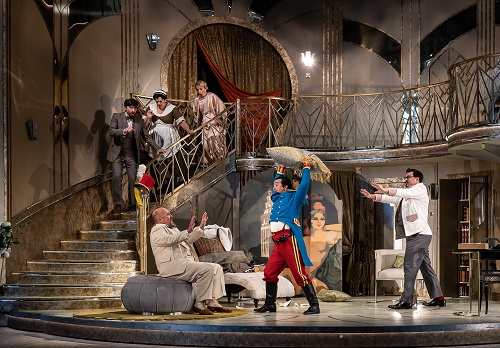 As the Count, Andrew Stenson coloured his serenades beguilingly, even if not all the coloratura was entirely precise. His Count is a genial young lover, a little immature and puppyish – though able to turn a throng of threatening policeman into genuflecting grovellers with a flash of his identity card, or to swiftly deflect the disingenuous Basilio with a well-placed 'gift' or two. The bright primary colours of his toy-soldier when this 'drunken soldier' arrived at his billet were as extravagant as his temper-tantrum, cushions flying everywhere, when Bartolo refused him a bed. As Don Alonso, the 'replacement singing teacher', Stenson acquired an American accent – perhaps a sideways glance at that Iberian-American Expo? – and distorted both the Italian and the pitch of the recitatives. It was one of the few directorial gestures that didn't quite come off.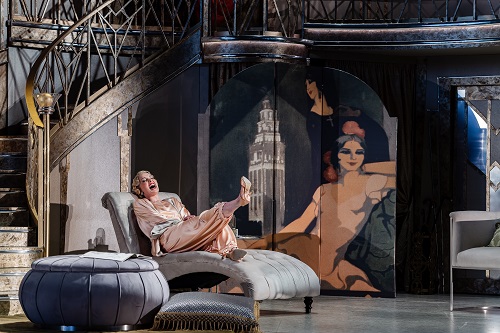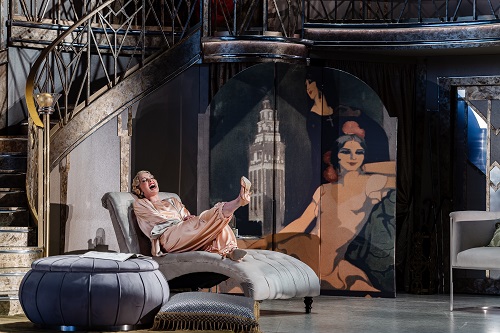 The art deco cocoon in which she is 'trapped' affords Katy Bray's Rosina the opportunity to don some equally glamorous outfits, swapping a peach silk trouser suit for a stunning aquamarine frock. The mezzo soprano dazzled in both 'Una voce poco fa' and 'Contro un cor' – the latter uncluttered by the customary comic business – her vocal richness and command complementing this Rosina's no-nonsense demeanour. Bartolo has evidently given up his miserly ways, judging by the amount he must have spent on his interior decoration, and Richard Burkhard's Bartolo was no cranky buffoon either – there was less bluster and a bit more menace than is often the case. Burkhard displayed good comic timing, and the patter of 'A un dottor' was slickly delivered, but one sensed that he might liked to have been let off the leash a bit.
Callum Thorpe has a lovely rich dark bass, which, along with the surprising, controlled calm of 'La Calunnia' gave the impression of a thoughtful intriguer rather than a blustering avenger. His insouciant willingness, as faux hysterical alarm erupted around him, to accept the Count's ring and slope of home to nurse his 'scarlet fever' was nicely droll. Josephine Goddard sang Berta's 'Il vecchiotto cerca moglie' with pragmatic chirpiness. And, it was good to see Jonathan Eyers, who has showed such promise in recent productions at the Guildhall School of Music and with Bampton Classical Opera, have the opportunity to step up from the chorus and sing the small role of Fiorello, in place of the indisposed Matthew Palmer. Eyers was characteristically at ease, as he sought to manage the over-enthusiastic band serenading Rosina rather too demonstratively.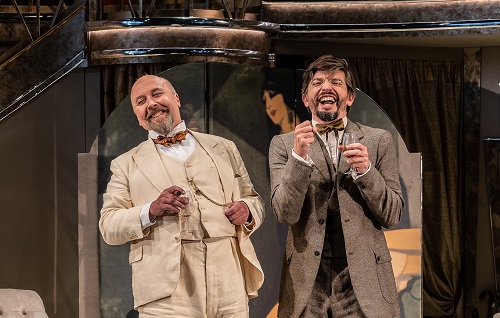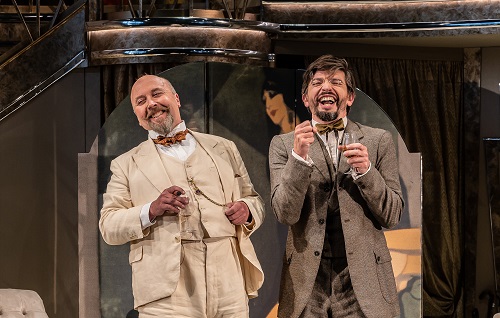 This must have been one of Garsington's most complex, and most expensive, sets and Movement Director Ewan Jones helped ensure that the cast made the most of it. Everyone was where they should be, everything was in its place, every gesture felt 'right'. What was missing was that sense of imminent 'chaos' that Rossini injects into those long ensembles that accumulate lunacy after lunacy. In the Act 1 Finale, for example, having wound up the tension, Luscombe swivels back to the street and positions the characters in front of their houses. What is often almost surreal, here came to, literally, a standstill.
But, if one might wish for a bit more 'business' and a few more belly laughs, this production certainly evinces the style, wit and humanity that Rossini's opera deserves.
There are further performances of Il barbiere di Siviglia on 8, 10, 12, 17 June; 7, 9, 16, 18, 22 July.
Claire Seymour
Count Almaviva – Andrew Stenson, Figaro – Johannes Kammler, Rosina – Katie Bray, Dr Bartolo – Richard Burkhard, Don Basilio – Callum Thorpe, Berta – Josephine Goddard, Jonathan Eyers – Fiorello; Director – Christopher Luscombe, Conductor – Douglas Boyd, Designer – Simon Higlett, Lighting designer – Howard Hudson, Movement director – Ewan Jones, The English Concert, Garsington Opera Chorus.
Garsington Opera at Wormsley; Friday 2nd June 2023.
ABOVE: Il barbiere di Siviglia at Garsington © Clive Barda