In the light of today's cultural, financial and social turmoil, Welsh National Opera's new production of Leonard Bernstein's Candide is just the sort of tonic everyone needs. If its overworked animations ultimately hobble this staging – remembered, I suspect, more for its zany, Monty-Pythonesque humour than distinguished vocal performances – it still makes for a highly entertaining evening. Its laugh-out-loud moments are an undeniable antidote to our stressful times, especially in the light of further proposed cuts to WNO funding from Arts Council England.
Since Candide's less than successful 1956 premiere, this problematic work – based on Voltaire's comically satirical novella of 1759 – has prompted as many revisions and adaptations as productions. Its present director for WNO, James Bonas, who describes the operetta as "a hot mess of a piece" has opted for the shortened version by Lonny Price. But whatever version is used, the continent-hopping traversal through which Voltaire propels our hopelessly naïve hero looking for happiness with his beloved Cunégonde and the truth of human existence merely forms a string of songs. Voltaire's picaresque tale fronts a savage attack on the philosophy of optimism as championed by the German writer Gottfried Leibniz who believed that "all is for the best in this best of all possible worlds" despite the self-evident horrors of war, the reality of natural disasters and the worst of human nature.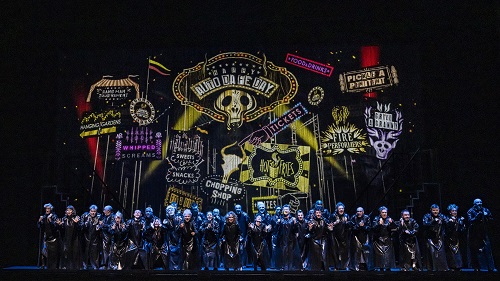 Candide has travelled a long way from its Broadway beginnings, its "chequered career" (Bernstein's own words) not helped by the work's episodic structure that follows our protagonist around the world from Westphalia to Constantinople via the Alps and South America's Amazonian jungles. Aside from the difficulty of casting multiple characters to one performer, there is the task of finding a soprano suitably virtuosic for the coloratura workout assigned to Cunégonde and demanded in "Glitter and be Gay". To this challenge Claudia Boyle rose magnificently – despatching the song's stratospheric high jinks with all the technical wizardry of a trapeze artist. Boyle also amply fulfils the role of a much-ravished yet faithful lover to the hapless Candide, a honey-voiced Ed Lyon whose wide-eyed innocence (notwithstanding his three unintended murders) is nicely done, wistful in his lament and bringing plenty of heft in the Broadway-style "Make our garden grow".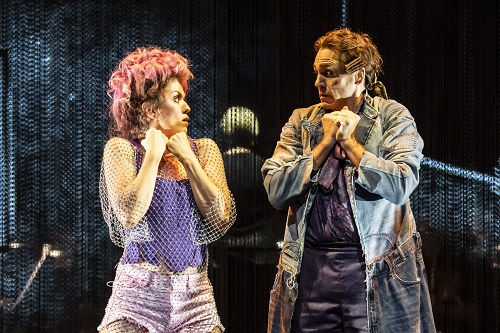 Gillian Bevan is well-defined as Dr. Pangloss although less convincing as the narrator, too often not projecting her voice when in story-telling mode. A clear-voiced Madeleine Shaw steals every scene as the Old Lady, moving easily around the stage despite possessing only a single buttock, the other supposedly consumed by cannibals. Elsewhere, Francesca Saracino is easy on the eye and ear as Paquette, Mark Nathan amuses as the cross-dressing Maximillian and Aled Hall fully persuades as the rapacious Mexican Governor. Chorus and orchestra (the latter upstage and largely out of view) are also on superb form, with conductor Karen Kamensek generating vivid playing and underlining every stylistic twist and turn of Bernstein's musical parodies.
But it is the startling and, at times, bewildering parade of brilliantly imaginative video animations that dominate this production, courtesy of the French illustrator Grégoire Pont. The eye is kept busy with a whirlpool of global locations: erupting volcanos (referencing Lisbon's devastating 1755 earthquake), sheep-eating crocodiles, floggings (The Spanish Inquisition) and a zeppelin airship taking Candide and Cunégonde across the Atlantic, inflated by nothing more than a bicycle pump. Then there's Ewan Jones's masterly choreography of the Musical Theatre Ensemble adding more visual allure to an already crowded stage, the whole atmospherically lit by Rob Casey and performers attired by Nathalie Pallandre's era-crossing costumes. While Voltaire's satire is periodically undermined by the sheer quantity of cartoon-like animations – with the second act losing steam – this production is brilliantly slick, the standing ovation fully deserved.
David Truslove
Candide – Ed Lyon, Cunégonde – Claudia Boyle, Dr. Pangloss/Narrator – Gillian Bevan, Maximillian – Mark Nathan, The Old Woman – Madeleine Shaw, Governor – Aled Hall, Paquette – Francesca Saracino, Captain & Crook – Dafydd Allen, Director – James Bonas, Conductor – Karen Kamensek, Video & Animations – Grégoire Pont, Set Designer – Thibault Vancraenenbroeck, Costumes – Nathalie Pallandre, Lighting – Rob Casey, Sound Designer – Sebastian Frost, Choreographer – Ewan Jones, Music Theatre Ensemble, Welsh National Opera Chorus & WNO Orchestra.
Wales Millennium Centre, Cardiff; Thursday 22nd June 2023.
ABOVE: Ed Lyon (Candide), Claudia Boyle (Cunégonde), Gillian Bevan (Pangloss), Francesca Saracino (Paquette), Mark Nathan (Maximilian) (c) Johan Persson