That's The Three Penny Opera. While four "sous" wouldn't get you in the door, the price of admission was far less than the usual offering at this lofty altar to operatic art. And for good reason. It was not opera.
Famously characterized as "the weightiest possible lowbrow opera for highbrows, and the most full-blooded highbrow musical for lowbrows," this staging by Thomas Ostermeier, artistic director of Berlin's Schaubühne and very frequent guest director at Paris' Comédie Française was an unabashed, full-blooded musical, i.e. a string of songs connected by gratuitous text, that paid no attention London's low life or Berlin's bourgeoisie — or to the expectations of an actual opera audience — but paid much attention to the art of its actors.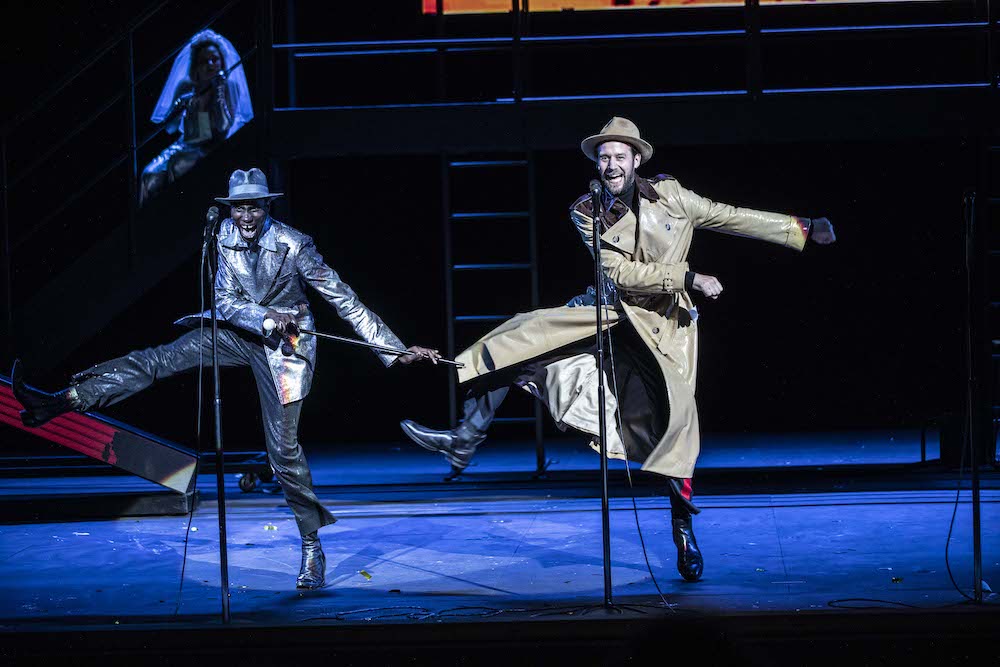 It is a joint production of the Comédie Francaise and the Aix Festival, constructed in Paris, performed by the troupe of actors that is the Comédie Française, buttressed by a couple of real opera artistic collaborators — scenography by Magda Willi and lighting by Urs Schönebaum. To be sure the entire artistic staff (costumes, choreography, dramaturgy, video) boasts extensive Berlin credits.
The performance edition was envisioned by Paris' well known (in contemporary music circles) art collective, Le Balcon, founded in 2008 by a conductor, Maxime Pascal and a sound engineer, Florent Derex, plus some composers and musicians. Le Balcon has had the occasional participation of Alexander Pateau for translations of song lyrics from German to French.
Mr. Pateau has now made this new French translation of Die Dreigroschenoper that, one assumes, was in consultation with Mr. Ostermeier, the dialogue straying significantly from textbook editions of the original Brecht piece, the songs flowing in quite smooth French. One assumes that the four songs famously plagiarized by Brecht from French poet François Villon were rendered in their original French.
Maestro Pascal conducted a pit band of ten players, one assumes in an orchestration made especially for this production. The sounds from the pit were exactly what was needed for the production's display of choreographed numbers — precise, clean and colorful. The orchestra was highly amplified.
It can be no surprise, then, that the basic scenographic/staging concept was four microphone stands across center stage where all of the characters presented themselves initially, then on and off throughout the uninterrupted, 2 1/2 hour display of their highly amplified voices. Though there was a platform unit that flowed on after the famed "Mack the Knife Ballad" (sung by the actress who was to become Lucy — Mack's other wife, played by black actress Claïna Clavaron). A large square and a small, sharply pointed triangle flew in over the platform on which were projected ever changing, decorative images more or less companionable with the text.
It was slick minimalism, in support of a humble, cabaret style Berlin nightclub (lots of red light), or a Berlin varieté theater of yore (lots of blue light), though of course on a huge scale to befit the 1500 seat Théâtre de l'Archevêche. 
The single musically satisfying moment of the production was Polly's famed "Pirate Queen Ballad" when, instead of the usual slick and sometimes inane choreography, Polly, sung by actress and chanteuse Marie Oppert, simply sat upstage on a high stool and rendered the ballad, microphone in hand, à la classical cabaret style.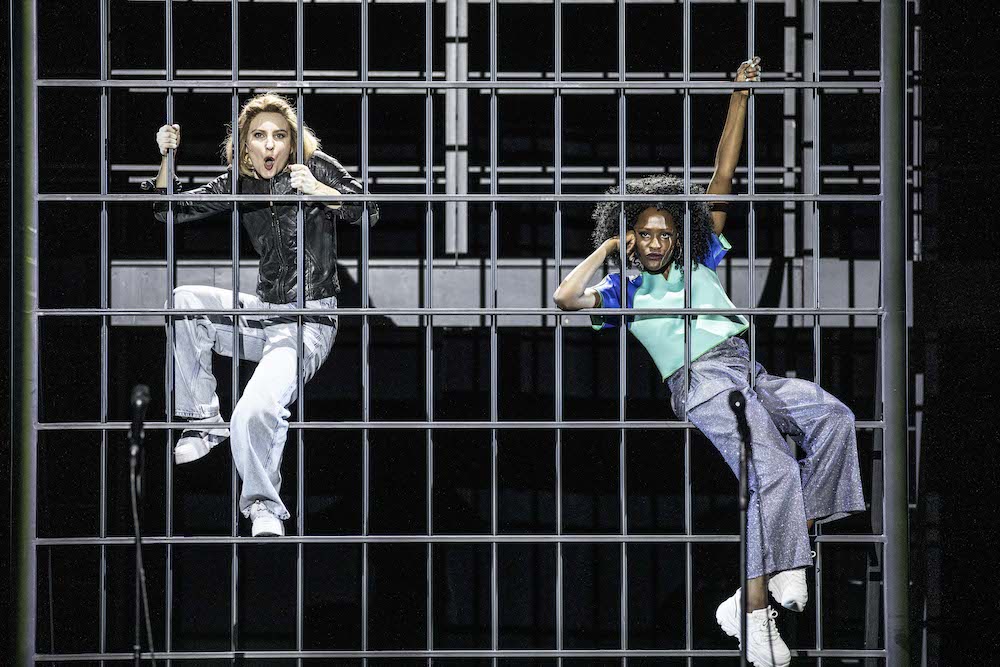 A parody of opera à la Handel in its original version as The Beggars Opera, this Bertolt Brecht/Kurt Weill 1928 adaptation of the 1728 John Gay piece came one year after Ernst Krenek's 1927 box office smash hit Jonny Spielt Auf. Krenek's Jonny is a black, happy-go-lucky minstrel type fiddler who becomes entangled in the intrigues of high brow musicians. It is indeed coincidental that Thomas Ostermeier's Mack the Knife is the black, happy-go-lucky hero of The Three Penny Opera. Happily not in the usual blackface common to the period (and even in France today), in Aix Mack was black Comédie Française actor Birane Ba, costumed in a sleek silver lamé blazer. 
It began to rain, rather a few sprinkles were felt during Mack's final ballad, "Grave Inscription" (it's an open air theater). I'm sure I wasn't the only one who wished it had begun to rain, heavily, much earlier in the evening, thus curtailing the performance.
The one, fleetingly felt moment of the evening was created by the prostitute Jenny, played by tall, blond actress Elsa Lapoivre, who lamented that she had turned Mack in to Scotland Yard, and that Mack later had appeared beneath her window wanting to lie in her arms, and make her forget the wrong she had done him.
There were indeed impressive performances by these gifted actors — Mr. and Mrs. Peacham, played by Christian Hecq and Véronique Vella, the Tiger Brown broadly, very broadly played by Benjamin Lavernhe. The deadpan constable Smith was played by Nicolas Lormeau. Mack's gang had their big moment at Mack and Polly's wedding, slipping and sliding in the mess of pies they had smashed into each other's faces, an homage to the slapstick antics of the silent film era.
It must be said that there is no shame in a failed production of The Three Penny Opera, as many great directors have given it their best shot, only to be shot down. It may be enough that this miniature masterpiece of words and music exists solely on paper.
Michael Milenski
Thèâtre de l'Archevêché, Aix en Provence, July 7, 2023. All photos copyright Jean-Louis Fernandez, courtesy of the Aix Festival.