The Choir of Clare College, Cambridge has an impressive CD back catalogue, and this recent release of American choral music from harmonia mundi is no exception. Recorded in 2022 in All Hallows' Church, Gospel Oak and Tonbridge School Chapel, the disc provides a panorama of post-war and contemporary composition from across the pond. The presence of the much-recorded Take him earth for cherishing by Herbert Howells might appear to be a cuckoo in an otherwise all-American anthology, yet the motet's dedication to John F. Kennedy is reason enough for its inclusion. There is much to admire in Graham Ross's musical choices, with an emphasis on the younger generation of composers who complement works by Leonard Bernstein and Samuel Barber. As one might expect from an undergraduate choir, the singers generate handsome, if somewhat lightweight performances, but with a gratifying freshness.
Bernstein's Chichester Psalms has been thoroughly represented on disc, and this outing from Clare can sit proudly alongside other versions that have appeared since the premiere recording in 1965 from CBS with the boy alto John Bogart.  This performance (with organ, harp and percussion) enjoys the dulcet tones of Iestyn Davies who joins a handful of other distinguished countertenors to record the work, including James Bowman, Daniel Taylor and David Allsopp.  Ross draws on his own Chapel Choir for the other solo contributions, all of which are excellent.  He opts for a safe tempo, though not without impetus, and far removed from the feverish pace of Marin Alsop and her Bournemouth forces on Naxos.  Overall, the choral sound is vividly projected, rhythms nicely pointed and intonation secure throughout.  New to me was Bernstein's liturgical Hashkiveinu (1945), a Sabbath prayer for peace set in Hebrew and, like the Psalms, inspired by his Jewish faith.  Written for organ, choir and tenor soloist (Dominic Watts impressing here), the work provides a side of his creativity infrequently heard.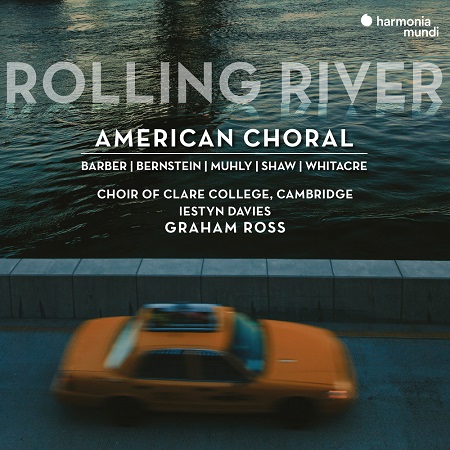 Only a year before Bernstein's Chichester commission, Howells produced his magnificent a cappella motet, a work forming a lasting memorial to its dedicatee. The work's gravitas and spaciousness are generally well served. Notwithstanding a central passage that sounds a little rushed, expressive markings (elation and tenderness, etc.) are admirably observed, and its trajectory unfolds from one paragraph to the next with a natural sense of momentum. Always a difficult work to bring off, this is a fine achievement. Howells's sensitivity to texts is mirrored in the music of Barber whose choral and vocal settings formed a large part of his creative life. In December 1968 he wrote what would turn out to be his last two choral works: the Two Choruses Op.42, which pair Englishman Laurie Lee's Twelfth Night with American Louise Bogan's To Be Sung on the Water. Each work reveals Barber's penchant for melancholicand nostalgic texts to match his own musically romantic persuasion. Both settings foreground the Choir's expressive powers.
Clare College showcase excellent blend and warmth in James Erb's heart-easing Shenandoah from which text this CD takes its title. It's a winning arrangement from 1971 of a traditional folksong, deservedly popular with choirs and sung with an emotional charge that bears repeated listening. Several relatively more recent pieces fill up the disc, including three Pulitzer winning composers. First is Jennifer Higdon's imaginatively scored O Magnum mysterium (choir, two flutes, chimes and two crystal glasses) setting English and Latin texts and outlining the anticipation, mystery and wonder of the Virgin birth. Its restrained ecstasy and otherworldliness are amply realised, and its performance makes a welcome change from ubiquitous renditions of Morten Lauridsen's version. Second is Caroline Shaw's And the swallow (drawn from Psalm 84), a work that charms the ear with its layered textures, short repetitive phrases and harmonic shape shifting, the latter when conjuring the psalmists yearning for safety. Third is David Lang's haunting Protect yourself from infection which sets still relevant words from a 1918 publication by the United States Department of Health. Chant-like recitation carries the advisory text (such as 'Beware of those who are coughing or sneezing'), while solo voices honour those who worked on Critical Care units during the Covid-19 pandemic in hospitals near Cambridge.
Completing the disc are three works: two by former Clare Choral Scholar Nico Muhly (A Great Stone and the dramatic A Good Understanding for choir, organ and percussion) and Eric Whitacre's Leonardo Dreams of His Flying Machine with words by Anthony Silvestri andfragments from da Vinci. Whitacre's theatrical instincts are superbly conveyed, not least in this account's accumulating excitement and vividly imagined flight. In negotiating the work's challenges Clare College comfortably demonstrates its position as one of the finest collegiate choirs in the country.
David Truslove
Bernstein – Chichester Psalms, Hashkiveinu; Trad. arr. James Erb – Shenandoah; Barber –Two Choruses Op.42; Howells – Take him, earth, for cherishing; Higdon – O magnum mysterium; Shaw – And the swallow; Lang – Protect yourself from infection; Muhly – A Great Stone (world premiere recording), A Good Understanding; Whitacre – Leonardo Dreams of His Flying Machine
Choir of Clare College, Cambridge, Iestyn Davies (countertenor), Tanya Houghton (harp), Owen Gunnell (percussion), Rebecca Larsen & Jane Mitchell (flutes), George Gillow (organ 2-4) & Samuel Jones (organ 1, 13), Graham Ross (conductor)
harmonia mundi HMM 905362 [74:35]
ABOVE: Iestyn Davies