I was sceptical, I admit, for the first two acts of Claus Guth's new production of Semele, but it came together and offered an anthropological and psychoanalytical interpretation of Handel's opera such as I have not encountered before. It is not really my way of thinking, but that is neither here nor there. And what I had initially seen as a disappointingly 'stylish' (that is, stylish, but not much more) production, rather in the manner of Christof Loy, albeit with suggestions of something closer to Romeo Castellucci, proved considerably more than that, demanding that the end be read back into the beginning, the work very much treated as a whole. Semele meets Die Frau ohne Schatten? Not quite, yet not so far off either. And if my initial response to 'why not?' might have been 'why?', a good case was made.
At the centre of Guth's production – and this is, of course, shorthand for the production team as a whole – is a wedding, that of Semele and Athamas. That is how the work begins in any case, but here it extends over the entire three acts. Not only is the closing, alternative wedding, in which Ino takes Semele's place, very much the same thing; no one has actually gone away, and time seems to have stood still. During that standing – should that make any sense – and partly superimposed upon it, is the action that leads to that replacement and Semele's displacement. Guth's reckoning seems to be that the apparently empty ritual of the modern, secular wedding is anything but. Indeed, its importance may in some respects actually have grown as people endlessly reproduce their 'experience' for the world to see. Depressingly or otherwise, marriage and its status are here to stay. After all, the promise of female and subsequently queer liberation from the deadly institution has largely been replaced with that of 'equality' within.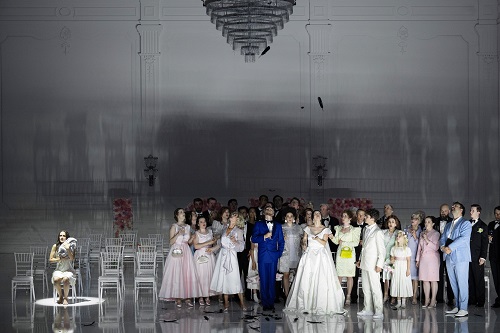 Semele and her doubts thus become all the more interesting. We have seen her and her vanity as manifestations of celebrity culture, whether 'then' or now. But what if she is actually right, even if not for entirely the right reasons? Has she seen a truth – withdrawn, if you like, the Schopenhauerian veil – and been traumatised so that her immortality is that of a ghost, albeit one who will bear Bacchus? To some of us, it makes more sense to use the Greek Dionysus. In a sense, then, The Bassarids, Dionysus's revenge, awaits: Handel and Henze rather than Handel and Hofmannsthal. Apollo's prophecy is brought to instant life as Semele sits, no longer ecstatic (screams of delight at the end of the first act), terrified (screams of fear at the end of the second), but numb save for her cradling role, to quote Andrea Leadsom, 'as a mother'. The festivities continue without her, though Ino's sisterly concern seems genuine. Perhaps, notwithstanding a greater love than what had essentially been an arranged marriage, she even fears amidst the rejoicing that she will make the error Semele managed, however catastrophically, to avert. There is much to disentangle, to consider, even to deconstruct here, but that broadly is what I took from the production.
Not that it is all sober and serious. There is a crucial element of display which might initially seem superficial but proves rather more than that. Dance is employed, not only as 'movement' but as entertainment within an entertainment. In between – wherever that may be and whatever that may mean – the bored Semele finds herself unmoved by whatever show the increasingly desperate Jupiter puts on for her. In a stroke of luck, though, Guth has in Jakub Józef Orliński a breakdancer as well as singer at his disposal. When brought to life by Jupiter, suddenly the faltering Athamas can sweep Semele off her feet. That, intriguingly, is the dreamed (?) entertainment that fulfils her wishes. When the spell is cancelled, Athamas returns to earth, presumably remembering none of what had happened, if indeed it had. (It is a pity Guth resorts to having him take off his glasses to gain confidence and attraction, but there we are.)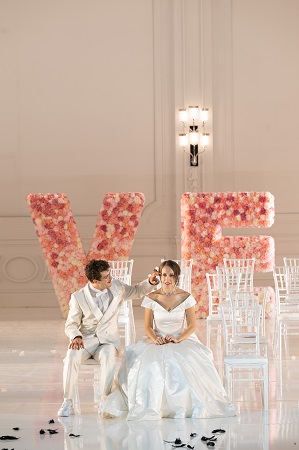 In the title role, Brenda Rae proved fully equal to the role's challenges and added a few more of her own in the ornamentation stakes. Her performance was always tailored to the qualities of her voice, rather than sopranos who might have taken it on in the past, and it showed. Coloratura was spot on and, more to the point, a tool of the drama. Michael Spyres's Jupiter proved strangely likeable – in a good way – and again musically outstanding. Orliński's display of various kinds was typically excellent; he likewise offered a vividly human portrayal, as did Nadezhda Karyazina's Ino. Emily D'Angelo's Juno offered a decidedly class act, and all the smaller parts were well taken.
If the first scene had a few too many disjunctures between chorus and pit, such difficulties were resolved thereafter. (It is perhaps worth recalling at this point that Handel's oratorio writing, which is what it is, was never intended to be staged and presents very particular challenges for such a performance.) The young singers of LauschWerk acquitted themselves very well, both as singers and actors, Munich's Statisterie also contributing considerably to the greater good. Gianluca Capuano's direction of the Bavarian State Orchestra was, especially once past those initial teething difficulties, estimable and refreshingly non-doctrinaire. There were moments of real power and grandeur, sadly so often lacking in modern Handel performances. There was intimacy too, of course, as there were fireworks. Indeed, the range of Capuano's interpretation, seemingly very much in sympathy with Guth's, was not the least quality to a fine evening in the theatre.
Mark Berry
George Frideric Handel, Semele
Semele – Brenda Rae, Jupiter – Michael Spyres, Apollo – Jonas Hacker, Athamas – Jakub Józef Orliński, Juno – Emily D'Angelo, Ino – Nadezhda Karyazina, Iris – Jessica Niles, Cadmus, Somnus – Philippe Sly, High Priest – Milan Siljanov; Director – Claus Guth, Conductor – Gianluca Capuano, Set designs – Michael Levine, Costumes – Gesine Völlm, Lighting – Michael Bauer, Choreography – Ramses Sigl, Dramaturgy – Yvonne Gebauer, Christopher Warmuth, LauschWerk (chorus director: Sonja Lachenmayr), Bavarian State Orchestra.
Prinzregententheater, Munich, Tuesday 18 July 2023.
ABOVE: Michael Spyres and Brenda Rae (c) Monika Rittershaus