Giacomo Puccini's operatic career, from the early 1890s to his death in 1924, roughly coincided with the emergence and early development of cinema and sound recording.  However, unlike many of his contemporaries, such as Umberto Giordano and Pietro Mascagni, though he received offers to write for films Puccini neither composed nor arranged his music for the cinema.  Filmed versions of his operas appeared as early as 1908, though, and since the 1930s his music has been used in hundreds of soundtracks, prompting Deborah Burton to ask, in 'Ariadne's threads: Puccini and Cinema', whether Puccini's operatic scores have 'cinematic qualities' or whether soundtracks draw on Puccinian traits?
Whatever the answer to this chicken-and-egg conundrum, Puccini's early critics frequently made associations between the dramatic content of his operas and cinema. Initially such associations were viewed negatively, but as over time perceptions of cinema evolved so did the critical framework, and what was seen as somewhat crude and fragmentary came to be judged positively. In 1958, for example, Mosco Carner, noted the 'cinematic sequence of strong situations' in Tosca, and more recently musicologists such as Burton, Helen M. Greenwald and others, have explored what they describe as Puccini's use of filmic techniques, which Burton identifies as 'camera motion, zooming, close-ups, sharp cuts, fades, and dissolves', seeing such qualities as affirmation of the composer's progressive approach.
Contemporary film directors have also adapted Puccini's operas. La bohème, for example, became in Sally Potter's 1980 Thriller a means by which the representation of women as 'victims' in Hollywood film could be deconstructed, creating a classic in feminist film theory. Norman Jewison's 1987 rom com, Moonstruck, uses references to La bohème to emphasise, beyond comedic elements, the verismo strain in the film and intensify perceptions of the characters and their lives. In Moulin Rouge (2001), Baz Luhrmann integrated La bohème within a hypertextual postmodern fabric, in the process 're-inventing' the movie musical.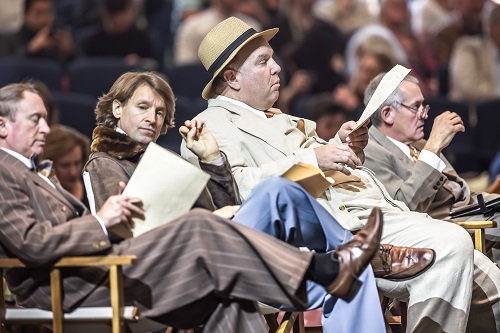 Indeed, Luhrmann referred to Moulin Rouge as essentially a 'backstage musical', which is an apposite phrase in the light of Natascha Metherell's new production of La bohème at Opera Holland Park. It's undoubtedly difficult to create the intimacy of the bohemians' garret on the wide Holland Park stage, so Natascha Metherell doesn't try. Instead, she sets the opera in an Italian film studio in the 1950s, where a film, La Vie Parisienne, set in the Latin Quarter during the Belle Époque, is being directed by Alcindoro.
Madeleine Boyd's set, brightly lit by Charlie Morgan Jones (at least in the first two acts), is a busy studio lot, the sound stage, make-up rooms, rehearsal rooms, set workshops and cafeteria cluttered with tripods, arc lamps and clapperboards, as cameramen, technicians and set-makers, wardrobe staff and a large host of extras dash about. Rodolfo is, Metherell explains, an aspiring scriptwriter, Marcello a budding scenic designer. Schaunard is trying to become a successful film score composer, while Colline is a cinematographer. Musetta is Alcindoro's mistress. Mimì is one of the wardrobe girls.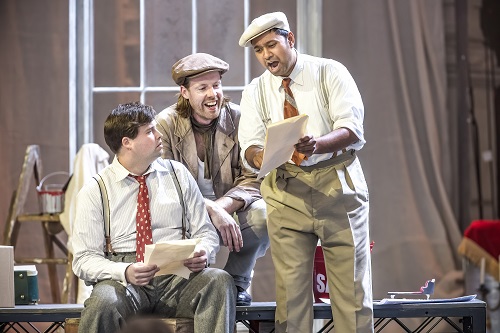 Gramophones and diegetic tropes seem to be the directorial calling card at Opera Holland Park this season. After the jazzy jangling at the start of Cecilia Stinton's Rigoletto, now we have a Bohème the score of which opens with a gramophone recording of Édith Piaf – a touch of 1950s authenticity, perhaps. There is a problem, though, with both Metherell's concept and its execution. The principal ambition that was shared by Italian verismo composers – drawing on the naturalism of Emile Zola – and early cinematographers was a wish to faithfully reproduce a living reality. The latter may have been more successful in fulfilling Leoncavallo's desire to 'to paint for you a slice of life', but the 'real', not the artificial, was the musicians' goal.
By contrast, Metherell introduces layers of artifice, and as we move in and out of the film, the boundary between the two is not always unambiguous. And, while it's true that Puccini's students may not be as destitute as they profess, we are still drawn into the intimacy of their shared lives in the freezing garret. Here, such intimacy is denied us. Significant musical moments lack sufficient dramatic and emotional focus, and throughout Act 1, the quartet struggle to project through and across the cinematic haste and hustle. Even Rodolfo's 'Che gelida manina', as he clutches Mimì's freezing fingers and tells her of his life as a poet, is swallowed up by incessant scene-shifting.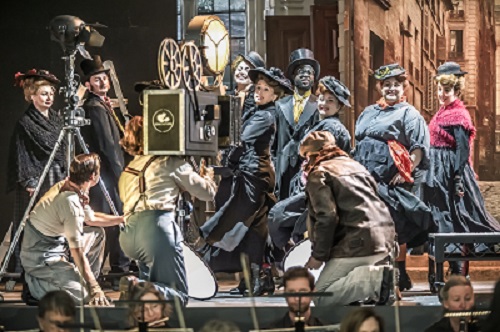 Moreover, we have pseudo-glamour rather than pseudo-gutter. The bohemians' chatter about the cold, their hunger and lack of money lacks credibility, given their natty dress – rolled up shirt-sleeves, braces and caps – and hearty confidence. When Benoit (characterfully sung by Henry Grant Kerswell, who doubles as Alcindoro), the studio manager arrives to collect his money, one wonders whether, given they are employed by the studio, he should be paying them.
The rather 'hard' light may be authentic, in terms of cinema history, but the brightness which pierces the stage in Act 1 makes a nonsense of Mimì's request for a light for her candle. And there can be no gently comic crawling around in the dark ostensibly searching for her lost key – in fact, she clings steadfastly to it throughout the scene – of the kind that makes us believe in their love, and fear for its future. This Mimì – at least until the final Act – betrays scarcely a sign of the consumption which will taint the relationship and lead the lovers down a tragic spiral.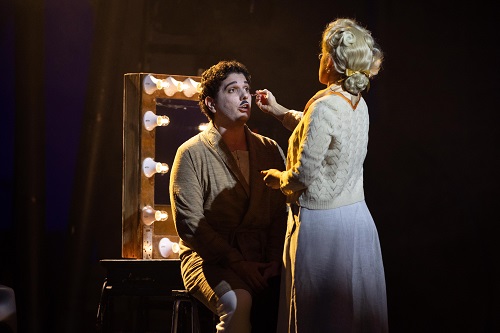 Café Momus usually offers the bohemians a moment of escapism, but there is no such contrast here between the film set and the work canteen.  As the bohemians enjoy a meal, the OHP Chorus and children's choir (admirable young singers from the Pimlico Musical Foundation and the Tiffin Boys' Choir) enact Christmas market scenes from La Vie Parisienne.  Again, it feels cluttered and confusing.  One scarcely notices Parpignol, though the young Australian tenor Phillip Costovski sings well and is later given an inserted aria, Puccini's 'Morire', to cover the scene change between Acts 3 and 4 – though the lack of surtitles at this point may leave some pondering its relevance.  And, why in Act 2, and elsewhere, doesn't Metherell make use of the strip of stage in front of the orchestra to both separate the strata of the drama and make more of the theatrical artifice of the choral numbers?
The under-use of the front strip is in fact a serious failing as it pushes moments of intimacy into the mire of movie business. Moreover, in Act 3, when Metherell largely gives up on her concept and the bright lights and busyness recede, it is Musetta and Marcello whom she chooses to bring to the fore, their bickering distracting from and overwhelming the tortured farewells of Rodolfo and Mimì who are positioned at opposite ends of the stage far behind them. Again, there's no sense of Mimì's physical fragility and decline in the face of harsh circumstances. The characters are not at the Barrière d'Enfer, exposed to the elements, but inside the studio lot, preparing a scene: when the stagehand dressed in a singlet complains about the cold, one wants to tell him to put a jumper on.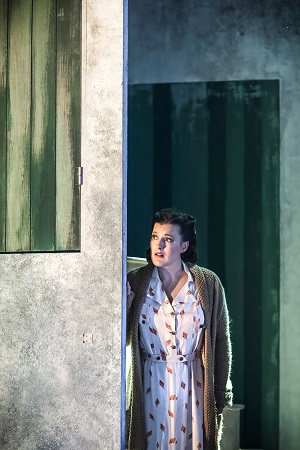 It is thanks to Katie Bird's ardently sung Mimì and Elizabeth Karani's vibrant Musetta that this production does at times convince and compel. Bird sang with fullness of tone and lovely warmth, confident and accomplished throughout. Adam Gilbert's Rodolfo was a bit shaky at the start – and it was sometimes difficult to believe that this assured Mimì would be interested in this rather wishy-washy poet – but the tenor settled into the role and there was some fine singing in the final Act. It was a pity that the need to project from afar, over the hustle and bustle, led both singers to adopt a prevailing forte, and one missed those fragile, floating moments which really touch the heart.
Wearing a Bardot-blonde wig and tight top, Karani's 'Quando me'n vo' was a superb 'diva' aria, one of the few moments where a singer was really able to hold the stage, and Musetta's anxious entrance in Act 4 was similarly engaging and persuasive. Barnaby Rea wasn't quite able to create the same sort of emotive focus in Colline's 'coat aria'. Though well sung Rea didn't really conjure the nostalgia and poignancy of the sacrifice, but he, Ross Ramgobin (Marcello) and Harry Thatcher (Schaunard) made as much of their roles as the production allowed.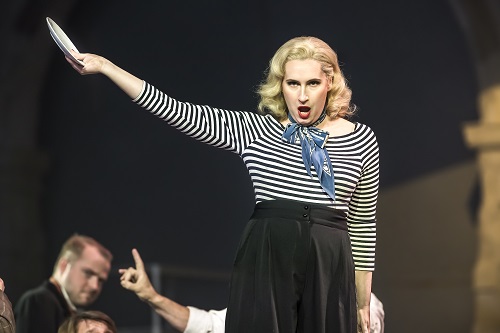 In the pit, George Chambers kept things moving along, perhaps aware that the reduced scoring would not facilitate a symphonic-swoon factor. That said, the City of London Sinfonia played with precision and punch, and Chambers had a sure grip on the dramatic and musical trajectory.
In the final Act, strong singing and dramatic focus pushed aside some of the earlier misgivings. But, in the final tragic moments, Metherell can't resist one last interference. As Mimì slips away, the technical crew, stagehands and extras crowd onto the sides of the stage, intruding into the intimacy of death and Rodolfo's grief. Then, as the principals stood and took their bows, these onlookers joined us in our applause: so, was the death-bed scene cinematographic artifice? The sincerity of the preceding moment was lost.
Claire Seymour
Rodolfo – Adam Gilbert, Mimì – Katie Bird, Marcello – Ross Ramgobin, Musetta – Elizabeth Karani, Schaunard – Harry Thatcher, Colline – Barnaby Rea, Alcindoro / Benoît – Henry Grant Kerswell, A Customs Sergeant – Alistair Sutherland, Parpignol – Phillip Costovski; Director – Natascha Metherell, Conductor – George Jackson, Designer – Madeleine Boyd, Lighting Designer – Charlie Morgan Jones, City of London Sinfonia and the Opera Holland Park Chorus (Richard Harker, Chorus Master)
Opera Holland Park, London; Wednesday 19th July 2023.
ABOVE: ABOVE: Adam Gilbert (Rodolfo) and Katie Bird (Mimì)© Craig Fuller