Paul Curran's 2019 The Bartered Bride, set in late 1950s Britain, makes a welcome return to the Wormsley Estate in Rosie Purdie's likeable revival. With a new cast, this folksy happy-ever-after rom-com continues to enchant and amuse. Aside from the opera's attractive music, the universal appeal of the work (premiered in 1866 and first heard in Britain in 1895) depends on local character and small incident rather than on any broadly dramatic element which, with the best will in the world, is fairly minimal – boy loves girl whose parents have arranged for her to marry another, yet all comes right in the end. This production is enlivened more by the colourful and diverting characterisations from within the chorus of villagers (almost a template for Benjamin Britten's Albert Herring) than the principal singers who, good as they are, bring uneven performances with few moments that either startle the ear or moisten the eye.
The latter is held captive by both Kevin Knights' designs and the comic portrayals fashioned within each of his sets that morph from church hall to pub (complete with dart board, juke box and a portrait of the late Queen) to circus theatre. It's the small detail and plausibility of the country yokels, superbly choreographed by Darren Royston, that claim attention from the off. Villagers gradually assemble while the ego-centric vicar periodically 'conducts' the overture (after placing an old vinyl recording on a portable gramophone) and greets each of his parishioners. These include cake-icing ladies in twinsets, a jolly nurse who prepares dance movements for a forthcoming celebration, a whiffy farmer and two black-clad rockers who attempt to depose Smetana for Elvis. Then there are the obsequious handshakes, the flirtatious glances, the scowling and pouting lips – all leave a vivid impression and are brilliantly realistic.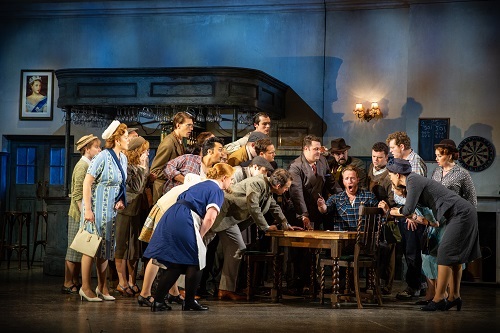 The dance sequences are no less striking, especially the 'Furiant' of Act 2 where the chorus variously jive and do the Twist, and a young mother-to-be gives the glad-eye to the embarrassed vicar. It's all meticulously crafted and leaves you wanting more. If only conductor Jac van Steen could have found his dancing shoes and peppered those Bohemian rhythms with a little more spice, the dance episodes would have had the audience tapping their feet.
Performances elsewhere are mixed, with reliable singing coming from the four principals: Pumeza Matshikiza is a creamy-toned Mařenka (betrothed against her will via the marriage broker Kecal to settle a debt) who creates a well–defined portrait of dreamy youthfulness, disbelief and petulance, when confronted with her beloved Jeník's seeming betrayal, and forgiveness when true love prevails. At times she produces a handsome tone, but more often plummy when pushing against the orchestra and subsequently compromising the centre of each note.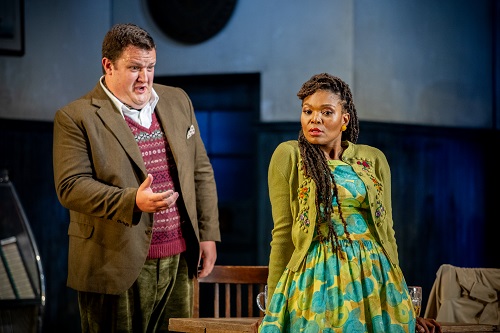 Oliver Johnston is a forthright Jeník, full of overheated passion, whether singing to Mařenka or outwitting David Ireland's Kecal, whose bass-baritone delivers plenty of decibels if little tonal variety.  On the plus side, he looks good as the unscrupulous, sharp-suited wide boy, the persistent salesman who won't take no for an answer.  As Vašek, the village dullard and stammerer, John Findon brings almost too much ardour with his gleaming, muscular tenor. Some restraint and a pinch of regret in his tone would have been welcome when outlining his mother's concerns for his unmarried status.  He convinces more at the circus as the stagestruck newbie where he is persuaded to dress up as a performing bear.  He almost steals the show in the last moments when he chases his mother across the stage, neatly echoing William Shakespeare's famous direction in The Winter's Tale, 'He exits, pursued by a bear'.
Two sets of parents bring slender characterisations: William Dazeley is a defeated-looking Krušina and husband to Yvonne Howard's more assertive Ludmila, while John Savournin makes for an anonymous Mícha, but is nicely contrasted by Louise Winter's feisty Háta. Their combined presence in Act 3 is not dramatically enhanced with the arrival of Kecal for their ensemble number where they simply stand motionless and face the audience without any internal interaction. More rewarding is the partnership found in Jeffrey Lloyd-Roberts' circus Ringmaster and Lara Marie Müller's sweet-toned Esmeralda, their duet presented with aplomb. A word too for the circus troupe whose dextrous acrobatics and juggling lifts the mood in spectacular fashion.
Overall, this is a solid production, dramatically and musically in need of some further tension, but nonetheless, an entertaining evening that admirably translates rural Bohemia to rural England.
David Truslove
Mařenka – Pumeza Matshikiza, Jeník – Oliver Johnston, Kecal – David Ireland, Vašek – John Findon, Ludmila – Yvonne Howard, Krušina – William Dazeley, Ringmaster – Jeffrey Lloyd-Roberts, Esmeralda – Isabelle Peters, Mícha – John Savournin, Háta – Louise Winter; Original Director – Paul Curran, Revival Director – Rosie Purdie, Conductor – Jac van Steen, Designer – Kevin Knight, Lighting Designer – Howard Hudson, Choreographer – Darren Royston, Philharmonia Orchestra, Garsington Opera Chorus & Circus Troupe (led by Jennifer Robinson)
Garsington Opera, Wormsley Estate, Buckinghamshire; Friday 30th June 2023.
ABOVE: Oliver Johnson and Pumeza Matshikiza (c) Julian Guidera