When I attended Royal Academy Opera's Figaro back in March, Vitor Bispo's authoritative Count Almaviva caught my ear and eye. Subsequently, it was not surprising to learn that the Brazilian baritone had already garnered a host of awards and accolades, both in his native Brazil and internationally; nor that, as he reaches the end of his two years of study at the Royal Academy of Music, exciting opportunities lie ahead.
I meet with Vitor early in the morning of the day that he will see him make his Wigmore Hall debut, as a participant in the final of the Academy's Bicentenary Prize – a competition which was launched in 2020 and is judged by a panel of eminent musicians, with prizes amounting to £10,000. I ask Vitor if he comes from a musical family, and about his earliest musical memories. Though there were musicians on his mother's side of his family, Vitor explains that it was not until he was a teenager that he got to know them and that, when he was a small child, it was his grandfather who encouraged him to get involved in music.
"He used to give me all sorts of instruments, even though I was so young I couldn't really even hold them! He gave me a harmonica, a keyboard, a guitar – even a cavaquinho, a traditional Brazilian instrument with four steel strings which is a sort of cousin of the ukulele."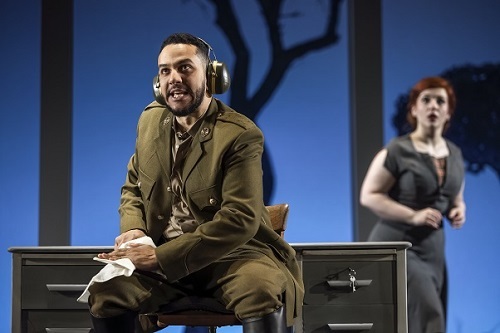 At the age of nine, Vitor started playing the violin at school. In the light of the current dire state of musical provision in the UK's state schools, I wonder if it was common for children to have such opportunities in Brazil? "It was mandatory at my school for children to learn an instrument, and for most that was the violin, and for the few who really liked it there was an opportunity to join an extra group and gain experience playing in an orchestra."
However, it wasn't the violin but the guitar – electric bass – that drew Vitor deeper into music. He began to play with a band, later switching to keyboards, and finally, when the singer left the group, taking up the role of vocalist. Was this the moment that he became 'serious' about his music and began taking singing lessons. Vitor laughs, "No! I was very interested in sports too, particularly hand-ball. I played in teams, both for my school and the city. But, the Principal of my school started a musical theatre group and, knowing that I sang in the band, suggested I give it a go. I sang something for him and then took the role of Jean Valjean in Les Misérables – at that time, this really wasn't my usual sort of repertoire!"
As his involvement with various musical theatre ensembles grew, Vitor was advised by some vocal coaches that, whatever repertoire he was singing, his baritone sounded quite operatic. This was the trigger to make a shift and explore a repertoire which he found a more comfortable 'fit' for his voice, and he started taking singing lessons from the Brazilian soprano, Edna de Oliveira, at Cantareira University and at São Paulo's Municipal School of Music. She was to be Vitor's teacher for the next seven years.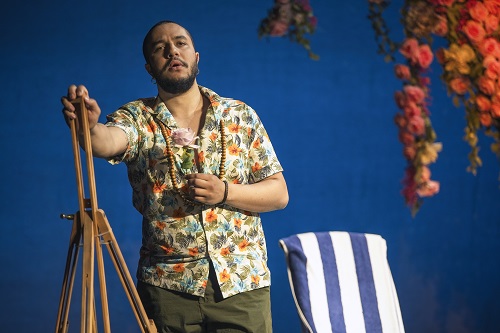 Vitor explains that there are two main schools of singing in Brazil and that there are quite markedly distinguished by their approach to vocal technique. But, while he was able to apply the technique that De Oliveira taught him, as she was a soprano he did not have a direct point of reference for his own singing. "It helped, though, that I sang all the time. I think I was probably quite annoying at school! I remember a History teacher saying to me that he always knew when I was at school because at some point I would start singing! Even if I had just two spare minutes, I would be singing and trying new things with my voice. And, then, I would take these things back to my teacher and say, 'Listen! What about this?' And, she would help me to make adjustments and show me the way to develop further."
I ask Vitor what repertoire he was exploring and performing at that time? "I took quite a few small roles at the Municipal Theatre of São Paulo's Opera Studio, in productions such as L'elisir d'amore, Hänsel und Gretel, Orfeo ed Euridice, Così fan tutte and La Scala di seta, and then I performed in the main theatre in productions of La traviata and Der Rosenkavalier. I also covered Ping in Turandot and had the opportunity to sing in one performance. It's still one of my favourite roles, but it was very challenging – there was a massive orchestra, the theatre is big, and I was on stage alongside many singers whom I had watched and admired in that very theatre. It was such an intense experience. I actually lost 5kg!"
Around this time, Vitor started to have success in various competitions, winning the Revelation Singer Prize at the Linus Lerner International Singing Competition in 2020 and First Place at the Maria Callas Singing Competition the following year. "The Linus Lerner took place during covid, so we had to perform on video, but by the time of the Maria Callas competition – which is a seminal competition in Brazil, in which very many of the esteemed South American singers have participated – things had started to get back to normal." Vitor laughs, "I prefer singing live much more than on video! Though I did manage to adapt to the latter."
In 2021, Vitor began to think about furthering his studies outside his native Brazil.  He received offers to study in Chicago, and also met a teacher in Basel with whom he had some lessons.   When he was considering moving to Switzerland, an opportunity to study in London came up.  "I absolutely made the right decision – there really was no competition!" he says.  "The Royal Academy teachers are amazing, and London is a city to which all the auditions come.  I've had so much support.  At the start, I had a consultation lesson with Mark Wildman, and then when I was offered a place the Academy, Principal Jonathan Freeman-Attwood said, 'Well, now we need to find you a good teacher,' to which Brenda Hurley, the Head of Opera – who knows everything! – replied, 'Mark!'"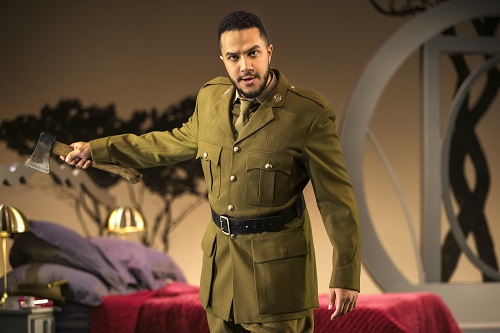 Vitor explains that studying with Mark gave him the point of reference that he had previously been missing. "Before, I could put into practice what my teacher was telling me, but Mark, who is a bass and still sings, could exemplify things. He's brilliant at identifying the way that I sing something and helping me to add things, rather than shaping my singing into something that it is not." He's enjoyed exploring new repertoire and experimenting. "I always have absolute trust in Brenda and also in my vocal coach, Jonathan Papp. I've improved so much, both in terms of technique and style. I think the Italian repertoire is my strength, but I can take any repertoire to Jonathan and – he reminds me of my São Paulo coaches – he will be direct and honest. He might say, 'That was awful, let's do it again … or that was good, let's build on it.'"
At the Academy, in addition to that terrific production of Figaro which I enjoyed in the spring, Vitor has performed in productions of Gianni Schicchi, Ariadne auf Naxos, the commissioned opera, Witch, and took the title role in Handel's Imeneo. And, during the last year there have been more competitions and more prizes and awards. At the Academy itself, Vitor won the Pavarotti Prize and also First Place at the Blyth-Buesst Operatic Prize. He was also surprised to win the Special Prize of the International OpernWerkstatt at the Tenor Viñas singing competition in Barcelona, as well as the Audience Prize.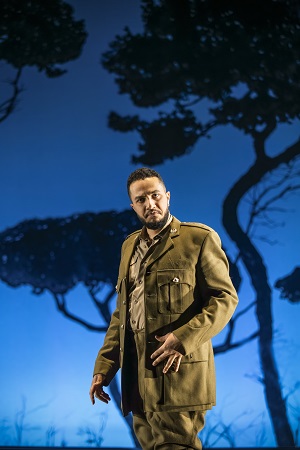 "I was very sick when I was at the Tenor Viñas, and it was also quite a stressful period in my life. I had been offered a place on the Royal Opera House's Jette Parker Young Artists programme, and I participated in a ten-day workshop which was a really good experience, but I wasn't certain that I wanted to stay in London. I was considering going to Munich. So, I asked for a little more time, but they couldn't wait. My Munich audition came just before the Tenor Viñas, and though I was really sick, I somehow managed to make my voice work. I got home on a Monday, and then had to fly to Barcelona at the end of the week. It was very challenging."
Vitor seems to thrive on performing and competing, though. The day after he won the Pavarotti Prize he took part in Clonter's Opera Prize, performing the Count's 'Hai già vinta la causa' from Le nozze di Figaro, 'Questo amor' from Puccini's Edgar, and finishing with 'L'orage s'est calmé' from Les pêcheurs de perles by Bizet. The panel – soprano Joan Rodgers CBE, David Gowland the Director of the Jette Parker Young Artists Programme, James Black of James Black Management, and soprano Anna Patalong, CEO of British Youth Opera – awarded him first prize. "Yes, I was on a roll! It was super exciting, and I was very happy, having such fun singing."
At the end of our conversation, we look ahead to the final of the Academy's Bicentenary Prize which is open to instrumental and vocal students, that will take place that evening at Wigmore Hall. I suggest that though it is a competition, it might feel more like a celebration of Vitor's two years of study at the Academy? "Well, it is a competition, so there will still be nerves! But, in the end it is really just a very high-level recital. It is wonderful to be able to perform with the most talented students at the Academy." Will it also be his Wigmore Hall debut? "Yes! It is great to have the opportunity to sing at the Hall before I leave London – though," he adds, smiling, "it is one opportunity 'for now'."
Vitor's programme at Wigmore Hall will have three 'strands'. 'Sibilar gli angui d'Aletto' from Handel's Rinaldo and Villa-Lobos's 'Nhapôpé' will make for a vivid, agitated opening, before Gurney's 'Sleep' and Puccini's 'Questo amor' offer different, calmer sentiments. The sequence will conclude with Tosti's 'party piece' 'L'alba sepàra dalla luce l'ombra'. "It's a piece that you can just enjoy and have fun. With these Neapolitan songs you don't have to worry so much about 'technique', you can just open your mouth and sing!"
During the summer, Vitor will participate in The Internationale Meistersinger Akademie, and then in September he will travel to Munich to join the Bayerische Staatsoper Opernstudio.  I ask if he speaks German?  "I've been having lessons.  And, my girlfriend is German, so it helps that I can practise a lot!" 
What is he hoping the coming months will bring? "I'm looking forward to learning and singing new roles – it will be just smaller roles, but I will be on the same stage as big singers. My first production will be Madama Butterfly and the Pinkerton will be Freddie de Tommaso. He also studied with Mark [Wildman] and so it is a great way to start my time in Munich. It will be brilliant just to have the opportunity to go through the process of participating and to develop my repertoire. There will be concerts, too, and travel. So, it is a step on my way to fulfilling my goal of singing big roles in big opera houses."
I think back to that History teacher who wryly noted Vitor's inability to stop singing. I think we are going to hear a lot more from him in the years ahead.
Claire Seymour
ABOVE: Vitor Bispo performs at the Clonter Opera Prize 2023