Santa Fe Opera is to be applauded for including Debussy's inscrutable masterpiece, Pelléas and Mélisande in this summer's festival season.
This important work is more admired than loved, and a bit risky since it can't be counted on to guarantee audience enthusiasm and ticket revenue. It is arguably the least performed operatic masterwork in the repertoire, and indeed the last time it appeared at Santa Fe was over forty-five years ago. Yet for discerning operatic aficionados, this piece, and specifically this evocative performance was demonstrably worth the wait.
Its many strengths must start with the resplendently revelatory conducting by Music Director Harry Bicket. I have enjoyed many solid musical achievements from this proficient Maestro, but this luminous, detailed reading explored and highlighted a multitude of the score's mysterious and intricate treasures.
Under Bicket's inspired leadership, the large orchestra regaled us with profoundly expressive results, one of the finest accomplishments from this polished band in recent memory. In addition to superbly partnering with the singers, the conductor elicited dramatic instrumental commentary. The orchestral interludes were gloriously expansive. This was an exceptional reading by any measure.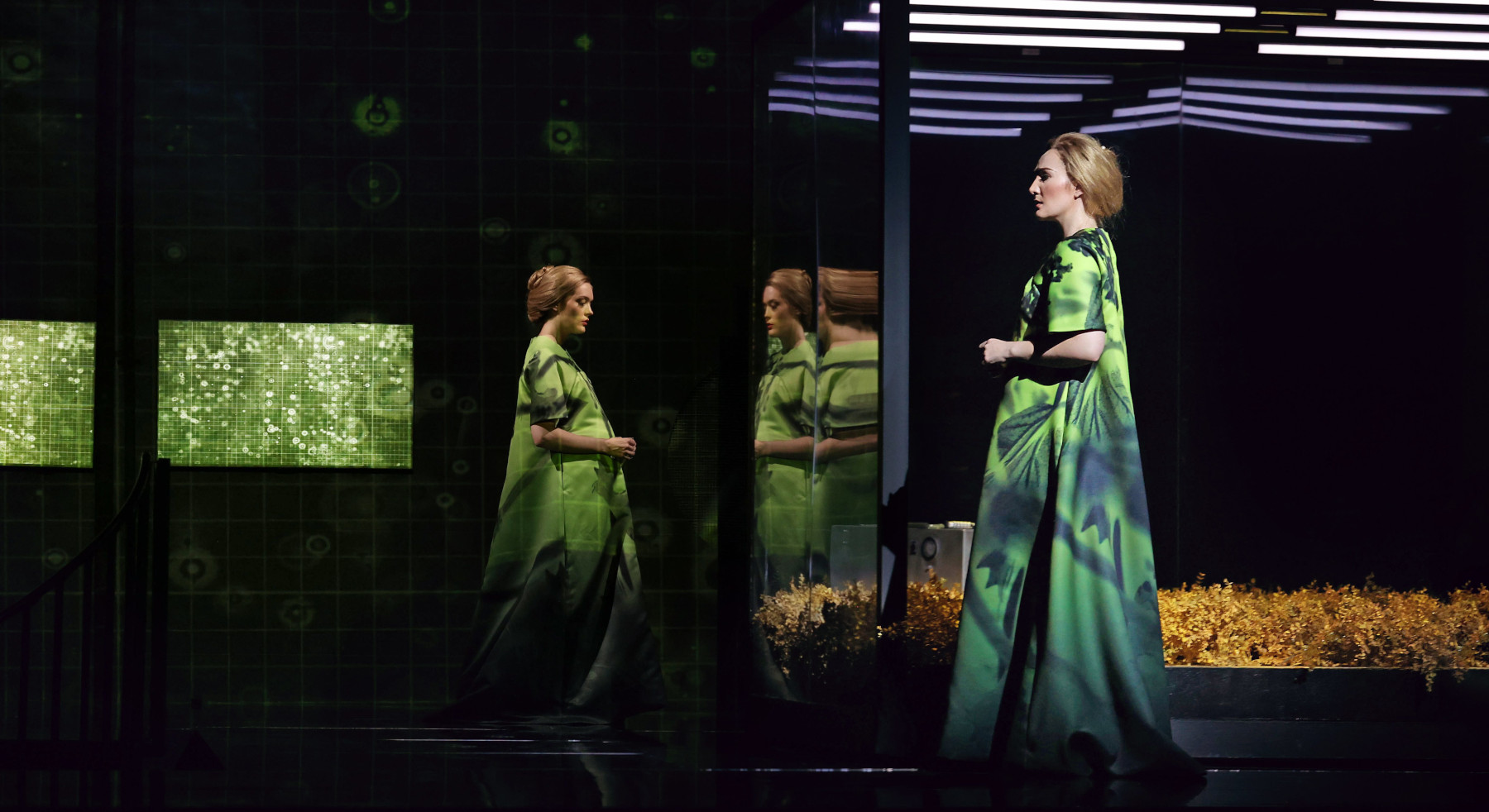 The role of Pelléas, was written for a Baryton-Martin, a high, medium-weight baritone with tenor-like qualities at the top of the range. It proved a perfect fit for the gifts of Huw Montague Rendall, whose glowing instrument is not only even throughout the range, but also luxuriates in the upper reaches. His sensitive portrayal embodies deeply felt concern for Mélisande as evidenced in his poised delivery and perfect French. Mr. Rendall's handsome, melancholic look and unaffected acting only added to his accomplishment.
Samantha Hankey was a lustrous Mélisande, her plush mezzo and stellar sense of line encompassing every nuanced facet of this heroine's troubled musical traversal. Ms. Hankey is to be commended for bringing more than the usual starch to the role, and in spite of having been traumatized, is not a self-pitying shrinking violet. This allows the singer to unleash a more resolute tone overall and we are the luckier for this outpouring of creamy vocalism. Hankey and Rendall proved a wonderful pairing, and they created a complex, ever-changing relationship.
Zachary Nelson, a former SFO Apprentice, was a late replacement for the originally scheduled Golaud. He gave an outstanding, mesmerizing performance. Golaud takes the most interesting journey in the piece, starting out as a coiled spring that winds tighter and tighter until he bursts unchecked into anger. Increasingly, he resorts to violent behavior, before lapsing into broken remorse. Mr. Nelson has a ringing, secure baritone with the solid technique and firepower to fiercely deliver every aspect of this fascinating rogue. He displayed full command of his considerable vocal resources and dominated his every scene, often with terrifying conviction and chillingly colored tone.
Raymond Aceto effectively brought his dark, reverberant bass to bear in service of the aged Arkel, complete with a mystifying, menacing presence. Beloved star Susan Graham reminded us of her many past glories, as she voiced Gertrude with her beguiling, refulgent mezzo-soprano, although the infrequent contralto depths of the role compromised her audibility.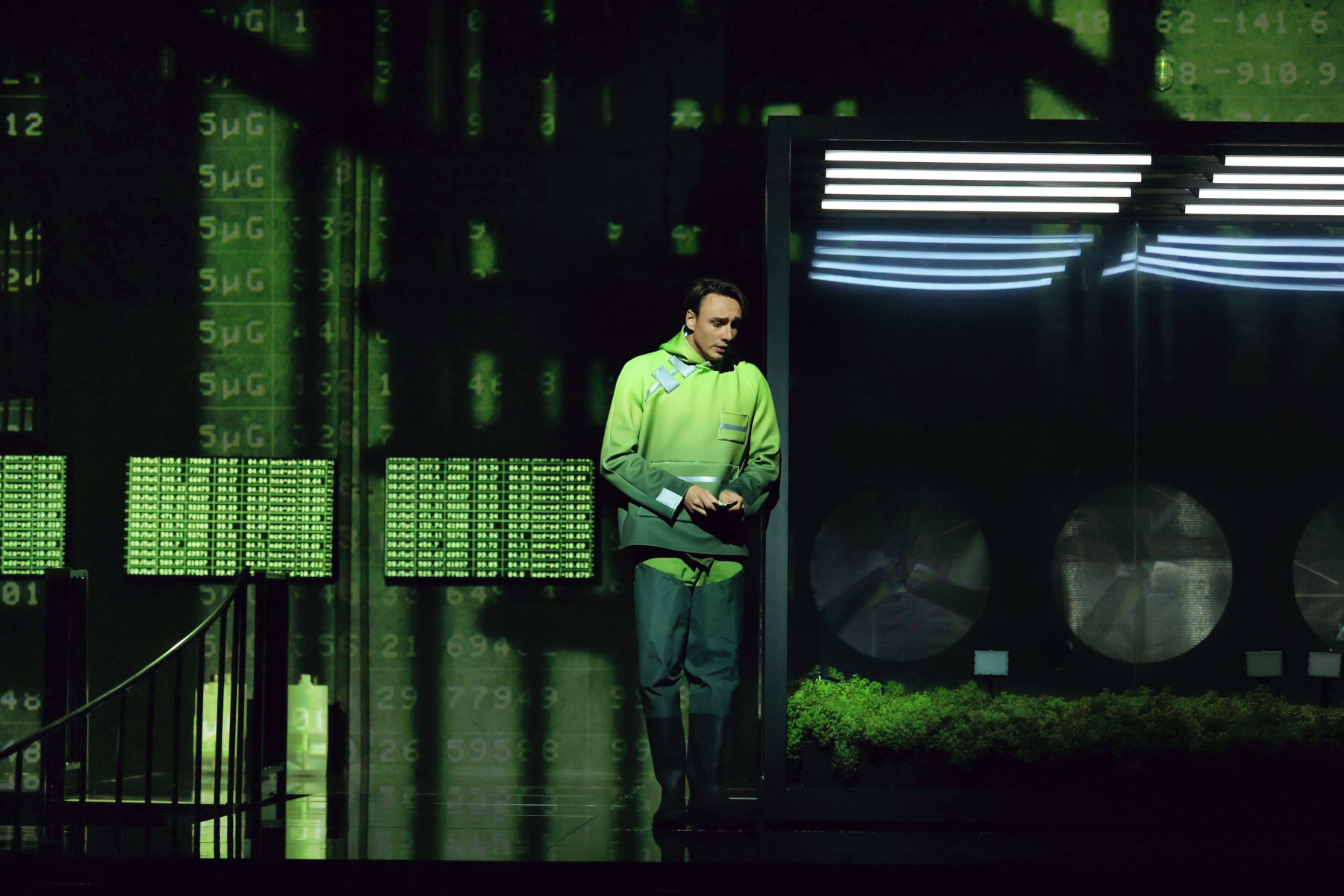 Treble Kai Edgar as Yniold commendably held his own among these stellar seasoned singers.
His singing was very strong, marked by good projection, his French was generally fine, and his acting was focused whether conveying physical victimization, or dispensing poignant humor like when he tells the bald Golaud "Your hair is going grey."
The design for this opera often presents a bucolic, even lush forest environment, a sort of impressionistic visual that softens some of the work's disturbing churnings. Not so on this occasion. Director Netia Jones is abetted by Set, Costume, and Projection Designer Netia Jones, to present a much darker, expressionistic visual. This quadruple creative threat has set the piece in the not-too-distant future, in a vaguely post-apocalyptic surrounding. Are we in a bunker? A hellish workshop? A questionable laboratory?
If there is one overriding sensibility in this opera, it is one of menace. Ms. Jones conveys this all too well in an oppressive scenic design that includes a stridently lit, movable glass terrarium, video monitors, industrial exhaust fans, and notably a one-story high spiral staircase both stage right and left that figure prominently into Jones' blocking. A sunken staircase is also right center, allowing actors to enter from below.
It doesn't take long for the director to establish her concept. In the opening bars Mélisande is at a river flowing along the front of the stage and has a vision of her body floating by. From the get-go, Debussy and Jones keep us on guard as we attempt to piece together the unsettling relationships of these troubled characters and watch in helpless horror as they inexorably unfold.
Adding to the moody atmosphere, Jones has also devised a plethora of potent projections that not only suggest the various locales of the kingdom of Allemonde, but also underscore the emotional state of the characters. In a work that is rife with subtext, the imagery adds yet another layer that gives us much to absorb. D.M. Woods' sensitive lighting design perfectly complemented all of Ms. Jones' visual intentions.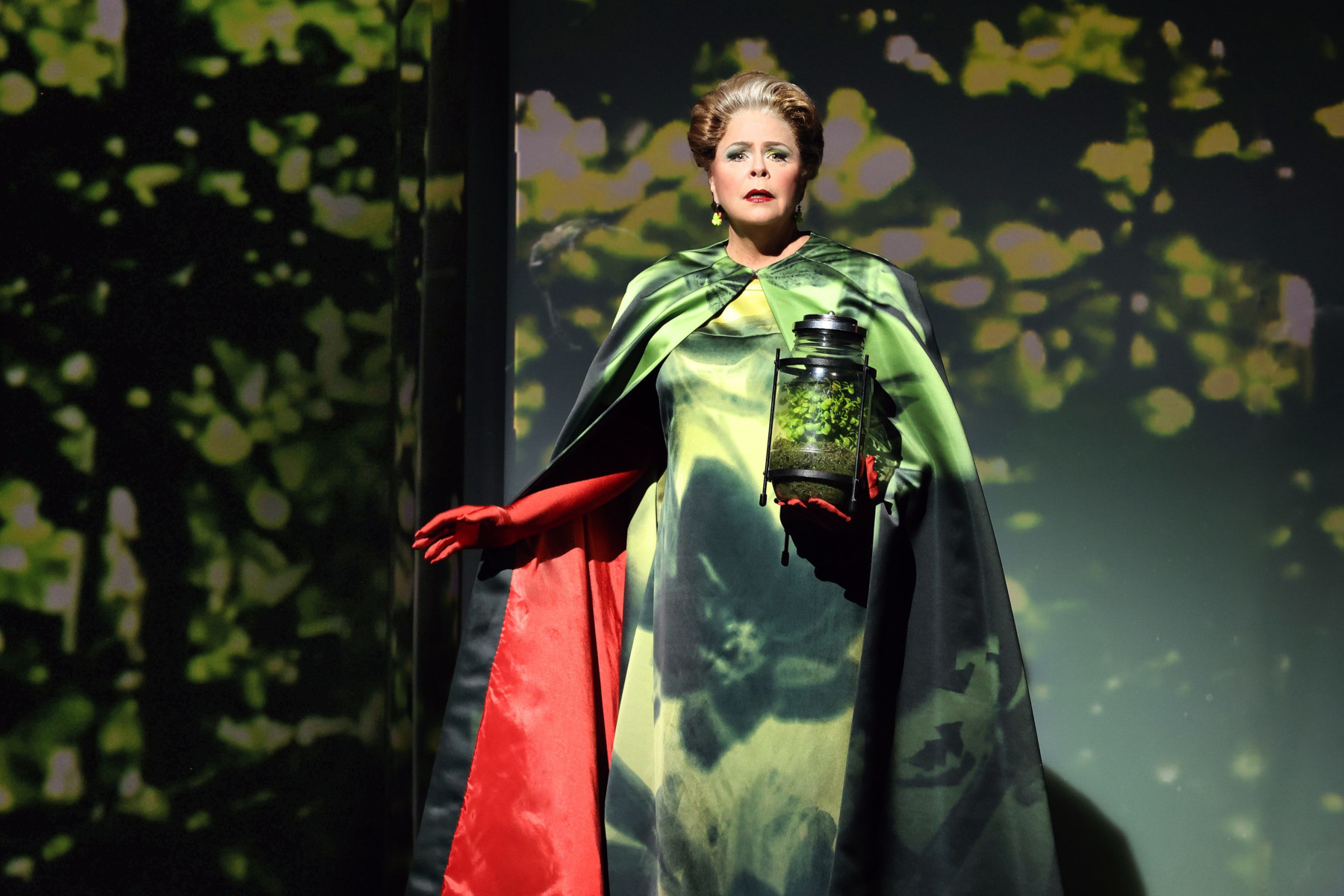 A highly effective directorial touch is that Golaud, Pelléas and Mélisande, all have Doppelgängers, actors that are identically dressed, who mirror the singing characters, further impressing upon us that there are many facets to each situation. I quite admired the overall direction, that allowed the characters to be still when appropriate, but fully use every area of the environment when turbulent emotions emerge. The violence toward Yniold and later, Mélisande was chillingly executed.
One of the signature moments in any production of this work, is how to handle the would-be lovers' meeting when the heroine's tresses are meant to tumble down the tower to enable the hero's grasp. Rapunzel, right? Not here. In a brilliant stroke, Mélisande, high on the stage left staircase, brandishes scissors, cuts off a hearty length of hair, and rains it down on the floor bound Pelléas. He gathers up his treasure, which is clearly an inflection point in his developing love.
Jones' color-shifting costumes were further commentary on the vacillating feelings and fortunes of the characters. While the varying green hues of the forest are prevalent in the costume palette, earthy orange and red accents come and go as passions inflame and subside.
The white look reserved for the dying heroine, the doctor and the shepherd were startling in their crispness.
Traditionalists may have been disappointed that there wasn't more color, more foliage, more fairy tale architecture, in short, something "prettier" to dampen the uneasy trek through this great work. I say that this production was a near-perfect realization of Debussy and Maeterlinck's incredible creative intentions, and it will haunt me (in a good way) for some time to come.
Santa Fe Opera took a calculated gamble on matching up a rarity with a visionary creative team who did not take the easy approach. And they assembled a first-rate roster of performers to realize it so beautifully.
I hope it does not take another forty-five years for such a successful Pelléas and Mélisande to return.
James Sohre
---
Pelléas and Mélisande
Music by Claude Debussy
Libretto by Claude Debussy adapted from the play by Maurice Maeterlinck
Golaud: Zachary Nelson; Mélisande: Samantha Hankey;Geneviève: Susan Graham; Arkel: Raymond Aceto; Pelléas: Huw Montague Rendall; Yniold: Kai Edgar; Shepherd: Brandon Bell; Physician: Ben Brady; Conductor: Harry Bicket; Director, Set, Costume, and Projection Design: Netia Jones; Lighting Design: D.M. Wood; Chorus Master: Susanne Sheston.
Top Image: Samantha Hankey (Mélisande), Huw Montague Rendall (Pelléas), photo by Curtis Brown for the Santa Fe Opera