Santa Fe Opera staged another local premiere this summer with the welcome company addition of Antonín Dvořák and Jaroslav Kvapil's splendid opera, Rusalka, directed by the acclaimed Sir David Pountney.
Sir Pountney's artistic vision is that of a "Freudian fairy tale set in a psychiatric hospital in Vienna," never mind that the piece is loosely inspired by Hans Christian Anderson's The Little Mermaid. To quote the late Walter Kerr, this unfortunately turned out to be mostly "a bad idea gone wrong."
Rusalka was written in 1901, around the same time as Sigmund Freud was penning his most persuasive publications. A giant leap of faith asks us to frame this tale as a woman seeking to understand her budding sexuality, but ending up neither an ongoing innocent, nor a fulfilled adult. What's love got to do with it? In this take, precious little, although the masterful music would seem to argue otherwise.
Given this concept, Leslie Travers has designed a rather impressive, persuasive setting, a period asylum that is wholly white, with drawers, doors, and sliding insets creating variety and even a sense of fun, in spite of this sobering overall concept of psychiatric analysis.
A large handsome sculpted structure of welded white metal chairs stage left is meant to represent a tree, and our heroine does have a splash of water to wade through. When Ježibaba needs to prepare her potion, or the Kitchen Girl and Gamekeeper are prepping the Prince's banquet, a long, loaded, and outfitted kitchen counter juts on from the wall stage right, looking like a demented Barefoot Contessa TV stage set.
When the Prince enters the asylum. . .er. . .the forest, we get a visual of both, as a large cabinet opens up center to reveal a tree shrouded in mist. Later, for the party scene, four handsome tall vitrines are rolled on to create an unsettled ballroom effect, each topped by a chandelier, and three of them people by female extras as "deer." The fourth is reserve for Rusalka herself, put on display as the Prince's prey. These vitrines return in the cataclysmic final act, decaying, all akimbo, to reflect the heroine's mental and emotional estate.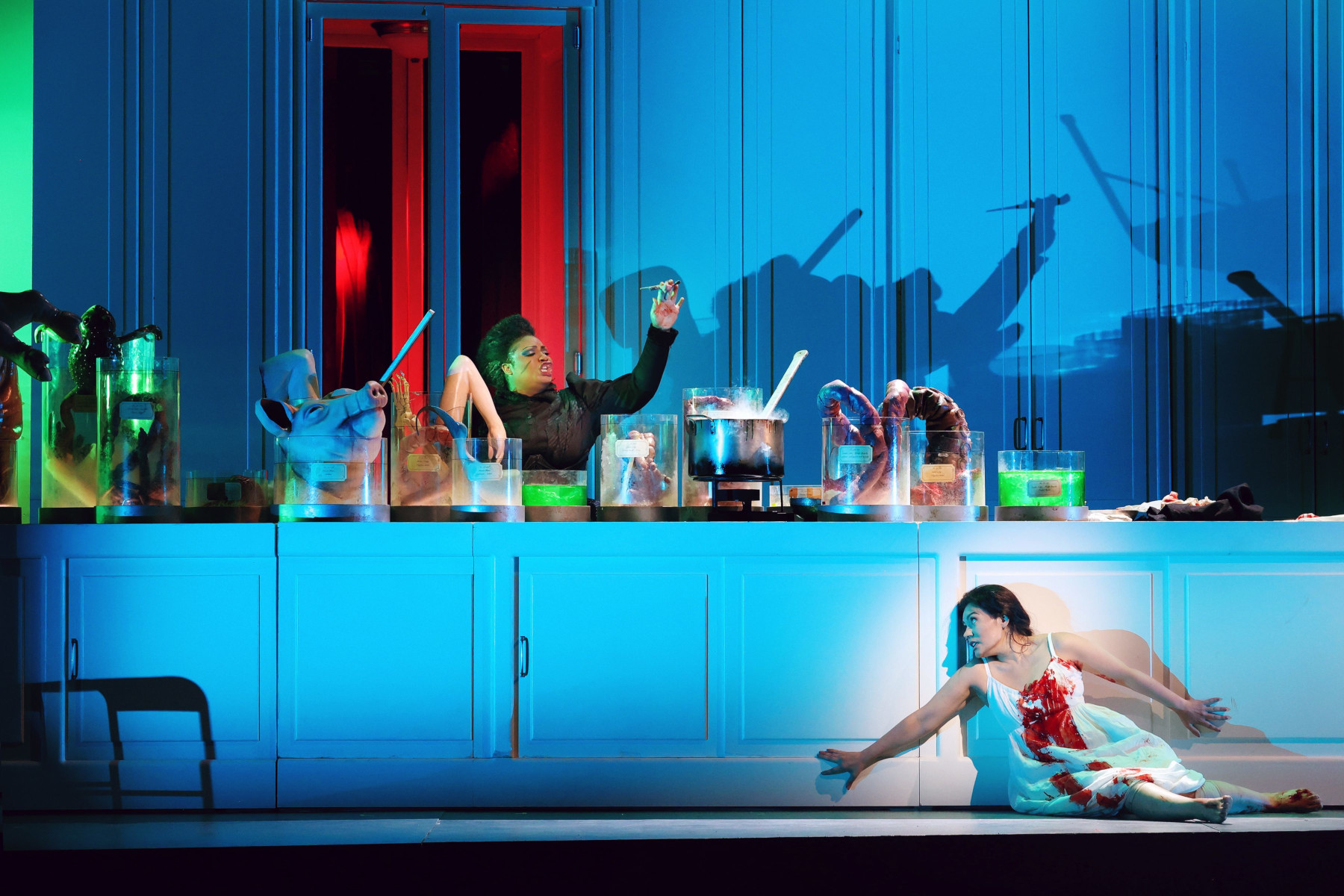 The most sensational scenic effect was the abrupt entrance by the Foreign Princess, in Jezebel red, astride a gilt, life-size, rearing horse statue. This blinding splash of color was like an ice bath in its intensity. Marie-Jeanne Lecca's costume design gave much pleasure, from Rusalka's simple white shift to the elegant period men's hunting clothes with antlered head wear, to the rich society women's gowns, to the cheeky vaudevillian get-ups for the Gamekeeper and Kitchen Girl. Malcolm Rippeth's straight forward, powerful lighting design added immensely to the effect.
In the title part, Ailyn Pérez's role debut no doubt greatly pleased her many fans and created new ones. She is unfailingly lovely: of tone, of stage deportment, of physique du role. It is wholly believable a Prince would be smitten with her, and whisk her off to be his trophy wife, enshrined if unloved. Ms. Pérez makes her own case for this demanding role, and she is most affecting when singing passages like Song to the Moon , lavishing it with buttery, limpid tone and drawing us in with a sotto voce reading of the second stanza.
While I have a more dramatic voice in my head for Rusalka's headier outpourings, she nonetheless adequately fills out the steelier phrases and communicates them to the farthest reaches of the Crosby Theatre with ease. She has made a secure first impression as Rusalka and was cheered by the audience for her work. It will be interesting to watch her grow even further into the role's demands in future outings.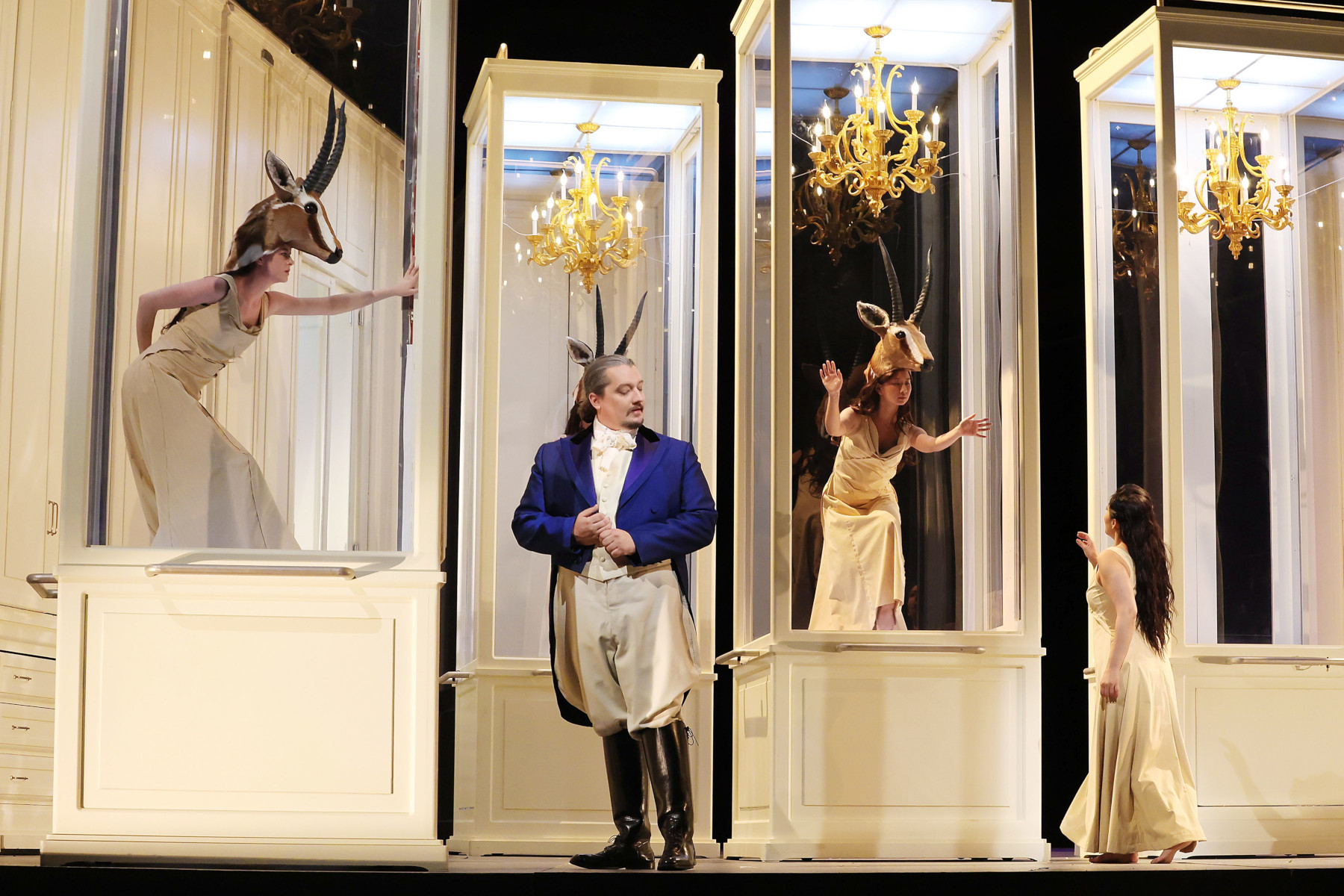 Robert Watson was a competent Price, his steely high notes certainly an asset, although there were a few rough edges in mid-range, and some audibility issues in lower passages. His acting in the first two acts ran the gamut from generalized to princely posturing, however he found a good deal of meaning in Act III, when he also vocalized with greater clarity and security.
James Creswell was a vocal powerhouse as a compelling Vodnik, his lush, rock-solid bass ringing out with power and ease. It was commendable that Mr. Creswell managed to convey a such a dramatically convincing character considering the production relegated him to spend the entire evening wheelchair bound. And the wheels squeaked annoyingly on the stage to boot.
Raehann Bryce-Davis was a force of nature as a more-malevolent-than-usual Ježibaba. Clad in a severe no nonsense black gown like a women's prison warden, Ms. Bryce-Davis' stern sorceress may have had no Disney "Ursula" humor but did have an abundance of firepower as her stentorian mezzo filled the space. In addition, she was able to vary her well-controlled delivery to be coyly persuasive. Whenever she was present, Ms. Bryce-Davis commanded the stage.
Mary Elizabeth Williams, a seasoned Tosca and Isolde, was not having a good night as the Foreign Princess, sounding alternately hollow and shrill for several pages. As Ms. Williams' voice settled into more focused and straight-forward singing, her characterization remained stubbornly cartoonish, a malicious dominatrix brandishing a riding crop. I suppose that is what Pountney wanted, and she did it with fidelity but what a curious, one-dimensional take.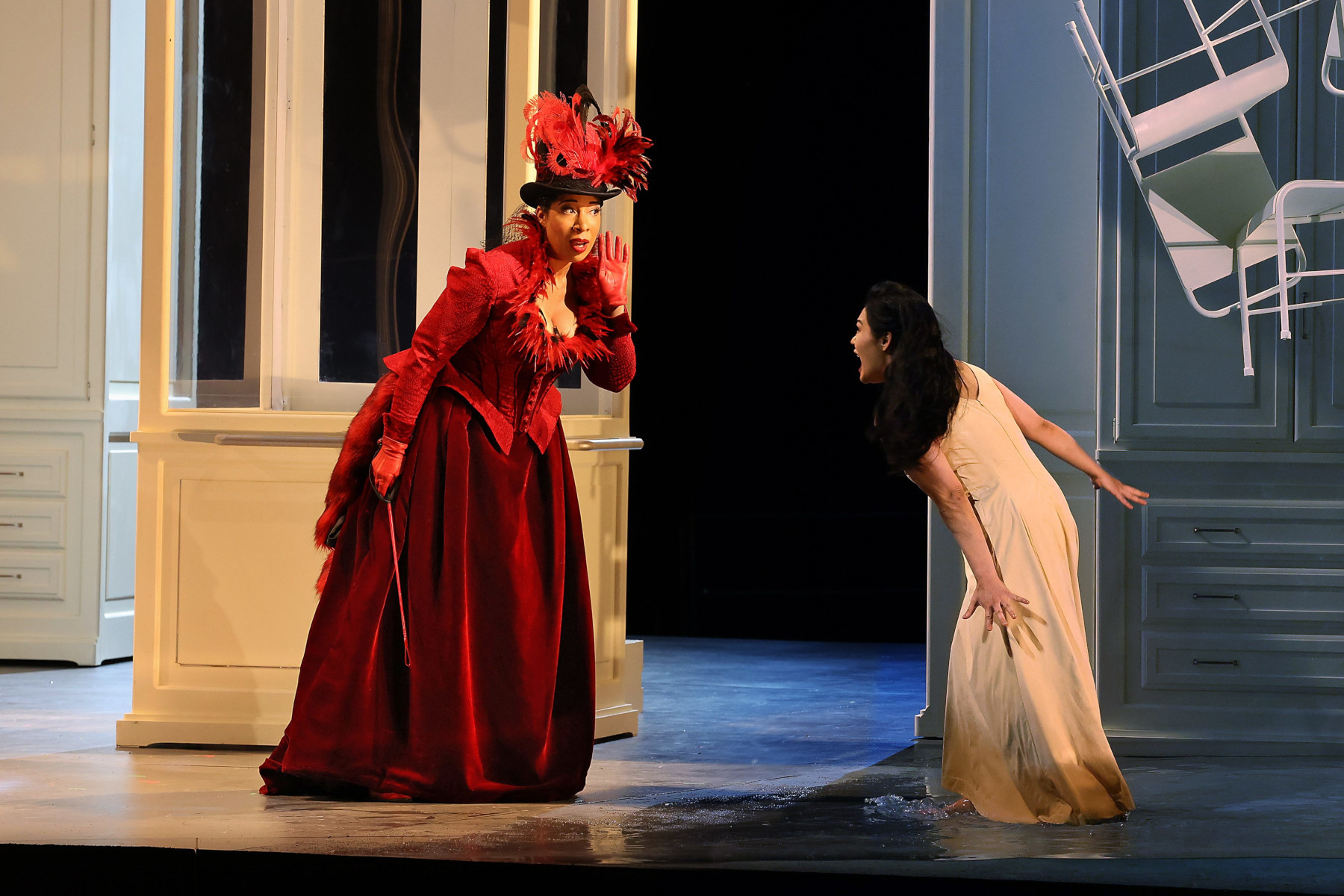 SFO Apprentice Artists shone brightly in cameo roles. The three Wood Sprites were a unified and utter delight. Itanah Lobel-Torres (1st) graced us with a soprano that was tremulous and freely produced; Lydia Grindatto (2nd) showed off a warm, well focused soprano with good legato; and Meridian Prall (3rd) contributed a beautifully rich mezzo with an especially pleasing chest voice. Singly and together, they were superb.
Jordan Loyd and Kaylee Nichols had a comic field day with their appearances as, respectively, the Gamekeeper and Kitchen Girl. Mr. Lloyd sports a big, shining tenor that is already in quite remarkable estate for such a big instrument and at his young age. Ms. Nichols' luxuriant, pliable mezzo was a treat to savor. The director seemed to have momentarily suspended the somber atmosphere of the asylum to allow these two gifted performers to take us away from all that with some uninhibited and inspired looney toons. In his brief lines as the Hunter, Spencer Reichman served notice that he is possessed of a very appealing baritone, bright, virile and pointed.
In the pit, Lidiya Yankovskaya led with authority and enthusiasm, even if on occasion, it was a bit too "unbridled." Maestra Yankovskaya drew out an idiomatic reading from an accomplished orchestra that is having an exceptionally good summer indeed. Her partnership with the singers was well forged, although a few too many times her excited music-making rendered vocal lines hard to hear. There is no questioning her ample talent and leadership qualities, and I am sure further experience with this house, and these performers will correct any overbalance problems. She is clearly a major talent whose star will continue to rise.
And so we come full circle back to the asylum. It is such an odd framework for such a fanciful (if tragic) subject. So much shoe-horning and extra-musical explaining has to be done to make us aware of how this resonates with the operatic material that the creators have given us.
The blocking is "all right." The design is inventive and effective within its institutional motif. Nicola Bowie's party choreography is clean and efficient. Susanne Sheston's chorus is, as always, solid. But for me, this well-intended staging rendered the piece cerebral and earthbound when it should be tragically loving and heart-tugging.
It very likely was not the Rusalka you planned to enjoy.
But if you came for Ailyn's engaging star turn, you surely got your money's worth.
James Sohre
---
Rusalka
Music by Antonín Dvořák
Libretto by Jaroslav Kvapil
1 st Wood Sprite: Itanah Lobel-Torres; 2 nd Wood Sprite: Lydia Grindatto; 3 rd Wood Sprite: Meridian Prall; Vodnik: James Creswell; Rusalka: Ailyn Pérez; Ježibaba: Raehann Bryce-Davis; Hunter: Spencer Reichman; The Prince: Robert Watson; Gamekeeper: Jordan Loyd; Kitchen Girl: Kaylee Nichols; Foreign Princess: Mary Elizabeth Williams; Conductor: Lidiya Yankovskaya; Director: David Pountney; Set Design: Leslie Travers; Costume Design: Marie-Jeanne Lecca; Lighting Design: Malcolm Rippeth; Choreography: Nicola Bowie; Chorus Master: Susanne Sheston
Top Image: Ailyn Pérez (Rusalka), photo by Curtis Brown for the Santa Fe Opera.