'The long sobs of the violins of autumn wound my heart with a monotonous languor.' The first lines of Paul Verlaine's 'Chanson d'automne' exemplify the poignant melancholy of Verlaine's poetry and his belief in the music of poetry: 'De la musique avant toute chose', as he says at the start of his poem, 'Art poétique'. This union of words – poems, letters, memoirs – and song, 555: Verlaine en prison, written by Eleanor Burke and Belgian countertenor Logan Lopez Gonzalez, and presented at the Arcola Theatre, was thus a fitting portrayal of Verlaine: the man, his muses and his ministrations.
When he wrote Poèmes Saturniens, which includes the 'Chanson d'automne', Verlaine was 22 years old and had not yet met his wife, Mathilde Mauté de Fleurville, or the poet Arthur Rimbaud. His relationships with both – passionate, tormented, violent – are charted in 555: Verlaine en prison, which begins at the 'end', as it were, with his incarceration in Mons public prison.
On 25th October 1873, Verlaine was transported by horse-drawn police wagon into the relatively new building, to begin a two-year sentence, convicted of having attempted to murder his 18-year-old lover, Rimbaud, for whom he had abandoned Mathilde and his son, Georges.  And the drama begins with his sentencing and recitation (by actress Anna Sideris – who unassumingly embodies various roles during the drama) of Rimbaud's 'Acte de Renonciation' (19th July 1873), which states: 'I, the undersigned,  Arthur Rimbaud, 19 years old, a man of letters, ordinarily residing in Charleville, (Ardennes-France), declares, to pay homage to the truth, that on Thursday 10th at about 2 o'clock, at the time when Mr. Paul Verlaine, in the room of his mother, fired a revolver shot at me which wounded me slightly in  the left wrist, Mr. Verlaine was in such a state of intoxication that he was not aware of his action'.  Despite Rimbaud's insistence that Verlaine's drunkenness was caused by thoughts of his 'annoyances' with his wife – which prompted a chuckle at the Arcola – he was sentenced to two years' imprisonment, during which time he read, wrote, converted to Catholicism and produced some of his finest poetry.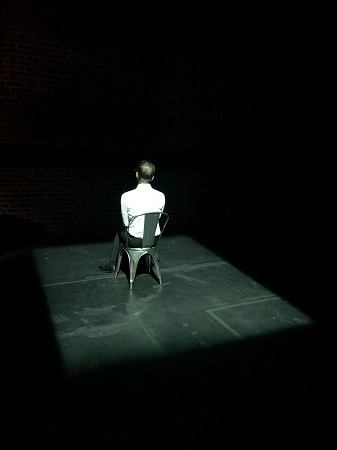 The dark sparseness of cell number 252 was effectively conjured in Arcola's bare-brick Studio 1, just a single chair spotlighted (lighting design, Cheng Keng) in the gloom, and effective use made of the balcony-platform. The narrative of Verlaine's inebriations, insanities and inhumanities unfolded through an interwoven canvas of text and music. From Mathilde's memoirs we learnt of the young ingénue's faith in the power of her love to transfigure the troubled poet: "It is that I alone have known a Verlaine quite different from what he was with the others: Verlaine, in love … became different and he ceased to be ugly … during the first year of our marriage, Verlaine was gentle, tender, affectionate, and cheerful". But, the year of paradise turned to hell and "continuous suffering". Sideris conveyed Mathilde's frustration, fury and despair: "What had happened? What were the causes of my misfortune, my broken life and, later, Verlaine's sad and adventurous existence?" "Rimbaud! Absinthe!" she spat out ferociously.
We heard of Verlaine's first encounters with Rimbaud – the poet and his poetry, and of the violence that his infatuation breeds. He sets fire to Mathilde's hair and attempts to stab her; he travels to London with Rimbaud and indulges in mammoth drinking sessions which often result in knife fights (Burke draws on Verlaine emprisonné by Jean-Pierre Guéno and Gérard Lhéritier); he writes to Mathilde 'I will come back one day'. He burns his way through an inheritance. In the end he leaves Arthur to return to Mathilde.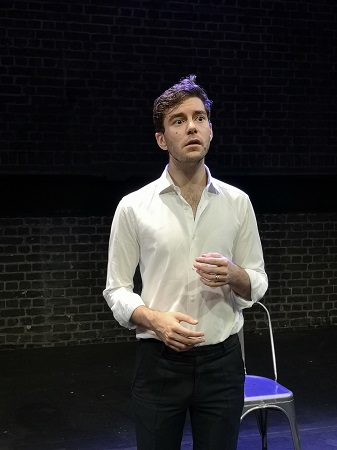 On the evening of 8th July 1873, Rimbaud arrives in Brussels and joins Verlaine in a rented room. Verlaine has bought, for 23 francs, a seven-millimetre six-shot revolver at the Montigny armory. Arms and alcoholic aperitifs prove a toxic mix. But, although he received the letter of the divorce during his imprisonment – his sadness sensitively conveyed here – Verlaine's incarceration was not as traumatic as that of his later friend, Oscar Wilde. He was able to read and write, and produce the work that earned him the title 'prince of poets' among his peers.
The texts were interwoven with musical settings and recitations of Verlaine's poetry. The music – so many composers were inspired to set this poetry – reflects the perfumed pages, what Théodore de Banville (writing of Verlaine's 1869 Fêtes galantes) described as a 'little magician's book [that] will make you feel suave, harmonious and deliciously sad: all of the ideal, enchanted world of the divine master of amorous plays, the great, sublime Watteau'.
So, we had Fauré's setting of 'Prison' conveying all of Verlaine's anguish and regret – 'Le ciel est, par-dessus le toit,/ Si bleu, si calme!' – and, in 'Mandoline', an enchantment, with slight narratorial detachment. Reynaldo Hahn's setting of 'En sourdine' seemed to convey the sincerity of Verlaine's love for Mathilde, even though we knew of the self-indulgence of its sentiments. There was Debussy, too: the understated loveliness of 'La mer est plus belle que les cathédrales', the nature-inspired hopefulness of 'L'échelonnement des haies moutonne à l'infini'.
Hahn's 'L'Heure Exquise' was indeed exquisite, pianist Stella Marie Lorenz (superb throughout) capturing the delicate, gleaming play of moon on water, and Logan Lopez Gonzalez communicating every atom of the soft simplicity of the vocal line. The countertenor had taken a little while to settle into his groove, intonation-wise, but his very individualised timbre and the egg-shell care that he applied to the vocal lines of the songs reaped huge emotional and dramatic rewards.
When he left Mons prison on 16 January 1875, Verlaine was completely alone. When he returned to Belgium twenty years later, to give a series of lectures, he was an alcoholic and down-and-out. Drunkenness and destitution led to his death, aged 51, in January 1896, from pneumonia. But, Verlaine wrote positively of his time in Mons prison: 'I once lived in the best of castles. In the finest land of white water and hills. Four towers rose up from its four-winged front. And one was my residence for long long days'. And, Léo Ferré's 'Colloque sentimental', with which this performance ended, tenderly conveyed Verlaine's search for beauty.
Claire Seymour
Logan Lopez Gonzalez (writer/countertenor), Anna Sideris (actor), Eleanor Burke (writer/director), Cheng Keng (lighting designer), Stella Marie Lorenz (pianist)
Arcola Theatre, Dalston, London; Tuesday 5th September 2023.