That's Festival International Film d'Opéra d'Entrecasteaux (a tiny village in Provence). The two films of this inaugural year were Francesco Rosi's 1984 Carmen and Luigi Comencini's 1988 La boheme (lead photo).
The surprisingly large audiences spread out their picnics on the town's old wheat field to watch the films, making it a live, and lively event.
Why such films were made is unknown, film director Francisco Rosi (1922-2015) said that he was offered the job of making a Carmen movie, thus it was not a film director realizing his dream of directing an opera
It is of interest to note that the wildly successful American film, Otto Preminger's 1954 Carmen Jones was released in France only in 1981, twenty-five years after it was made, as French intellectual property law prohibits transformative use of original material. The injunction was finally rescinded [see François Truffaut's « Les héritiers de Bizet contre Carmen (Jones) »].
Carmen Jones, featuring an all black cast, its story set during WWII in a jazz version of the Bizet score, was a film of the moment in the U.S., the civil rights movement festering, then bursting when the U.S. Supreme Court ruled in 1956 that segregation on Montgomery Alabama buses was unconstitutional. Francesco Rosi was an Italian filmmaker known for highly politicized films, thus, may I speculate, tempting the producers of a post 1981 French/Italian Carmen film to hope for an edgy take on gypsy life.
This was hardly the result. Filmmaker Rosi painstakingly evoked the land and townscapes of 1875 Spain, ignoring the dust and the heat and the poverty, finding only the stark and arid beauty of the Andalusian landscape. And the basically good natures of its inhabitants, Zuniga was simply tied to a chair at the end of Act II, not beaten to a pulp — the world awaited the dark, ugly 1970 sides of the Spanish soul that came to light in Spanish opera director Calixto Bieito's nasty 2014 Bilbao Carmen (greatly sanitized in his Paris and San Francisco versions).
Rosi very carefully curated his locations in Spain's towns of Ronda and Carmona as well as in the Seville of 40 years ago. The views are perfectly framed. The costumes are specific to 1875, the year of Carmen's premiere, beautifully pressed. There is maybe a tiny hint of social commentary when we see the toreador Escamillo sitting in a fancy salon with Spanish Grandees. Though this Image may have been present in some magazine illustrations of Spain that were published in 1873. Rosi used these old illustrations as his visual models, assuming this was exactly what Bizet had pictured in his mind, given that he, Bizet, had never set foot in Spain.
The brutal drama that is normally present in an operatic Carmen is heavily veiled by the perfection of the visual frames, by the the use of Bizet's music as background for visual transitions and crowds, by the silences the filmmaker imposes from time to time, by the clatter of shodden horse hoofs, the shouting of street urchins. Further distance from the operatic drama is created by using actors' voices, not the singers' voices, for the dialogues, words they breathed onto the soundtrack, quite unlike the singers' mouthing their words to a pre-recorded soundtrack.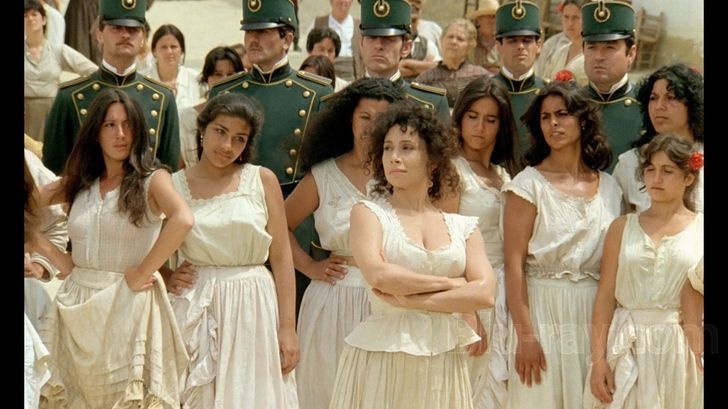 Rosi's Carmen is primarily a visually poetic evocation of Spain's Andalusia of 1875. But, cherry-atop-the-cake, it is also a star-turn. The Rosi Carmen, the gypsy girl herself, is Julia Migenes-Johnson, simply the most real, animal Carmen imaginable. The Rosi film is important for no other reason than to have recorded such a remarkable performance.
But in Rosi's film this amazingly cinematic Carmen is confronted by three opera singers. A middle aged Placido Domingo as Jose, an approaching middle age Faith Esham as Micaela, and a flashy, very Italianate, middle aged Ruggiero Raimondi as Escamillo. These formidable, though mis-cast artists, the high art of opera singing, plus Rosi's colorful, touristic 1875 Spain created an insurmountable distance to a real, cinematic telling of the Carmen tale.
Not to mention the high art of pretentious filmmaking intruding onto one of opera'a most directly emotional works.
The Rosi Carmen was very well received in its time, nominated as best foreign film by the Golden Globes, BAFTA, and César Awards. Forty years later I found the film to be hopelessly boring.
Film director Luigi Comencini (1916-2007) made his opera movie La bohème in 1987, very soon after the Rosi Carmen. Boheme's producers, may I speculate, wished to catch onto the coattails of the Rosi Carmen's huge success.
Comencini therefore had the benefit of knowing Rosi's film. He made very interesting, and wise artistic choices. He too used one of opera's top tenors, casting the then 42 year-old José Carreras as Rodolfo. Carreras was in great vocal form in 1987, though he had been stricken with leukemia and would be unable to participate in the filming. Unfazed, Comencini cast Italian actor Luca Canonici as a young, very real, bohemian Rodolfo, to the recorded voice of Carreras.
Originally a tenor leggiero, Carreras took on vocally heavier roles as his career advanced, assuming ultimately the attributes of a tenorissimo — a magnificent virtuoso sound above all else! By 1987 he had added a spinto character to his voice that colored his Rodolfo with a dark, quite beautiful tone that he infused with urgent, passionate delivery. It was this voice and this delivery that took center stage in this filmed opera, though its singer and the physicality of vocal production were unseen.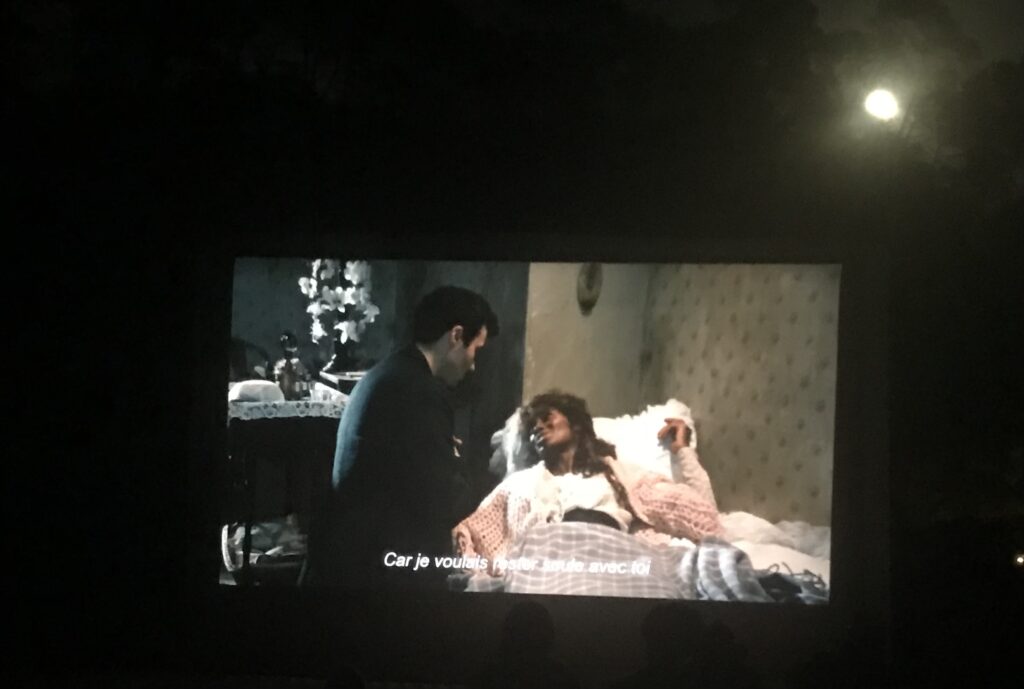 Actor Luca Canonici did not attempt to assume the physical postures or breathing required for this spectacular vocal delivery, allowing his emotions to be remain hidden, but obviously the unseen emotions were still very real. Enacting such intensity would simply not have been possible within the intimacy of the film medium (in opera the singer is the emotion). Actor Canonici's Rodolfo was both deadpan and hugely felt. It was cinematically real, if nothing else.
Comencini cast Black American soprano Barbara Hendricks as Mimi. Mme. Hendricks was 39 years-old when the film was made, of slight figure. Like tenor Carreras she began her career as a light lyric soprano, taking on full lyric roles as her career advanced, of which this Rome filmed Mimi was the first of these heavier roles. To our contemporary ears Mme. Hendricks does not possess a Puccini voice, but she does indeed project a Mimi presence, enhanced in the Comencini Boheme by the light and pure tones of her voice. While the soundtrack was pre-recorded there was the sense that she was in fact actually singing her words.
Though the opera may be titled La bohème it is emotionally not about Mimi, Puccini reserving his operatic fireworks for Rodolfo.
All the principal roles were cast with opera singers of appropriate age and character. The then 32 year-old Gino Quilico was a charming Marcello, the then 31 year-old Angela Maria Blasi was the consummately vivacious Musetta.
The settings were built at Rome's Cinecittà to be an elaboration of the storybook rooms and streets of Paris where the opera takes place. Thus the action could move inside and out, here and there with simple film cuts in this greatly expanded operatic world.
There was a sizable garret space for the antics of the starving artists, a very feminine garret room for Mimi, and a stairwell connecting these garrets. The Cafe Momu was a big indoor bistro, and there was a separate street outside where a huge marching band passed by. Marcello and Rodolfo's Act IV duet was sung in a public square, an elegant open carriage pausing for its passengers to observe momentarily the beautifully sung lament.
Comencini never forgot that opera is opera. His La bohème is an opera, a real opera on film. It packed a wallop.
Michael Milenski
Entrecasteaux, France, September 1 and 2, 2023