I first heard the Bayerisches Staatsorchester in the early 1980s – and one's earliest memories, of ones first orchestras, often remain long over time. Wolfgang Sawallisch – never a favourite conductor of mine – was then the Staatsorchester's Generalmusikdirektor – and since then there have been five (including the present incumbent, Vladimir Jurowski). In a rather peculiar way it has never mattered who has been the GMD of this orchestra (other than it be a good conductor rather than a bad one) because its sound has remained a constant; this has also been the case with the Vienna Philharmonic, the Dresden Staatskapelle and the Berlin State Orchestra, although not especially the Berlin Philharmonic.
Cosima Wagner wrote in her diary on 12 May 1872, after Wagner had given a concert of excerpts from his operas, that this would be his last one because he found "presenting fragments from his works (…) particularly repulsive". This has barely mattered, I suspect, to many of the twenty conductors who have run the Bayerisches Staatsorchester since Hans von Bülow in 1867. One might, I suppose, have felt a little short-changed by the first work on the orchestra's long program – just the Prelude to Wagner's Tristan und Isolde. With any other orchestra it might not have mattered but in this performance one so yearned to hear these fabulous strings in the Liebestod. One also, I think, was just a little curious about what a performance of that Tristan rarity in concert would have sounded like – the Prelude to Act III. This orchestra has a sense of desolation in its tone – intended or otherwise – which would have made for an excoriating performance of it.
Jurowski had a clear sense of where this prelude was going from the very start – this would never become a performance whose architecture became lost in a vacuum of notes that had no place, or phrases that had no purpose. There was nothing prosaic about it either; the first entry of the cellos was magnificent, not so much for the sheer colour of their tone but for the singing quality of the bowing. Other conductors might have made this music sound more symphonic – they might have imposed heaviness on it, confusing weight with grandeur – but Jurowski used his orchestra with sweeping effect to make it sound intense, dramatic and dangerously erotic. The climax was measured – and that elusive rumble of double basses after the timpani felt precariously foreboding. That concert ending – which Wagner wrote from excerpts of Acts II and III, to replace the Bülow one which he so disliked – was simply gorgeous.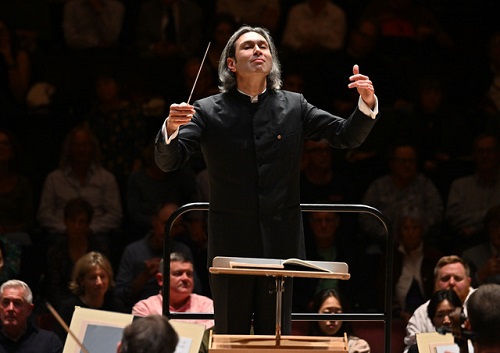 Robert Schumann began writing his A minor Piano Concerto in 1841 and it would be premiered by his wife, Clara, in Leipzig in 1846. I have previously heard the soloist for this performance, Yefim Bronfman, in considerably less lyrical concertos – notably Prokofiev – but there was nothing unpoetic or impersonal about his interpretation of this indemonstrably virtuoso piece, even if conversation was sometimes missing. His technique remains formidable, but what, I think, was quite surprising here was the prominence he gave to what is not a usual Bronfman trait – tenderness. Even the Florestan chords of the first movement were slightly more contained than one might have expected, tuttis were dramatic but not overly in scale. The struggle that is written into the concerto between the soloist and the orchestra was so clear in his playing, but he shaped it in such a way one felt it was poetically done, if perhaps Classically rather than Romantically.
The Intermezzo felt extremely short in Bronfman's hands – not a given in performances of this concerto. Perhaps it was the remarkable delicacy of his touch – or perhaps, it was the chamber-like beauty of the orchestra's playing which sung out like a chorus. The Allegro vivace toppled – rather than collapsed – into itself, Bronfman measuring out each change of meter with clarity and thought. The one encore, Chopin's Nocturne No.8 in D flat major, was entirely in keeping with the Schumann: a performance of conversation, here between the left and right hands where harmony and melody melted like two voices into one.
The single work after the interval was Gustav Mahler's Symphony No.4. The lightest of Mahler's symphonies to date (even in the instrumentation where there are only four horns, three trumpets and triple woodwind – and no trombones) its model is more early nineteenth century. I often disliked this Mahler symphony more than any of his others until I understood it's a much more sinister and darker work than its music often suggests. The premise of the Fourth is that often what you hear or see in the music – the beauty of the skies, or the light that floods the woods – is countered with darker human emotions of terror and fear. The contradictions in the third movement, especially, are exceptionally powerful: the music can be wonderfully restful, at pianissimo, and yet the bell-like intonations can recall Parsifal, the first climax plummets with an astonishing fortissimo, only for the horn to embrace complete mournfulness at the Abgesang. Nowhere in the symphony is the music greater – or more powerful – than in the triple forte E major chord at the beginning of the slow movement's coda. Performances of this movement need balance, they need control. Jurowski was exceptional at teasing both from the orchestra.
Pacing was perfect, the divided violins extremely articulate in their lyrical beauty. Jurowski is rarely a conductor to put his emotions into overdrive, and they were in check here – you could have had strings heavy with vibrato; instead glissandi were deft, the brass the right side of unstable, rather than overwrought.
The soprano soloist needs to be many things – although overly sophisticated in the very Viennese tradition is not, I think, one of them, nor is a tendency to be operatic rather than lyric. Louise Alder managed to sing with a rich, velvety tone – which worked well with the glowing depth of the Bavarian strings – but she was able to bring innocence and youthfulness to her voice, convincingly so for the Des Knaben Wunderhorn text which touches on the angelic in the final stanza. Alder's range is more solid than many sopranos who have sung this part – her high E was blisteringly done, but the security of the bottom of the register was opulent, too, without sounding insecure. There was nothing rushed about the final bar (indeed, nothing had been rushed at all) but perhaps Alder ended just a touch too curtly rather than letting the final note on the harp float as it should do.
Jurowski and the Bayerisches Staatsorchester played for an encore Bach's Air on a G String (Suite No.3 BWV 1068) arranged by Mahler. Unlike August Wilhelmj's arrangement, Mahler doesn't transpose the key in which the music is written – but given Bach wrote almost nothing in the score in terms of dynamics or markings Mahler provides precisely that, including thickening of the textures, and slight changes in the instrumentation (it's decades since I have heard the Bach but I wasn't sure that he wrote cello pizzicato passages for this piece which we did hear in this performance). Jurowski has played this arrangement before in London – but perhaps it had never sounded more glorious or more rich than it did here.
Marc Bridle
Wagner – Prelude to Tristan und Isolde, Schumann – Piano Concerto in A minor, Mahler – Symphony No.4
Yefim Bronfman (piano), Louise Alder (soprano), Bayerisches Staatsorchester, Vladimir Jurowski (conductor)
Barbican Centre, London; 19th September 2023.
ABOVE: Louise Alder with the Bayerisches Staatsorchestra at the Barbican (c) Mark Allan