A disc of commissions and premieres may seem a bold decision for a record company wishing to maximise on sales potential. But this is the choir of New College, Oxford, one of the finest Collegiate ensembles in the UK. This recent issue from Linn surveys a century of commissions from the mid-1920s through to new work from 2022. Within its stylistic traversal from Sir William Harris (born 1883) to Caitlin Harrison (born 1996), director Robert Quinney brings together an exciting group of composers from the younger generation including Deborah Pritchard and Toby Young and more familiar figures, amongst them Herbert Howells, whose New College Service is one of three evening canticle settings written for the choir.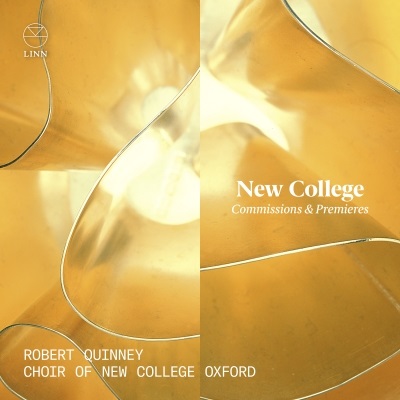 The most substantial work here is Kenneth Leighton's seldom performed Crucifixus written for David Lumsden and New College in 1961 and first recorded by the choir with Abbey Records ten years later. The composer's uncompromising austerity and the vivid imagery of the 17th-century poets Patrick Carey and Phineas Fletcher generate a searing performance.  Tenor soloist Nick Pritchard (a former academical clerk at New College) is superbly responsive to the wintry images of 'Christ in the Cradle', his gentle vibrato intensifying the chilling reverie, the whole underlined by a sinuous organ motif outlined by Dónal McCann.  The choir brings a compelling ardour to the emotional agonies at Gethsemane in 'Christ in the Garden', while dramatic tensions build in the chromatic writhing of 'Christ in his Passion'.  Pritchard communicates the anguish of the Passion narrative with a concentrated focus matched by the numbed grief of the choristers as they question the reason for Christ's suffering. It is in the concluding 'Hymn' where unaccompanied voices are at their most persuasive.  This little gem – often performed as a standalone piece – is exquisitely sung with a pathos to suggest the singers were eyewitnesses at the crucifixion.
In Harris's 1925 double choir anthem Faire is the heaven Quinney delivers Edmund Spencer's heavenly vision with well-judged tempi, and if the tuning from the trebles is not always perfect, there's a demonstrable warmth of tone elsewhere and just enough low bass to anchor those heart-easing final chords. It's a respectful rather than rapturous performance and compares favourably with the more amplified sound of the earlier recording found on The Gate of Heaven disc released in 2017 from Novum.
Of the three canticle settings written for New College, that by Howells (1949) will be the most familiar. Influenced by the dry acoustic of the Chapel, the composer abandons the candlelit atmosphere of his 'Gloucester' service and the opulence of 'St Paul's', opting for a more direct, even forthright approach. That said, the 'Gloria' movements of both the Magnificat and Nunc dimittis are not without grandeur and there is much to enjoy from the voices of which 'And his mercy is on them that fear him' is one felicitous example.  Of Paul Drayton's unaccompanied New College Service (1968), the Magnificat alternates forward propulsion and more expansive movement and closes with an ambitiously conceived 'Gloria' developing from modest means to a powerful tour de force.  The Nunc dimittis is inhabited by a similar generosity of invention, now invested with soaring treble lines to impart a striking brilliance.  No less brilliant is the glow that saturates Deborah Pritchard's a cappella New Collegecanticles (2019 revised 2022), commissioned to mark the fortieth anniversary of the admission of female undergraduates.  Richly layered textures in the 8-voiceMagnificat create a sense of awe, if unvarying weight, while the static harmony and plainchant-like lines of the Nunc dimittis bring a certain timelessness.
Caitlin Harrison's recent O pastor animarum is a wriggling worm of a work setting words by Hildegard of Bingen. Her prayers for humanity's failings prompt sinuous lines, often paired with bell-like exchanges, to fashion a short numinous introit. Completing the disc is Toby Young's exciting O God, make the door of this house, a setting of a prayer by New College fellow Thomas Ken (1637–1711), composed in 2016 for the Installation of Miles Young as Warden. Its dramatic arc and rhythmic impetus, not least its glittering organ-writing and shape-shifting harmonies make a thrilling conclusion to a fascinating CD that is well worth exploring where attentive listening will be amply rewarded. The choir are on fine form and Linn's engineers provide excellent sound.
David Truslove
Choir of New College, Oxford, Nick Pritchard (tenor), Dónal McCann (organ), Robert Quinney (director).
William Harris – Faire is the heaven; Herbert Howells – New College Service; Kenneth Leighton – Crucifixus pro nobis; Op. 38, Paul Drayton – New College Service; Caitlin Harrison – O pastor animarum*; Deborah Pritchard – New College Service*; Toby Young – O God, make the door of this house*
*premiere recordings
Linn Records: CKD 720 [57.18]