Enrico Caruso said that Trovatore is easy — you just need the four greatest singers in the world. Let us not argue about who these singers may be. Do let us congratulate San Francisco Opera for assembling a full cast of equally excellent singers who well fulfilled the vocal challenges of this unruly opera.
A feat rarely achieved, anywhere, and newsworthy indeed when it does.
That's Russian mezzo soprano Ekaterina Semenchuk as Azucena, L.A. born and finished soprano Angel Blue as Leonora (role debut!), Mexican tenor Arturo Chacón-Cruz as Manrico, and Romanian baritone George Petean as the Count di Luna. For good measure throw in Canadian bass Robert Pomakov as Ferrando.
Verdi famously toyed with the idea of naming the opera La Zingara (The Gypsy), only later deciding to enlarge the role of Leonora, greatly complicating the plot. Verdi originally had been intrigued by the then recent Spanish play El Trovador, with its gypsy heroine. Such a marginal heroine as centerpiece would complement his operas about a freak (Rigoletto) and a whore (La traviata), allowing the composer to exploit absolutely new and shocking subjects. Voilà the three famed, middle period masterpieces.
But Verdi was not able to forsake his fascination (and the Italian obsession) for fallen women, adding the exquisite Act IV Leonora aria and scene, later echoed in the fourth acts of Don Carlo and Otello. Thus Il trovatore became an opera about two women — a marginalized woman of color who has placed a curse on an aristocrat, and an aristocratic woman whose purity is questioned. Not to mention the two guys caught in the middle of a war against each other.
Undaunted by overburdening his opera with elaborations of current (then and now) issues Verdi charged ahead, creating music that is absolutely overpowering.
And overpowering it was just now in San Francisco. British designer Charles Edwards created a show curtain based on the 1823 Goya painting "A Pilgrimage to San Isidro," though it is but a detail. Its visible screams seemed right-on for the domestic tragedies that were to play out on the stage apron, positioning that kept the singers directly under the baton of the conductor.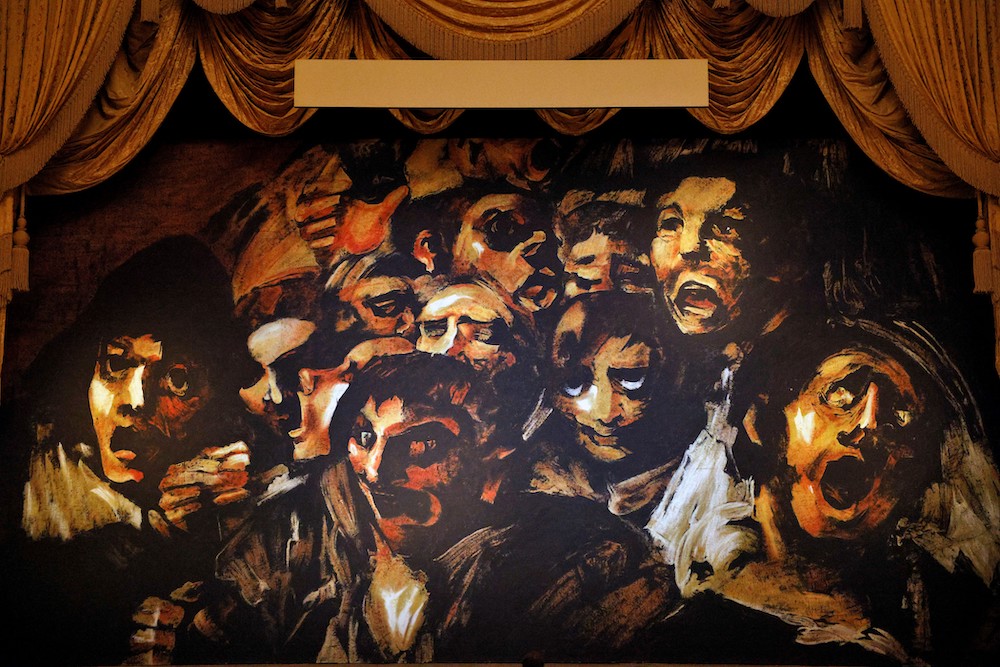 San Francisco Opera music director Eun Sun Kim makes her pit very present. It was raised even higher (and louder) for this David McVicar production to accommodate the additional height of a revolving stage. Verdi is loud, Il trovatore is particularly loud, Ma. Eun Sun Kim finds a lyric pulse that never falters. Add this to the obvious excitement of this conductor working with these responsive singers in this, the most singerly opera in the repertory — at best there were enrapturing periods of lyric splendor, at worst it was a musical caricature of Verdi's opera.
This McVicar production was first staged in Chicago in 2006, remounted both in San Francisco and at the Met in 2009, revived by the Met in 2017/18, then in Chicago in 2019, It is considered among this prolific British director's finest productions. The conceit of the production is Goya's print series "The Disasters of War" that places the action not in El Trovador's early 15th century, but during Spain's early 19th century war against Napoleon.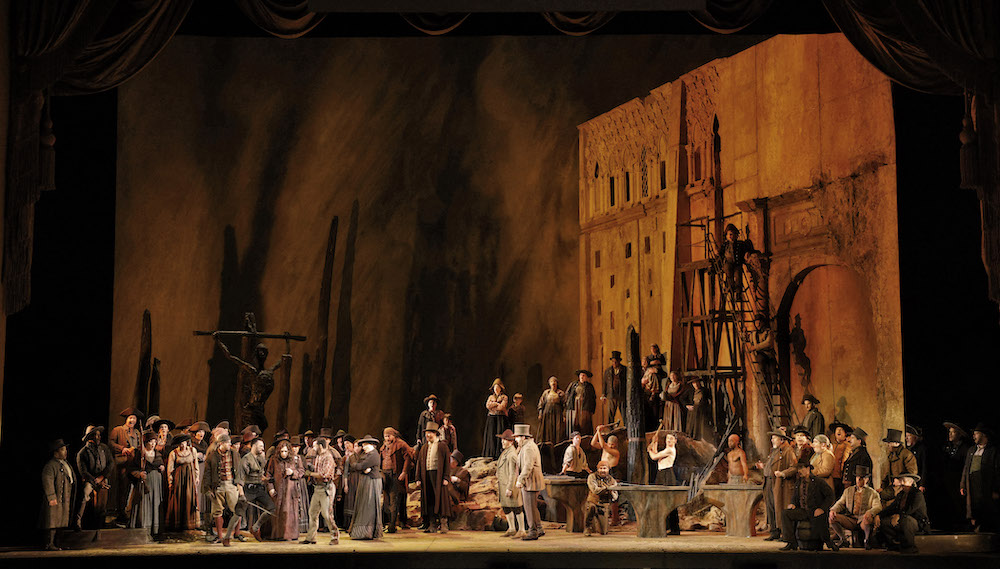 The larger stage pictures with chorus were meticulously recreated by revival stage director Roy Rallo, the splendid lighting was in the hands of the production's original lighting designer Jennifer Tipton. Charles Edwards towering sets revolved with determined resolve to portray the ineluctable brutality of war.
Though any thought of war, any war anywhere anytime, was far from our minds as the dramatic tensions of vengeance and purity flared so mightily on conductor Eun Sun Kim's stage apron. The production was irrelevant.
Mezzo soprano Ekaterina Semenchuk as Azucena had been underwhelming as Santuzza and Amneris in recent San Francisco Opera productions of Cavalleria Rusticate and Aida. Now, under Ma. Kim's baton, she was electrifying as Azucena. Her voice is purely and warmly toned, not Italianate, her delivery was impassioned and fiery. Defying all musical decorum, it was an unleashed performance. Interestingly her program booklet bio was surprisingly brief, not mentioning that she replaced Anna Netrebko as Verdi's Lady Macbeth in a 2022 Munich production, evidencing her political viability on Western stages.
Soprano Angel Blue as Leonora evidenced remarkable vocal technique in her debut in one of opera's most demanding roles. She has a clear, limpid tone that is uniquely suited to the purity of a Verdi heroine, and a soft presence that allows her to be both young and innocent. Her voice exhibits the requisite, considerable heft for this spinto role, determining a rich future in the dramatic soprano repertory — already this past May she had success as Verdi's Aida at Covent Garden.
Tenor Arturo Chacón-Cruz as Manrico has the lyric finesse to embody a true 15th century troubadour, a quality he grandly exploited in his two off-stage serenades of Leonora. On stage he belted a plentitude of ringing high notes while commanding a youthful elasticity in negotiating Verdi's flowing lines. He faltered in his big third act aria moment, usually a show-stopper, giving us fear that the strong voice he had used so effectively had worn out. Reports from earlier performances indicate that this was probably not the case. Like many of us, it is likely that he suffered under the wildfire smoke blanketing San Francisco.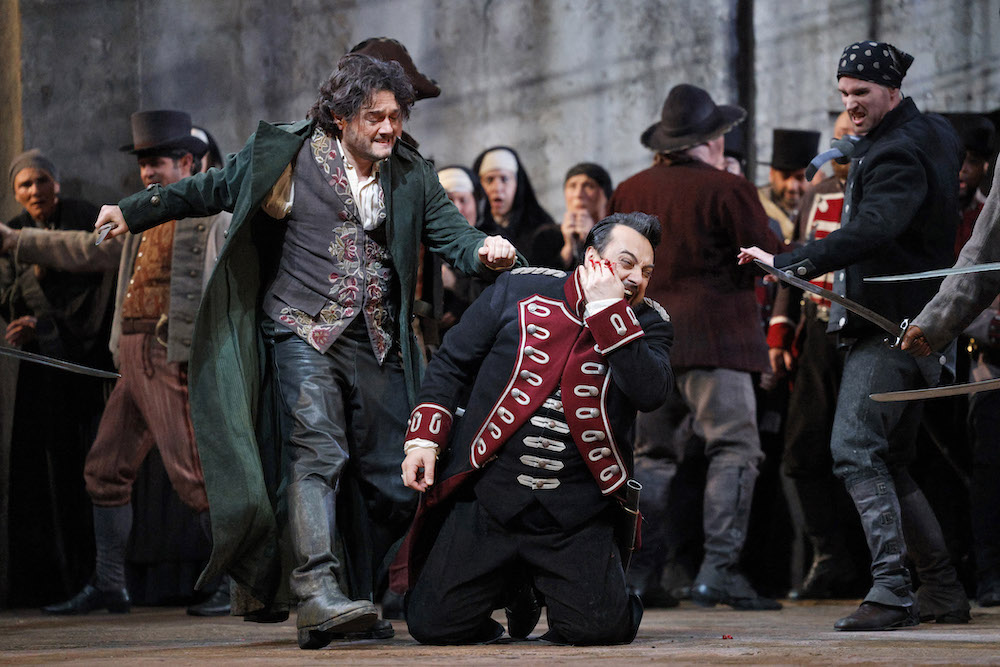 Baritone George Petean as the Count di Luna is foremost a singer, a very fine one. He made a one-dimensional villain, never convincing us he was a serious suitor to Leonora. Verdi gave him ample opportunity to do so by providing him a lovely aria proclaiming the depth of his attraction to her. With conductor Kim he rendered the aria as a virtuoso moment, and it was indeed impressive. Mr. Petean's Count di Luna was all bluster.
Bass Robert Pomakov as the Count di Luna's captain of the guard was rough voiced, well able to embody the military postures envisioned by the McVicar production. As well he suited the vocal flash urged by the conductor. Missing was the bel canto vocalism of his aria that opens the opera, giving us its back story as well as preparing us for the vocal fireworks that define this middle period masterpiece.
Michael Milenski
Adler Fellows Mikayla Sager and Edward Graves were appropriately cast as Inez and Ruiz.
War Memorial Opera House, San Francisco, CA, September 18, 2023.
All photos copyright Cory Weaver, courtesy of San Francisco Opera.