Farewell. This was an essential part of Sir Simon Rattle's second Prom at the Royal Albert Hall. It was a final farewell to his tenure at the London Symphony Orchestra as music director. The symphony he programmed, Mahler's Ninth, was, as Willem Mengelberg wrote, "A farewell from all whom he loved" or, as Bruno Walter thought, should have had the final movement of Das Lied von der Erde, "Der Abschied" (The Farewell), on the title page. For your reviewer, too, it was his own farewell to almost a quarter of a century from hearing this symphony in the concert hall.
But Simon Rattle was perhaps also here to make a point. And this was made through Francis Poulenc's Figure humaine, his 1943 choral masterpiece. It was with the BBC Singers Rattle chose to perform this work – a group who had earlier in the year been threatened with extinction. Poulenc's piece was composed during the bleakest period of the Nazi occupation of France; its text is by a French resistance poet, Paul Éluard – everything about this work symbolises the struggle against oppression and tyranny and the hope for freedom. But Poulenc also happened to entrust its premiere to the BBC Singers. If Simon Rattle was making a point – or a number of them – about one increasingly isolationist nation forgetting its umbilical connection to Europe then he was doing so here. There is much in Poulenc's work that explicitly ties Britain to Europe.
Encased within Éluard's poems is a language of persistent torment – but Poulenc creates something from this which is more directly patriotic in tone. His dedication of Figure humaine to Picasso (and he must surely have been aware of the symbolist power of a painting like Guernica) along with Éluard's own blend of Surrealist language gives Poulenc's work a specific vocal structure for the chorus. He uses a double choir in a combination of solo and combined voices, sometimes in dialogue. In eight movements, it is only in the last two that the horror of war is on the verge of meeting resistance and final liberty – the 'Liberté' of the last movement which ends on a triumphant fortissimo.
The performance we got was superlative, most notably in that final movement, by far the longest of the eight. It moves with astonishing, cumulative force – an unstoppable, wave after wave of vocal sound – that sweeps like a powerful surge of crescendos that cannot be resisted. The virtuosity of the BBC Singers was phenomenally precise, each phrase melding into the next like mercury. The galloping rhythms, changing modulations and sense of triumphant anticipation made it difficult to follow the text – but perhaps one didn't want to because the performance of it was so striking and exciting. In many ways, it stands in contrast to the rather more dense, slightly heavier and darker movements which precede it – those which depict trauma, and carnage. The rhythms seem broken and disjointed; metre varies more, and the dynamics can go as low as a whisper. The singing was as wonderfully crafted as a painting – but everything here had a sharp edge to it, no matter how thick or thin it had been drawn through each voice. The clarity of diction was immaculate – each as fine as the tip of a paintbrush applied against Poulenc's glorious canvas. Simon Rattle conducted with unwavering passion – this was a defiant Figure humaine, but also, I think, a very stark and powerful one. As with so many of Rattle's concerts when he works with the voice he strives for a vision of humanity; it was something he achieved here with the BBC Singers.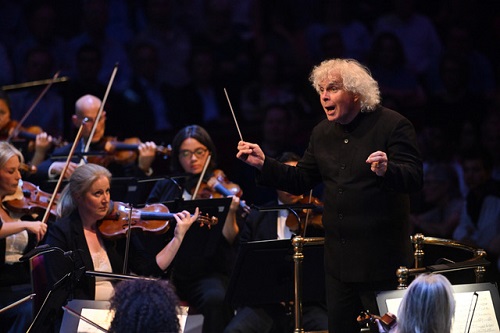 Almost twenty-three years ago, in my final year of reviewing performances of Mahler's Ninth Symphony, I reviewed a performance of the LSO and Simon Rattle in this very symphony – given on 28th October 2000 at the Barbican Centre. What seems so remarkable is how similar this Prom's performance seems to have been to what I wrote of the Barbican Mahler Ninth nearly a quarter of a century ago. I haven't pegged Rattle as a conductor who remains essentially static in his interpretations – although I do think with different orchestras Rattle is able to try different ways of working through the major works he conducts. The LSO has always been one of the most – perhaps the most – versatile instruments at his command.
I do think his view of Mahler's Ninth is more apocalyptic than many conductors approach it. I think, too, he has a tendency to make this symphony sound considerably more astringent, with a notable belief it is valid to acknowledge the Second Viennese School in some of Mahler's scoring where other conductors either see none, or under phrase it. Rattle is also much riskier with dynamics – when the music is loud it's terrifying, when it's quiet it's on the verge of inaudibility. There were some improvements in the Prom performance – the Ländler, for example, has become much more 'peasant' focused with better rhythms and the Rondo-burlesque is less grotesquely pedantic than it once was. The outer movements remain hugely impressive – and in at least one section of the Adagio I still believe no conductor I have ever heard in this symphony – in concert or on disc – comes close to how Rattle gets the LSO to sound.
Symphony it maybe, but the Ninth, especially the first movement, is dominated by song – at least seven of them. The opening itself, on second violins (which Rattle divides antiphonally), is the first – but we get them on a solo horn, as well as the duet on solo violins and so on. They were ravishingly done. I think Rattle sees even more cataclysm in this movement – the end of the second part of the development now has a brutal, inexorable power that makes its collapse all the more calamitous. With the coda, that morendo ebb, the hesitant fading on the flutes and oboes – and eventually the horn – sounded magnificent, another of the farewell calls, those Leb' wol.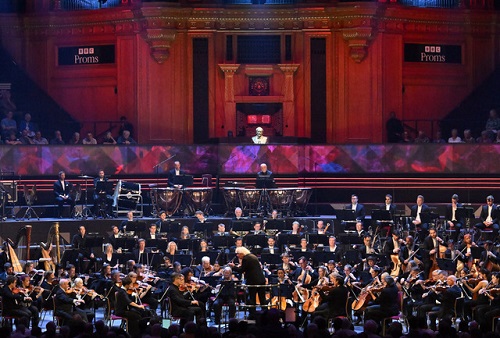 I think the Ländler was superbly done, although arguably some might have found it heavy. There was perhaps more of a 'death dance' to these waltzes; they had a macabre, wild gaudiness – kitschness if you like. But there was sufficient contrast with the ländler – with crude trombones and tubas – to offer sufficient contrast. Rattle has never really taken an over-rigorous pace for the Rondo-Burlesque and didn't here either. Nor, I think, does he make this music sound as overtly strange as some conductors (Bernstein, for example). But the sarcasm, pungency and subversiveness of the music has developed over the years – enough to make the introduction of the first theme of the Adagio a quixotic moment.
Rattle's view of the Adagio remains impressive. He relied on the power and depth of the LSO strings (magnificent cellos and basses) to give him enough weight to choose precisely the tempo he wanted – the majestic horns ringing like poetry over these great stanzas. His care to dovetail voices was impeccable – the contrabassoon and double basses, for example – and the willingness to let his players devolve into chamber groups brought out inner details often secluded in other performances.
As with so much of this movement, and its broken, disrupted crescendos, it's at the greatest extreme that Rattle and his orchestra proved incomparable: that great climax, the Wieder Zuruckhaltend marking just before Tempo I. First and second violins played with a unity of phrasing which was simply stunning; the fragmented notes, first at f and then reaching upwards to fff on note seven for the first violins remain one of his great moments in this symphony. With a coda – again so carefully attentive to the morendo marking – and poised concentration, the echoes of Kindertotenlieder on the symphony's extinguishing bars felt just magical. Memories of Abbado's justly famous 1994 Prom's performance of Mahler's Ninth were recalled as Rattle held his hands aloft before a silent, rapt audience. There was no farewell here really, but what we had heard was a performance that had great personal meaning.
I heard my first performance of Mahler's Ninth when I was seventeen years old – given in Berlin by Herbert von Karajan – and have heard less than a handful of truly great ones since. I don't think Simon Rattle's Prom Ninth was cut from quite that cloth, but it came close to it. It's certainly one that won't be forgotten.
Marc Bridle
Francis Poulenc: Figure humaine; Gustav Mahler: Symphony No.9
BBC Singers, Sofi Jeannin (chorus master), London Symphony Orchestra, Sir Simon Rattle (conductor)
Royal Albert Hall, London; Sunday 27th August 2023.
ABOVE: Sir Simon Rattle conducts the BBC Singers (c) BBC/Mark Allan