Who hasn't had a childhood dream of being locked in the British Museum or Natural History Museum overnight? What would happen if the exhibits came to life? Films and fiction feed such imaginings: for example, the eponymous 2006 fantasy-comedy film, based on the children's book by the Croatian illustrator Milan Trenc, and starring Ben Stiller, Dick Van Dyke, Mickey Rooney, and Robin Williams.
What such idle fantasies have to do with Rossini's La Cenerentola I'm not sure, and Jenny Ogilvie, who has directed Rossini's opera for English Touring Opera's autumn tour, isn't inclined to spell out the concept into which she has shoehorned the work. There is no article in the programme that might win one over to her vision of the opera. So, we must rely on Basia Bińkowska's striking sets and designs, handsomely and subtly lit by Charlie Morgan Jones, and consistently fine singing from the splendid young cast, in order to fathom out what on earth is supposed to be going on.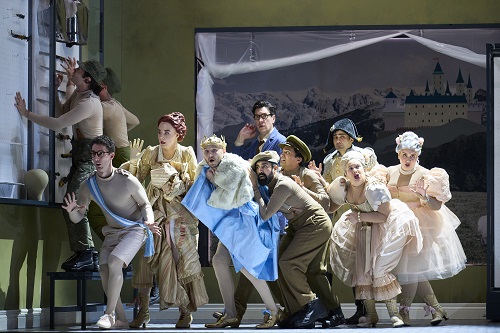 Fortunately, the fairy-tale itself doesn't need explaining, for all that Rossini and his librettist Jacopo Ferretti eschew glass slippers and fairy godmothers, and inject a satirical note. There's inherent darkness in this tale (as in so many 'fairy-tales'). In the version by the Brothers Grimm, not only do the cruel sisters gruesomely maim their own feet to crush them into the slipper, but at the close of the story, after the marriage of the Prince and Cinders, we are told that 'when they left the church, the elder sister was on the left, and the younger on the right. The doves pecked out the other eye from each one'. This is quite mild punishment compared to the fate of one of the pretenders in an Indonesian version of the tale, whom Cinderella pushes into a boiling cauldron, has her body cut up and pickled, and sent to the stepmother for her next meal.
Some Cinders are compassionate and kind, others are vindictive and violent. Ogilvie's Cinderella – Rossini's Angelina – is feisty and feminist. She doesn't need magic to make it to the party and she's certainly not meek in the face of familial meanness – a far cry from Perrault's passive heroine, who may, his moralité tells us, possess intelligence, courage, good breeding, and common sense, but whose talents are nothing if she doesn't have the blessing of a godmother.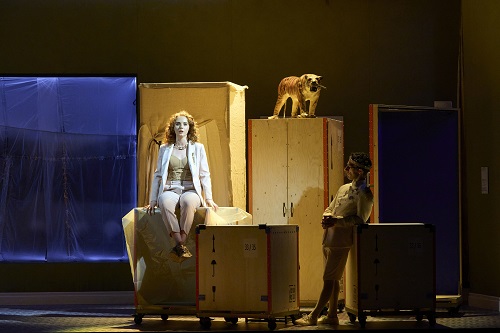 This Cinders is also a museum exhibit, as are all the characters in Ogilvie's production – excepting Alidoro, who is not the Prince's tutor but the soon-to-be-ex-caretaker of this cabinet of curiosities. It's his last night at the museum but if he thought that his working life could be put to bed in bubble-wrap and cellophane, and that he would have a quiet send-off, then he's mistaken. The new owner is hell-bent on clearing out the cabinets. The mannequins come to life, step out of their boxes and frames, and – amid scaffolding, pallets, stuffed tigers and a life-sized horse – mayhem ensues. Eventually everyone is put back in their box, except Cinderella who makes a poised – might one say smug? – departure: who needs a glass slipper when one can don glitzy sneakers? It makes the words of Cinders' last aria, 'E sarà mia vendetta il lor perdono' (And their forgiveness will be my revenge), which adorn the museum walls, somewhat confusing, but never mind. In any case, the cast sing a new English translation by Christopher Cowell, which is razor-sharp, rhythmically and waggishly.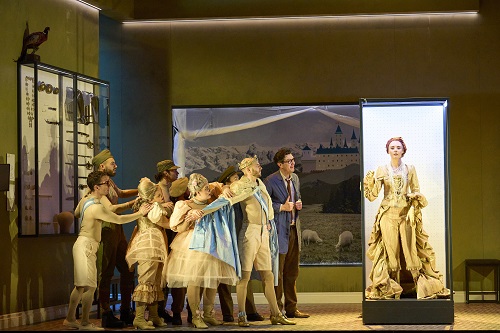 Ogilvie began her career as a dancer, then trained as an actor, and now works largely as a movement specialist. Her solo directing credits are The Burning Fiery Furnace for Scottish Opera in 2018 and Longborough Festival Opera's 2022 Emerging Artists double bill, Spell Book/La Liberazione di Ruggiero, an evening which I described (in a review for The Stage)as a celebration of witchery and womanhood which failed to cast its spell. Ogilvie has worked alongside many esteemed directors, though – including, on several occasions, Longborough's Polly Graham, who directs ETO's Spring 2024 production of The Rake's Progress. (Interestingly, Yshani Perinpanayagam, who arranged and conducted Caccini's score at Longborough, has 'modernised Monteverdi' for ETO's autumn-touring production of Poppea.)
This production is certainly all about movement, and much of it is masterfully manipulated. But, it's manic too. During the overture, wooden boxes whizz back and forth on gurneys, initiating a momentum which never ceases. There is no space for the opera's contrasts of light and darkness, of froth and focus. Yes, Rossini's music and wit are quicksilver. But, conductor Naomi Woo's tempi are so breakneck that it's difficult to appreciate the virtuosity and beauty of the talented young voices in action, and the kaleidoscopic complexity of Rossini's score. It's frenetic but there's no elasticity. So, the singers are rushed along – to their credit they balance skilfully at the crest of the tsunami of notes – and the opera's chamber-like ensembles, that let the humour speak and the drama breathe, don't make their expressive mark.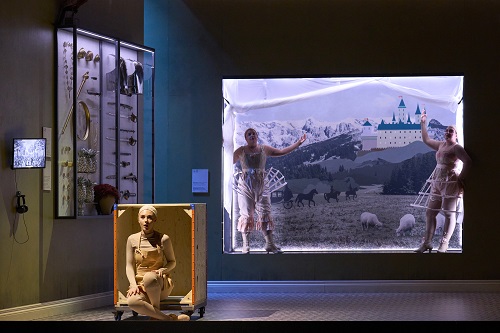 There is, as I say, some super singing to enjoy though.  As Cinderella, Esme Bronwen-Smith – who impressed in ETO's Il viaggio a Reims in the spring, used her claret-hued mezzo-soprano to convey the put-upon pauper's sadness, yearning and hopefulness.  Her fioritura was finely polished, the rapid scales up and down and round in circles were as smooth as silk and pristinely pointed, and alongside pizazz she oozed graciousness and warmth.  Edward Hawkins was an authoritative Alidoro and enjoyed his more expansive moments.  Edmund Danon was bursting with easeful roguishness as Dandini, and while his bass didn't always carry, Arshak Kuzikyan had measure of Don Magnifico's pomposity and patter.
Our 'prince', Don Ramiro was something of a nerd in this production, but Joseph Doody scaled the vocal heights confidently and with terrific agility. What a pity that he was whizzed off the summits by Woo. It would have been good to have had an opportunity to hear the sort of freedom that Doody might bring to the role. As the corseted and cossetted Tisbe and Clorinda, Lauren Young and Nazan Fikret, respectively, relished their ghastliness and delivered it which a high gloss finish. The male chorus (Zahid Siddiqui, Sandeep Gurrapadi, Theo Perry and Peter Norris) did good service as Don Ramino's footmen and more. All of the cast made the intricate vocal lines sound natural, which was no mean feat given Woo's haste.
In his Life of Rossini, Stendhal complained that after just a few bars of Rossini's introduzione to La Cenerentola, he was struck by 'a faint feeling of nausea' which 'never entirely dissipated' and recurred 'periodically throughout the opera, and with increasing violence'. He blamed his suffering on the lack of 'idealism' in the music, a 'banality' that failed to transport his imagination. One could not accuse Ogilvie of a lack of idealism or imagination: but I am still pondering the nude bodysuits that the cast donned. The one word that surely would never be associated with Rossini's La Cenerentola is 'beige'.
Claire Seymour
Cinderella – Esme Bronwen-Smith, Don Ramiro – Joseph Doody, Alidoro – Edward Hawkins, Don Magnifico – Arshak Kuzikyan, Dandini – Edmund Danon, Clorinda – Nazan Fikret, Tisbe – Lauren Young, Ensemble – Zahid Siddiqui, Sandeep Gurrapadi, Theo Perry and Peter Norris; Director – Jenny Ogilvie, Conductor – Naomi Woo, Set and costume designer – Basia Bińkowska, Lighting designer – Charlie Morgan Jones, Fight director – Zhenya Leverett, Wigs, hair and make-up designer – Katy Harris.
Hackney Empire, London; Saturday 7th October 2023.
ABOVE: Cast of ETO's production of Cinderella (c) Richard Hubert Smith