Is it man pitted against machines, or is it man sacrificed to machine? Or is it mankind sacrificed to machines. Sitting in the War Memorial Opera House for Mason Bates' The (R)evolution of Steve Jobs was being caught at ground zero.
It wasn't about a man named Steve Jobs, a high profile, tech giant. It was about making a machine or machines that consumed this man. The cancer that took the storied entrepreneur's life was his pursuit of perfecting and selling the machines that he (and his colleague Steve Wozniak) created — the machines that have come to dominate or, may we say, consume our lives.
Machines that by now, 2023, have come to make human intelligence obsolete, and to boot, have made San Francisco into a ghost city.
The final scene (of 18) of the opera is the memorial service for the Apple founder. His wife Laurene offers a cold-blooded assessment of the memorialists, noting that they cannot wait to leave so that they may check their phones.
The opera was created soon after Steve Jobs' 2011 death, and in the wake of the two immediate biographies. Its premiere was at Santa Fe Opera in 2017, and since it has traveled to Seattle, Austin, Kansas City, Atlanta, Calgary and Salt Lake City. Originally scheduled for San Francisco back in 2020, the opera, co-commissioned by Santa Fe, Seattle and San Francisco, is at last on the War Memorial stage, no worse for wear, indeed certainly well honed to a fine level of perfection.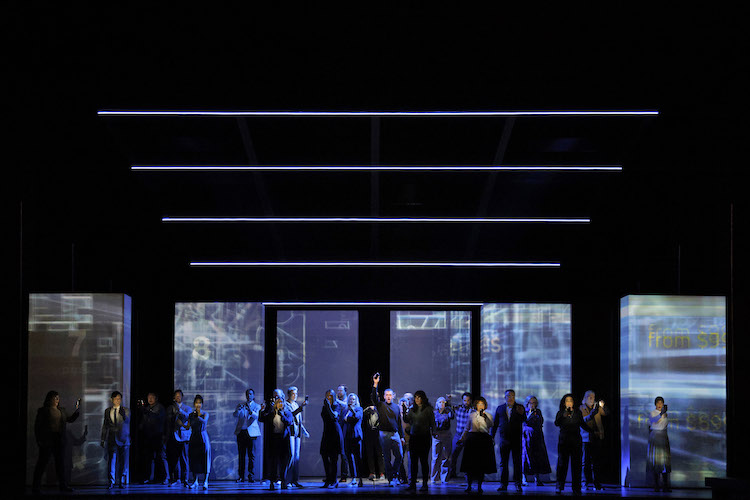 The book, by well-known opera librettist Mark Campbell, is a prologue, eighteen scenes and an epilogue that traverse, out-of-chronological-order, crucial moments in a progression of the Jobs obsession — his demand for simplicity and elegance, his denial of his basic humanity, his tenuous relationship with a Zen master, his dismissal of human responsibilities, his defiance of business models, his dependence on his wife. The disease, be it cancer or obsession, is established from the beginning, and in the end there is the final flash, the blast of intense white light that is the real, ground zero destruction.
Or was it connection.
Within the eighteen scenes Mr. Campbell has created the lyrical moments, in arias, duets and trios, that conspire to make a dramatic progression, much like a Handel opera. Many of composer Mason Bates' set pieces are absolutely gorgeous, in vocal lines that flow with lyrical elegance, and ease. The arias will likely become audition pieces for singers, given that they have impressive vocal requirement, and demand solid dramatic skill to pull off.
The (R)evolution of Steve Jobs holds a huge amount of composed music, of even superhuman magnitude, to the degree that you know this music had to have been created with mechanical aids — the technologies exploited by the Jobs Silicon Valley world. The musical style is basically Straussian, massive details in myriad tonalities, never straying too far from some sense of tonal center, and always seeming to go directly somewhere. And loud, very loud.
Among the conceits of the libretto is the likening the joys of obsessive work to musical sounds, to Bach, to oboes and flutes, etc. To our relief Mr. Bates' score does not take this literally. Perhaps the Bach moments are somewhat more structural, perhaps the instrumental references are given in somewhat sweeter sound. There is always a lot going on in the Bates sonic world, most of which defies easy definition.
It is big band, solid wall sound without many specific, emotional colors, created by limited winds (though two alto saxes), but very ample brass and full strings. There is amplified guitar for ears accustomed to such sound and lots of small percussive punctuation particularly in the libretto's Zen references. And electronics: two MacBook Pros (played just now by the composer).
The production staff, originally assembled by the Santa Fe Opera, is headed by stage director Kevin Newbury, well known in progressive opera circles, who worked with well known New York based Ukrainian multimedia artist Victoria Tzykun as the set designer. The lighting designer Japhy Weideman boasts Broadway credits, and the team behind the extensive projections, 59 Productions, boasts Las Vegas and Bilbao credits.
In this ninth edition the production showed itself as very slick, practiced, Broadway style theater. Though one assumed the six, sizable moving panel, actually boxes, that functioned as the set were magically, flawlessly moved, magnetically at the very least, by Silicon Valley technology. The information sheet given the press however indicated that they were physically moved by 12 stagehands, the myriad projections on their surfaces effected from within.
Thus we have been assured, theatrically at least, that machines have not replaced humans, disproving the opera's premise, or proving the opera's premise that even Steve Jobs was human.
The singers, including the 24 choristers, were skillfully amplified, credited to sound designer Rick Jacobsohn, making the words delivered by the skilled singers easily, uniformly accessible.
From the original Santa Fe Opera production comes conductor Michael Christie, mezzo soprano Sasha Cooke as Steve Jobs' wife Laurene, and Chinese bass Wei Wu as the Zen master. Both singers and maestro Christie are on the Grammy Award winning recording that came out of the Santa Fe premiere.
It is unclear from the program bios which of the various editions of the production were sung by John Moore as Steve Jobs and Bille Bruley as Jobs' best friend Steve Wozniak, but these fine, practiced performances were not role debuts.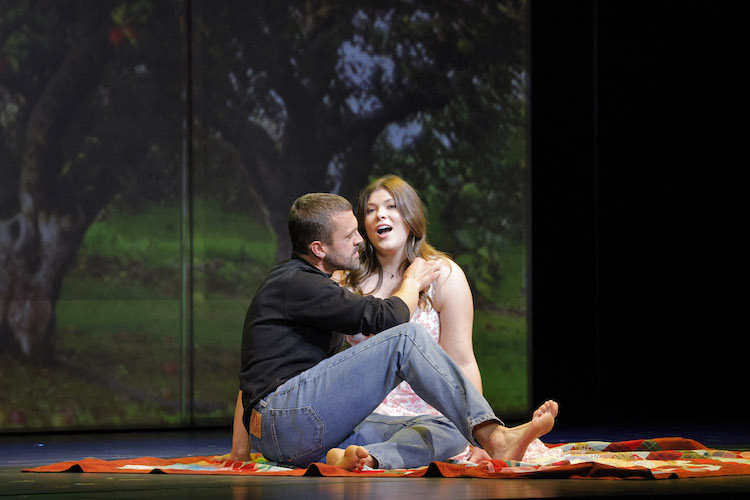 Adler Fellow Olivia Smith gave a moving portrayal of Chrisann Brennan, Jobs' rejected girl friend and mother of his daughter Lisa (a name, librettist Campbell has Jobs say, better suited to an operating system). The pivotal moment when the Reed College teacher imparts to Jobs the significance of a completing a circle was effectively delivered by Adler Fellow Gabrielle Beteag. The myriad small roles were undertaken by members of the San Francisco Opera Chorus.
The epilogue returns to the beginning, Jobs father Paul, sung by baritone Joseph Lattanzi, presenting his son with a simple work table, but now looked upon by Steve Jobs wife Laurene.  It was a compelling evening at San Francisco Opera. Steve Jobs was one of us. Mason Bates is one of us.
Michael Milenski
War Memorial Opera House, San Francisco. October 3, 2023