Lili Boulanger's life and composing career were tragically all too brief. Born in 1893, into an eminent musical family, she was both a prodigy and a pioneer, becoming the first woman to win the composition Prix de Rome for her cantata, Faust et Hélène, at the age of just nineteen. She was obliged by the regulations of the Prix de Rome to compose works in particular genres during each year of her stay in the Villa Medici; one requirement was to write a group of songs. In fact, though, Lili began sketching the songs that would form her song cycle Clairières dans le ciel (1914) on route to Rome.
Ill heath had delayed her departure from Paris until February 1914, and she and her mother stopped off in Nice, staying with Lili's friend Miki Piré and her family until 2 March. During this visit, Miki introduced Lili to a book of poems, titled 'Tristesses', by the symbolist poet Francis Jammes (1868-1938). She selected thirteen poems from Jammes' collection, deliberating carefully – as her sketchbook, now housed in the Bibliothèque Nationale de France, reveals – which to include and in what order. The poems that she selected delineate a narrative of love as told by a young, quite inexperienced young man, from first feelings, through developing passion to disillusionment, with the final poem looking back on the lovers' first meeting.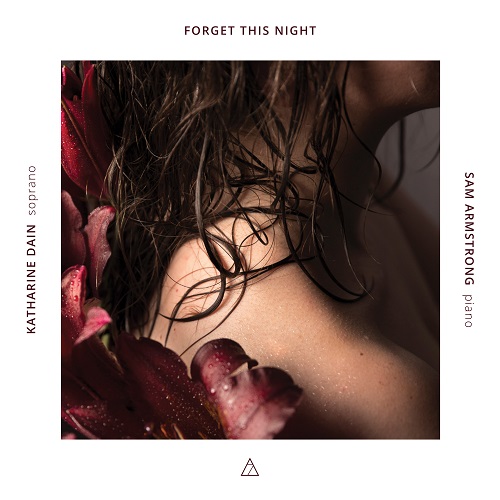 Caroline Potter, in her 2006 book Nadia and Lili Boulanger, suggests that the poems' use of the future tense may suggest that their relationship is unconsummated, 'and perhaps one that exists more in the mind than in reality', adding that 'while the narrator looks back in sadness on the end of the relationship, there is no mention of a break-up in the poems, again suggesting that the woman is idealized and the affair happened more in his imagination than in reality'.[1] Potter also notes the suggestion by Lili's biographer Léonie Rosenstiel that the composer – 20 years old when she began composing Clairières dans le ciel, but in poor health and unable to pursue any feelings that she may have had for her various male friends (particularly Jean Bouwens) – may have identified with the object of the protagonist's love, a tall, young girl who suddenly and mysteriously vanishes from the poet's life.
Following her Prix de Rome triumph, Lili won a contract with Ricordi which did give her some financial stability. But, the Italian publishing house wrote to the composer in December 1916, explaining that 'as two-thirds of our employees are mobilized, it has been impossible for us until now to make a proof copy of Clairières dans le ciel', and the cycle was published posthumously. Accompanied by her sister, Nadia, Lili had sung a 'private premiere' for Miki in May 1917, but the cycle received its official premiere on 8 March 1918, one week before Lili's death.
Clairières dans le ciel is the central work on a new recording, Forget This Night, by soprano Katharine Dain and pianist Sam Armstrong which will be released on 17 November on the Dutch label 7 Mountain Records.  The cycle and other songs and piano music by Lili Boulanger are presented alongside songs by Karol Szymanowski (1882-1937) and Grażyna Bacewicz (1909-69), forming a programme which is described as presenting parallel journeys from 'erotic anticipation to loss, and further: to acceptance'.  The album's title is drawn from a poem by Rabindranath Tagore, set by Bacewicz in a Polish translation, and in German by Szymanowski, which underlines the delights and dangers of ephemeral connection.  And, in the accompanying material Katharine Dain draws attention to three questions which the recital asks us to reflect upon: 'How fully do we allow ourselves to open and blossom despite the knowledge that our bodies, desires, and relationships are ephemeral?  Can we find meaning in fragile moments of love and beauty—although they pass, as they pass, because they pass?  How did these composers, writing amid the political upheaval of Europe at the crossroads of two world wars, celebrate what is fleeting and cope with inevitable loss?'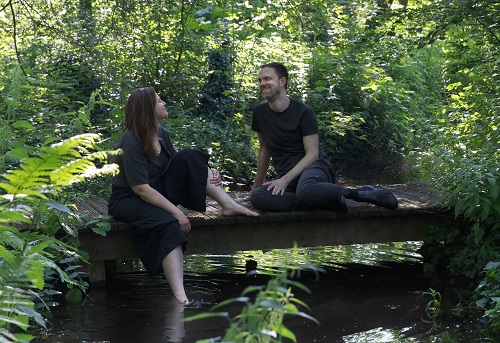 I met with Katharine and asked her how this carefully curated programme had come about?  "It took a while to bring all our thoughts together, to bring them down to size," she remarks.  "It was two years since Sam and I had released our first disc [their highly regarded debut, Regards sur l'Infini] but there was still not a great deal of live music happening, and we hadn't had opportunities to perform that first programme live.  We didn't want to rest on the success of that album, and we had time available, so we began to plan a recital around Lili Boulanger's Clairières.  I'd been aware of the cycle, but performers tend to select just the same two or three lovely songs – they are gorgeous, impressionistic."
As Katharine says, there's certainly nothing wrong with presenting excerpts if it brings the cycle to listeners' attention, but she and Sam began exploring the whole 37-minute work, which Katharine describes as extremely intense to hear and to perform. They studied existing recordings, too. "Only one or two seemed to speak of the drama of the whole cycle. Its narrative is cyclic, and it's a story that is hard to tell well, to really communicate the passage of time and thought – it's a journey almost like Winterreise. We considered performing just six, say, of the thirteen songs, not over-programming, but I was keen to present the whole cycle. Sam wasn't sure!" As the date of the concert approached, Katharine and Sam prepared all the songs, thinking that they might make a selection, but later agreeing that they should perform Clairières in its entirety.
"The performance felt like a huge statement," says Katharine, who memorised the cycle for that first performance. "It was devastating and astonishing for us and everyone present. We didn't really appreciate how highly emotional the work is and the impact it has – it hits so hard. I've only once performed Poulenc's La voix humaine – and I was wrecked! Lili's cycle is very similar, it packs an absolute punch, the last two songs especially. After that performance we just knew, 'That's it – our next project!' We gave seven or eight live performances. Lili may only have been 24 years old when she died, but this is not juvenilia – it's a major work by a major composer. It's stunningly good: acute, modern, a psychological fragment of a particular time."
I ask Katharine when she first heard Clairières, and whether it made an immediate impact on her? "It was while I was studying at the New York Conservatory. Some students programmed some of the songs in their recitals, and I listened to the beautiful recording by Heidi Grant Murphy. What is so striking is the way Lili's musical fragments articulate an attempt to cope with what is lost, all the immense beauty of the relationship. The protagonist is awed by the beauty of the young girl, afraid of what might be lost, and seeks to gather validation or comfort from nature and from a religious icon which the narrator has received from his mother." (Caroline Potter points out that Lili Boulanger herself had a similar Russian medal, a gift from Miki Piré.)
The fifth song, 'Au pied de mon lit', introduces the icon of 'a black Virgin' that was placed at the foot of the young man's bed by his mother and which he says he loved 'with an almost Italian fervour'. "It begins with a simple chordal introduction," says Katharine, "but in the central part of the song the music and poetry open up, deriving fantastical, crazy images from the icon. And, then, the bottom falls out of the little prayer. The song twists from one thing to another in a moment, on a turn of a dime." Katharine adds, "One can hear the influence of Tristan, too, in the sixth song, and again in the final three. These songs are both earthy and dreamy. There is disillusionment in 'Si tout ceci n'est qu'un pauvre rêve', and all the young man can do is seek oblivion, 'dark madness' in the softness of the wind and the rain."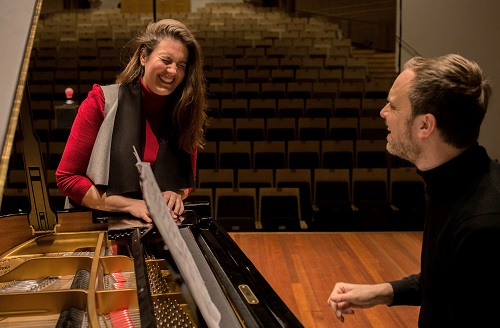 The treatment of time in the cycle is innovative too, I suggest? "Yes, the songs are not linear, there are jumps and flashbacks. In the third song, one has a sudden realization that this is an evocation of the past which is made vivid in the present. Lili was in her early twenties, but she was breaking new ground – there's no other music from this time which is the same to sing. The songs present different times, states and realities simultaneously. Essentially, they seem to ask, 'How can we live and be in the present when we know it will end?' and they explore love, death, youth, innocence. There's a tension in the songs, a strong sense of the present but also an awareness that it is about to unravel."
Interestingly, in her sketchbook Lili notes under the first song 'Elle était descendue', 'toutes ces mélodies devraient être chantées avec le sentiment d'évoquer un passé resté plein de fraîcheur' (all these songs should be sung with the feeling of evoking a past that is still fresh in the mind). Thus, in the opening song's gentle rhythms, drifting harmonies and languid arpeggiated chords at the close, one feels the tenderness and wonder of that first meeting in a wet meadow, sharing the dreamy reminiscence of the girl's gaze which has 'the look of lavender flowers'.
In the booklet accompanying the disc, Katharine has provided her own English translations of Jammes' French texts. "Jammes tried to break into the Symbolist scene in Paris," Katharine explains, "but he continued to live in a rural area in the Pyrenees. His poems are 'of their time', and share characteristics with Apollinaire and others, but he was not considered part of the broad currents of French literature at the time. This did bother him, but he made a virtue of it, staying in his mountain hamlet and focusing on bucolic life. His treatment of time and psychology is complex, and connected to nature – the imagery of the first song is wonderful! The woman in the wet meadow, the marshy flowers in full bloom, which the young man picks. One is immersed in nature: nature is life, love, sensory experience – the water and the flowers one and the same with the emotional experience. What Lili Boulanger does with this imagery is special: one feels that one has lived among the storms, peach trees, blossom, and that one is connected to the passage of time."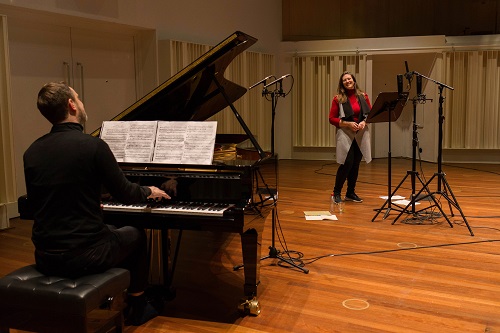 The third song 'Parfois je suis triste' conveys turbulent, raw emotional shifts as present sadness is transformed through memory to delight, fear, bewilderment. And, 'Les lilas qui avaient fleuri' is equally restless, love and hope seeming as fragile as fading flowers and scattered blossoms, nature promising rebirth but dreams remaining uncertain or denied. The changing metres and figuration communicate a drama of fluctuating feeling, the crystalline quality of the opening giving way first to intensity and distress, "Mon coeur devrait mourir au milieu de ces choses" (My heart should have died amid these things), then to painful uncertainty: the vocal line is pianissimo but infused with ardour, the piano's syncopations drifting and distant. The final song, 'Demain fera un an' recalls motifs from earlier in the cycle, the repetition of the first phrase of the opening song dissolving into what Thomas Hardy might describe as 'wan wistlessness': "Plus rien, je n'ai plus rien, plus rien qui' me soutienne" (Nothing more, I have nothing more, nothing more to sustain me).
Katharine and Sam's programme also includes Boulanger's early song, 'Attente' (1911),  which sets a strange, elliptical text by Maurice Maeterlinck, the imagery of which fuses the sensuous and the spiritual, as well as two of the composer's Trois morceaux pour piano.  I wonder how the duo arrived at their decision to weave music by Szymanowski and Bacewicz around Boulanger's music.  Katharine explains, "Szymanowski may not have met Lili Boulanger, but they certainly knew of each other.  In some ways they had the same experience, though he was older; they were both immensely talented but not entirely accepted by their societies – he as a gay man, she as a female winner of the Prix de Rome.  They both had to reconcile their professional and personal lives, and did so in musical scores which are passionate, unafraid to express their own emotional 'extremes'."
"Both composers had to play by the rules," she continues, "but at the same time did their own thing. They were thinking about the same things," she suggests. "Death: Lili knew that she would not live long and she had to create what she could; Szymanowski also had to exist in the present. In Vienna and then in Sicily and North Africa he found himself in places where social views were less rigid, and his aesthetic developed in radical and creative ways."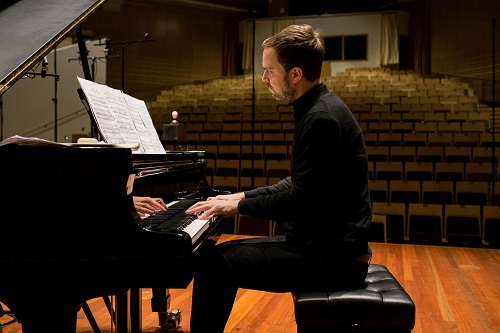 Performances of Boulanger's orchestral and choral works are becoming more frequent, but Katharine notes that – although one does find Szymanowski's music for violin on concert programmes, his Mythes (1915) and the two violin concertos, for example – the Polish composer's songs are not well known, and she suggests that they are hard to programme. But, there are musical commonalities. In the same year that Boulanger composed 'Attente', Szymanowski composed Des Hafis Liebeslider Op.24. Just as Boulanger's cycle is vividly joyful, expressing the joy and wonder of experience – Katharine describes the score as communicating "fizzy, sparkling feeling" – so Szymanowksi's songs exploit the widest possible range of coloristic detail and emotion.
"He is expressing a heavy realism but in music which is incredibly vibrant and intense," she says. The centrepiece of the Szymanowski songs presented on Forget This Night is Das Grab des Hafis (1914) which is the culmination of his second Hafez cycle. The Persian lyric poet was, Katharine comments, a source of great inspiration for the Polish composer. "In this final song of the Op.26 set, the poet speaks of his death, but imagines his grave as something so sweet: 'Nowhere else in Persia do the nightingales sing as sweetly as there.' It's a wonderful image of the afterlife, saturated with the beautiful, intoxicating experiences of life – the scent of flowers, of wine. In this way, it suggests how one can overcome huge ruptures by living life as fully as one can."
The third composer whose music is represented on the disc is Grażyna Bacewicz, and Katharine explains the reasons for her inclusion in the programme. "She was in Warsaw when Szymanowski was there, and she studied with Nadia Boulanger in Paris. She lived through World War II and her songs ask many of the same questions that we find in those by Lili Boulanger and Szymanowski, but there is a directness, sometimes humour, always clarity in the musical writing. Sam and I wanted both similarity and contrast. Bacewicz breaks the heady mood of the other two composers and offers a breath of fresh air. She found her own voice remarkably quickly and has a strong, recognisable style. The rhythmic energy of her music is striking – the songs are full of life. She seems to open up huge oceanic structures, with strong motion below. It's remarkable what she achieved."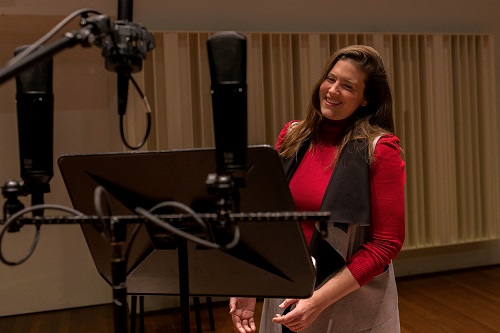 Some of the Szymanowski songs set German texts, but others, and Bacewicz's songs, are Polish settings. I suggest that she was brave to tackle songs in this language! "Yes – I was up for Polish!" she laughs. It is a tough language, but I had help from friends and colleagues, in particular from the pianist Marek Ruszczynski who was the language coach for the Royal Opera House's production of Krol Roger in 2015. I had to learn how to navigate the way the front of the mouth changes when articulating certain vowels and about the placement of the consonants. I wanted to do it well. But, the huge challenge was absolutely worth it, for the language – like French, in fact – has a different, distinctive colour, and this is something that is really important on the disc.
The penultimate song on the disc is Szymanowski's 'Pochyl się cicho nad kołyską' (Lean silently over the cradle) which Katharine describes as quite minimalist, as everything is subsumed into nature, into the black, black pond'. "It's a lullaby, and makes use of folk material. It looks at death in a calm way, and is like a cool cloth on the forehead after Boulanger's cycle." But, the disc ends with Boulanger: her fragment, 'J'ai des fréponds' (I have pains). It was never intended as a public piece but illuminates the difficulties of the final months of her life, ending with resignation: 'It's my fate. It's not nice.'
Forget This Night is released on 17 November on the Dutch label 7 Mountain Records.
Stream/download/buy here: https://lnk.to/KatharineDainRegardsSurLInfini
Claire Seymour
---
[1] See Potter, C. (2006) 'The Music of Lili Boulanger after 1913', in Nadia and Lili Boulanger. Routledge, pp. 107–142.
---
1911