First unveiled at Glyndebourne in May (review), Paul Higgins's revival of Don Giovanni leaves Mariame Clément's interpretation largely untouched, yet questions about her staging and its ambiguities remain unexplained.  Most worryingly is the absence of dramatic tension and a confusing directorial game plan. That said, Clément's production is not without fresh ideas, but despite the tweaking of action and character, itself creating some interesting perspectives, the whole (not unlike her comments in the souvenir programme) feels unfocused.  Reservations aside, this reboot enjoys strong and mostly well-defined performances from a young cast supported by excellent playing under the baton of Stephanie Childress.
A century after Mozart's dramma giocoso, Giocomo Puccini claimed that the success of a theatrical production depended on the achievement of three laws: 'to interest, to surprise, to move.' Certainly, the first of these rules are fulfilled here, although it's an interest rooted in obscurity and unanswered issues. Why, for instance, does the death of the Commendatore look more like an accident than a callous murder?  It's not the most convincing piece of staging and it left me wondering of the need for divine retribution.  And why does Don Giovanni later appear to catnap on the chalked outline of the Commendatore's body and desecrate the ground with a fountain spray of beer?  We already know this serial seducer is morally reprehensible, but these little extras merely raise further questions.  Why also, is the latter part of Act 2 lit so garishly?  Replacing the supernatural element with a vulgar Las Vegas style front stage surely undermines the encounter between the Don and the return of the ghostly Commendatore?  Dramatic tension has never felt so limp.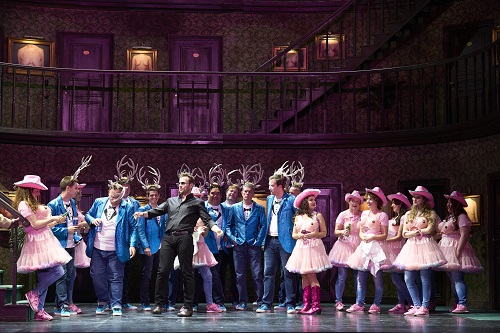 Returning to Puccini's laws, if there was any surprise it was the expanded characterisation of Don Ottavio, now much less dull than often presented and shown to possess a noble, even heroic soul – the very opposite of our disreputable predator and a marked contrast also to the vacillating Leporello whom Clément describes as 'today's man'. If we are simultaneously attracted to and repelled by the Don, it's a shame this one is curiously underwhelming, seductive charm and magnetism largely absent, and a personality neither brimming with testosterone nor obviously murderous. Too often he is eclipsed by Leporello and fussy stage business such as his filming of Zerlina while pursuing her or the cradling of a baby during his Serenade. The one comic surprise is the sudden transformation of framed 'old masters' for multiple bare breasts signalling the 'Catalogue' aria, but it's merely a cheap gag objectifying women.
Whatever doubts I had about this revival, the music making is consistently rewarding. Andrei Bondarenko as the Don displays impressive versatility in his neatly articulated 'Champagne' aria, and an eloquently sung 'Serenade'. Sam Carl – a mackintosh clad Leporello – inhabits his role as put-upon servant and reluctant co-conspirator with ease. He brings plenty of assurance and gusto to his 'Catalogue' aria and makes a persuasive job later of his impersonation of the Don. Occasionally he pushes his baritone too hard and coarsens the tone, but he captivates with the authority of his performance, and there's no lack of chemistry with his master.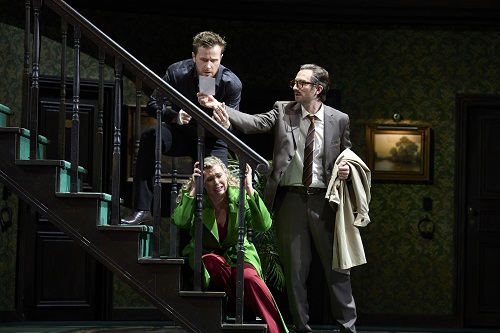 There's believable interaction between the two sets of couples. Kseniia Proshina, as a resolute Donna Anna, engages well with Nico Darmanin's finely sung Don Ottavio, his Act 2 'Il mio tesoro' prompting sustained applause. Charlotte Bowden is just right as Zerlina; knowingly coquettish in her exchanges with the Don and turning her affections all too swiftly back to Michael Ronan's resentful Masetto. Her 'Batti, batti' is a highpoint. Alexandra Lowe makes a sympathetic Donna Elvira, fully encompassing the role's wider emotional range and praying at the end for the soul of the man who has betrayed her. Ivo Stanchev makes a worthy Commendatore.
It's in the pit where this Don Giovanni is given exceptional life, with Stephanie Childress directing the Glyndebourne Sinfonia and revealing herself to be a Mozartian to her fingertips.  She illuminates felicitous detail with well-judged pacing and a fine ear for balance.  Above stage, there's little or no change in the hotel location hired for a debauched stag and hen weekend, the cast colourfully attired by Julia Hansen. Overall, it's a fun and musically striking production, but ultimately puzzling and needing a clearer dramatic arc.
David Truslove
Don Giovanni – Andrei Bondarenko, Leporello – Sam Carl, Donna Anna – Kseniia Proshina, Don Ottavio – Nico Darmanin, Donna Elvira – Alexandra Lowe, Zerlina – Charlotte Bowden, Masetto – Michael Ronan, Il Commendatore – Ivo Stanchev; Director – Mariame Clément, Revival director – Paul Higgins, Conductor – Stephanie Childress, Designer – Julia Hansen, Costume designer – Yoon Bae, Lighting designer – Bernd Purkrabek, Projection designer –Étienne Guiol, Fight director – Keith Wallis, The Glyndebourne Sinfonia & Glyndebourne Chorus.
Glyndebourne, Sussex; Sunday 12th November 2023.
ABOVE: Don Giovanni (Andrei Bondarenko) and Leporello (Sam Carl) (c) Richard Hubert Smith