The black man Omar Ibn Said was forcibly brought from sub-Saharan Africa to South Carolina in 1807. He was sold, becoming an indentured person for life (d. 1863). Omar the opera delves into the fascinating complexities of this life.
Omar was a 30's-some years-old Islamic scholar at the time of his abduction [Islam had come  into the western sub-Sahara in the sixth century CE]. As a Qur'an scholar he had learned to read and write, thus his enlightened American owner gave him a Christian bible in Arabic to hasten his inevitable conversion. Omar, a noted personality in his time (he was dubbed an Arabian prince), created brief phrases in Arabic to assuage the Southern gentry's taste for exotic shapes, and as well left an array of short documents in Arabic. One is titled "I cannot write my life."
These texts have proven very difficult to decipher (casual grammar, weird syntax, etc.), though recent scholarship claims to have done so. While some brief texts are embedded within the opera's libretto, Omar the opera creates a framework for Omar's Allah to become enmeshed within South Carolina's Jesus.
There is no underlying operatic tension (will he or even can he change his faith?), thus the opera is more an oratorio — a series of tableaux that imagine and elaborate key moments of Omar's spiritual life. He has two guides in the opera's libretto — the first is his mother who tells him that there is no direct path through life, that there may well be sharp bends. The second is the slave girl Julie who encourages him to escape his initial bondage and come to Fayetteville where he joins her among persons indentured to the Owens family.
Omar is not an operatic tale of two slaves falling in love. Julie is but Omar's talisman. She brings him to a magical Fayetteville [NC] where Eliza, the daughter of the Owens family patriarch Jim, in her innocence, recognizes his spirituality. Jim asks Omar to write in Arabic script "the Lord is my shepherd" — the 23rd Psalm, though Omar writes "I want to go home!" Jim is none the wiser.
The opera then embarks on an extended meditation of the 23rd Psalm — "[the Lord] maketh me to lie down in green pastures: he leadeth me beside the still waters," etcetera, and concludes with a huge finale of the three principal voices (Omar, Julie, the Mother) joined with the sizable ensemble of black singers to intone, hugely, Omar's invocation that they love and respect their roots, their ancestral home, Allah be praised.
It is unfortunate that this religious oratorio arrives at this particular moment in human history, when religions, any and all, are held in particularly low esteem. At the same time it is exciting for opera, and particularly opera in America, to discover this rich trove of stories that cry out to be told in this sumptuous, multifaceted art form.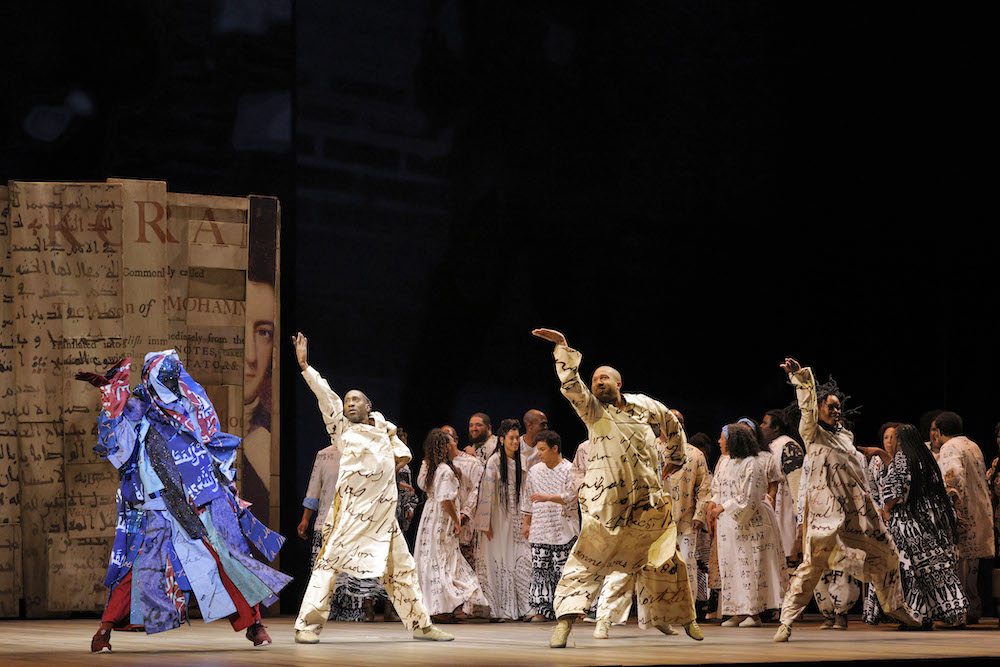 The libretto is quite brilliant, evoking the 16th century pastoral poetry that fostered the origins of opera. Much use is made of rhyming, that both recalls the Italian pastoral poets (Tasso, Guarini, et al) and the musicality associated with the inflections of the early forms of African American Language [AAL]. There is a canny respect for the formalities of opera that have developed over the last few hundred years — well placed arias, songs, plus a number of duets of very satisfying dramatic intensity. And, of course, there is the magnificent Mozartian finale the ends the opera. 
This excellent production of Omar originated at the Charleston's Spoleto Festival in June, 2022 traveling to LA Opera that fall, continuing to Boston Lyric Opera this past May. It is staged by Kaneza Schaal, a veteran of high art theater in the U.S., upholding that reputation with this spare, Broadway style staging. Design credits are varied, certainly the look can be attributed to Christopher Myers, a New York based interdisciplinary artist rooted in storytelling and artmaking (tapestry, etc.), thus explaining the wonderful "primitive art" slave ship back drop in the first act and the magnificent rope construction that was the huge tree of life that looms in the opera's finale. Scenery design is ascribed to Amy Rubin, lighted by Pablo Santiago.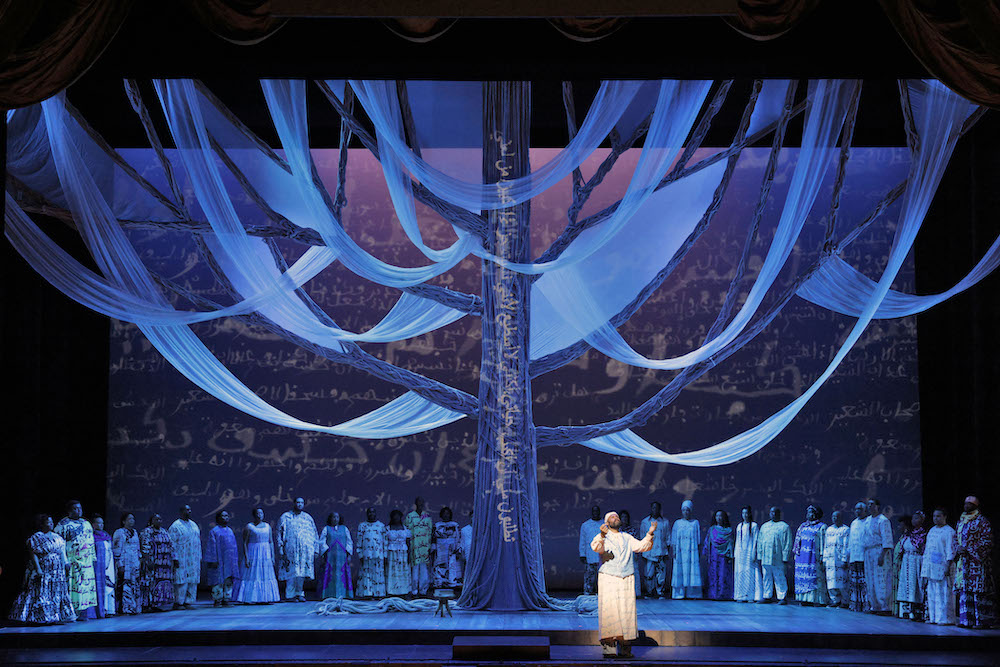 The costumers, April M. Hickman and Micheline Russell-Brown, supported stage director Schaal's nifty framing of the opera — at the beginning singer Jamez McCorkle, very much a black prince, comes from the auditorium onto the stage in an "Alice in Chains" t-shirt (a Seattle based rock group) and white sneakers where he becomes the enrobed Omar. At the conclusion of the opera, an instrumental postlude allows him to return to his contemporary, non-ceremonial status, descending, transformed, again among us.
The musical score was created by both the librettist, folk singer Rhiannon Giddens, and film composer Michael Abels. It is richly colored and exceedingly descriptive, and is of little interest. The Omar score took the 2023 Pulitzer Prize for music. The great accomplishment of the score's creators was its formal structure, presumably the collective efforts of the librettist, composers and stage director. No dramaturg is credited.
Tenor Jamez McCorkle was superbly voiced as Omar, in a focused, ringing tenor. Of wonderful, refined singing as well was the Jim Owens of Canadian baritone Daniel Okulitch, this quality performance added significant and much needed dignity to the Jesus camp. Character tenor Barry Banks as the auctioneer had the dubious distinction of singing the word "nigger." Though soprano Brittany Renee as Julie fulfilled the role's vocal needs, neither she nor mezzo soprano Taylor Raven as the insufficiently voiced mother achieved the electric presences needed to galvanize these two essential roles. Mezzo soprano Laura Krumm as Jim Owen's daughter Eliza, did find the magic of her role, the third of Omar's muses.
Assembling a cast for Omar is much like the daunting task of assembling a cast for Porgy and Bess. The smaller roles and the larger ensembles were all effectively realized. The San Francisco Opera Orchestra, conducted by John Kennedy, was double winds and trumpets, triple horns and trombones, piano and harp, and full strings. Plus a panoply of African drums tapped by three European percussionists.
Michael Milenski