'I've seen & am seeing Auden a lot, & our immediate future is locked with his, it seems.' So wrote Benjamin Britten to his sister, Barbara, on 3 September 1939.[1]
Britten met Auden for the first time on 5 July 1935, when the latter had begun working for Rupert Doone's GPO Film Unit. Though the younger composer was awed by the already renowned intellectual writer and left-wing spokesman, their admiration was mutual. When he heard the incidental music that Britten had written for the song, 'O lurcher-loving collier, for the film Coal Face, Auden was convinced he'd found the composer to collaborate with the writers, poets, designers and directors, including Christopher Isherwood, Louis MacNeice and Henry Moore, who were collaborating on GPO projects, and on plays for the Group Theatre, praising Britten's 'extra-ordinary musical sensitivity in relation to the English language'.[2] In turn, Britten wrote to Marjorie Fass on 30 December 1935: 'I haven't had time to read much Auden yet – but I feel that most of it is definitely going to be for me – knowing him as I do, & feeling quite a lot in sympathy which his ideals. I am working with him on various projects outside films – it is a treat to have someone of his calibre to think with!'[3]
Those projects would include incidental music and cabaret songs composed for Auden and Isherwood's play, The Ascent of F6, the song cycles Our Hunting Fathers (1936)and On This Island (1937), individual songs setting Auden's poems – 'Fish in the Unruffled Lakes', 'Mother Comfort' and 'Underneath the Abject Willow' – and the operetta Paul Bunyan (1941). The latter was written after Britten and Peter Pears had followed Auden to American in 1939, perhaps in search of the intellectual and creative freedom that, as a Conscientious Objector and homosexual, he felt he would be denied in Britain. From the start of their personal and professional collaboration, though, Britten was somewhat awed by Auden's intellectual dominance. An oft quoted, excoriating and in some ways prophetic letter written by Auden to Britten in 1942 resulted in an irreparable schism between the two men. Britten and Pears returned to England later that year. Hymn to St Cecilia setting texts by Auden was completed during the journey home.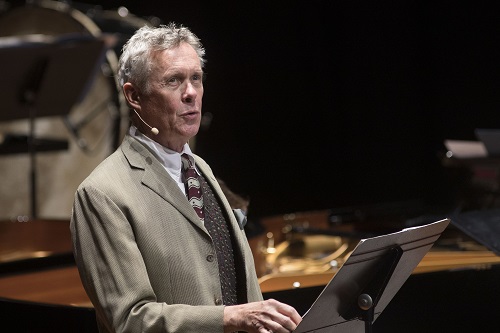 Described as 'an evening of musical-literary collaborations and collisions', Perfection, of a Kind – its title derived, somewhat cryptically, from Auden's poem 'Epitaph on a Tyrant' – was presented by the City of London Sinfonia and the London Review of Books at the Queen Elizabeth Hall, and traced the arc of Britten and Auden's association and creative partnership. Interwoven around and between works such as Britten's Simple Symphony, the Op.1 Sinfonietta, incidental music for The Ascent of F6 and Night Mail, and two of the Cabaret Songs, performed by Johnnie Fiori, were dramatisations and readings. Resuming his 2009 role as the elderly 'Benjy' in Alan Bennett's The Habit of Art, Alex Jennings bantered sardonically with Barrie Rutter's Auden, in an imagined meeting between the men in late life. Writings from the LRB archive by Frank Kermode – his 1991 review of the first two volumes of Britten's letters and diaries, edited by Donald Mitchell and Philip Reed – were juxtaposed with excerpts from those published letters and diary entries, poems, plays and books, tracing, in a non-linear fashion, Britten and Auden's creative and personal relationship.
Their voices amplified, Jennings – dapper in a beige suit and brown, button-strewn waistcoat, upright and reserved – and Rutter, sporting a sky-blue neckerchief against dark casuals, more physically animated and gritty – delivered the varied texts with expressive wit and vigour. Jennings combined cut-glass eloquence with a certain starchiness, a quasi-Anglican righteousness. Rutter was more restless and perhaps didn't quite capture Auden's infamous shambling 'shapelessness', described, for example, by Alexander McCall Smith (in the New Statesman in 2013) when recalling hearing Auden at a public event in the 1970s: 'He was a terrible mess: a shapeless grey suit, stained and covered, as far as I could work out, in cigarette ash, complemented by a pair of ancient carpet slippers and that face, famously lined with what he called its geological catastrophe. The same face has been described as looking like a wedding cake left out in the rain.'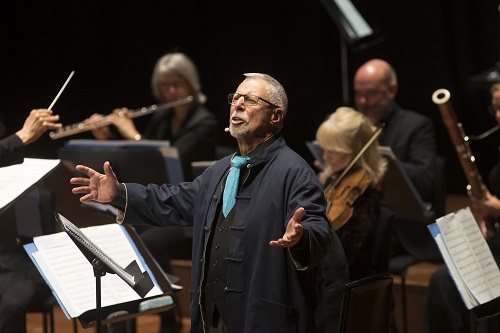 If Rutter didn't replicate the somewhat, deflating matter-of-factness of Auden's public readings, he did bring vigour and sincerity to Auden's notorious 1942 letter, in which he wrote to Britten of the dangers 'that beset you as a man and an artist because they are my own' and of the need to find a balance between 'Bohemianism', which alone results in 'a mad jumble of beautiful scraps' and 'Bourgeois Convention', which alone ends in 'large unfeeling corpses'.
Britten returned to England with Pears in 1942, and he relationship with Auden cooled and then foundered (a later letter criticising Britten's setting of a particular text was returned, torn in pieces). But, it's worth remembering that Auden had begun that first letter by explaining that he was only critical as he thought Britten was the 'white hope of music', and ended it by admitting, 'this is all expressed very muddle-headedly, but try and not misunderstand it, and believe that it is only my love and admiration for you that makes me say it.'[4] One of the most touching moments of the evening was Rutter's reading of 'Underneath the Abject Willow', which Britten set as a vocal duet, and which concludes with the invitation, or imperative, 'Dark and dull is your distraction:/ Walk then, come,/ No longer numb/ Into your satisfaction.'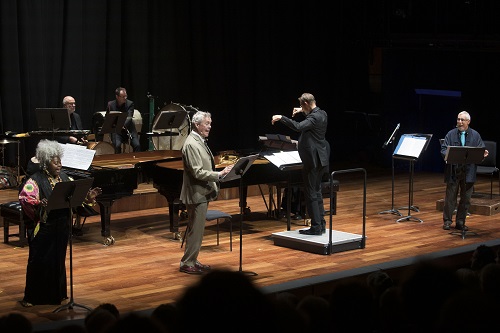 The musical contributions began with the Simple Symphony written just prior to Britten's meeting with Auden, played here by string quartet. If you thought you knew this 'simple' piece, then Alexandra Wood and Jane Carwardine (violins), Fiona Bonds (viola) and Joely Koos (cello) showed you that you didn't. There were myriad revelations: the crispness, clarity – sheer snappiness – of the outer movements; the playful incisiveness and rhythmic elasticity of the pizzicato second movement; the contrast of weight and lightness which mined all meanings of the descriptor, 'sentimental', with which Britten endows the Sarabande. Later, conductor Matthew Kofi Waldren elucidated the complex thematic developments and variations of the Sinfonietta Op.1, textures and colours brilliantly defined, motives shaped with invigorating bite, aided by the virtuosity and vitality of the City of London Sinfonia ensemble.
Given that it was Auden's words to which Britten responded, it was perhaps a pity that more of the composer's settings of the poet's sometimes elliptical but always lyrical texts were not included in the programme.  More particularly, that we weren't reminded of the voice for which he wrote those songs.  But, we did have the rare opportunity to hear excerpts from Britten's score for The Ascent of F6 and also the music he composed from the 1936 documentary Night Mail.  The latter was perhaps the sole false note of the evening, Rutter's rather hyperbolic and hyperactive delivery surely inappropriate for the romanticised account of the journey of the overnight mail train from London to Glasgow.  A deadpan Walton-esque wit would seem more apt.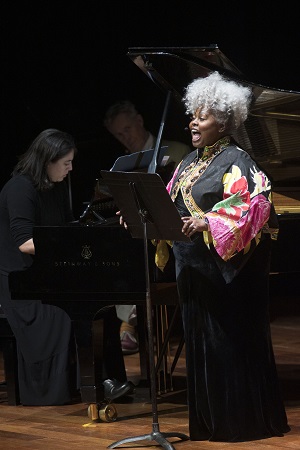 We did also enjoy two of Britten's Cabaret Songs, written for Hedli Andersen (later the wife of Louis MacNeice), which fuse jazz and blues, pastiche and parody, and were performed here with flair and bravura by Johnnie Fiori. 'Jazz Song' was arranged for two pianos and percussion (Berrak Dyer and Clíodna Shanahan, and Glyn Matthews and Jeremy Cornes, respectively), 'Funeral Blues' (from Act II of the Ascent of F6) accompanied by piano only. In the latter, Fiori's control of timbre, dynamics and structure was captivating, her delivery the perfect blend of the pseudo-serious and the light.
On 1 February 1976, Paul Bunyan was performed complete, for the first time in 33 years, on BBC Radio Three. Donald Mitchell and Peter Pears were with Britten when he listened to a tape of the performance. Mitchell told Britten's biographer, Humphrey Carpenter, that, 'Ben was profoundly moved … He hadn't remembered it was such a 'strong piece' – his words; and the impact of the music, combined with all the memories it aroused – of Auden, of the American years, of his own youth, energy, vitality – overwhelmed him'. Carpenter also reports that Britten had told the painter Sidney Nolan, 'Auden is in all my operas'.[5] This performance, which was directed by the international theatre director and RSC Associate Artist, Phillip Breen, made the creativity and the conflict of their friendship and partnership equally palpable. It was an innovative collaboration that was a collision of creative minds working imaginatively and inspiringly.
Claire Seymour
Alan Bennett –The Habit of Art (excerpt); Britten – Simple Symphony, Excerpts from the incidental music to The Ascent of F6, including Funeral Blues (Stop all the clocks) and Cabaret Jazz Song; Auden – 'Underneath an abject willow' and other fragments; Britten – Sinfonietta; Britten/Auden – Night Mail
Johnnie Fiori (singer), Alex Jennings (actor), Barrie Rutter (actor), Phillip Breen (director), Matthew Kofi Waldren (conductor), City of London Sinfonia, Alexandra Wood (leader)
Queen Elizabeth Hall, Southbank Centre, London; Sunday 5th November 2023.
---
[1] Donald Mitchell and Philip Reed (eds) (1991), Letters from a Life, vol.2, London, Faber: p.696.
[2] Cited in Humphrey Carpenter (1992), Benjamin Britten: A biography, London, Faber: p.67.
[3] Letters from a Life, vol.1: p.391.
[4] Letters from a Life, vol.2: pp.1015-16.
[5] Carpenter: pp.577, 248.
ABOVE: Johnnie Fiori with the City of London Sinfonia (c) Belinda Lawley