The recent production of Richard Strauss's Salome at the Staatsoper Hamburg, one of Germany's major companies, has received rapturous reviews. Its main virtue is the assumption of the title role by Asmik Grigorian, a 42-year-old Lithuanian soprano whose triumph as Salome at the 2018 and 2019 Salzburg Festivals has become legendary. Since then, she has received a pile of European opera awards, which she clearly deserves. She is a once-in-a-generation artist in this role.
Grigorian, the daughter of two professional singers, possesses precisely the penetrating and focused little-girl timbre Strauss imagined, produced with little apparent strain, astonishing technical flexibility and control, and near perfect intonation. She draws at will on a wide range of timbres and inflections: the sweetest of high pianissimi, a cutting edge in middle voice, and, very occasionally, even haunting chest tones. On top of that, she is a committed vocal actress who is as convincing in an HD close-up as from the back of a large theater, while enunciating clearly. She integrates all this with a sure and sensitive musical instinct that makes every phrase convincing and every small moment count, right down to the very last seconds, when her expression changes with Strauss's famous bitonal chord.
Salome is, of course, a role that can never be sung perfectly. Grigorian's voice is somewhat too small and lacks a reliable lower range: the eerie deep tones in the final scene, for example, are utterly inaudible. The timbre also struck me as slightly harsher live than it sounds on the videocast, which used body-mikes and was shot two weeks earlier, but perhaps it was just the odd acoustics of my seat. Be that as it may, Grigorian's assumption of the role is as close to the ideal as one could hear anywhere these days—unless we count her own performance five years ago.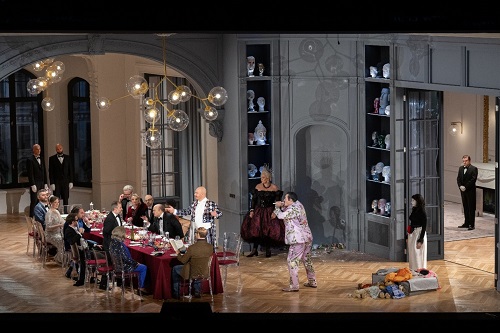 On the night I attended, the rest of the cast offered solid support. Tenor John Dasdak, whose Herod I reviewed enthusiastically just a year ago, seemed strained, forcing high notes, but acted up a storm. Veteran soprano Violeta Urmana, another Lithuanian, sang Herodias with a warm and full tone, admirably resisted the temptation to vamp, and looked great. American bass-baritone Kyle Ketelson projected a firm and darkly resolute Jochanaan, though (as befits the production) without much prophetic grandeur. Oleksiy Palchykov added a sweet but nervous Narraboth. Everyone's diction—including the various pages, soldiers, and secondary religious figures—was crystal clear.
Hamburg's Generalmusikdirektor, Kent Nagano, conducted with perfectly judged tempos and elegant nuances, though a somewhat hard-edged orchestra overpowered the singers in places—a failing redressed when the broadcast video was mixed. The Philharmonisches Staatsorchester Hamburg responded with extraordinary polish and finesse.
That leaves Dmitri Tcherniakov's staging and direction. Having established a bad-boy reputation upon his arrival from Russia a decade ago, Tcherniakov has become an established figure in the European operatic world, where his kind now rule. He sets operas in modern surroundings, portrays events from the idiosyncratic psychological perspective of a traumatized character, and then sacrifices internal consistency and textual fidelity for striking visual tableaux, for which he designs his own sets as well as directing the action. German critics find this deep, while opera houses favor it in order to render opera (as Hamburg's publicity materials promise) "approachable" for normal people.
Tcherniakov's approach suits Strauss's Salome better than many operas. The curtain rises on all the characters, portrayed as middle-aged society types, flashily dressed but bored, around a fancy contemporary dinner table, which serves as a unit set for the evening. Herod presides, sporting a fuchsia suit.
Two characters stand out from this circus-like crowd. One is Salome, a blasé modern teenager who skulks about insulting her leering stepfather and self-indulgent mother. The other is Jochanaan: a balding, tweedy professor-figure who sits reading, ignoring everyone else except to hold forth intermittently with his idiosyncratic religious theories. Throughout, rather than singing from a cistern, he sits with his back to the audience. This brilliant conceit that establishes at once his presence and his otherness, as well as the charismatic power he exercises over those at the rich man's table.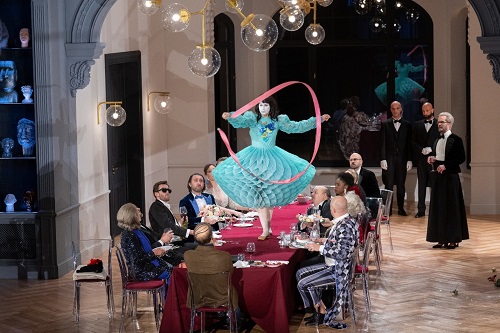 Yet, after the first 45 minutes, this promising premise loses coherence. Rather than establishing a clear motive—manipulating her surroundings to satisfy a morbid obsession, acting out her resentment at others, or simply indulging a spoiled whim—Salome throws plates at the wall, makes herself up as a clown, plays around with Styrofoam heads and stuffed animals, dances in an alternatingly flailing and catatonic manner, allows her step-father to pluck a flower from her dress with his teeth, dons and then removes a blue-green tutu that makes her look like child-like mannikin, threatens suicide with a wine glass, rants at the seated Baptist (who then walks out, very much alive) and then talks to herself, finally collapsing in something resembling an epileptic fit.
Even after reading Tcherniakov's meandering explanation, I came away with neither a clear idea (beyond the obvious point that Salome's parents objectify her) what all this means, nor much sympathy for her plight. Perhaps this is Tcherniakov's flamboyant conception of mental illness, or perhaps the point is just to tee up a string of engagingly human-scale and relatable visual spectacles. If the latter, some are memorable, most notably, a moment during the infamous dance when Salome squeezes herself into a large, womb-like bookshelf. In the end, however, Tcherniakov had the good sense to Grigorian alone for the celebrated final scene, essentially undirected—in which she triumphed.
A video of this performance, well-shot and recorded, can be found on Arte, currently for free. Even more cleanly sung and with more sensitive and accommodating orchestral accompaniment, the Grigorian's 2018 Salzburg version is available on medici.com.
Andrew Moravcsik
Asmik Grigorian, Salome; Kyle Ketelsen, Jochanaan; John Daszak, Herod; Violeta Urmana, Herodias; Oleksiy Palchykov, Narraboth; Jana Kurucová, Page; Kent Nagano, Conductor; Dmitri Tcherniakov, Staging and Direction; Elena Zaytseva, Costumes; Gleb Filshtinsky, Lighting; Tatiana Werestchagina, Dramaturg.
Staatsoper Hamburg, Germany; 15th November 2023.
ABOVE: Asmik Grigorian as Salome (c) Monika Rittershaus